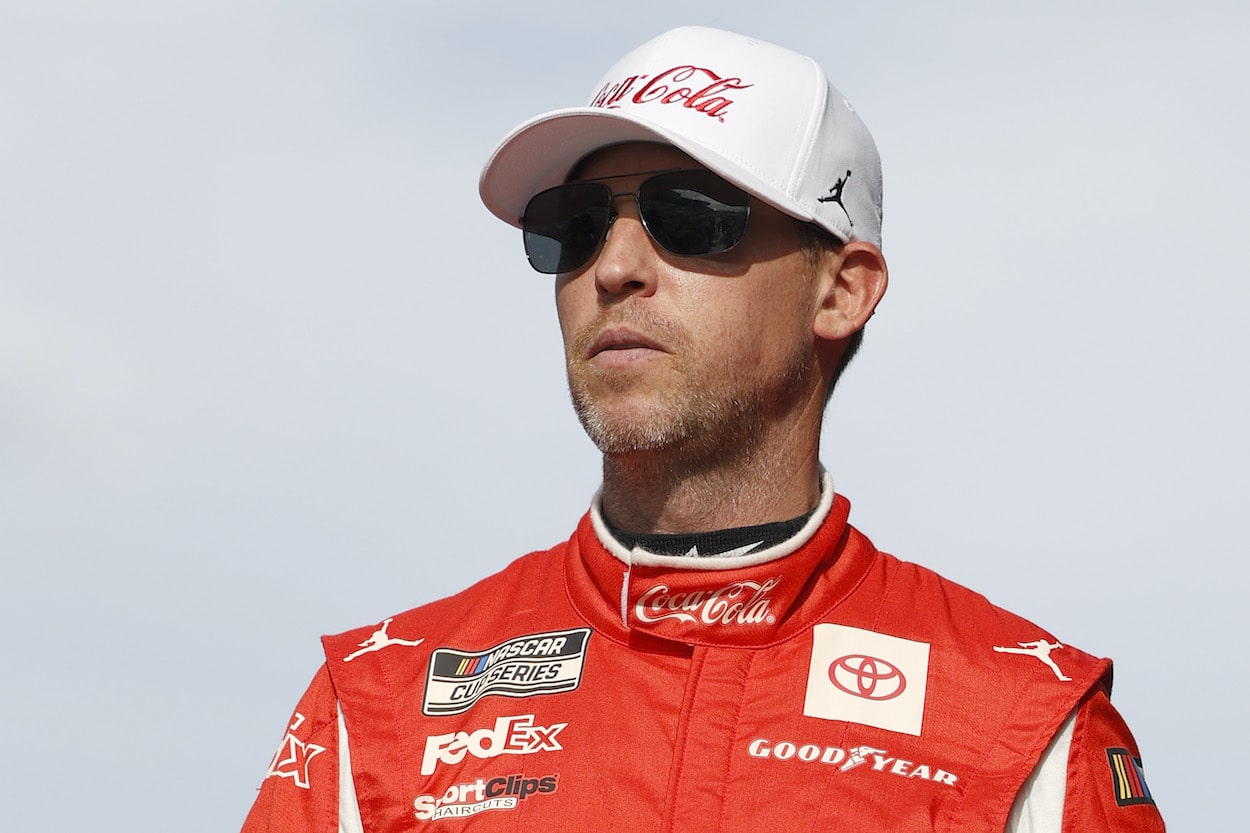 Denny Hamlin Unexpectedly Promotes Kyle Busch's Major Sponsor When He Accuses Fan of Being High in Response to Being Called a 'Hack' at Atlanta
Denny Hamlin accused a fan of being high after he called him a "hack" and unexpectedly promoted one of Kyle Busch's major sponsors in the process.
Denny Hamlin has been linked to the word "hack" since he used it to describe Alex Bowman for his late-race move at Martinsville in 2021. Interestingly, the Joe Gibbs Racing driver was called that word twice this weekend while in Atlanta — first by the Hendrick Motorsports driver and then by a fan. The three-time Daytona 500 winner chose to respond publicly to one of them and it's not the one you're thinking. 
Alex Bowman brings up 2021 Martinsville incident with Denny Hamlin while in Chicago
It's been almost two years, but the Denny Hamlin-Alex Bowman conflict at Martinsville in 2021 lives on. Just a little over a week ago in Chicago, the HMS driver surprisingly brought up the subject when asked by a reporter if the sanctioning body should discipline aggressive drivers.  
"No. They can't. It's what the sport's built on," Bowman said. "You see so many, honestly, intentional crashes used as highlight reels. How do you start penalizing people for it, in my opinion? Should it happen? No. That guy's got to live with that forever. 
"I'm the first to sit here and say I unintentionally crashed Denny at Martinsville, and it still bothers me that I crashed a guy for a win. That's not how I race. So when somebody does it on purpose, they got to live with that."
Ironically, just over 24 hours later, the two drivers would have their latest encounter when the JGR car locked up his brakes on the wet streets going into Turn 11 and drove into the rear of the No. 48, sending it spinning across the track before it bumped into the wall.
Bowman jokingly calls Hamlin a 'hack' in Atlanta
Bowman met with reporters for his weekly visit on Saturday at Atlanta and, unsurprisingly, was questioned about the incident with Hamlin in Chicago.
"He's just a hack. He's terrible," Bowman smiled. "No, he just messed up and missed the corner and crashed into me just like I did to him at Martinsville. 
"That corner was super wet. I talked to him yesterday and he just locked up and missed the corner. That's just part of it. I'm not angry about it. We had an engine failure that was completely unrelated so it was going to go poorly anyway. So we'll just chalk that one up to it is what it is and move on."
JGR driver responds to fan who calls him a 'hack'
Sunday night on the 1.5-mile track at Atlanta Motor Speedway, the two drivers, who can't seem to stay away from each other, added the latest chapter. With five laps to go in Stage 2, the HMS driver got loose and slid up the track into the left rear of the No. 11 Toyota, which went sliding up toward the wall, narrowly missing it, before coming back down the track directly in front of the No. 48, which made contact into the driver's side, both cars sliding into the infield grass. 
After the race, Hamlin didn't talk about the latest incident with Bowman, but did respond to a comment on Twitter by a fan who said he was driving like a "hack" in Atlanta.
"Wait what? Who? How much 3Chi have y'all had?" Hamlin responded, suggesting the person was high from using 3Chi hemp-based products, which is a major sponsor for Kyle Busch.
Busch, who has been known to get in some humorous references of his own for his sponsor, and team owner Richard Childress certainly appreciate the free publicity.
To stay up to date on the latest happenings in NASCAR, including breaking stories you can't find anywhere else, follow Kyle on YouTube and Twitter.