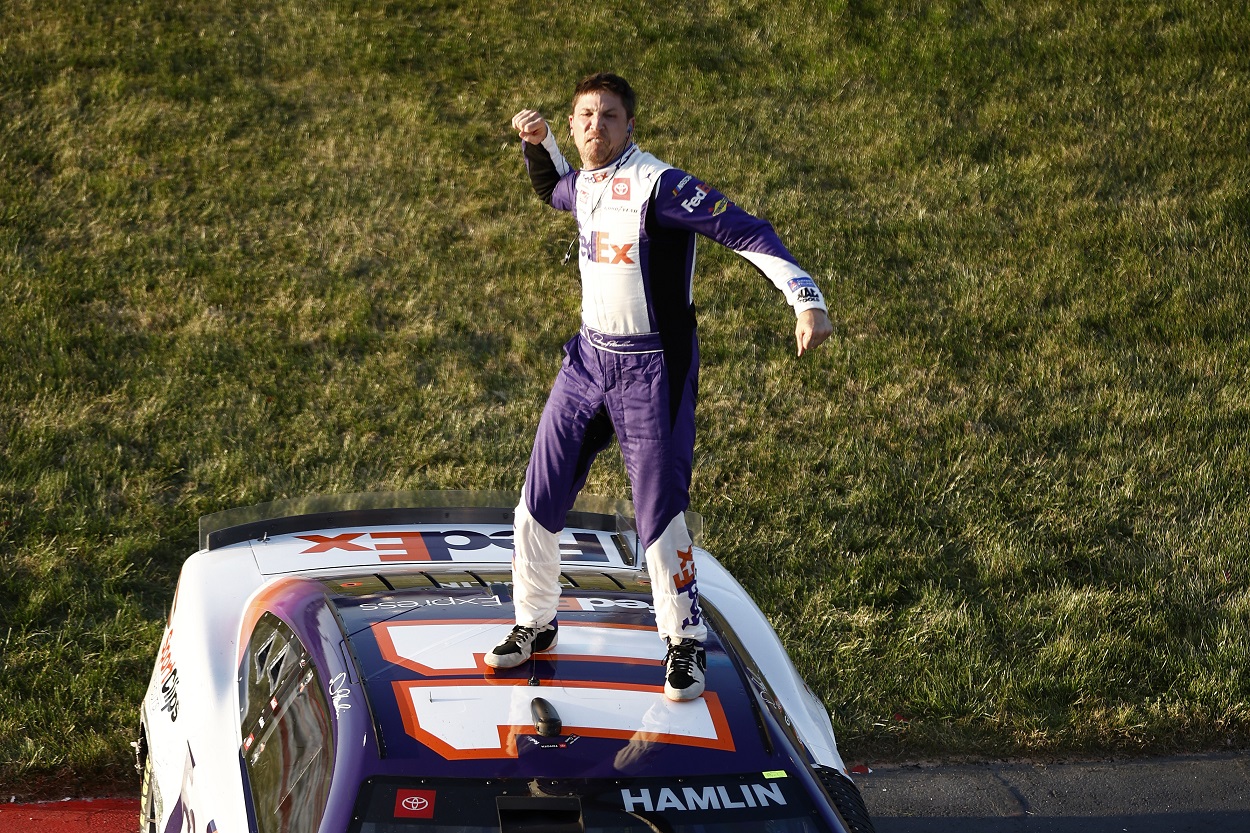 Denny Hamlin Is Racing Toward an Unwanted NASCAR Cup Series Record
Denny Hamlin is coming close to setting a NASCAR record, but not the type a driver would want.
Denny Hamlin is plenty familiar with the feeling of winning a NASCAR race. He has done so 66 times in his career, including 47 times at the Cup Series level. 
Yet Sunday at Richmond Raceway was different.
Hamlin climbed out of his No. 11 car after an extended burnout, jumped on the roof of his car, and gave the crowd a fist pump typically reserved for the main character at the end of a feel-good sports movie.
"Just drove as hard as I could.," Hamlin told FOX Sports reporter Jamie Little after his celebration. "Just so proud of this whole FedEx Camry team, man, just never giving up. There was no doubt in my mind, maybe just a little, but they got this car right there towards the end. Wow, unbelievable."
But what's even more unbelievable is that Hamlin is inching closer and closer to a NASCAR Cup Series record. One has to think it's certainly not one he wants.
Denny Hamlin has just three NASCAR Cup Series wins since 2020
Perhaps the little bit of doubt that crept into Hamlin's brain as the laps wound down at his home track at Richmond came from the increasingly difficult time he's had trying to reach Victory Lane.
Hamlin won a combined 13 races in 2019 and 2020 and qualified for the Championship 4 both years. He still was one of the four drivers in contention for the championship at Phoenix Raceway again in 2021, but his win total dropped to two. Neither of those wins came in the regular season.
It took Hamlin until the series visited Darlington Raceway for the 27th race of the season, also the first of the NASCAR Playoffs, for him to enter the win column. He won again three weeks later at Las Vegas Motor Speedway and finished third in the championship race. But things took a turn for the worse when the calendar flipped to 2022 and NASCAR rolled out its Next Gen race car.
Hamlin and the No. 11 team finished 13th at Phoenix Raceway in the fourth race of the 2022 season, but he otherwise finished 15th or worse in each of the first six races. 
Part of that could be attributed to the struggle with the Next Gen car for all four Toyota teams at Joe Gibbs Racing and the two teams at 23XI Racing that Hamlin co-owns. Martin Truex Jr. was the highest-ranked Toyota driver at 10th in the points standings through the first six races, and the six Toyota teams had combined for 12 top-10 finishes in those races.
Hamlin has the unfortunate distinction of best driver without a points title and is inching closer to an unwanted NASCAR record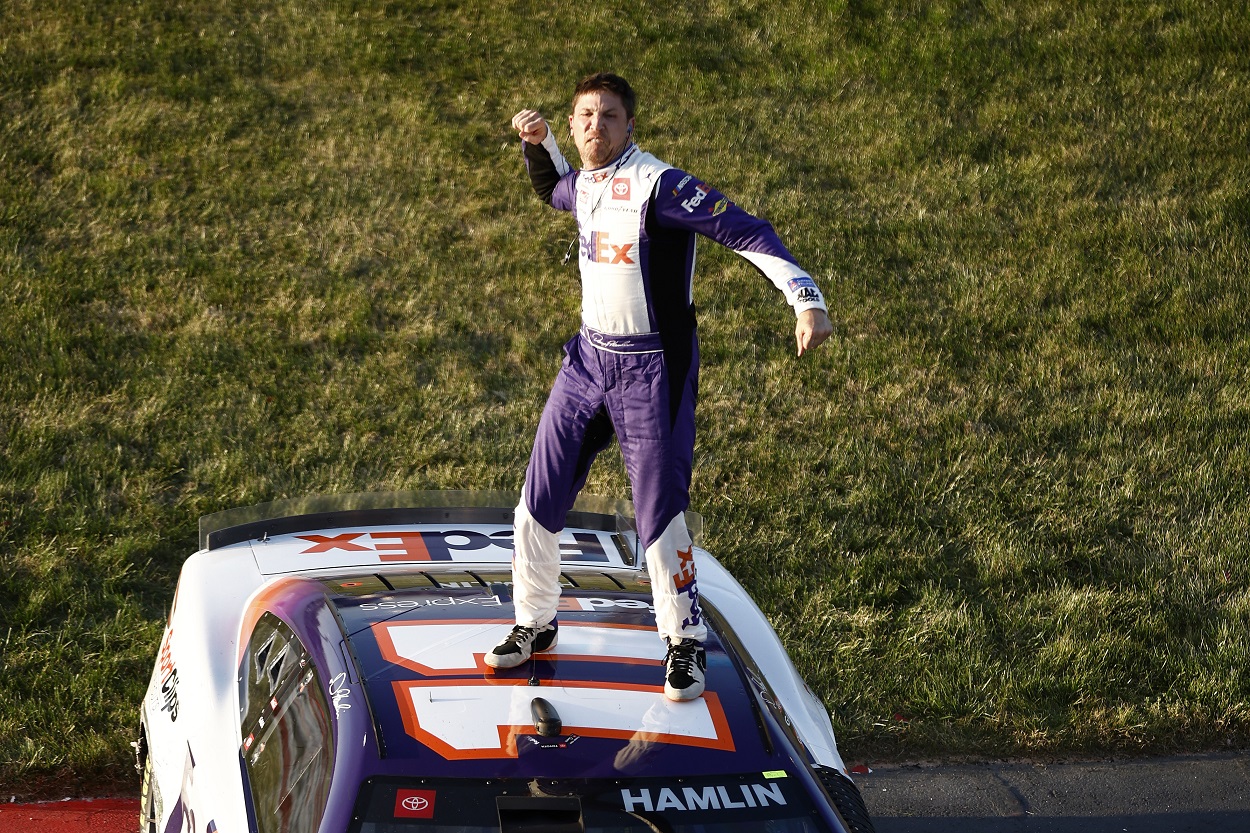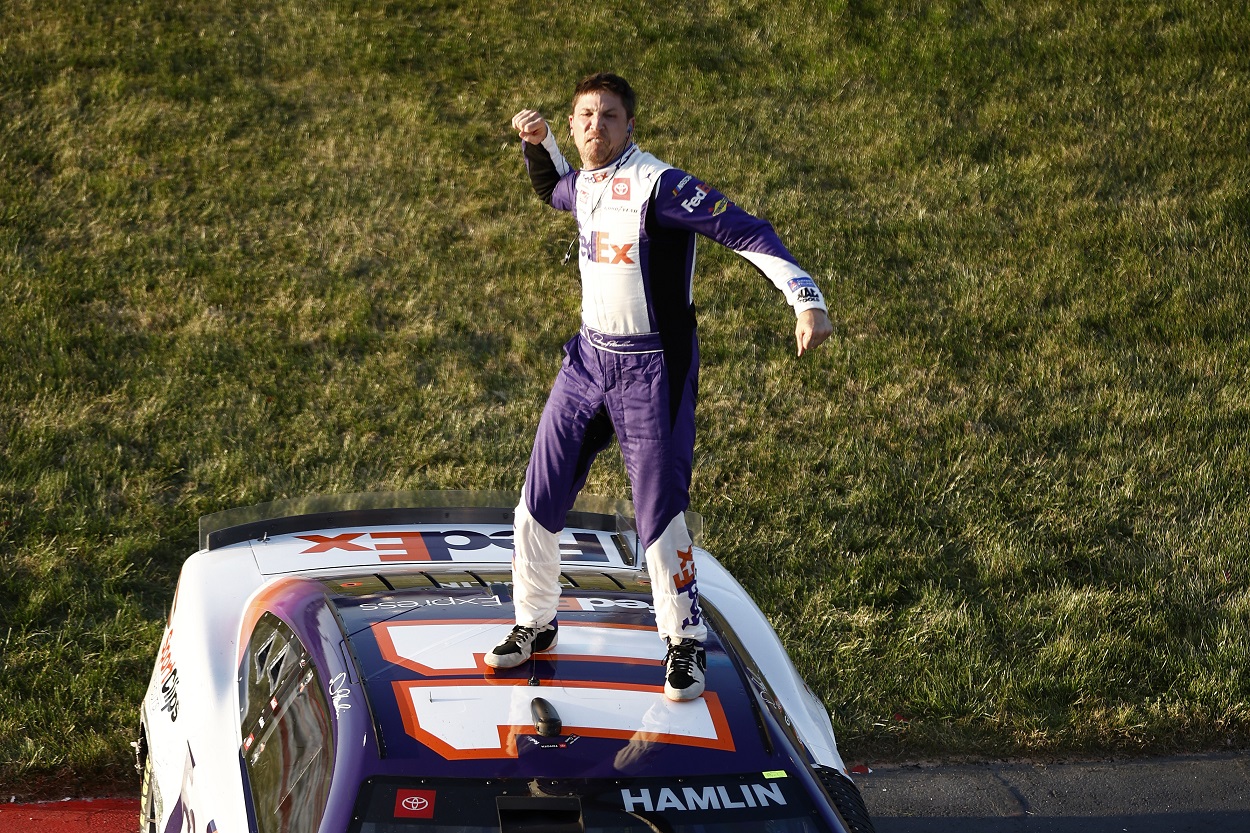 Mark Martin was long regarded as the best NASCAR driver without a championship to his name. Martin raced parts of 31 Cup Series seasons and finished with 40 wins, which were shy of only Junior Johnson's 50 for the dubious distinction of most wins by a driver without a championship. 
Hamlin surpassed Martin's win total in 2020, and his triumph at Richmond broke a tie with Hall of Famer Buck Baker on Sunday for 17th on the all-time Cup Series wins list.
Even now, at age 41, Hamlin is already the best driver without a title. Johnson never won a championship primarily because he never attempted a full season. He twice finished as high as sixth in the points standings but didn't attempt at least nine races both times. Even his 13-win campaign of 1965 resulted in a 12th-place points finish because he ran only 36 of 55 races that year.
If Hamlin is going to win a Cup Series championship, he better do it soon. A driver 41 years or older hasn't won the championship since Dale Jarrett was 42 years old in his 1999 title-winning season.
Hamlin has had an incredible career, but his chances to erase the most glaring hole on his Hall of Fame-caliber resume could soon dwindle.
He's overcome a poor start before
The season most comparable to Hamlin's current campaign is 2010. He finished 17th or worse in each of the first five races that season but then won at Martinsville Speedway and rattled off seven more victories the rest of the season to lead all drivers.
He had a chance to win the championship at Homestead-Miami Speedway in the season's final race but spun out on Lap 25 and could recover only to 11th. His chief competitor, Jimmie Johnson, came home second in that race to capture his fifth consecutive title.
Hamlin might need a similar surge this season to have a chance to win the elusive Cup Series championship trophy that casts a larger shadow over his career as each season passes.
All stats courtesy of Racing Reference