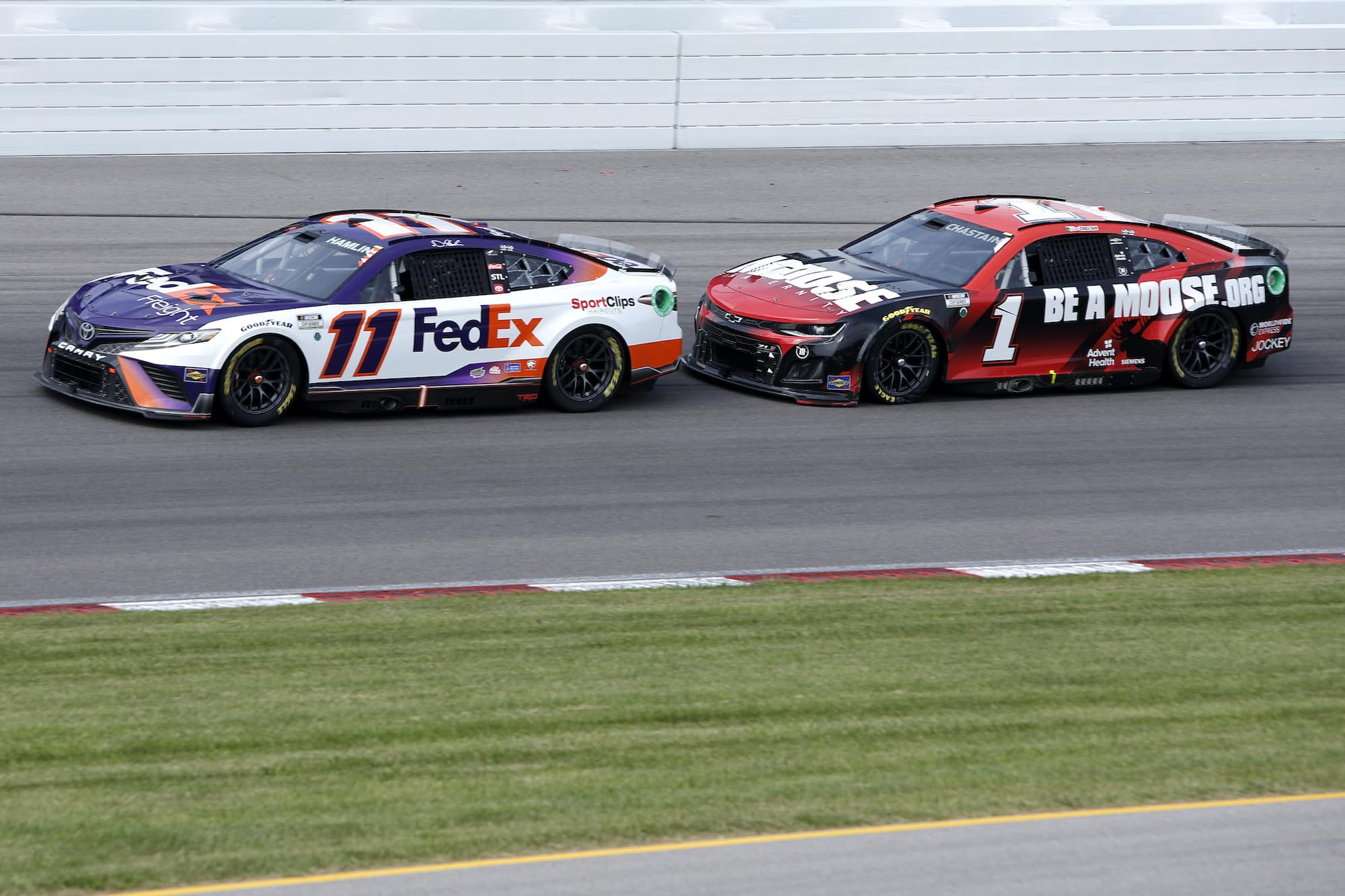 Denny Hamlin Sends Powerful Message to Ross Chastain and Other Aggressive Drivers at Darlington 
Denny Hamlin sent Ross Chastain and other aggressive drivers a powerful message in his postrace interview at Darlington.
Denny Hamlin and Ross Chastain have been an entertaining storyline this year, with the Trackhouse Racing driver initiating contact with the Joe Gibbs Racing driver on multiple occasions. There's still debate on whether or not the 41-year-old delivered some sort of payback to his younger counterpart at Pocono.
On Sunday at Darlington, after finishing second, Hamlin was interviewed and talked about his race to the checkered flag against eventual winner Erik Jones. And that's when the three-time Daytona 500 winner sent a powerful message to Chastain and other aggressive drivers.
Denny Hamlin and Ross Chastain have a history this year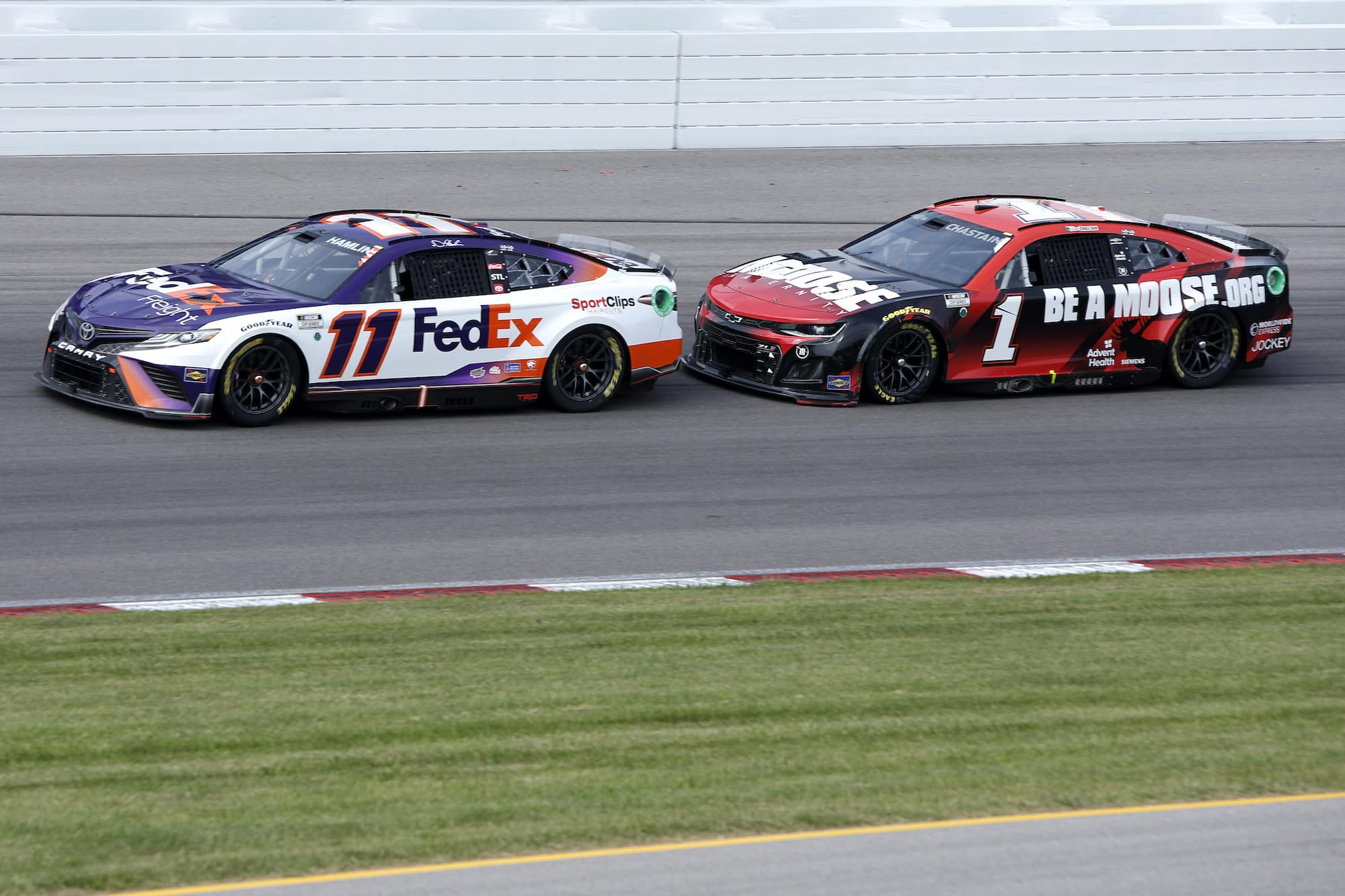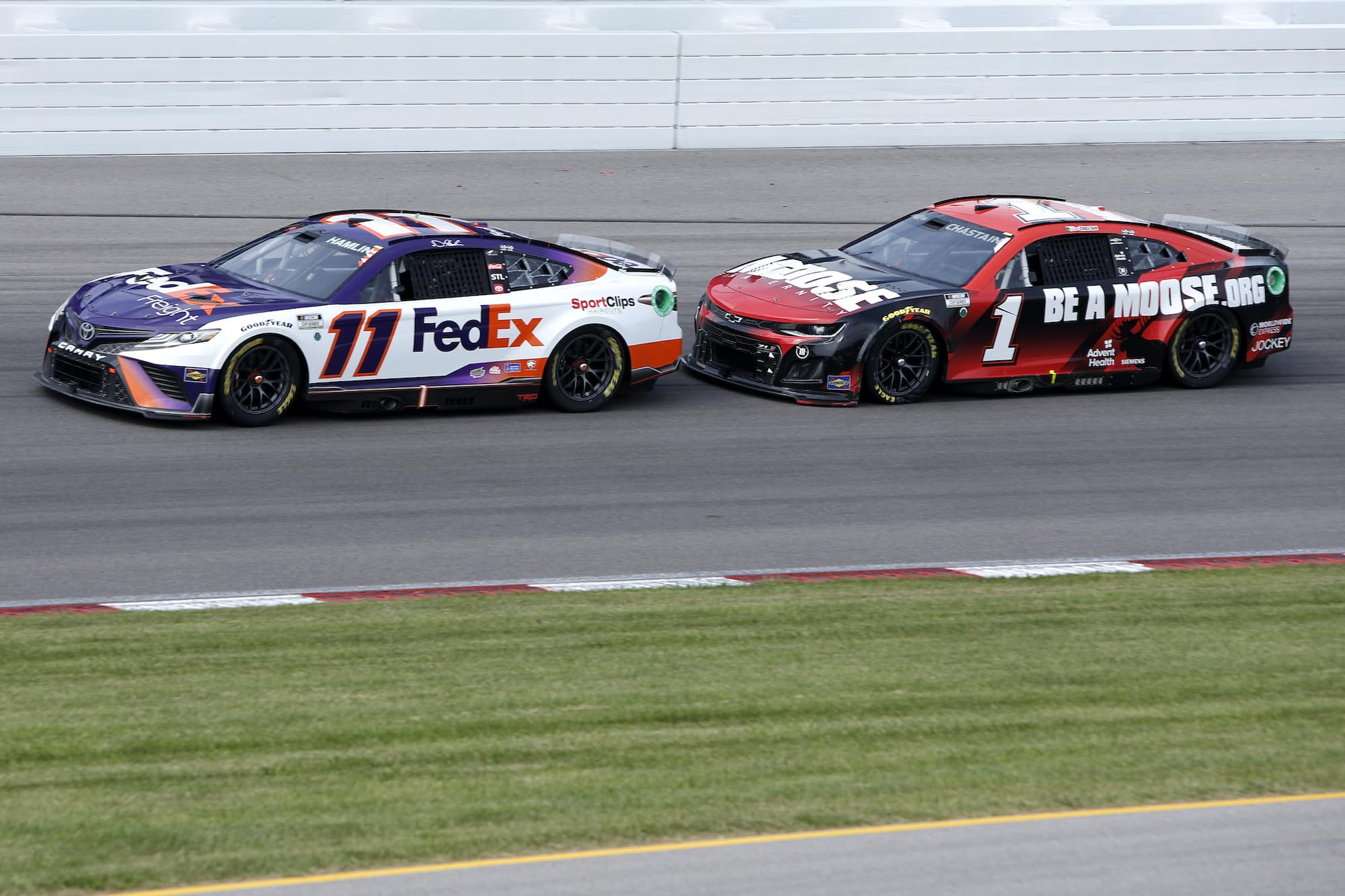 Denny Hamlin frustrated Ross Chastain back in early June in the Cup Series race at World Wide Technology Raceway at Gateway with the No. 1 car unsuccessfully trying to pass the JGR car for multiple laps. Eventually, the Trackhouse driver had had enough and drove into the rear of the No. 11, sending it into the wall. 
"We all have learned the hard way, and we've all had it come back around on us, and it will be no different," Hamlin said of what Chastain might expect in the future.
Fast forward a month later to Atlanta. Once again, Hamlin was in front when Chastain got into his left-rear quarter panel, sending the JGR car for a spin. After the race, the veteran driver addressed the latest incident.
"Everyone has different tolerance levels, certainly, but you guys know I've reached my peak," he told reporters.
Hamlin details his decision at end of Darlington
Hamlin and his run-ins with Chastain are just a small sample size of a larger issue, as the watermelon farmer, who has been known throughout his career for his aggressive driving style, has had multiple incidents with other drivers, including Martin Truex Jr., Kyle Busch, Chase Elliott, and Austin Dillon. 
On Sunday at Darlington, Hamlin and Chastain didn't have any issues. The Trackhouse driver finished 20th. Hamlin finished second. After the race, the future Hall of Famer was asked if he could have done anything differently at the end of the race to get around Jones for the win. 
"I had a strategy and that was to really drive in deep and try to goad him into hitting the wall himself," Hamlin said. "I was not going to pass him without just clobbering him or running into him and forcing him into the fence. Erik's never done anything sideways to me. 
"Those guys earned it. They kept their car up front all day. Erik did a great job on the restarts, and he won the race. Very deserving winner." 
Sends message to Chastain and other aggressive drivers
Denny Hamlin hasn't won 48 times in the Cup Series by accident, and, more importantly, by making a bunch of enemies. He's lived by one of the most oft-repeated phrases in the sport — race others how you want to be raced. 
Hamlin's remarks could have been directed at Chastain, or any number of drivers, including Chase Briscoe. The Stewart-Haas Racing driver's last-lap move on the Bristol dirt cost Tyler Reddick the win. That's not a move the No. 11 or numerous other drivers would have made. 
As Hamlin said after Gateway, Chastain will have things come around on him. Most expect it will happen in the playoffs when it matters most. But if he wants to have any chance of winning more races in the future and contending for championships, listening to the veteran driver's comments after Darlington should provide him with a guide for success in a way that won't cause him any heartache and upset a lot of drivers in the process.
Like Sportscasting on Facebook. Follow us on Twitter @sportscasting19 and subscribe to our YouTube channel.