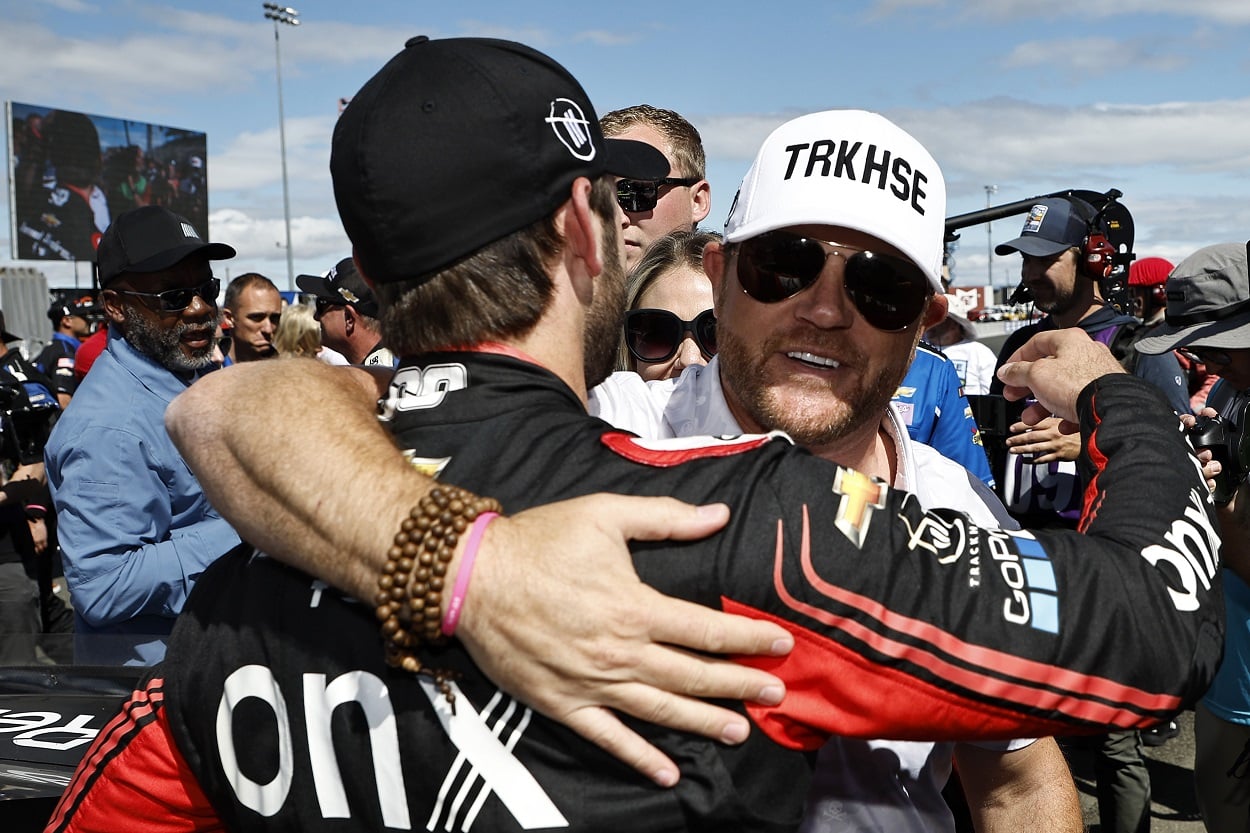 Trackhouse Racing Is Crushing It in the 2022 NASCAR Cup Series, but Plans for New PROJECT91 Are a Tall Task
Trackhouse Racing is having a breakout year in 2022, but owner Justin Marks wants more.
Trackhouse Racing has already had some of the most success through the first two years of any new team to enter NASCAR in the history of the sport. But its most ambitious idea might be its next one despite the part-time nature of the program.
Trackhouse owner Justin Marks began what is now a two-car operation with Daniel Suarez in the No. 99 car in 2021. The results were mixed, as they typically are for a first-year team. Suarez registered four top-10s, including a fourth-place finish in the inaugural dirt race at Bristol Motor Speedway, and ended the year 25th in the points standings.
Marks then bought out Chip Ganassi Racing after the season and added the No. 1 car as an entry for the 2022 campaign, with Ganassi-holdover Ross Chastain as the driver.
The results have been incredible.
Trackhouse Racing has been the surprise organization of the 2022 season
Chastain won his first career NASCAR Cup Series race and the first in Trackhouse's short history in March at the Circuit of the Americas. He then won four weeks later at Talladega Superspeedway and currently sits second in the series points standings.
Suarez led the entire first stage of the COTA race that Chastain eventually won and had led at least 13 laps in five of the first 14 races this season with four top-10s. He then suffered a three-race stretch without a top-20 finish before he dominated Sunday's race at Sonoma Raceway with 47 laps led and his first career Cup Series victory.
With three combined wins, Trackhouse is now tied with Team Penske and Joe Gibbs Racing for the second-most wins of any organization this season, behind only Hendrick Motorsports' five triumphs.
Marks wants more, however.
Trackhouse will add a third car for the Watkins Glen race
Trackhouse announced on May 26 that it would add a third car for the Cup Series race on August 21 at Watkins Glen International, and 2007 Formula 1 champion Kimi Raikkonen will drive the No. 91 car in his Cup Series debut as part of Trackhouse's new PROJECT91.
"Kimi Raikkonen is the driver I first had in mind when we created PROJECT91," Marks said in a press release. "Kimi is a world-renowned driver with a tremendous amount of talent and fan following. We have had long discussions, and like us, he is already hard at work preparing for Watkins Glen."
Watkins Glen will be the only race for the No. 91 car in 2022, but Marks said he hopes to run the car in additional races in 2023 with various drivers from international racing backgrounds. Marks said the goal for this entry is to extend Trackhouse's notoriety beyond the United States.
Drivers from other forms of motorsports have often struggled in NASCAR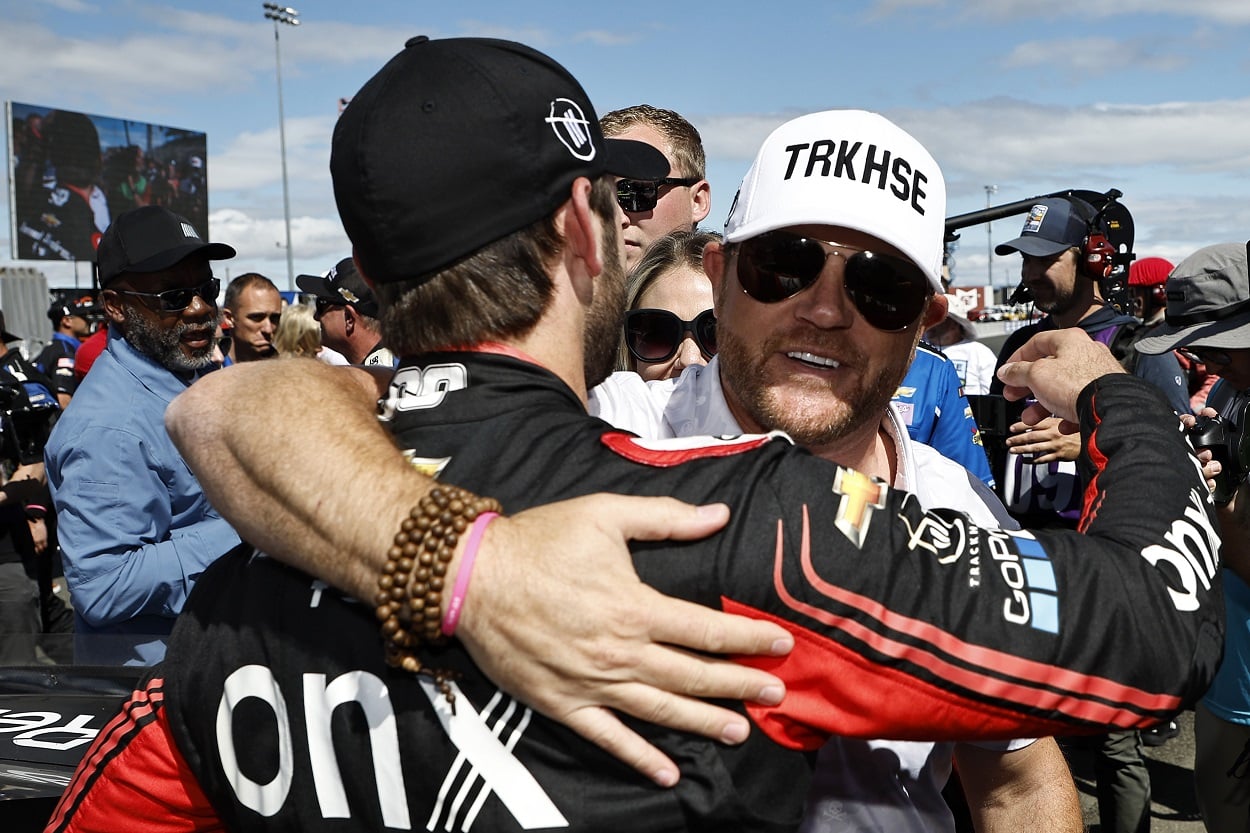 That is a worthy intention, but the history of drivers' performance in NASCAR when they come from a different racing series is scattered, at best.
Chip Ganassi tried something similar in the mid-2000s when he fielded cars for drivers such as road-course ace Scott Pruett, multiple-time open-wheel champion Juan Pablo Montoya and four-time IndyCar champ Dario Franchitti. Team Penske also had former IndyCar champion Sam Hornish Jr. race full-time in three straight Cup Series seasons from 2008 to 2010.
Montoya was the only one of those drivers to win a race, and both victories came, predictably, on road courses. He went to Victory Lane in 2007 at Sonoma Raceway and in 2010 at Watkins Glen. Montoya made the Chase with career-high eighth-place points finish in 2009 but otherwise never finished higher than 17th.
Hornish topped out at 28th in the standings in 2009 for Penske, and the others never completed a full season in the Cup Series.
Sure, other open-wheel and road-course heroes have won NASCAR races before, but Trackhouse might have to turn its biggest trick yet to have the No. 91 car find any sort of success.
The schedule does align better for drivers from other series to try their hand at NASCAR now that it features a half dozen road-course races rather than the two it had for nearly three decades, but the learning curve is still going to be quite steep.
If Marks wants this car to be merely a showcase to try and draw in fans from other series and countries, PROJECT91 might prove to be a worthy endeavor. If the ultimate goal is something more substantial in terms of on-track results, this might be his most challenging venture yet.
All stats courtesy of Racing Reference.
Like Sportscasting on Facebook. Follow us on Twitter @sportscasting19 and subscribe to our YouTube channel.