Denny Hamlin Spotted Courtside at Charlotte Hornets Game With Grammy Award-Winning Rapper Who Once Referred to Him as 'Brother From a Different Mother'
This week cameras spotted Denny Hamlin courtside during a Charlotte Hornets game and showed him on the television broadcast. While NASCAR fans were excited to see the three-time Daytona 500 winner get some airtime, many fans were more impressed to see he was sitting next to Grammy Award-winning rapper Nelly. However, a quick glance back in history reveals that the two have been friends for years, and included the driver giving the artist a prized piece of racing memorabilia. 
Denny Hamlin spotted chatting on sidelines with Nelly 
Denny Hamlin took in an NBA game this week between the Charlotte Hornets and Philadelphia 76ers. Seeing the co-owner of 23XI Racing sitting courtside isn't all that surprising, considering his race team co-owner, Michael Jordan, also owns the Hornets.
What had fans talking wasn't necessarily Hamlin's presence but who he was sitting next to, chatting it up with during the game. The 41-year-old driver and Grammy Award-winning rap artist Nelly sat next to each other, having a good time talking and watching Jordan's Hornets eventually fall to the 76ers.
Hamlin took to Twitter and provided a summary of what he and the top-selling rapper discussed during the game.
"Talking bout the track we are gonna build inside this stadium," Hamlin tweeted. "True story."   
Denny Hamlin gives Nelly race-winning helmet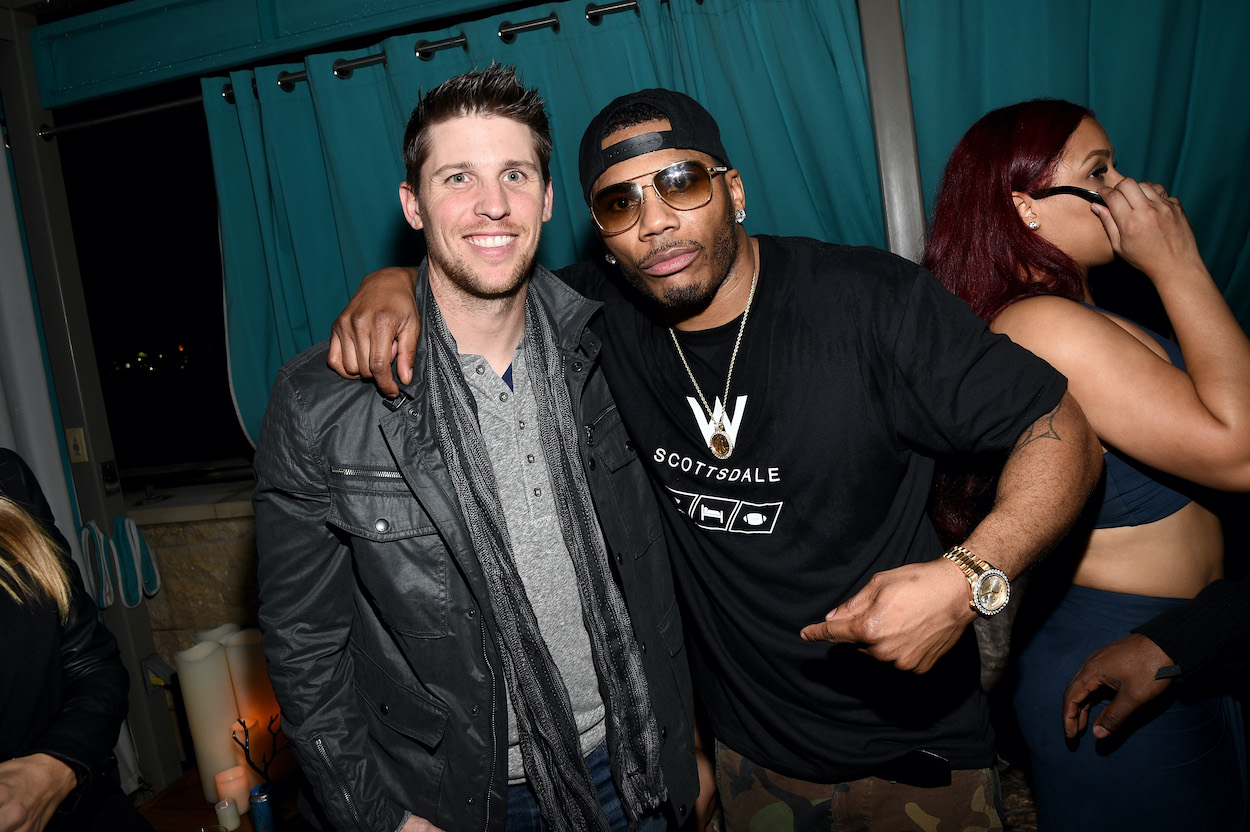 Some fans replied how it would be nice to see Nelly get involved in NASCAR, while others wondered if the two Hornets fans knew each other. One even suggested the singer was friends with the newest 23XI Racing driver Kurt Busch.
It turns out the artist and the Joe Gibbs Racing driver have a relationship that dates back at least three years, according to an Instagram video posted by the rapper in December 2018. 
In the video, Nelly is at Hamlin's house inside his closet — with an insane amount of shoes — and the driver holds and describes a helmet from 2010 that he surprisingly gifts to the unsuspecting rapper. 
"This is mine?" Nelly asked in disbelief. 
"All yours," Hamlin replied. 
"Ya'll see this right here," he said, looking at the camera. "My brother from a different mother."
"My bro @dennyhamlin giving me his 8time winner in one season helmet..!!!!" he later wrote on Instagram. "Love brah..!!!! Oh and P.S. he house STUPID in Charlotte..!!!!!!!!" 
Appeared in a video this year
Although Denny Hamlin is friends with Nelly, he hasn't appeared in any of his videos. However, the JGR driver did just that earlier this year with hip-hop star Post Malone for his single "Motley Crew."
The video was shot at Auto Club Speedway in Fontana, California, and included appearances from Motley Crue drummer Tommy Lee, Ty Dolla Sign and Big Sean. It featured multiple NASCAR stock cars, including Bubba Wallace's No. 23 Root Insurance car and a 23XI Racing car with Hamlin sitting behind the wheel. 
Hamlin's connections to the sports and entertainment world should honestly come as no surprise when you consider his longtime friendship and now business partnership with Jordan. If the driver wanted to meet royalty of some foreign country, His Airness could likely pull it off. That's what happens when you have a close relationship with one of, if not the most popular athlete in the history of sports.
Like Sportscasting on Facebook. Follow us on Twitter @sportscasting19.