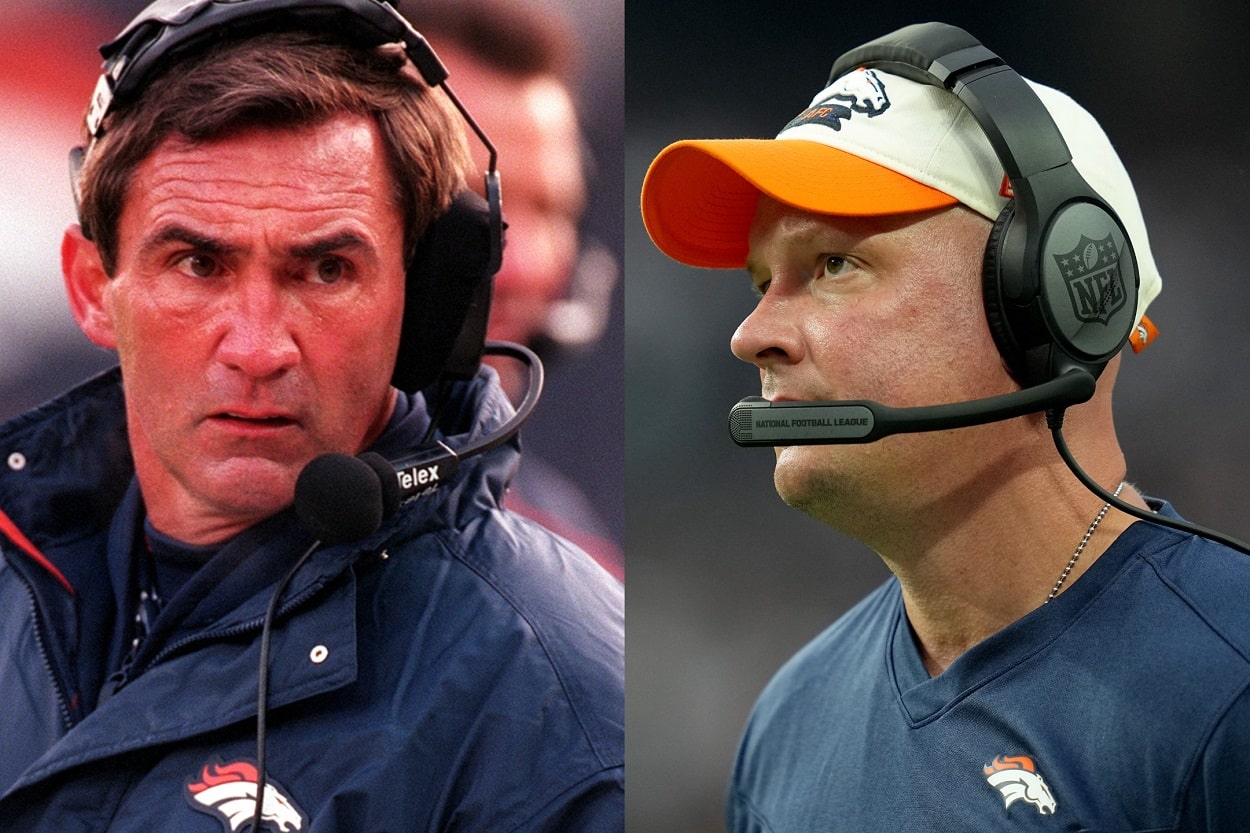 Denver Broncos Head Coach History: Nathaniel Hackett Ranks Well Below Even Josh McDaniels
Ranking every head coach in Denver Broncos history.
The Denver Broncos head coach history is certainly an interesting one.
Now on their 19th leading man in Jerry Rosburg following the firing of Nathaniel Hackett, the Broncos, who played their first season in 1960 as a founding member of the AFL, have had just seven head coaches who've posted an overall record of .500 or better, six of whom took Denver to the postseason at least once.
Of those six, four took the Broncos to the Super Bowl. And of those four, two finished the job.
So let's take a look at the Denver Broncos head coach history and rank the 18 who previously held the position.
Denver Broncos head coach history: Ranking every Broncos head coach of all time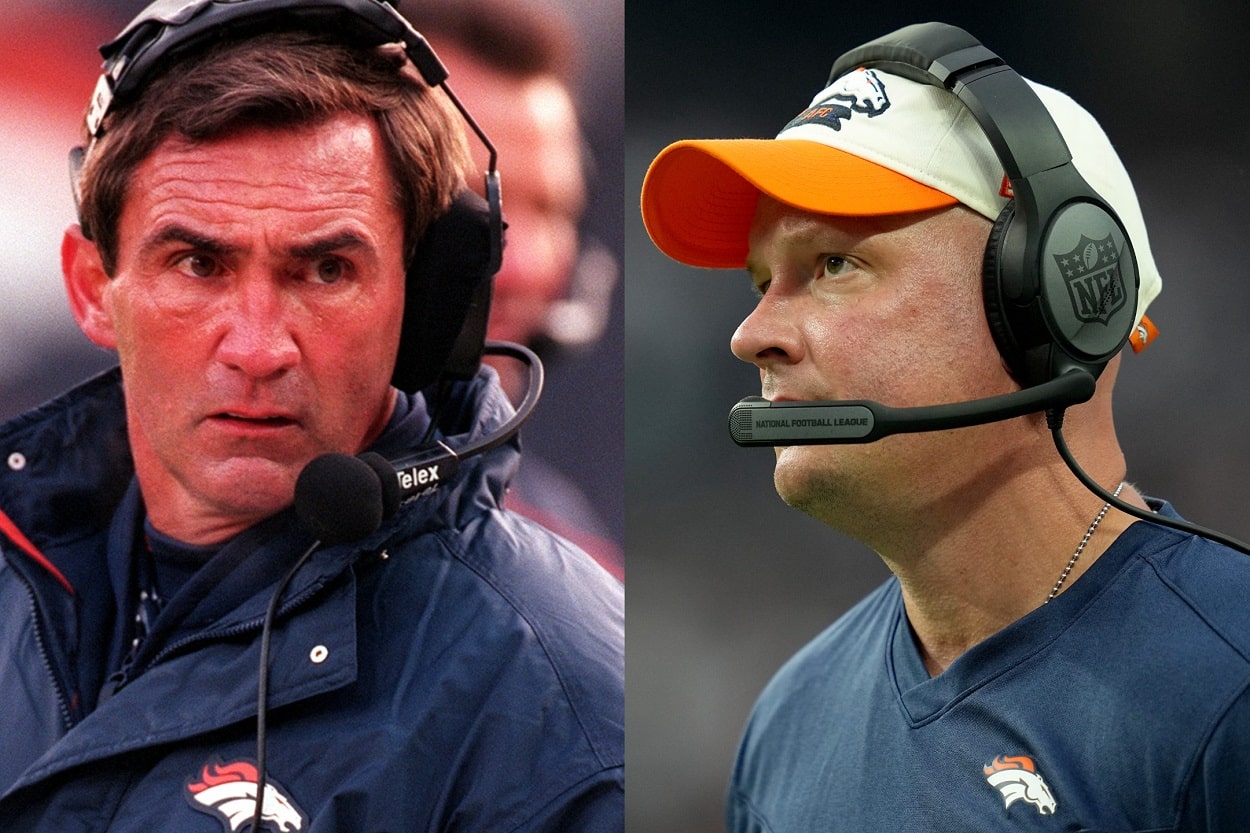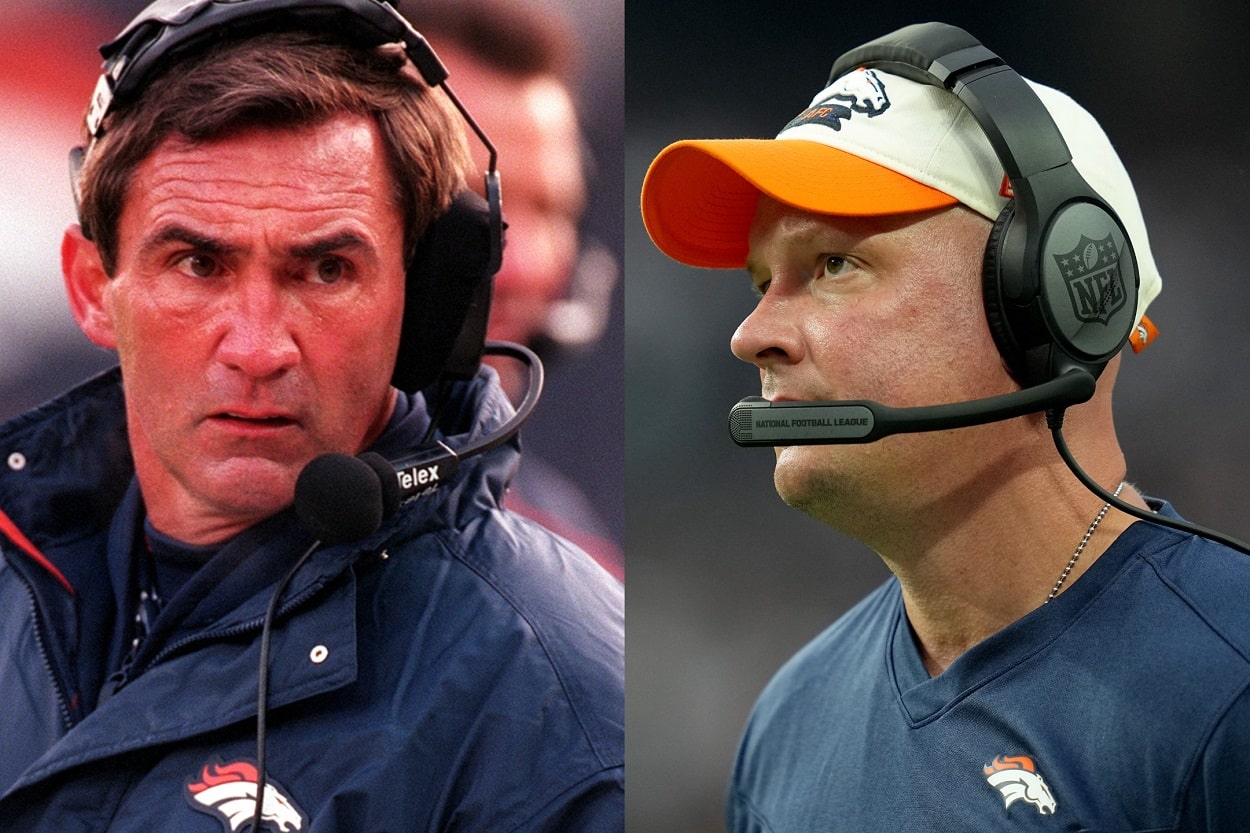 First, let's take a look at the Denver Broncos head coach history in chronological order.
Frank Filchock: 1960-1961
Jack Faulkner: 1962-1964
Mac Speedie: 1964-1966
Ray Malavasi: 1966
Lou Saban: 1967-1971
Jerry Smith: 1971
John Ralston: 1972-1976
Red Miller: 1977-1980
Dan Reeves: 1981-1992
Wade Phillips: 1993-1994
Mike Shanahan: 1995-2008
Josh McDaniels: 2009-2010
Eric Studesville: 2010
John Fox: 2011-2014
Gary Kubiak: 2015-2016
Vance Joseph: 2017-2018
Vic Fangio: 2019-2021
Nathaniel Hackett: 2022
Jerry Rosburg: 2022
And now, let's look at the Denver Broncos head coach history in ranking form, starting with Nathaniel Hackett. And, yes, he deserves this last-place slot.
18. Nathaniel Hackett
Tenure: 2022
Regular-season record: 4-11
Postseason record: N/A
Nathaniel Hackett was brought in to kickstart the Russell Wilson era in Denver but was fired after just 15 games, the last being an embarrassing 51-14 loss to the Los Angeles Rams on Christmas Day.
17. Eric Studesville
Tenure: 2010
Regular-season record: 1-3
Postseason record: N/A
Eric Studesville was promoted from running backs coach to interim head coach when Josh McDaniels was fired in 2010. He went 1-3 during his four-game stint and gave Tim Tebow his first-ever start. Studesville returned to his previous position when John Fox was hired in 2011 and served as an assistant head coach until the Broncos fired him in early 2018.
16. Jerry Smith
Tenure: 1971
Regular-season record: 2-3
Postseason record: N/A
Jerry Smith joined the Broncos in 1971 as the offensive line coach under Lou Saban, for whom he also worked as an assistant with the Patriots and Bills. Smith joined the Denver Broncos head coach history when Saban resigned with five games remaining in the 1971 season, going 2-3 before leaving the franchise to become the Houston Oilers' defensive line coach.
15. Ray Malavasi
Tenure: 1966
Regular-season record: 4-8
Postseason record: N/A
Ray Malavasi held several jobs with the Broncos in the 1960s. In 1962, he joined the franchise as the team's personnel director. In 1963, he pulled double duty and also served as the defensive line coach.
He switched to the offensive line in 1966 and became the head coach when Mac Speedie abruptly resigned two games into the season. Malavasi went 4-8 during his 12-game run and left the franchise when the Broncos chose to bring in Lou Saban as head coach and general manager.
14. Mac Speedie
Tenure: 1964-1966
Regular-season record: 6-19-1
Postseason record: N/A
A six-time NFL All-Pro as a player, Mac Speedie, who joined the franchise in 1961 as an assistant, became the third head coach in Broncos history when Jack Faulkner was fired four games into the 1964 season. Speedie went 6-19-1 before abruptly quitting two games into the 1966 season but remained in Denver as a scout until 1982.
13. Frank Filchock
Tenure: 1960-1961
Regular-season record: 7-20-1
Postseason record: N/A
The Denver Broncos head coach history begins with Frank Filchock, who coached the team's first two seasons and went 7-20-1 before being fired.
12. Jack Faulkner
Tenure: 1962-1964
Regular-season record: 9-22-1
Postseason record: N/A
Jack Faulkner was the second head coach in Broncos history as he took over for Frank Filchock ahead of the 1962 season. He got the team off to a 6-1 start, but things went downhill from there as Denver finished 7-7. Despite the atrocious second half, Faulkner was named AFL Coach of the Year.
But a 2-11-1 season followed in 1963, and Faulkner was fired after starting the 1964 season with an 0-4 record.
11. Vance Joseph
Tenure: 2017-2018
Regular-season record: 11-21
Postseason record: N/A
Vance Joseph took over as Denver's head coach in 2017 after Gary Kubiak stepped down due to health reasons and went 11-21 in two seasons. Joseph started four different quarterbacks during his two-year run: Trevor Siemian, Brock Osweiler, Paxton Lynch, and Case Keenum. How do you not succeed with an all-star foursome like that?
10. Josh McDaniels
Tenure: 2009-2010
Regular-season record: 11-17
Postseason record: N/A
Josh McDaniels' first-ever gig as a head coach was with the Broncos, and it started rather well. Despite running Jay Cutler out of town ahead of the 2009 season, Denver got off to a 6-0 start with Kyle Orton under center but lost eight of the next 10 and missed the playoffs.
McDaniels went 3-9 to start the 2010 season and was fired. Performance was part of it, but the Broncos also didn't care for how he failed to report the improper conduct of the team's video director, who illegally taped a San Francisco 49ers' walkthrough ahead of a Niners-Broncos game in London in 2009.
9. Vic Fangio
Tenure: 2019-2021
Regular-season record: 19-30
Postseason record: N/A
Vic Fangio became the Broncos head coach ahead of the 2019 season and went 7-9 in his first year, finishing second in the AFC West. But an unfortunate 2020 season followed in which he lost Von Miller to a season-ending injury and faced several COVID-19 issues throughout the year, forcing him to start four different quarterbacks en route to a 5-11 campaign.
Fangio was fired following a 7-10 season in 2021 and replaced by Nathaniel Hackett.
8. Lou Saban
Tenure: 1967-1971
Regular-season record: 20-42-3
Postseason record: N/A
Lou Saban's chapter in the Denver Broncos head coach history didn't bring a ton of success, but it provided plenty of entertainment.
Known for his intensity and outlandish temper tantrums, one of which NFL Films made quite famous, that being the "They're killin' me" rant, Saban helped the Broncos through the AFL-NFL merger in 1970 but resigned following a 2-6-1 start to the 1971 season.
After his run in Denver, Saban became the head coach of the Buffalo Bills for a second time in 1972 and is credited with turning O.J. Simpson into one of the NFL's top running backs.
7. Wade Phillips
Tenure: 1993-1994
Regular-season record: 16-16
Postseason record: 0-1
After spending four seasons as Denver's defensive coordinator, Wade Phillips became the team's head coach in 1993 following the firing of Dan Reeves. Phillips led the Broncos to the postseason in his first season after leading the team to a 9-7 record but was fired after a 7-9 campaign in 1994.
6. John Ralston
Tenure: 1972-1976
Regular-season record: 34-33-3
Postseason record: N/A
John Ralston's claim to fame in the Denver Broncos head coach history is that he led the franchise to its first-ever winning season in 1973, going 7-5-2. In fact, he led the Broncos to winning seasons in three of his five campaigns but never made the postseason.
5. Gary Kubiak
Tenure: 2015-2016
Regular-season record: 21-11
Postseason record: 3-0
Gary Kubiak is one of two Broncos head coaches to lead the franchise to a Super Bowl victory, doing so following a 12-4 campaign after taking over for John Fox in 2015. But after losing Peyton Manning to retirement ahead of the 2016 season, Kubiak went 9-7 and missed the postseason before stepping down due to health reasons.
I'm sure some of you would rank him higher, given the Super Bowl win, but he inherited a championship-caliber team, and the fact that his run only lasted two years hurts his case a little bit.
4. Red Miller
Tenure: 1977-1980
Regular-season record: 40-22
Postseason record: 2-3
Red Miller was the first head coach to lead the Broncos to the postseason and did so in his first year in 1977. Following a 12-2 regular season, at the time the best record in franchise history, he gave Denver its first two playoff victories and its first appearance in the Super Bowl, where they lost to the Dallas Cowboys.
Miller took the Broncos to the playoffs in each of the next two seasons but was fired after going 8-8 in 1980.
3. John Fox
Tenure: 2011-2014
Regular-season record: 46-18
Postseason record: 3-4
The easy knock on John Fox is that he couldn't win a Super Bowl with Peyton Manning and one of the most prolific offenses in NFL history. But that doesn't change the fact that he never missed the postseason in four seasons in Denver and holds the highest winning percentage of any coach on this list.
Fox was also just the second coach in NFL history to win four consecutive division titles in his first four seasons with a new team. And he did take the Broncos to a Super Bowl. He just got blown out by future Broncos quarterback Russell Wilson and the Seattle Seahawks.
But you know what? The guy won a playoff game with Tim Tebow as his starting quarterback.
2. Dan Reeves
Tenure: 1981-1992
Regular-season record: 110-73-1
Postseason record: 7-6
A multiple-time Coach of the Year award winner, Dan Reeves spent a dozen seasons in Denver and took the Broncos to the postseason six times before an ugly spat with upper management led to his firing following the 1992 season.
He also took Denver to the Super Bowl three times in four seasons but lost all three by wide margins. Like Fox with Manning, it's sometimes easy to knock Reeves for not being able to win a Super Bowl with a generational talent at quarterback like John Elway.
But at least this next guy got No. 7 some jewelry.
1. Mike Shanahan
Tenure: 1995-2008
Regular-season record: 138-86
Postseason record: 8-5
As if any Denver Broncos head coach history list wouldn't have Mike Shanahan in the No. 1 spot.
Outside of winning percentage, Shanahan holds just about every Broncos coaching record there is. But no number counts more to Denver fans than two, which is the number of Super Bowl titles he brought to the Mile High City, going back-to-back following the 1997 and 1998 seasons to send John Elway into retirement in style.
It seems unlikely that the Broncos would stick with Jerry Rosburg once the 2022 season ends, so we'll be sure to rank him as well once he inevitably gets replaced.
As for who will be the 20th head coach in Denver history, the most likely candidates who will be targeted at this point are former Saints head coach Sean Payton, current Dallas Cowboys defensive coordinator Dan Quinn, current Eagles offensive coordinator Shane Steichen, and current San Francisco 49ers defensive coordinator DeMeco Ryans. Former Indianapolis Colts head coach Frank Reich may get himself an interview as well.