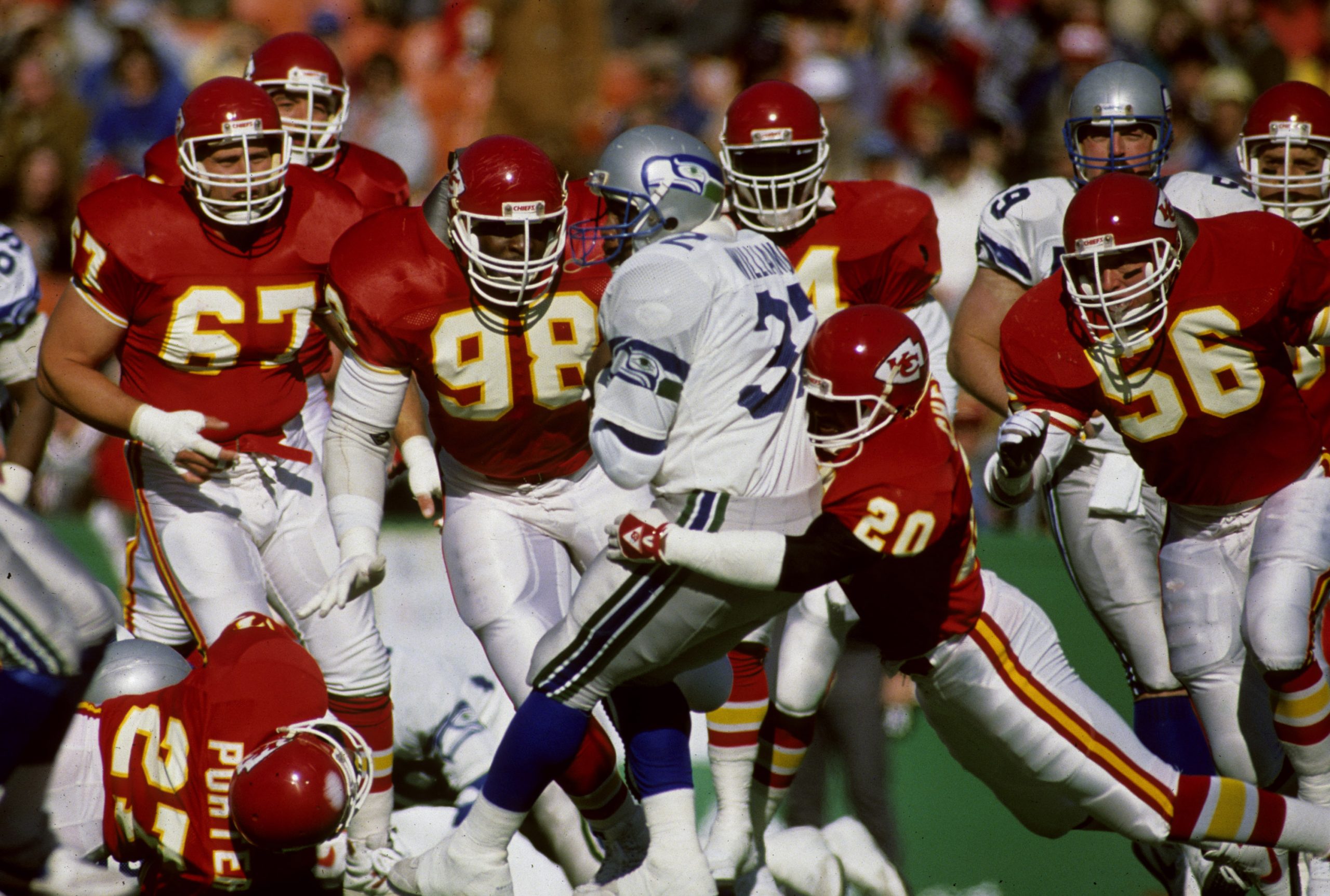 Deron Cherry Began as a Punter, Became an All-Pro Safety, and Now Belongs in Canton
Former Kansas City Chiefs safety deserves a spot in the Pro Football Hall of Fame.
Deron Cherry can thank former coach Marv Levy and the United States Football League for his extended stay with the Kansas City Chiefs. Cherry, a six-time Pro Bowler and Chiefs Hall of Fame safety, is one of the best safeties to suit up in the NFL. There were a lot of questions when Cherry, a 5-foot-11 defensive back/punter came into the league undrafted out of Rutgers. Now the biggest question is why isn't Cherry in the Pro Football Hall of Fame?
Deron Cherry came into the NFL as a punter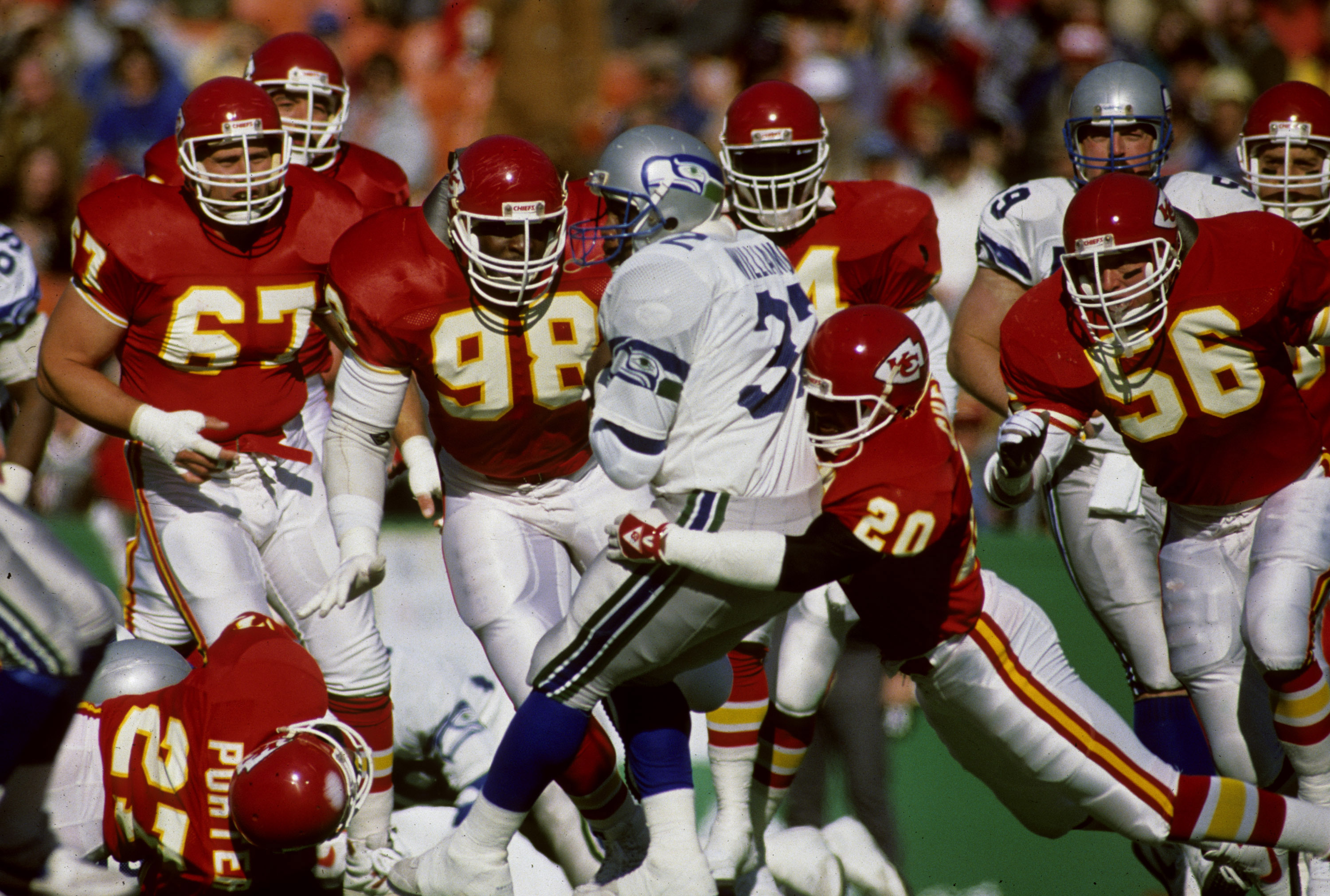 Cherry spent 11 years in the NFL, all with the Chiefs. He finished his illustrious career with 50 interceptions and 14 fumble recoveries. It wouldn't have happened had Cherry not made a phone call to Levy in his rookie year.
"I was signed as a punter," Cherry told Sportscasting. "I had to make a call to Marv Levy and ask him if I could work out as a safety. He said yes and let me do it."
Cherry impressed the Chiefs as a defensive back, but the Chiefs made him the final cut before the season started.
"I was the last player cut my rookie year," Cherry said. "They drafted two tight ends, one in the first round and one in the third but neither was ready to play. They kept four tight ends and nobody did that, and they kept six defensive backs instead of seven.
"(The Chiefs) brought me back after the first game when one of the defensive backs got hurt. They called me in and told me that the injury wasn't as serious as they thought."
Cherry stayed in Kansas City for the week. He knew his chance would eventually come.
"We only had a 45-man roster then, and there were no practice squads," he said. "Somebody got hurt and they signed me."
Deron Cherry got his big break in 1983 with the help of the USFL
Cherry became a full-time starter in his third year with the team. He earned it with his play on the field but got a little assistance from the newly-formed United States Football League.
"I was playing behind Gary Barbaro, a two-time All-Pro," Cherry said. "The USFL was getting ready to launch, and Gary had an agent who was notorious for holding his clients out. Lamar Hunt didn't want to deal with that. Gary went to the USFL.
"Bud Carson came in as our new defensive coordinator, and we had a whole new defense," Cherry said. "We all had to learn the new system together. The timing was great."
And so was Cherry.
Cherry had seven interceptions, two fumbles, and a pair of fumble recoveries in his first season as a full-time starter. He made the first of six straight Pro Bowls. For four straight years, Cherry had at least seven picks, highlighted by a career-high nine in 1986. He was a five-time All-Pro.
He played in Kansas City through the 1991 season.
Cherry belongs in the Pro Football Hall of Fame
Cherry still lives in Kansas City and is a big part of the Chiefs' community. His Deron Cherry Foundation has helped numerous charities, from sending kids to camp to helping front-line workers to rescuing animals. He's been so heavily involved the last 30 years that he was given a Super Bowl ring after the Chiefs beat the San Francisco 49ers in 2020.
"That was one of the things Lamar Hunt really wanted to accomplish, having a strong focus on the community," Cherry said. "
Cherry is proud of everything he's accomplished on and off the field. The next step for him should be the Pro Football Hall of Fame. Cherry is more than deserving of the honor, and the numbers speak for themselves. When it comes to all-time NFL safeties, Ronnie Lott is one of the best, if not the best, to play the position.
Lott played four more seasons than Cherry and has 13 more career interceptions. Lott only had three seasons with seven or more picks. Cherry had five. Cherry didn't have the luxury of playing on a San Francisco 49ers team as Lott did. Lott is the standard that elite safeties should be held to, and Cherry is right there with him. Cherry wasn't nearly as intimidating or hard-hitting as Lott, but he can certainly hold his own with the best of them.
Plus, the guy came into the league as a punter for crying out loud.
"I'm proud of what I accomplished in my career," Cherry said. "I'm proud of the numbers I put up, all with the idea of trying to help my team win. I wanted to be the best at my position and always give 100 percent for my team."
Mission accomplished. Deron Cherry belongs in Canton.