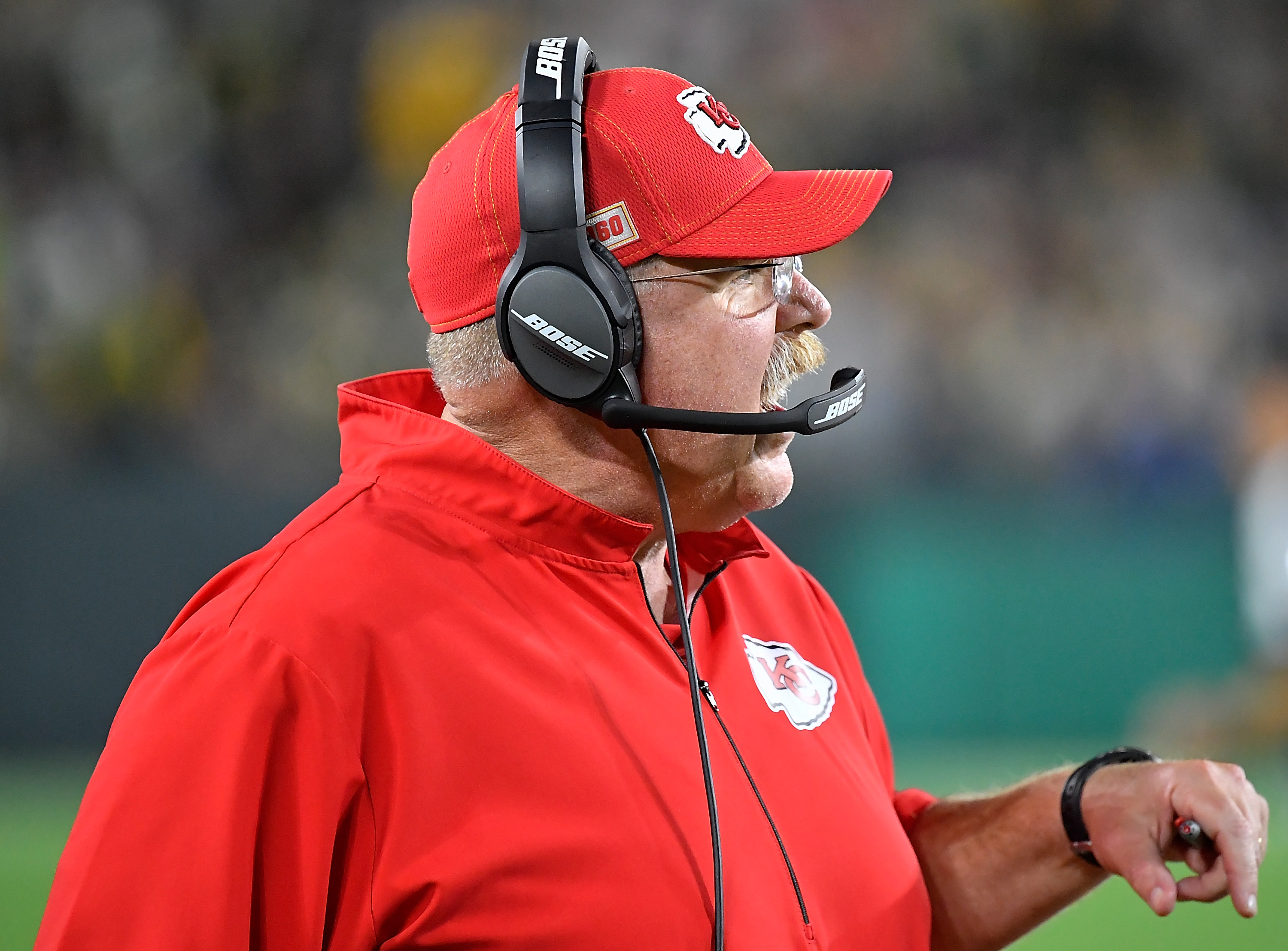 When Andy Reid Was Named Green Bay Packers QB Coach, Brett Favre Wasn't Thrilled
When Andy Reid was named quarterbacks coach of the Green Bay Packers in 1997, Brett Favre wasn't too happy.
Former Green Bay Packers quarterback Brett Favre loves Andy Reid. Always has. But when Reid, headed to his second straight Super Bowl as head coach of the Kansas City Chiefs, was named Favre's quarterback coach in 1997, Favre wasn't too happy.
Andy Reid has become one of the NFL's top coaches
Andy Reid certainly has paid his dues. He bounced from BYU to San Francisco State to Northern Arizona as a young coach in the college ranks. After stints with UTEP and Missouri, Reid made his way into the NFL when the Green Bay Packers hired him as an assistant in 1992 under Mike Holmgren.
In 1995, Reid became the assistant offensive line coach and was also in charge of the tight ends. In January of 1999, the Philadelphia Eagles hired Reid to become their head coach. He went 5-11 in his first season but then rattled off five straight seasons of 11 or more wins. In 2004, the Eagles went 13-3 and made the Super Bowl.
Reid spent 14 seasons as head coach of the Eagles, going 130-93-1 in the regular season. He became the head coach of the Kansas City Chiefs in 2013 and has an eight-year record of 91-37 in the regular season. Reid and the Chiefs are seeking their second straight Super Bowl title when they take on the Tampa Bay Buccaneers in Super Bowl 55.
Brett Favre and Andy Reid were together for 7 years in Green Bay
Brett Favre came over in a trade from the Atlanta Falcons prior to the 1992 season. He threw just four passes, completing none, in one year with the Falcons. In 1992, Favre was the backup to Don Majkowski, who was injured in a game against the Cincinnati Bengals in September of 1992. Favre entered the game and rallied the Packers to victory. He never looked back.
Favre went on to start in an NFL-record 297 consecutive games. He was a three-time MVP winner and a Super Bowl champion. He made the Pro Bowl 11 times. Favre was inducted into the Pro Football Hall of Fame in 2016.
In Favre's first season with the Packers, there was an entirely new coaching staff headed by Mike Holmgren. One of those coaches was Andy Reid, who started as an assistant offensive line coach and tight ends coach. He did that until he became the quarterbacks coach and assistant head coach in 1997. For two years, he held that role until the Philadelphia Eagles made Reid their head coach in 1999.
Favre wasn't overly happy when Reid was named QB coach
In an interview with former NFL quarterback Doug Flutie on Flutie's Flutie Flakescast podcast debut, Brett Favre said he loved Andy Reid but wasn't crazy about him becoming his position coach. "That staff and that team for about three or four or five, maybe six, years was a family," Favre said. "I can honestly say that and Andy was a big part of that.
"Now Andy was a grinder. I love him to death but I wasn't in his meetings because I wasn't a tight end. I was very thankful I wasn't in those meetings because all they do is meet. So (Steve) Mariucci leaves and goes to be the head coach at Cal, breaks my heart. I'm home in Mississippi and Mike Holmgren gives me a call. He says, 'I just want you to know we hired you a new quarterback coach.' I was kind of excited, like who's going to replace Mooch, if that's even possible.
"He said it's Andy Reid and I went ohhhh. He couldn't see me because we weren't Zoomin' and that was before cell phones. I was like 'aw hell' but I didn't give off that vibe. I love Andy but he is going to meet us to death. Well, total opposite. Our first minicamp when we were together, he was all full of piss and vinegar. He did take the time and tell me, 'look, I'm not going to meet with you like the tight ends. The last thing I want you to worry about is how long we're meeting.'"