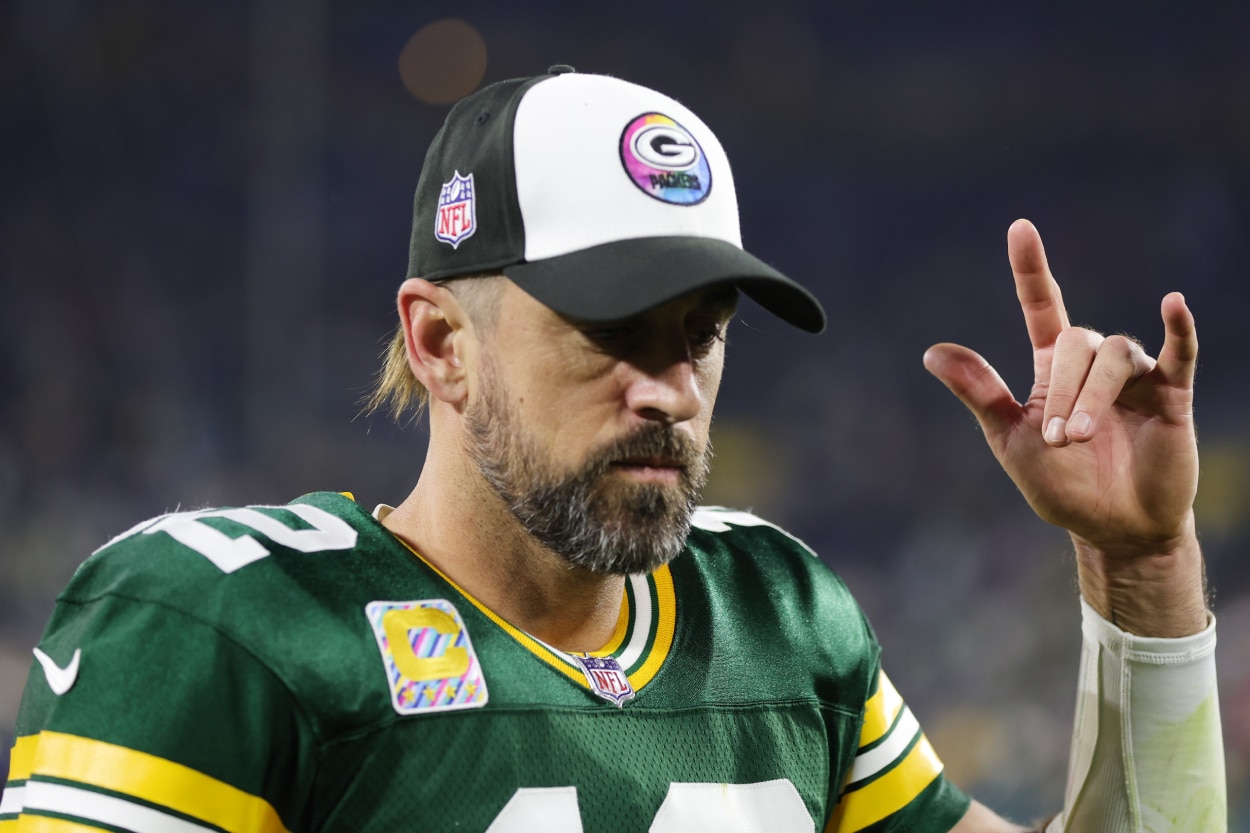 Despite Recent Struggles, Aaron Rodgers Oozes Confidence: 'I've Been a Great Player for a Long Time'
Green Bay Packers quarterback Aaron Rodgers certainly isn't short on confidence.
It shouldn't have been this close. The Green Bay Packers, with four-time MVP Aaron Rodgers at the helm, squared off against the struggling New England Patriots without their starting quarterback on Sunday.
Not only were Bill Belichick & Co. without quarterback Mac Jones, but they were down to their third-string QB in the first quarter. It took overtime for Rodgers and the Packers to outlast the short-handed Patriots. Despite the struggles, the confident Rodgers led Green Bay to its third straight victory.
Aaron Rodgers and the Packers had their hands full with the Patriots on Sunday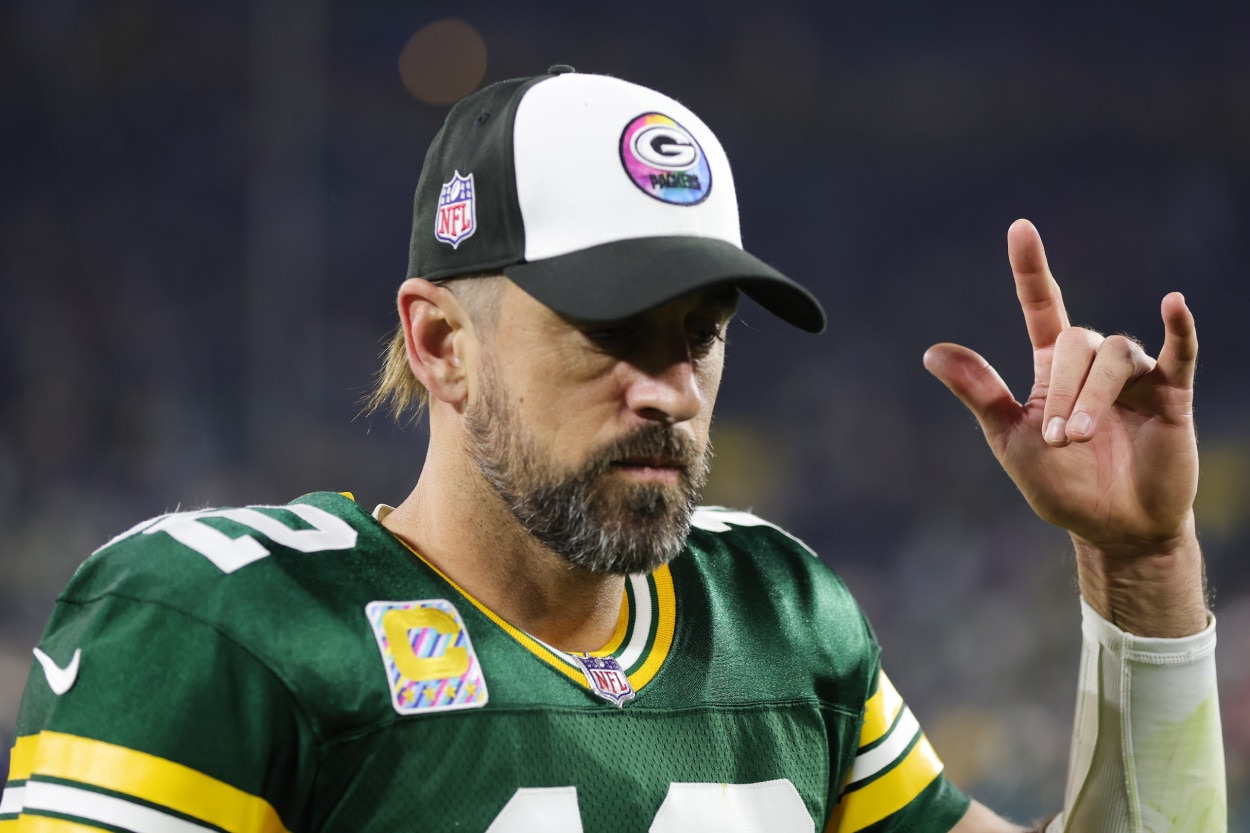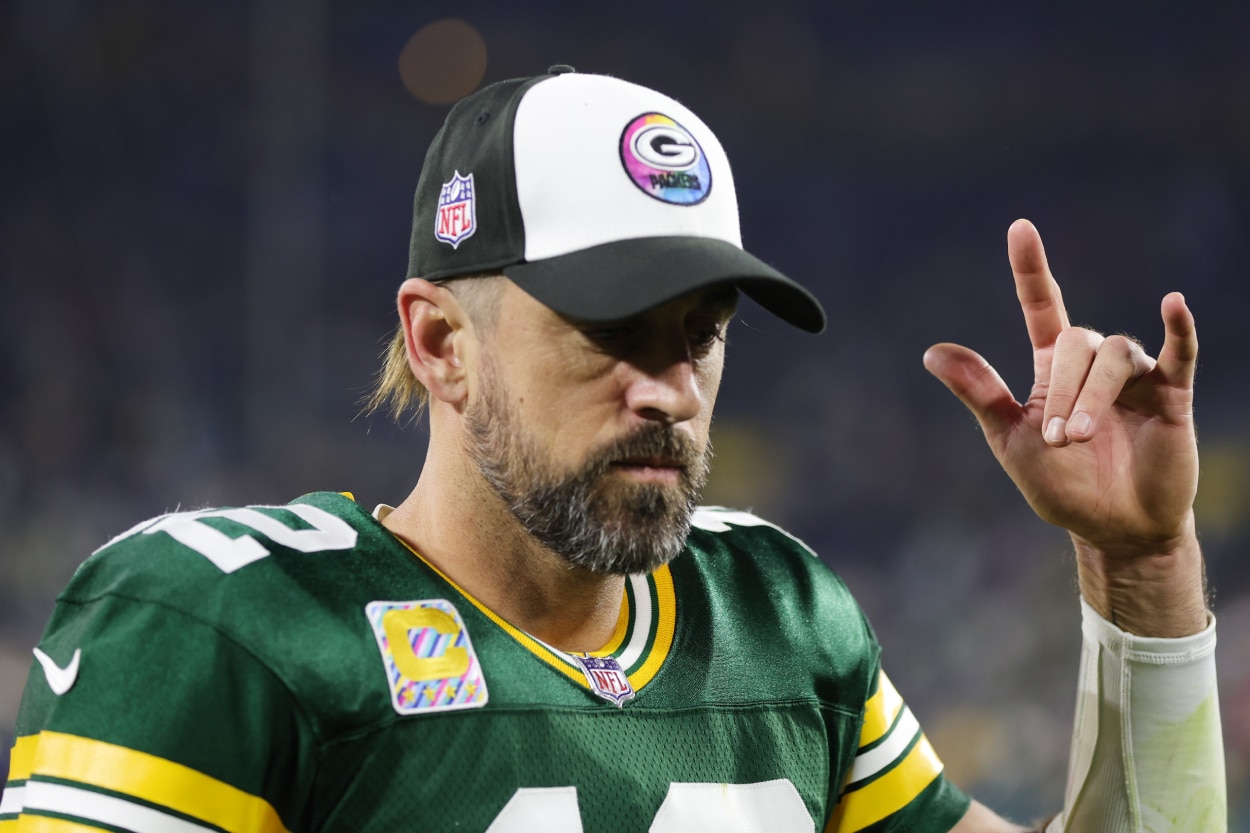 Through four games, it's been a wild ride for Rodgers and the Green Bay offense. Rodgers lost his top receiver in Davante Adams when the Packers traded him to the Las Vegas Raiders in the offseason. Since then, Rodgers has been working with a mixture of wideouts that has no clear-cut No. 1 target.
Rodgers has had to be patient with rookies Christian Watson and Romeo Doubs, who have shown flashes of stardom but have also had cases of the drops. After being held to seven points in an ugly Week 1 loss to the Minnesota Vikings, the Packers have rattled off three straight wins. Those victories, however, haven't been pretty.
Two weeks ago, the Packers relied on their much-improved defense in a 14-12 win over the Tampa Bay Buccaneers. On Sunday, they had their hands full against Bailey Zappe and the Patriots.
Who is Bailey Zappe? He's a rookie quarterback from Western Kentucky who was selected in the fourth round this year. He was forced into action Sunday when backup quarterback Brian Hoyer was injured in the first quarter. Zappe came in and more than held his own.
Zappe went 10-for-15 for 99 yards and threw for a touchdown. That touchdown to DeVante Parker gave the Patriots a 17-14 lead in the third quarter. After the Packers tied the game with a field goal, New England led 24-17 early in the fourth quarter on a Damien Harris touchdown run.
Rodgers put together a game-tying drive capped by a touchdown pass to Doubs, and Green Bay eventually pulled out the victory in overtime.
Despite the struggles, Rodgers remained confident
Rodgers had one of his worst halves in recent memory. He went 4-for-11 for 44 yards. The Packers held a 7-3 lead, but then Rodgers threw an interception that was returned for a touchdown as New England held a surprising 10-7 lead at the break.
"I felt like before the game — I even said it — I think the only people that can beat us is ourselves," Rodgers said, per Mike Spofford of Packers.com. "So 7-3 there, as ugly as it was, to go into halftime 7-3 is obviously better than throwing a pick-six and being down 10-7."
Rodgers was much better in the second half. He finished the game 21-for-35 for 251 yards and a pair of touchdown passes. His final one came on the ensuing drive after the Patriots took their 24-17 lead. Rodgers hit Doubs with a 13-yard scoring strike to tie the game at 24-24 with 6:14 to play. Doubs then dropped a touchdown pass at the end of regulation that would have sealed the deal in regulation.
Instead, the game went into overtime. Rodgers and the Packers won the toss, but the Patriots defense forced a punt. After Green Bay's defense did the same, Rodgers marched the team downfield, setting up Mason Crosby's game-winning field goal.
After the game, Rodgers said he didn't need to hype himself up at halftime. He was confident he'd get the job done.
"I settled in and usually don't have two terrible halves, so I kind of returned to the form I expect from myself, and we started moving the football," he said.
"I've been a great player for a long time. "Not a whole lot I need to tell myself. Just play better."
Like Sportscasting on Facebook. Follow us on Twitter @sportscasting19 and subscribe to our YouTube channel.