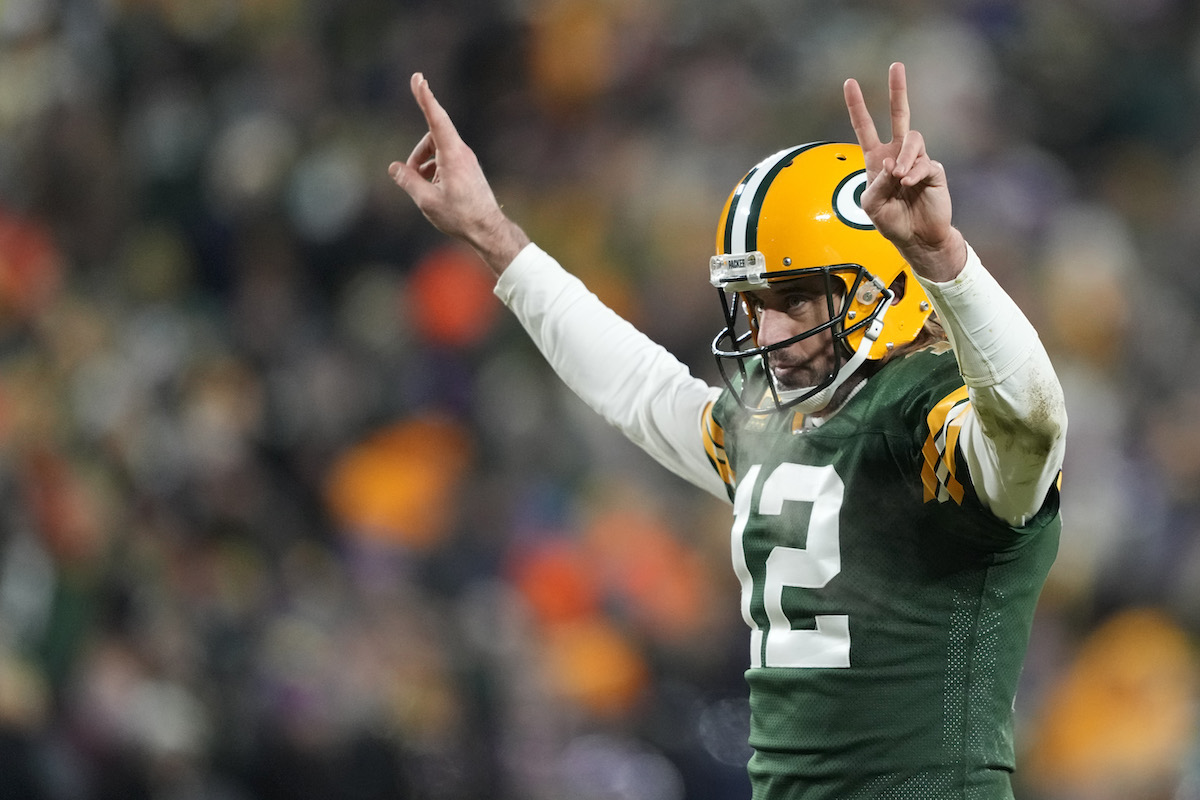 Aaron Rodgers' New Packers Contract Should Make Him Untouchable in Green Bay Record Books
With his new contract in hand, Aaron Rodgers should continue to make himself untouchable in the Green Bay Packers' record books. No one is going to be close.
Aaron Rodgers isn't going anywhere.
The Green Bay Packers quarterback, now that he's agreed to a new deal, faces plenty of pressure to bring a second Super Bowl title back to Lambeau Field. He's also set up to solidify his place in the franchise's record books once and for all.
He's not leaving Green Bay anytime soon, and he's not vacating his spot in the statistical archives, either.
How high will Aaron Rodgers' numbers rise in Green Bay?
This should come as no surprise whatsoever given his affinity for stirring the pot and creating a bit of extra drama, but Aaron Rodgers himself has already denounced the reporting of his new contract terms on Twitter. Let's give him the benefit of the doubt and assume that the $200 million figure might be off a smidge while still operating as if he truly has signed a four-year deal to continue wearing the Green and Yellow.
If that's the case, barring a trade, Rodgers would likely be on the final contract of his career and would spend it with the only franchise he's ever known. He could potentially retire midway through it or wear a different uniform, but we'll assume he plays out all four years with the Packers and hangs up the cleats after his age-42 season.
Tom Brady, Steve DeBerg, Doug Flutie, Warren Moon, and Vinny Testaverde are the only men who have suited up at quarterback past an age-42 season, and only Brady started double-digit games at that advanced age.
Though Rodgers is now entering the dreaded age-39 campaign that bit Peyton Manning and so many other signal-callers before him, we're also talking about a two-time reigning NFL MVP who hasn't shown any hints of a decline. That'll come eventually, but Rodgers could feasibly continue to produce seasons in which he tops 25 passing touchdowns and 4,000 yards.
He's averaged 4,478 yards and 36 touchdowns per season (prorated to 17 games) over the last four campaigns. Let's use that as the baseline and factor in some Father Time-induced regression over the next four:
| | | |
| --- | --- | --- |
| Season | Projected Passing Touchdowns | Projected Passing Yards |
| 2022 (age-39) | 34 | 4,400 |
| 2023 (age-40) | 32 | 4,200 |
| 2024 (age-41) | 30 | 4,000 |
| 2025 (age-42) | 28 | 3,800 |
This is hardly a scientific analysis. That would be nearly impossibly since Rodgers has already enjoyed such an anomalous career and is nearing his 40s during an era in which more quarterbacks are finding success at older ages and the league, in general, is passing the ball with increased frequency. Injuries could also come into play for a QB we projected to have the fourth-best season in the NFL during 2022.
Using those arbitrary approximations, though, Rodgers would finish his career with — brace yourself for the enormity of these numbers — 573 passing touchdowns and 71,760 passing yards.
Where Rodgers would stand relative to other Packers quarterbacks
Since Aaron Rodgers has spent his entire career with the Green Bay Packers, this part is easy. We don't have to parse through the numbers and figure out which ones came for which organization; they all came for the same franchise.
And as it turns out, no one would come close to him in either of those two most-prominent passing statistics.
Rodgers currently trails Brett Favre by 6,295 passing yards with the Packers, which means he should ascend to the top spot in the pecking order sometime during the 2023 campaign. With our projections, though, here's how the leaderboard would shake out when he hangs 'em up:
Aaron Rodgers: 71,760 passing yards
Brett Favre: 55,360
Bart Starr: 24,718
Lynn Dickey: 21,369
Tobin Rote: 11,535
No one is going to be close.
In fact, those projections would have Rodgers brushing shoulders with the top quarterbacks in NFL history, not just Packers history.
At 71,760, he'd trail only Favre (71,838), Peyton Manning (71,940), Drew Brees (80,358), and Tom Brady (84,520). A new contract might be necessary to challenge for one of the top two spots, but he does have enough enduring upside to move past Favre and Manning without breaking much of a sweat.
The story is similar for the touchdowns.
Rodgers already has the all-time lead for Green Bay, currently topping Favre by seven, and our projections would make him untouchable:
Aaron Rodgers: 573 passing touchdowns
Brett Favre: 442
Bart Starr: 152
Lynn Dickey: 133
Tobin Rote: 89
Once more, he'd also be pushing toward the top of the overall leaderboard. At 573, he'd fall behind just Brady (624) while outpacing Brees (571), Manning (539), Favre (508), and Philip Rivers (421).
As opposed to the yardage conversation, though, our touchdown projections are a bit aggressive. They're buffered by the 17-game element, but he probably has more room to fall behind Brees and Manning than to surge any higher up the all-time leaderboard.
Either way, he'd stand alone — by a significant margin — in Green Bay lore and make it that much harder for his eventual successor.
Good luck to Rodgers' eventually successor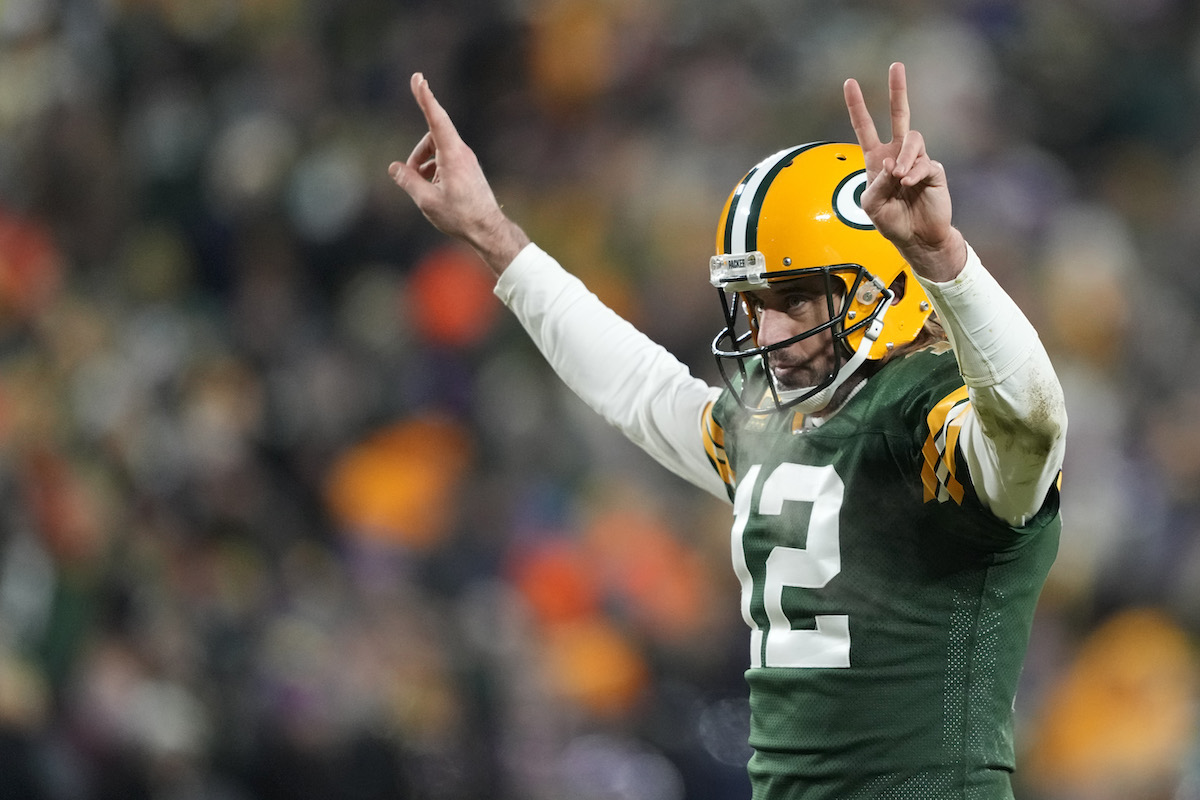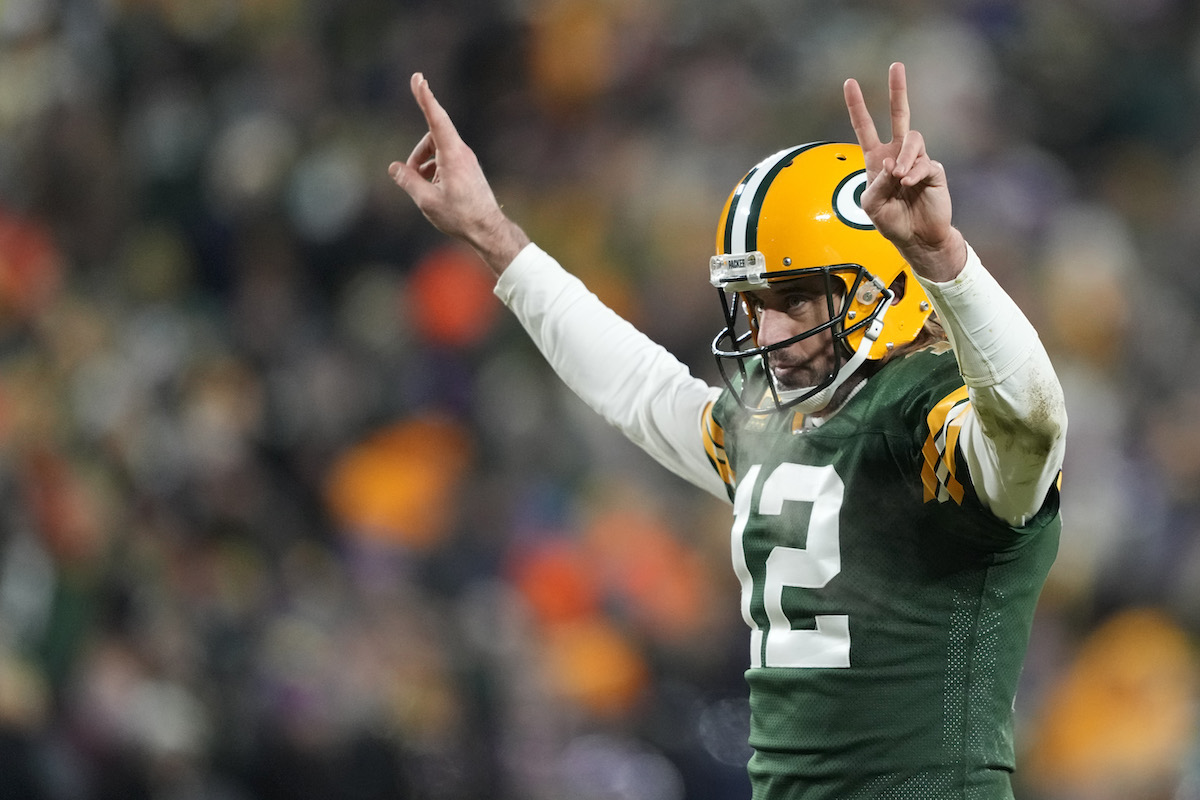 Maybe this is Jordan Love, who the Packers could either keep on the bench for developmental purposes throughout the foreseeable future or shop to a host of organizations before his stock dwindles.
In all likelihood, it's someone else entirely. With four more years of Rodgers on the books, the Packers' next starting quarterback may still be playing high school football right now.
Whoever eventually takes the reins will face an inordinate amount of pressure, though.
The Packers have enjoyed unmatched continuity at the most important position in sports. Dating back to Favre's arrival for the 1992 campaign, only the following players have started a game at quarterback while wearing a Green Bay uniform:
Brett Favre: 275
Aaron Rodgers: 227
Brett Hundley: 9
Matt Flynn: 6
Don Majkowski: 3
Scott Tolzien: 2
Seneca Wallace: 1
Jordan Love: 1
For the sake of comparison, 38 QBs have started for the Cleveland Browns over the same timeframe, and they didn't even exist for a handful of those seasons. The New England Patriots and Pittsburgh Steelers have come closest to establishing true dynasties, and they're at 13 (with five in double digits) and 15 (with six in double digits), respectively.
Lining up under center is going to be tough for whichever up-and-comer does so next in Green Bay. It'll be that much more difficult with less temporal separation between Rodgers' never-ending tenure and the next era.
All stats, unless otherwise indicated, courtesy of Pro Football Reference.