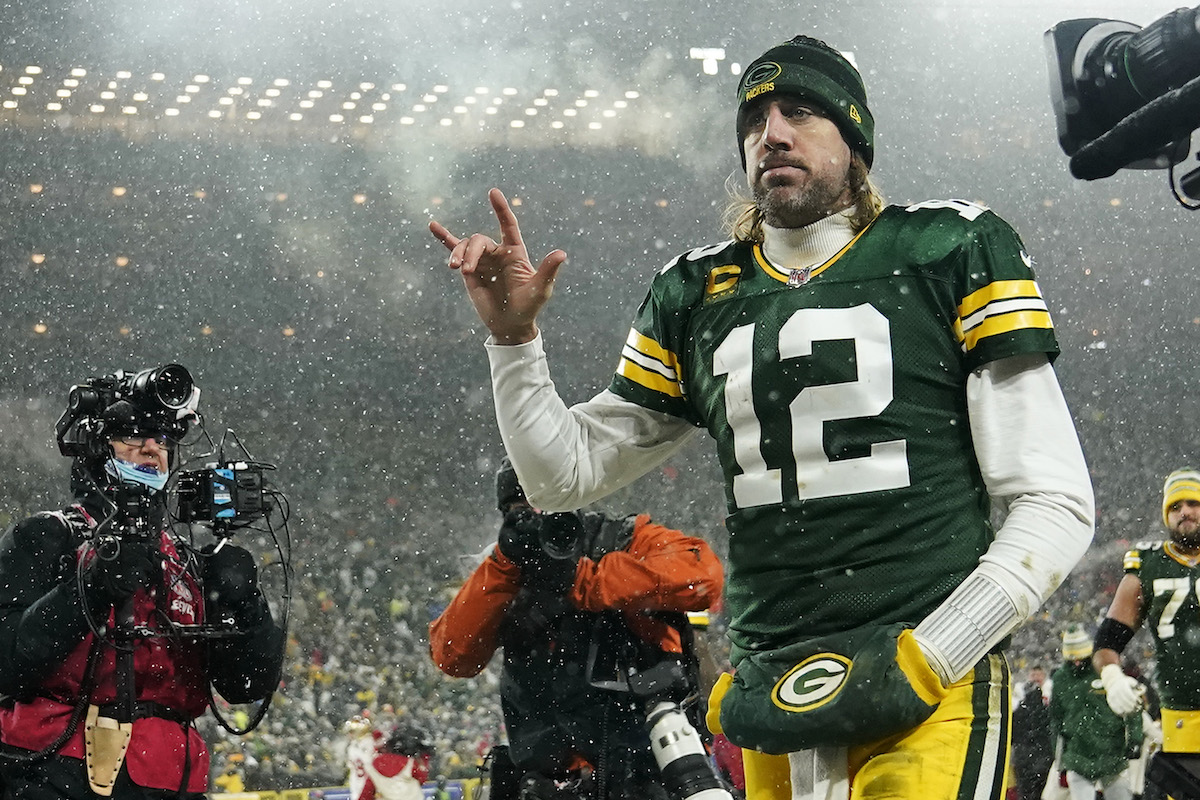 Aaron Rodgers Trade Rumors: History Says Stay Away From 39-Year-Old QBs
Aaron Rodgers may have back-to-back NFL MVPs under his belt, but history hasn't been kind to quarterbacks entering their age-39 seasons.
Aaron Rodgers trade rumors? Again? Didn't we just go through this?
Only Rodgers himself knows what his future holds, and that's assuming the 38-year-old four-time MVP even knows what his plans for the 2022 NFL season, his age-39 go-round, will be at this early stage of the offseason. Based on his trolling recent appearance on The Pat McAfee Show, even that might not be a safe bet for the perpetually confusing Green Bay Packers legend.
Rodgers went through a similar song and dance during the 2021 offseason. Will he retire? Does he just want a trade to another team? Is he going to report to camp? Is he drawing too much inspiration from the tumultuous late-career decision-making of fellow Packers standout Brett Favre?
A year later, perhaps he — gasp — learned from his mistakes?
Per ESPN's Dianna Russini, Rodgers plans to inform the only organization he's ever known of his plans "soon," and multiple franchises already have offers on the table:
Maybe the Denver Broncos, who already seem to be doing everything in their power to grease the wheels for a Rodgers transaction, are among those teams. Perhaps the Tampa Bay Buccaneers, allocating far too much mental energy to the idea of starting Blaine Gabbert, are preparing to transition from Tom Brady to another future Hall of Famer.
The Indianapolis Colts could move on from Carson Wentz in shocking fashion. The New York Giants could look to acquire a man who would put a quick end to the forgettable Daniel Jones era. The Carolina Panthers could swing for the fences and add an incoming superstar instead of shopping Christian McCaffrey and moving into a full-fledged rebuild.
The list goes on and on.
But should Rodgers put himself up for grabs rather than hang up the cleats or commit to another season playing frigid home games at Lambeau Field, every potential suitor should remember one key element to the entire situation that's both blindingly obvious and somehow commonly overlooked. Rodgers will turn 39 years old in December, and despite Brady's longstanding and anomalous defiance of Father Time, quarterbacks don't always age gracefully.
Aaron Rodgers trade rumors should be met with at least some age-related nervousness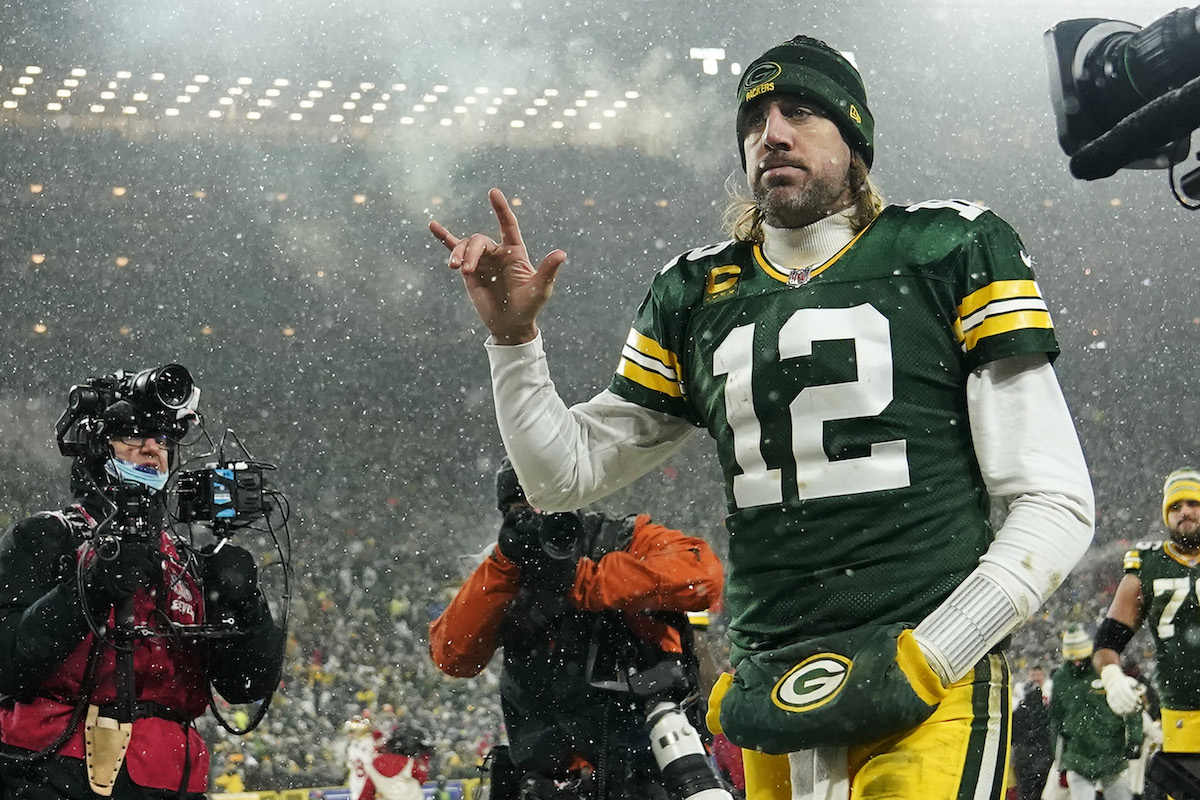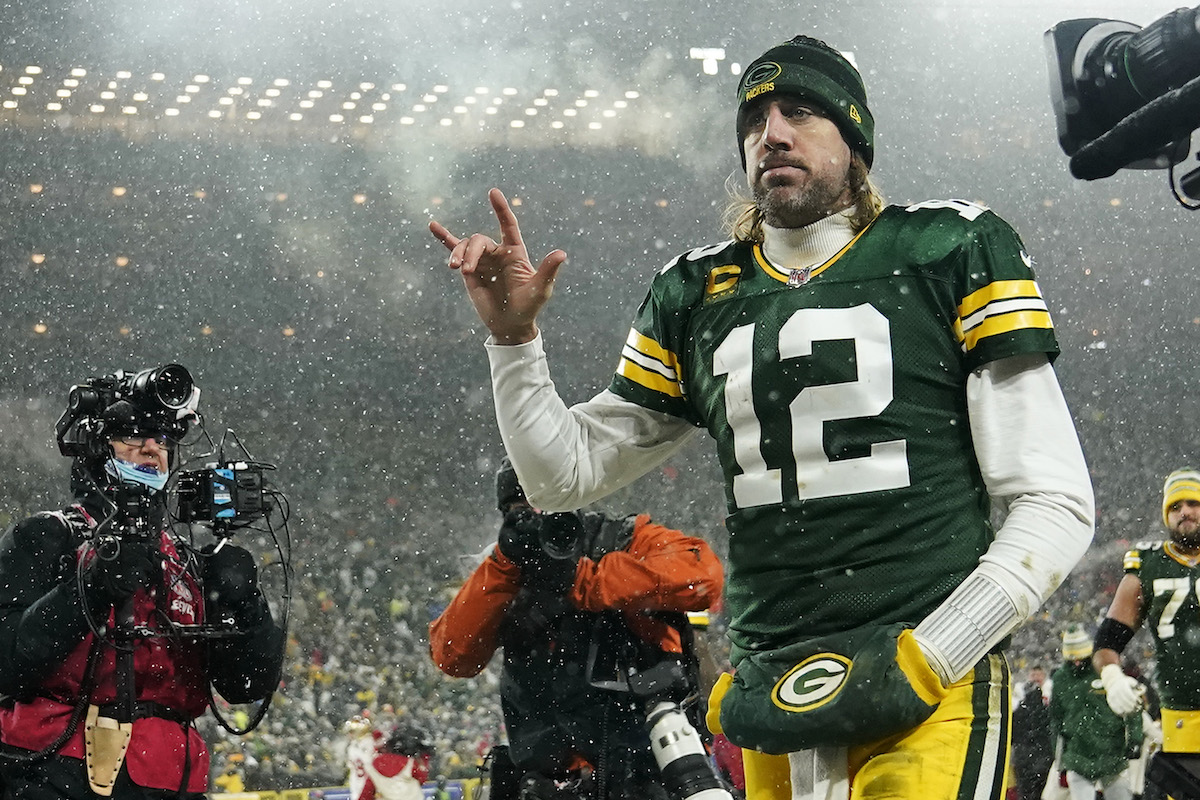 This isn't to say Rodgers will experience a sudden drop-off in performance after collecting the NFL's most prestigious individual award in back-to-back seasons. Far from it. In fact, the 10-time Pro Bowler checked in at No. 4 in our predictions for the top 32 quarterbacks of the 2022 season.
But history hasn't tended to be kind to veterans with this much experience under their belts, and the bottom can fall out at any point in time. It's that uncertainty that should create caution.
Rodgers, in all likelihood, will continue to operate at a high level in 2022 regardless of the uniform he's wearing. But the mere possibility he doesn't, that he falls from (football-related) grace far quicker than anyone expects, should be kept in the back of organizations' minds as they prepare to make offers. Acquiring a player of this caliber inevitably requires a lot of asset equity changing hands, and that can be crippling even if the unfulfilled expectations involve only a single season.
Though he's coming off his second consecutive MVP season, Rodgers is entering his age-39 campaign. And while his injury history is far more palatable than Peyton Manning's was at this stage of their respective careers, don't forget that the former Indianapolis Colt and Denver Bronco fell off the proverbial cliff at age 39.
He's not alone, either.
Using Pro Football Reference's approximate value (AV) metric, look at the top 10 age-38 seasons (and ties) by quarterbacks throughout NFL history and how they fared during the follow-up campaign:
| | | | |
| --- | --- | --- | --- |
| Quarterback | Age-38 AV | Age-39 AV | Change |
| Tom Brady | 18 | 13 | -5 |
| Drew Brees | 17 | 16 | -1 |
| Peyton Manning | 16 | 2 | -14 |
| Aaron Rodgers | 15 | TBD | TBD |
| John Elway | 14 | Retired | N/A |
| Brett Favre | 14 | 12 | -2 |
| Philip Rivers | 13 | 13 | 0 |
| Eli Manning | 12 | 3 | -9 |
| Kurt Warner | 11 | Retired | N/A |
| Fran Tarkenton | 11 | Retired | N/A |
| Phil Simms | 11 | Retired | N/A |
| Warren Moon | 11 | 13 | +2 |
| Earl Morrall | 11 | 2 | -9 |
Warren Moon is the lone outlier, actually improving when he hit the final year of his 30s. Far more frequently, declines come into play, and the magnitude of the decline is bigger than during the previous year-to-year change:
| | | | |
| --- | --- | --- | --- |
| Age | Number of Qualified Quarterbacks | Average AV | Average AV of QBs Who Play Until Age-39 |
| 37 | 79 | 5.94 | 7.76 |
| 38 | 57 | 5.96 | 6.97 |
| 39 | 34 | 4.32 | 4.32 |
The decline between age-37 and age-38 seasons is minimal, though the overarching caveat here is the small sample size. Once we filter to look only at the signal-callers who played all three relevant seasons (the final column), the far bigger plummet happens at the exact stage at which Rodgers now finds himself.
Again, this isn't to say teams should avoid trading for him entirely. He could very well win a third consecutive MVP in a Packers uniform — or for any other organization that deems his phenomenal play worthy of the accompanying headaches.
But caution should be exercised because Rodgers is entering dangerous age-related territory. History hasn't been kind to men under center when they're this close to entering their 40s.
Thirty-nine is the magic number, and not in a good way.
All stats, unless otherwise indicated, courtesy of Pro Football Reference.