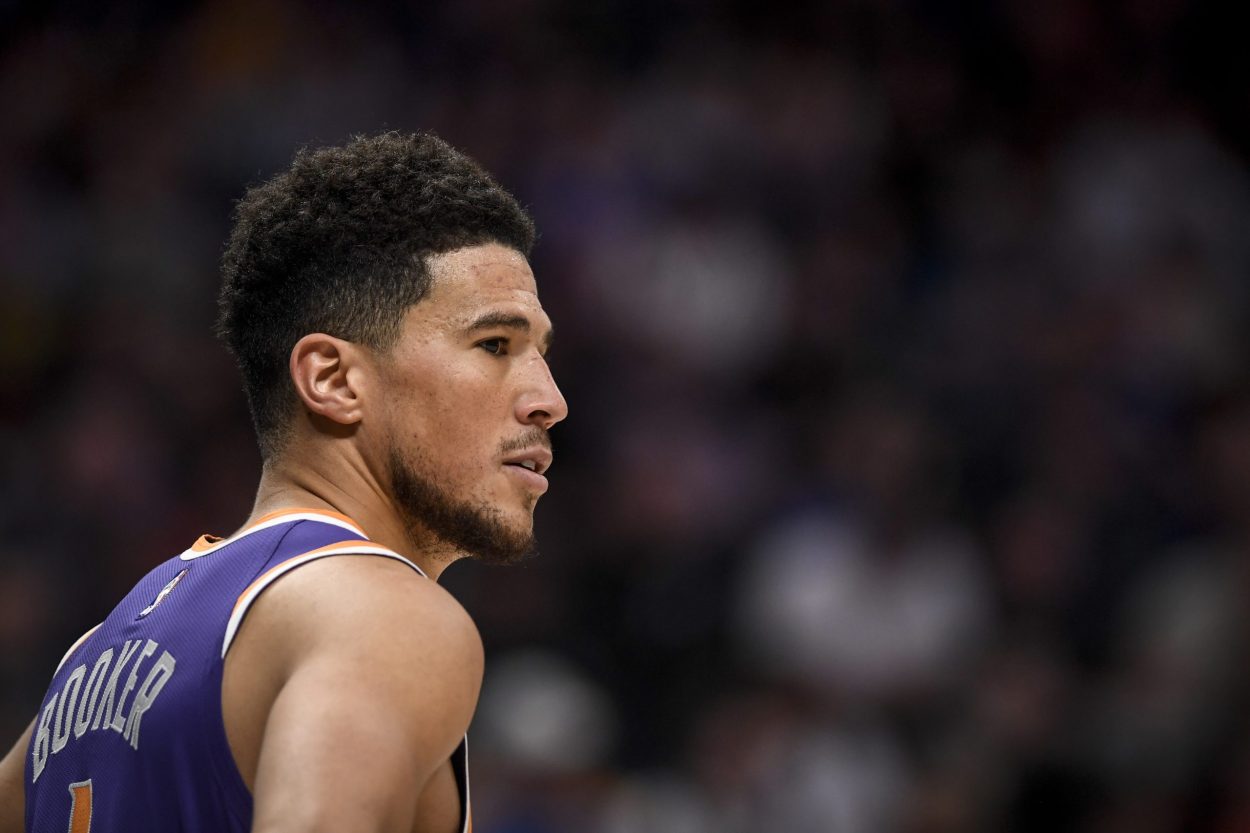 Devin Booker Dropped 49 Points on Nuggets After Alleged Pregame Slight: 'That Was Disrespectful'
Devin Booker noticed a scoreboard error before Thursday's game against the Denver Nuggets. He proceeded to score a season-high 49 points.
Denver Nuggets center Nikola Jokic has gotten his respect as an MVP candidate, but he might have to have a word with the team's scoreboard operator after a pregame error prompted Phoenix Suns star Devin Booker to send an emphatic MVP message of his own.
Booker noticed something odd during the lineup introductions when his name flashed on the screen. He didn't see his own face next to his name. Instead, he saw the visage of Los Angeles Clippers guard Amir Coffey. To quote Michael Jordan, Book took it personally.
Booker had his best game of the season in Chris Paul's return to the lineup, continuing what has been a dominant stretch and leading the Suns to a seventh straight win. He also bombed on the Nuggets after the contest.
Devin Booker scored a season-high 49 points in the Suns' win over the Nuggets
Nothing the Nuggets did defensively could slow Booker on Thursday night. He played like a man on a mission.
The three-time All-Star poured in a season-high 49 points, and he did so on remarkable efficiency. Booker shot 16-of-25 from the field and knocked down a pair of three-pointers. He repeatedly attacked the basket, getting to the charity stripe for 17 free-throw attempts and knocking down 15 at the line.
The scoring output alone was notable. Booker worked off screens and created separation for his patented mid-range jumpers. He pushed the pace in transition before Denver's defense could get set and showed ample confidence in taking Nuggets defenders off the dribble, getting into the lane and finishing with either hand.
But Booker impacted the game in other areas, as well.
With Paul out of the lineup, Booker took on more playmaking and ball-handling responsibilities. Even though CP3 returned on Thursday, Book still posed a danger as a passer. He racked up 10 assists, also finishing the contest with four rebounds and three steals. "Point Book" threw multiple lobs, including one where he called for Mikal Bridges to lift into the space and pull his defender out of the paint so that Booker could float a perfectly-timed pass to Deandre Ayton.
It was a dominant performance. According to Basketball Reference, Booker posted his highest Game Score (45.8) of the season. And to think, his motivation came from a perceived pregame mishap. For his part, Booker felt the scoreboard error was intentional.
Booker felt the Nuggets intentionally swapped out his face during lineup introductions
Devin Booker hasn't enjoyed the noise lately. He's using everything as fuel for the fire.
Booker previously ripped into Anthony Davis for suggesting the LA Lakers would have defeated the Suns in the first round of the 2021 NBA Playoffs had he stayed healthy. He took a potshot at the media for changing the criteria for winning NBA MVP depending on the player up for consideration.
After Thursday's virtuoso, Booker took aim at the Nuggets organization.
The Suns star made it clear (h/t Duane Rankin of Arizona Republic) that he thought Denver intentionally swapped out his face for Amir Coffey's in an effort to be funny. Booker admitted to getting a chuckle out of the incident, but he didn't exactly appreciate the move.
"That was disrespectful. … I know that was purposefully done. … It's all fun and games, but we got the last laugh, and every other laugh."

–Devin Booker during his postgame press conference
Booker added that the scoreboard detail got him going "for sure." He felt personally slighted by the way it went down.
A Nuggets staff member later told the Arizona Republic that the error was a mistake and the scoreboard operators couldn't get Booker's image to load correctly. But it didn't really matter.
Booker took it to heart, and he made it his mission to hammer the Nuggets into submission. It's something he and the Suns have done regularly now. Phoenix looks like it will be tough to beat come playoff time.
Are the Suns overwhelming NBA Finals favorites?
Numerous teams can call themselves NBA Finals contenders. But the Suns are looking pretty unbeatable right now. They deserve "title favorite" status.
Paul's injury could have thrown a wrench in Phoenix's pursuit of the franchise's single-season wins record. The same can be said of Booker's stint in health and safety protocols. Instead, the Suns have only grown stronger.
Mikal Bridges and Deandre Ayton have both increased their scoring output since the All-Star break. Bridges has become more assertive and shown added juice off the dribble while knocking down pull-up jumpers at an efficient clip. Ayton's mix of short rolls and hard dives keep defenders guessing in pick-and-roll. He's also displayed growth in his face-up game, knocking down jumpers and finishing with jump-hooks in the lane.
Still, Booker and CP3 conduct this train. They do a hell of a job, too.
Booker's growth as a read-and-react passer isn't likely to go anywhere. He's in the midst of his most efficient scoring stretch and closes games effectively. With his point guard back, he's probably even more dangerous.
Indeed, Paul immediately made an impact in his return. He had 17 points and 13 assists, orchestrating the offense in the half court. With Paul back in the rotation, the Suns have backcourt depth, as Cameron Payne slides to the bench.
Phoenix's best players are improving. Head coach Monty Williams can call on a bench headlined by Payne, Cam Johnson (once he's healthy), Torrey Craig, and JaVale McGee. That combination of quality, balance, and depth makes the Suns scary.
If Booker and the Suns enter the playoffs with the killer instinct he showed even before the tip on Thursday, then Phoenix has a terrific chance to hoist the Larry O'Brien Trophy.
Stats courtesy of Basketball Reference.