Did Andy Reid Take the Eagles to the Super Bowl?
Despite never leading the Philadelphia Eagles to a championship, Andy Reid is easily one of the most successful head coaches in franchise history.
The Los Angeles native leads the team in regular-season games coached (224), regular-season victories (130), postseason games coached (19), and postseason wins (10). In 14 seasons in the City of Brotherly Love, Reid led the Eagles to the NFL Playoffs nine times. And in five of those instances, he took the team to the NFC Championship Game.
And while Philly lost four of those games, Reid & Co. did win one, earning himself and his team a trip to Super Bowl 39.
Andy Reid led the Philadelphia Eagles to one Super Bowl appearance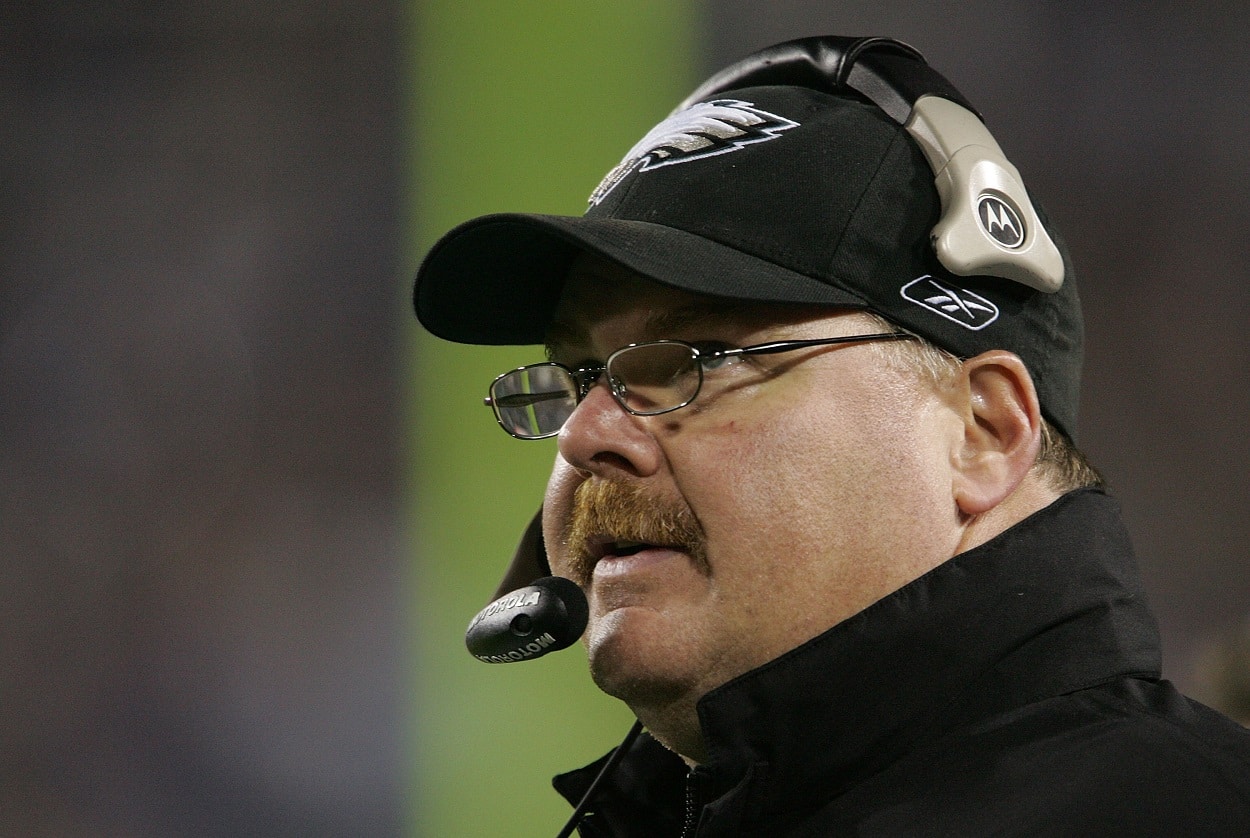 Coming off a third consecutive loss in the NFC Championship Game following the 2003 season, Andy Reid and the Philadelphia Eagles came out hot to start the 2004 campaign.
With an offense led by Donovan McNabb, Brian Westbrook, and Terrell Owens and a defense that featured five Pro Bowlers, including First-Team All-Pro safety Brian Dawkins, the Eagles won their first seven games and 13 of their first 14, losing only to the Pittsburgh Steelers.
They took losses to the St. Louis Rams and Cincinnati Bengals to close out the regular season but rested starters in both games as they'd already locked up their fourth straight NFC East title and had already clinched the No. 1 seed in the NFC.
To open the postseason, Andy Reid & Co. easily knocked off the sixth-seeded Minnesota Vikings in the Divisional Round, 27-14, and followed it up by finally winning the NFC Championship Game, defeating the second-seeded Atlanta Falcons by a score of 27-10.
In Super Bowl 39, the Eagles squared off with Tom Brady and the defending champion New England Patriots, who'd gone 14-2 in the regular season. The game was tied after each of the first three quarters — 0-0 after the first, 7-7 at the half, and 14-14 after three — but the Pats scored 10 quick points in the final frame to take a 24-14 lead.
The Eagles cut the deficit to three when McNabb connected with Greg Lewis for a 30-yard touchdown with 1:48 remaining. After the Philly defense forced a punt on the ensuing possession, the offense got the ball back with 46 seconds to go. But with 17 seconds left on the clock, McNabb was intercepted by Rodney Harrison, thus ending Andy Reid's best shot at a title in Philadelphia.