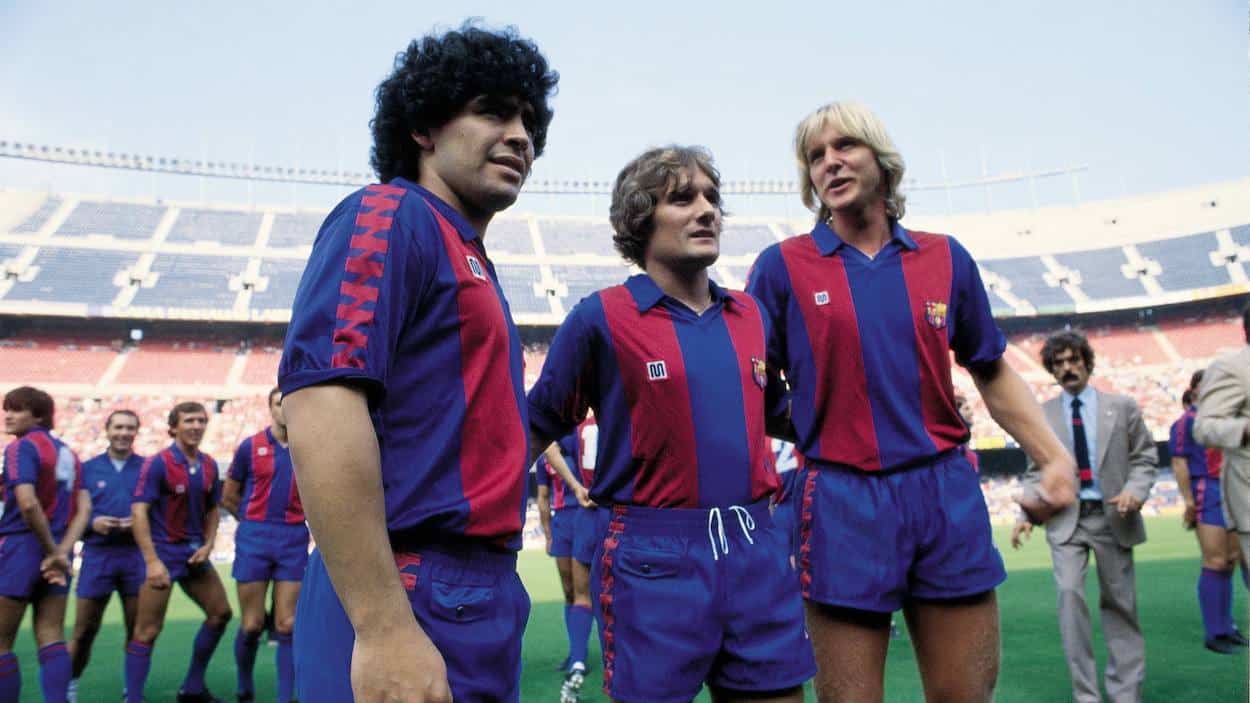 Argentina Legend Diego Maradona vs. the 'Butcher of Bilbao' Was 1 of the Wildest Brawls in Soccer History
Argentina legend Diego Maradona did so much in his career, including starting one of the most incredible brawls in pro soccer history.
Diego Maradona is one of the greatest players in soccer history. The Argentina legend won a World Cup for his country (with a little help from the "Hand of God"`) and scored 159 professional goals in Europe. When most fans think of Maradona's professional career, they picture him in the light blue of Napoli, the club he played seven seasons for in Italy. However, those who remember his 58 appearances over two seasons in Spain at FC Barcelona, they picture something very different. And that is Maradona's infamous rivalry and even more infamous brawl with Athletic Bilbao and Andoni Goikoetxea, aka the "Butcher of Bilbao."
The 'Butcher of Bilbao' earned his nickname against Barcelona leading up to the 1984 brawl
Andoni Goikoetxea played center-back for 14 seasons in La Liga in Spain. For 11 of those campaigns, he patrolled the defensive half for Athletic Bilbao, a now-124-year-old soccer club in the Basque region of Spain.  
From 1960 on, the club was mainly a middle- to bottom-tier side, save for the early- to mid-1980s, when Bilbao won two La Liga titles and a domestic cup, the Copa Del Rey. In those years, featuring Goikoetxea at the back, the team developed a fierce rivalry with the iconic Barcelona.
Barcelona was excellent as usual in the 1980s, and in 1982, they signed Diego Maradona for a then-record fee of £5 million from his club in Argentina, Boca Juniors.
The season before Maradona got to Barcelona, Goikoetxea sparked the rivalry and added to his reputation by severely injuring German Barcelona midfielder Bernd Schuster. However, he wouldn't receive his intimidating nickname until 1983.
The "Butcher of Bilbao" came to be in September of '83, when Goikoetxea executed one of the worst tackles in football history, crashing into Maradona's ankle from behind, breaking it, and putting the Barcelona star out for three months.
An English journalist gave Goikoetxea his intimidating moniker after that, and Maradona plotted his revenge. He would get that chance in the 1984 Copa Del Rey final.
Diego Maradona and Andoni Goikoetxea sparked one of the wildest brawls in soccer history
The 1984 Copa del Rey final was played at Real Madrid's Santiago Bernabéu. With the political tension between Spain's capital city, Bilbao's Basque region, and Barcelona's Catalonia region, no one was comfortable in this match. In fact, both sets of fans booed the Spanish national anthem before kickoff.
When the game started, things only got worse.
Bilbao defenders took hard tackles on both Diego Maradona and Bernd Schuster, reminding Barca of past wrongs. Despite the rough play, Bilbao drew first bold (figuratively), with forward Endika scoring in the 14th minute.  
Throughout the rest of the game, Maradona and Barcelona striker Pichi Alonso had some excellent chances but couldn't convert. As the final whistle sounded, Maradona got in the face of Bilbao defender José María Núñez as the Bilbao team and fans — who tore down a fence to invade the pitch — celebrated.
That was too much for Maradona and Schuster after their run-ins with the "Butcher of Bilbao." And when unused Bilbao sub Miguel Angel Sola got in the Argentine star's face, Maradona hit him with a vicious knee at the head, knocking him unconscious. The attack tipped off a wild brawl that featured Maradona, Schuster, and Barcelona defender Migueli leaping into anyone with an opposing uniform with brutal flying kicks.
Riot police had to storm the field and get the Barcelona players to the locker room as Spain's King Juan Carlos and 100,000 fans watched inside the stadium, and at least half of the country's population watched on TV.
The aftermath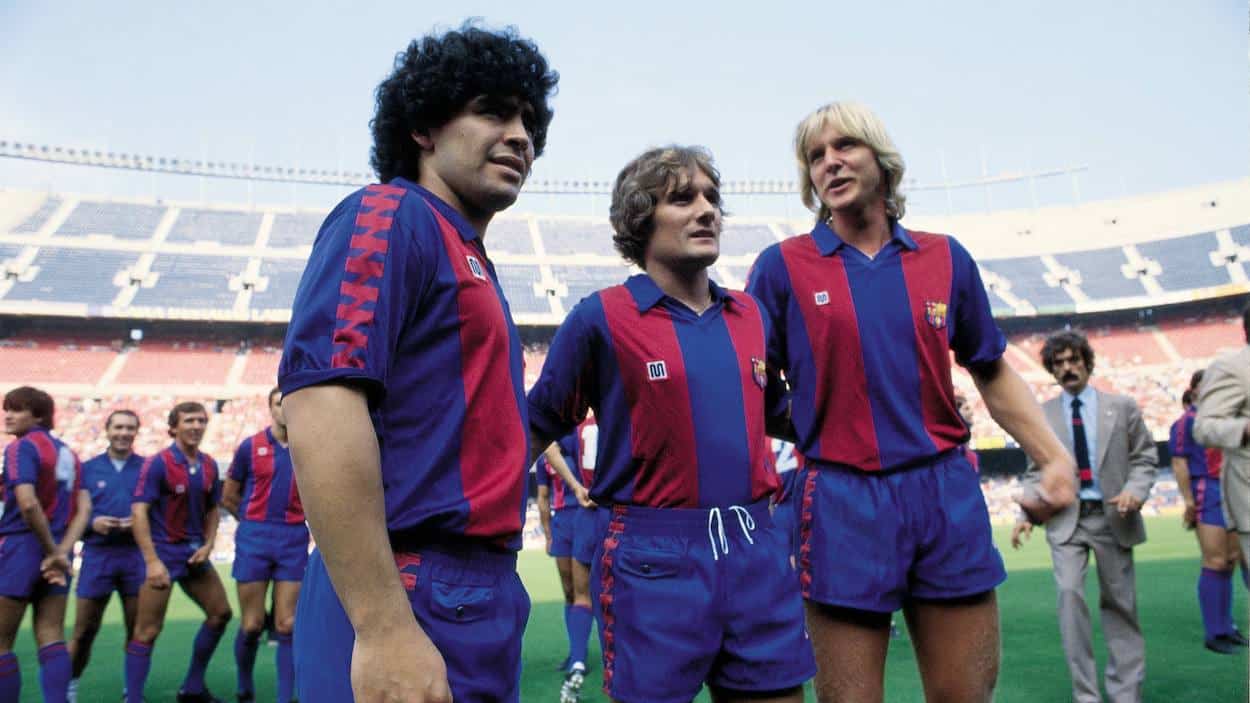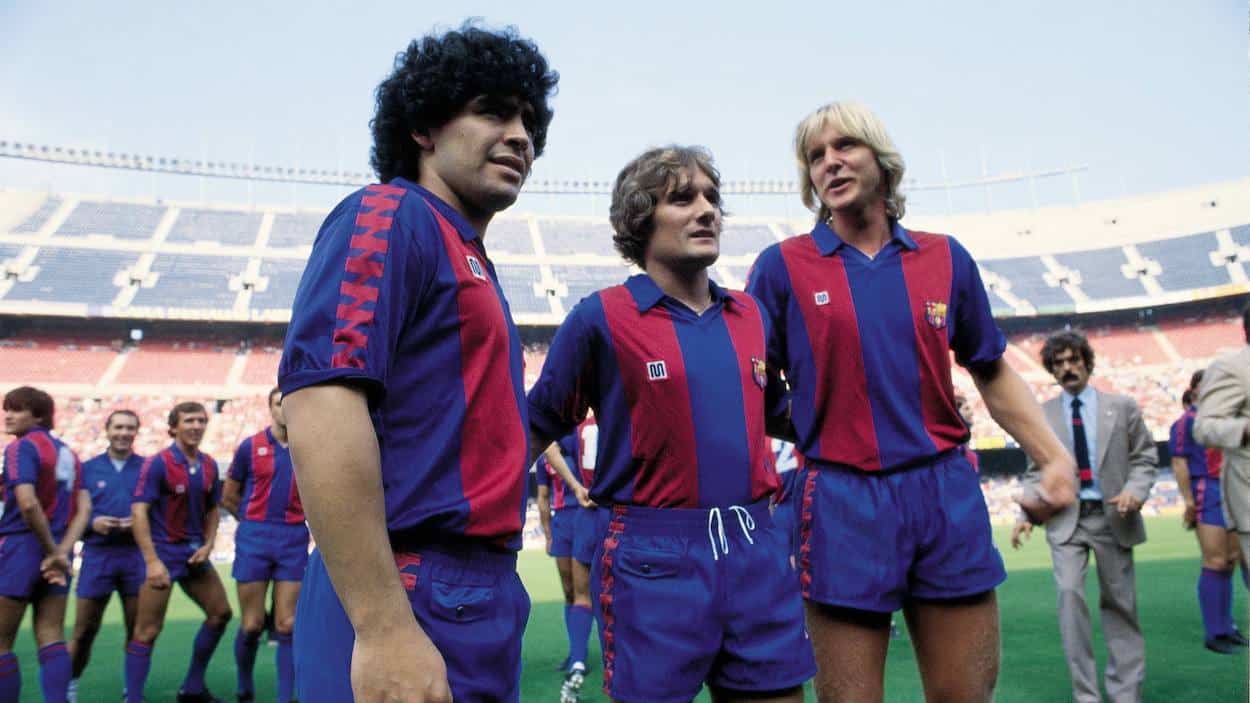 The 1984 Copa del Rey final brawl was one of the most controversial days in Spanish football. And after just two seasons at Barcelona, it was the moment club president Josep Lluis Nunez realized Diego Maradona had to go.
Less than two months after the brawl, Barcelona sold Maradona to Italy's Napoli for another record fee of £6.9 million.
As for the other players involved in the brawl, Schuster stayed with Barcelona for the next season, helping them win La Liga in 1984-85 before controversially moving to the bitter rival Real Madrid and winning two La Liga trophies and a Copa del Rey with them.
Miguel Angel Sola recovered from being knocked out by Maradona and played one more season for Athletic Bilbao before moving back to his hometown club of Osasuna in Pamplona, Spain.
Both Sola and Schuster became managers after their playing careers, with Schuster even managing Real Madrid for the 2007-08 season before resigning.
As for the "Butcher of Bilbao," Andoni Goikoetxea continued with Athletic Bilbao until 1987 and played with Spain in the 1986 World Cup. In the summer of '87, he moved to Atletico Madrid and played the final three seasons of his career there.
Afer retiring, Goikoetxea became an assistant coach for several Spanish teams at various levels and was an assistant on Spain's 1994 World Cup squad. He also reportedly has the cleats he wore when he broke Maradona's ankle enshrined at his home.