Is Kylian Mbappe Already Better Than Lionel Messi and Cristiano Ronaldo?
There are several candidates for best player in soccer history. There is, of course, the old guard of Pele and Diego Maradona and Brazil's Ronaldo. Lionel Messi and Cristiano Ronaldo are the GOAT candidates in modern-day football. However, as the 2022 World Cup goes on, and Messi and Portugal's Ronaldo play in their final World Cup, France forward Kylian Mbappe is making his case as the best player in the world, and maybe more.
Kylian Mbappe already has a better World Cup resume than Lionel Messi and Cristiano Ronaldo 
Kylian Mbappe is only 23 years old, and he already has a World Cup trophy and is into the quarterfinals in his second tournament appearance.
With two goals in the Round of 16 vs. Poland, Mbappe now had nine World Cup goals. This is tied with Lionel Messi and one more than Cristiano Ronaldo, who is yet to play his Round of 16 game.
All three players are still alive in Qatar, and Paris Saint-Germain teammates Messi and Mbappe are through to the quarters. Still, being a decade-plus younger than his counterparts and having the same amount of World Cup goals is a massive feather in Mbappe's cap, as is his Jules Rimet trophy.
In Messi's previous four World Cup appearances, he's gone out in the quarterfinals twice (2006, 2010), the Round of 16 once (2018), and in 2014, Argentina lost in the finals to Brazil. As for Ronaldo, he does have a major international trophy at the 2016 Euros. However, in the World Cup, his best finish is fourth place (2006). In his other tournaments, Portugal has gone out in the Round of 16 (2010, 2018) and the Group Stage (2014).
With one win already, Mbappe's World Cup resume is ahead of his current-day counterparts and equal to Diego Maradona, who won one Jules Rimet in 1986. Brazil's Ronaldo and Pele both have multiple titles, although as a 17-year-old in 1994, Ronaldo didn't play in the tournament during his country's winning campaign.
Pele is currently the greatest World Cup player of all time, with three wins. He was also part of the last country to repeat as champions, as Brazil won back-to-back titles in 1958 and 1962. If Mbappe can lead France to another victory in 2022, that would get him awfully close to Pele.
The French superstar needs to make a move professionally to become the GOAT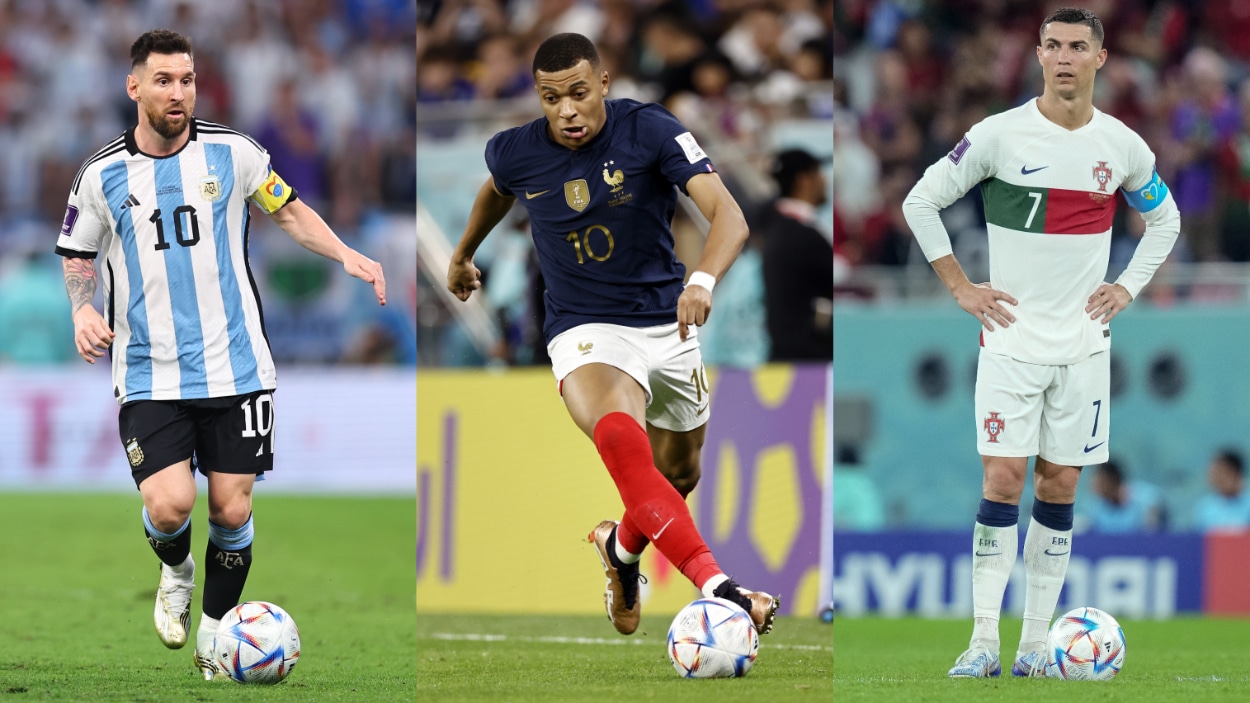 As good as Kylian Mbappe has been on the world stage, he needs to take a step up in competition professionally in order to become the greatest and put his name in the conversation with Cristiano Ronaldo and Lionel Messi.
The reason Cristiano Ronaldo and Messi are generally considered the best of all time is because of what they've done on a professional level. Ronaldo has 701 professional goals, five Ballon d'Or awards, seven domestic titles, and five Champions League trophies. Messi also has 701 professional goals, with seven Ballon d'Or awards, 11 domestic titles, and four Champions League trophies.
Pele played 18 years for Santos in his native Brazil and two seasons for the New York Cosmos in the United States. He never challenged himself against the best in Europe, which hurts his GOAT argument.
As for Diego Maradona, his professional career was marred with controversy. He only played 36 matches for Barcelona due to his involvement in sparking an on-field braw vs. Athletic Bilbao in 1984 and battling with club officials. His move to Napoli saw the Argentine deal with drug problems and get involved with the Naples mafia.
Brazil's Ronaldo was a two-time Ballon d'Or-winner at Inter Milan and Real Madrid, but injuries and weight issues plagued his professional career.
As for Mbappe, he's only played in France's Ligue 1 for Monaco and PSG. He's done well with these teams, but Ligue 1 is no better than the fifth-best league in the world, behind England's Premier League, Spain's La Liga, Germany's Bundesliga, and Italy's Serie A.  
In order to truly put his name in the same company with Pele, Maradona, Ronaldo, Messi, and Cristiano Ronaldo, Mbappe needs to make a move to one of those better leagues and make his mark there.
The French star did re-up his contract with PSG this summer after a flirtation with Real Madrid. However, it does seem like there is an out after next season in Mbappe's contract, so this summer or next could see him make a move.