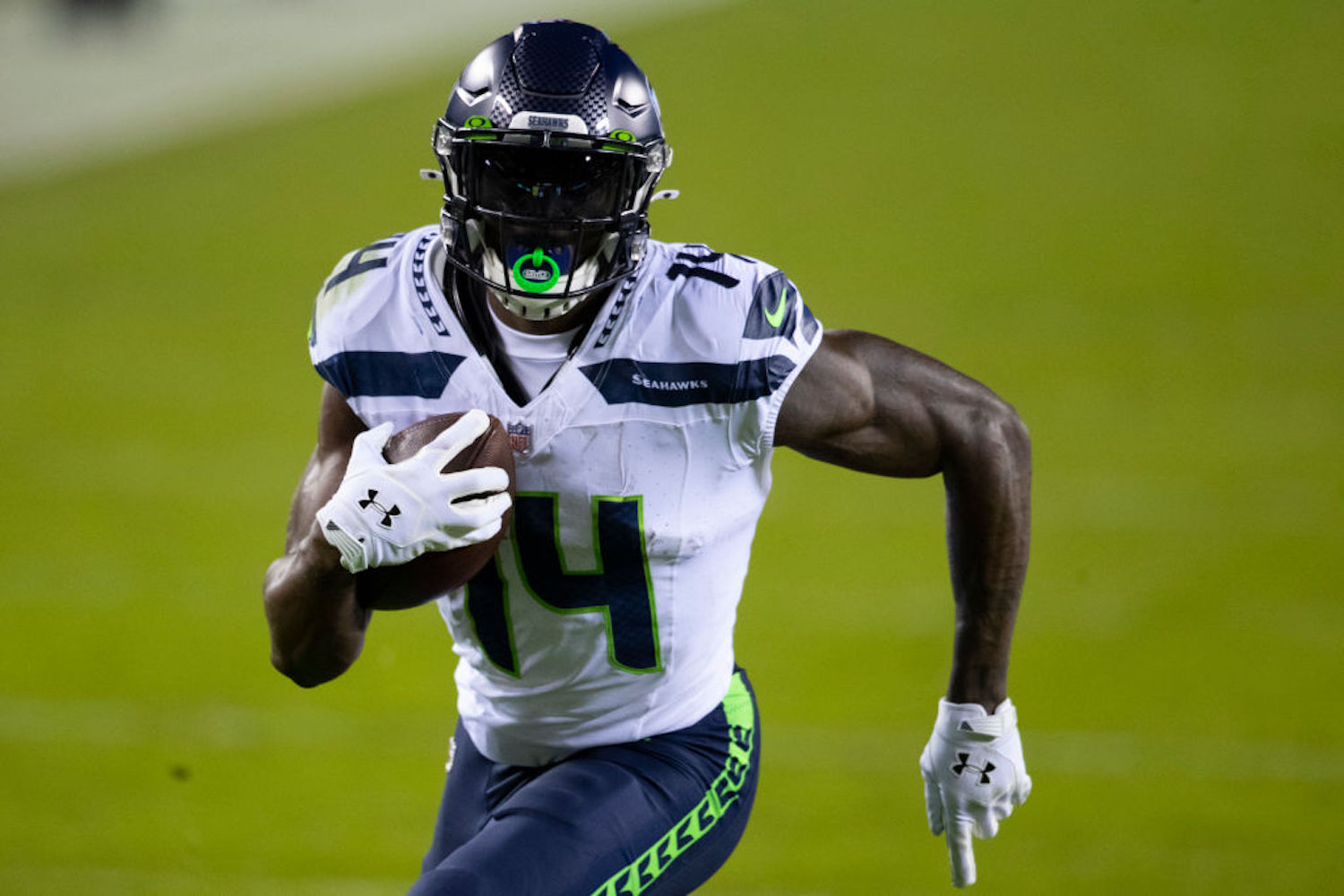 DK Metcalf Set a Career-High After an Eagles Coach Told Him He Wasn't Good Enough
DK Metcalf went off for a career-high 177 receiving yards Monday night, and a backhanded compliment from an Eagles coach might explain why.
DK Metcalf looked like a man amongst boys on Monday night when the Seattle Seahawks faced off against the Philadelphia Eagles. The second-year wide receiver snatched 10 catches for 177 yards in the Seahawks 23-17 win on MNF.
It looked as if Metcalf was out to prove a point on Monday night, and it turns out he actually was. Before the game, an Eagles defensive coach gave Metcalf a backhanded compliment about how he will never be Calvin Johnson. Apparently, he wasn't too thrilled with the comparison, so he punished the Eagles with a career night.
DK Metcalf went off for a career-high 177 yards on Monday night
Seahawks WR DK Metcalf is well on his way to his first career Pro Bowl appearance in just his second NFL season. The 22-year-old currently leads the NFL with 1,039 receiving yards, and his nine receiving touchdowns rank fifth in the league.
For as much as Metcalf has accomplished so far in his young career, he had never compiled over 161 receiving yards in a single game. That changed Monday night.
Metcalf went off for a career-high 177 receiving yards on 10 catches against the Eagles. He had three-time Pro Bowl cornerback Darius Slay pleading for help all game, and Metcalf diced him up for a career night.
Metcalf's 177 yards led the Seahawks to a 23-17 victory and vaulted Seattle back into first place in the NFC West.
Eagles DC Jim Schwartz insulted DK Metcalf before the game
Metcalf looked like a man on a mission on Monday night. It turns out that mission was to prove Eagles defensive coordinator Jim Schwartz wrong. Metcalf revealed after the game that Schwartz told him he would never be as good as Calvin Johnson.
"One of the defensive coaches came up to me and he kind of made me mad that he was like 'I was in Detroit with Megatron, but you're not there yet,'" Metcalf said, referring to Schwartz. "In my mind, I'm not trying to be Megatron. I'm trying to be me. So I had a little chip on my shoulder the whole game."
Schwartz believed he was complimenting Metcalf by comparing him to Johnson, but the star Seahawks receiver clearly took it a different way.
Metcalf trolled Schwartz after the game
After going off for a career-high 177 receiving yards against Schwartz's defense, Metcalf took to Twitter to troll the defensive coordinator. Metcalf responded to the video of his postgame comments with a meme of Michael Jordan from The Last Dance, and the Internet lost it.
Metcalf isn't only an elite NFL wide receiver already in year two, but he's also an elite Internet troll.
The Eagles held everyone else on the Seattle offense in check all night, including Russell Wilson, but their defense had no answer for Metcalf on the outside. Metcalf doesn't need any extra fuel to dominate a game, but he sure got some on Monday night. Way to go, Jim Schwartz.