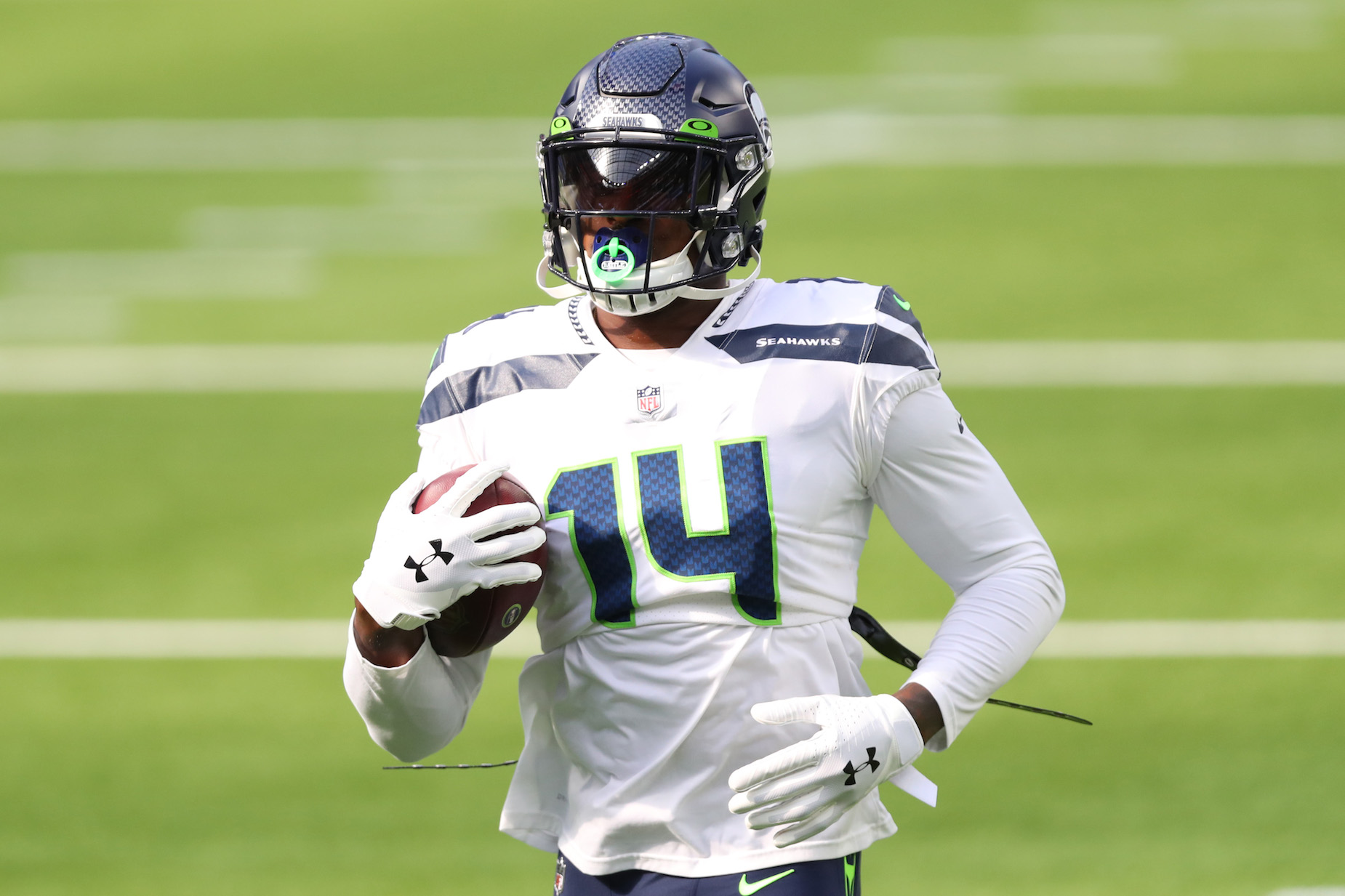 DK Metcalf's Pacifier Mouthpiece Tells You Everything You Need to Know About His Approach to Football
Seattle Seahawks receiver DK Metcalf plays with a pacifier-style mouthpiece. That choice tells you everything you need to know about his attitude.
Due to their helmets and pads, most NFL players can look pretty similar when they take the field. There's no missing DK Metcalf, though. The Seattle Seahawks receiver may be relatively new to the league, but he's a mountain of a man with freakish athleticism. Size alone isn't his only distinguishing characteristic, though.
Whenever the cameras zoom in on DK Metcalf, the receiver seems to be sucking on a pacifier. While it's actually his mouthpiece, that signature accessory still tells you everything you need to know about the Seattle Seahawks' young star.
DK Metcalf joined the Seattle Seahawks surrounded by questions
Based purely on his physical tools and athleticism, DK Metcalf simply looks like a football player. His time on the gridiron, however, wasn't always easy.
Metcalf played his college ball at Ole Miss but didn't get off to a good start. As a freshman, the receiver only played two games before going down with a season-ending foot injury. Although he played a full campaign the following year as a redshirt freshman, more misfortune was around the corner.
During his third NCAA season, Metcalf got off to a strong start, posting 569 receiving yards and five touchdowns through the first seven games. In a victory over Arkansas, the receiver suffered a neck injury. What was initially thought to be a stinger or a mild strain turned out to be a fracture; at that moment, his football career seemed to be in jeopardy.
While Metcalf was eventually cleared to return to the gridiron, his issues weren't over yet. Heading into the 2019 NFL draft, many were concerned with the receiver's lack of NCAA production; some feared he had been surviving on his physical tools without running proper routes. That explains why he slipped into the second round, joining the Seattle Seahawks as the 64th-overall pick.
Why does DK Metcalf use a pacifier mouthpiece?
When you think of a professional football player, you probably imagine someone who's pretty tough, if not downright intimidating. DK Metcalf, however, hits the field with a pretty unimpressive accessory.
While mouthpieces are a standard piece of NFL equipment, Metcalf has personalized his protective gear. With an assist from Battle Sports Science, the receiver hits the field wearing a mouth guard that looks like a pacifier.
"Just me trying to be creative and bringing out my personality with the mouthpiece," he explained, according to a 2019 ESPN story.
But why a pacifier specifically? The receiver has a simple explanation for that, too.
"I'm a baby in the league," Metcalf continued. "I'm a rookie, so I'm young, but I try to play like a grown man."
It's safe to say the Seattle Seahawks receiver had accomplished his goal
Normally, comparing someone to a baby would seem like a slight. DK Metcalf, however, is approaching professional football with the right attitude. While the receiver may be a relative newcomer to the NFL scene, he's buckled down and behaved like a grown man in more ways than one.
First, in terms of raw production, the receiver has more than pulled his weight. Through his first 26 games with the Seattle Seahawks, Metcalf has pulled in 106 receptions for 1,762 yards and 16 touchdowns. While playing with Russell Wilson surely helps, the wideout has still made the most of his opportunities and established himself as a legitimate offensive threat.
Beyond that, though, Metcalf has also been a model pro during his time in the NFL. Take, for example, his chase down tackle that went viral; it would have been easy for him to mail it, but the receiver ran just as hard to make a defensive play as he would have to score a touchdown. He's also improved his route-running, and, barring one mistake when he slowed up before reaching the end zone, has avoided any major missteps.
As Bob Condotta explained in the Seattle Times, DK Metcalf has been making an active effort to improve; he's learning from Russell Wilson, spending more time studying his opponents on film, and has upped his attention to detail. Even though he's still rocking the pacifier mouthpiece, those are all behaviors of a mature player…and his grown man numbers back that up.
Stat courtesy of Sports-Reference and Pro-Football-Reference