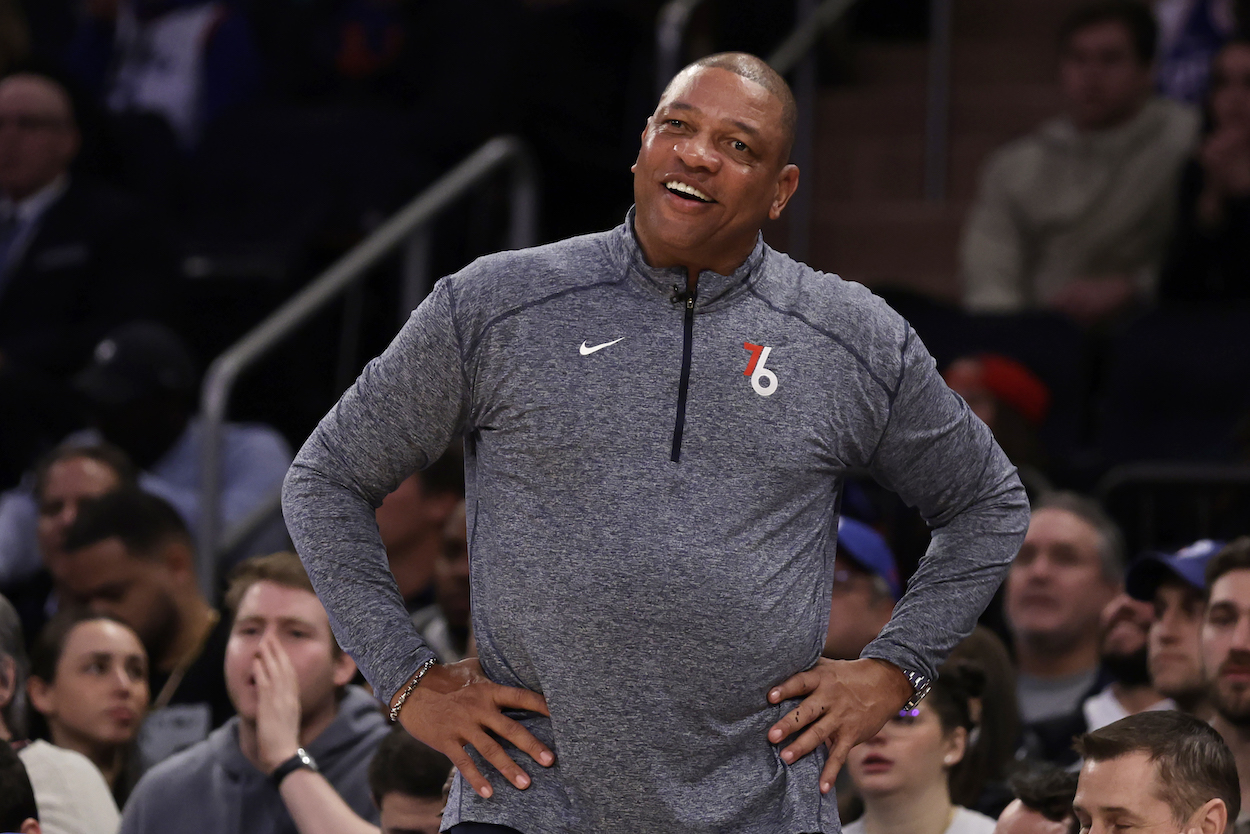 Doc Rivers' Bald-Faced Lie Only Accentuates the 76ers' Most Glaring Problem
Philadelphia 76ers head coach Doc Rivers is lost when it comes to which center will backup Joel Embiid.
It's hard to say anything negative about the new-look Philadelphia 76ers right now. Doc Rivers' bunch is 3-0 with James Harden in the lineup, and it's outscoring opponents by more than 20 points per game over that stretch.
But this dangerous roster isn't without its flaws. The Sixers can't seem to find an answer to their backup center dilemma, and Rivers' blatant lie before Wednesday's game against the New York Knicks only makes it more impossible to figure out.
The 76ers have a concerning backup center problem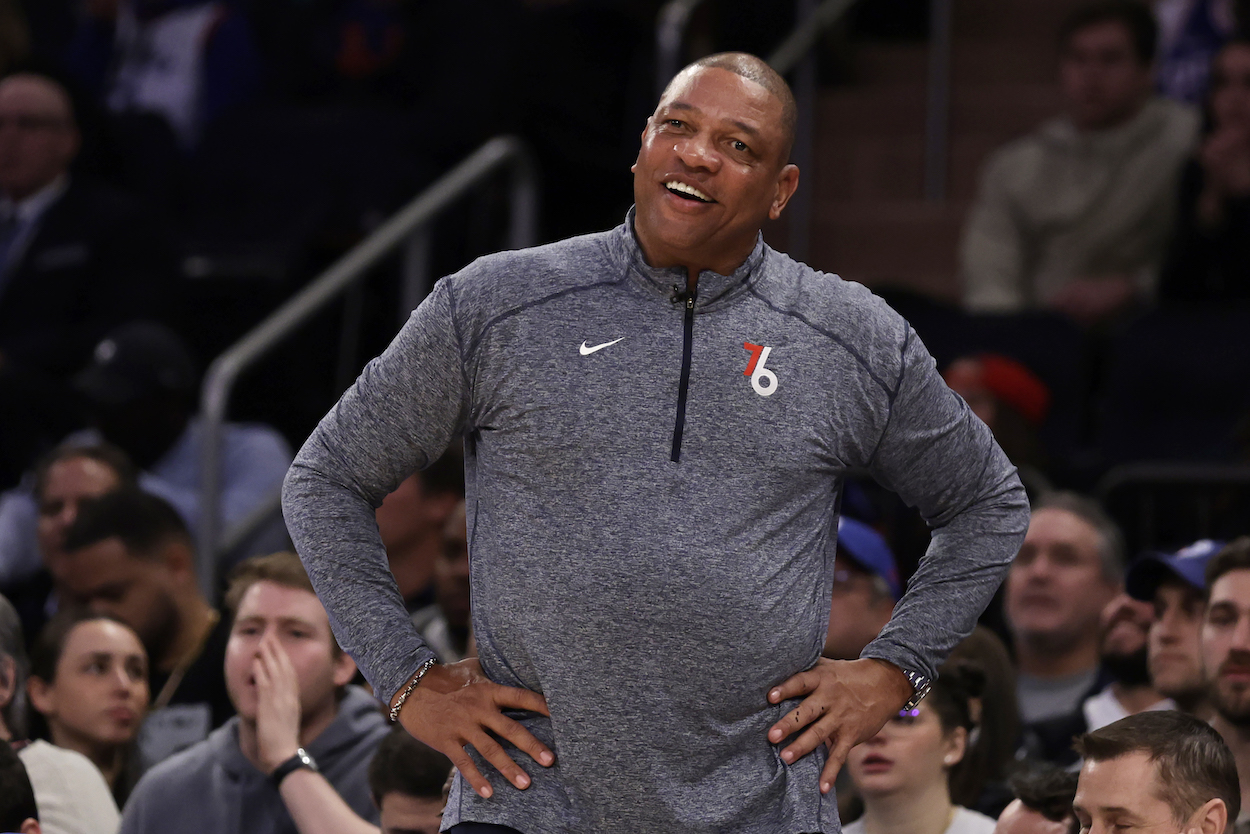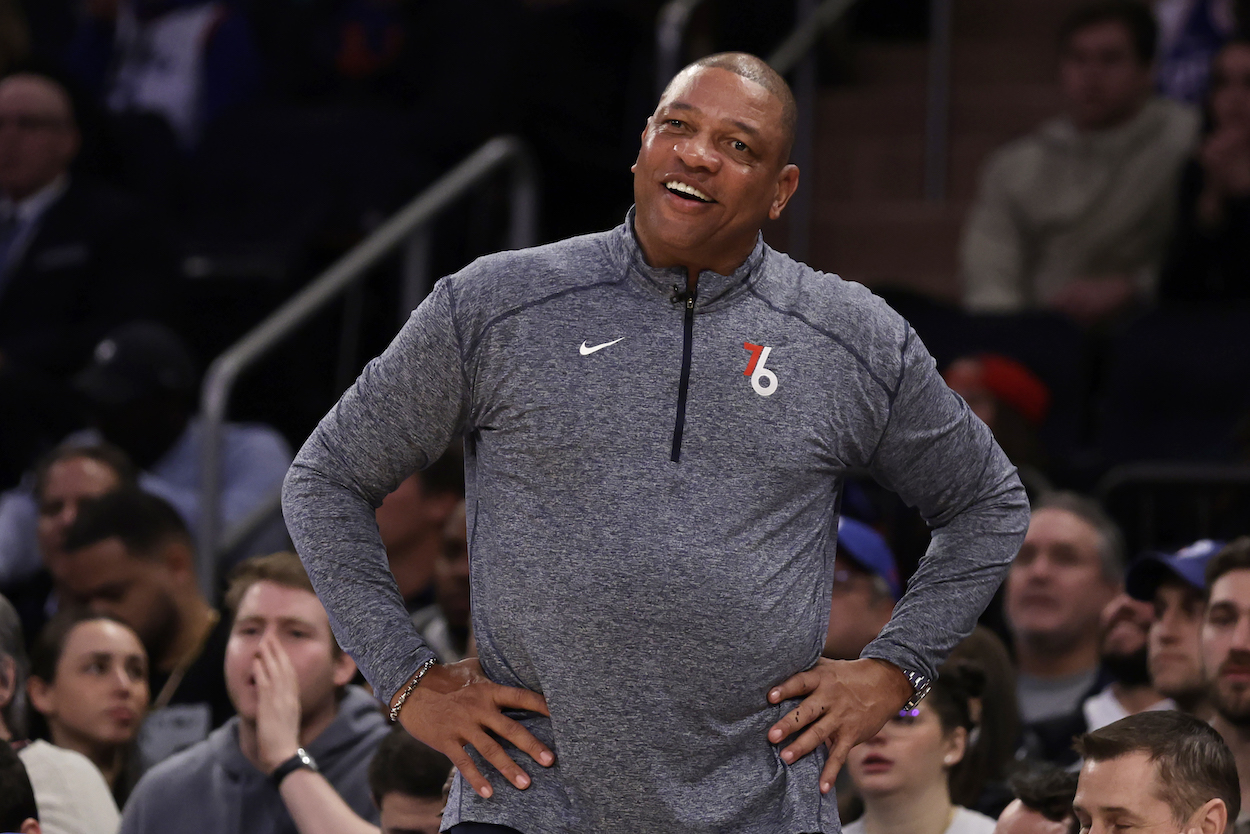 For much of the 2021-22 season, the backup center position was the least of Philadelphia's worries. Andre Drummond was fantastic in relief of Joel Embiid, as the veteran big man pitched in 6.1 points and 8.8 rebounds per game off the bench in 49 appearances for the team. He was also more than serviceable as a defensive rim protector.
Unfortunately for the Sixers, they had to say goodbye to Drummond in the Harden trade, which left them thin at center behind Embiid. Philly does have Paul Reed and Charles Bassey on the bench as promising, young talents, but Rivers doesn't trust either big man to play meaningful minutes just yet.
So, Paul Millsap, who joined the team via the Harden trade, has become the team's de facto backup center. Considering he's only 6-foot-7 and has played power forward for 16 years in the league, that's not an ideal solution for Philadelphia.
In five games with the Sixers, Millsap has averaged only 4.4 points and 2.8 rebounds per game, and his 112 defensive rating would be the worst mark of his lengthy career. Millsap simply isn't the answer, but Rivers doesn't have many other options.
Doc Rivers' bald-faced lie paints a grim picture of the center rotation
In a desperate attempt to shore up the backup center position, the 76ers signed former No. 6 overall pick Willie Cauley-Stein to a 10-day contract after the All-Star break. Well, those 10 days are almost up, and Cauley-Stein has played only six total minutes of garbage time in three games with the team.
Before Wednesday's game against the Knicks, Rivers told reporters he planned to use Cauley-Stein as a backup to Embiid to gauge whether he might be worth keeping around. But that turned out to be a lie.
Instead, Millsap was the first off the bench in relief of Embiid. Cauley-Stein entered the game with 1:15 left in the fourth quarter and the Sixers leading by 15. The only statistic he recorded was a personal foul.
I'm no expert on coaching at the NBA level, but that doesn't seem like the best way to test a possible backup. Cauley-Stein will most likely be packing his bags in three days, and the 76ers will be right back to where they started.
DeAndre Jordan is a clear solution to the 76ers' most glaring problem
In the wake of DeAndre Jordan getting released by the Los Angeles Lakers, the Sixers reportedly emerged as the favorites to sign the veteran center. At first, I was skeptical about the idea, but Philly might have no other choice.
Jordan played for Rivers on the Los Angeles Clippers for five years. He also played alongside Harden on the Brooklyn Nets last season, so he'd immediately have some familiarity by joining the team. And if Rivers is going to keep trotting out Millsap in front of Reed and Bassey, Jordan would be a much better option at center.
Jordan is a limited player at this point in his career, but he's still a dangerous alley-oop threat that would pair perfectly with Harden when Embiid needs a breather. Plus, he'd at least hold his own on defense against bigger centers who can eat Millsap alive.
Make the call, Daryl Morey. It's the only solution left.
Like Sportscasting on Facebook. Follow us on Twitter @sportscasting19.