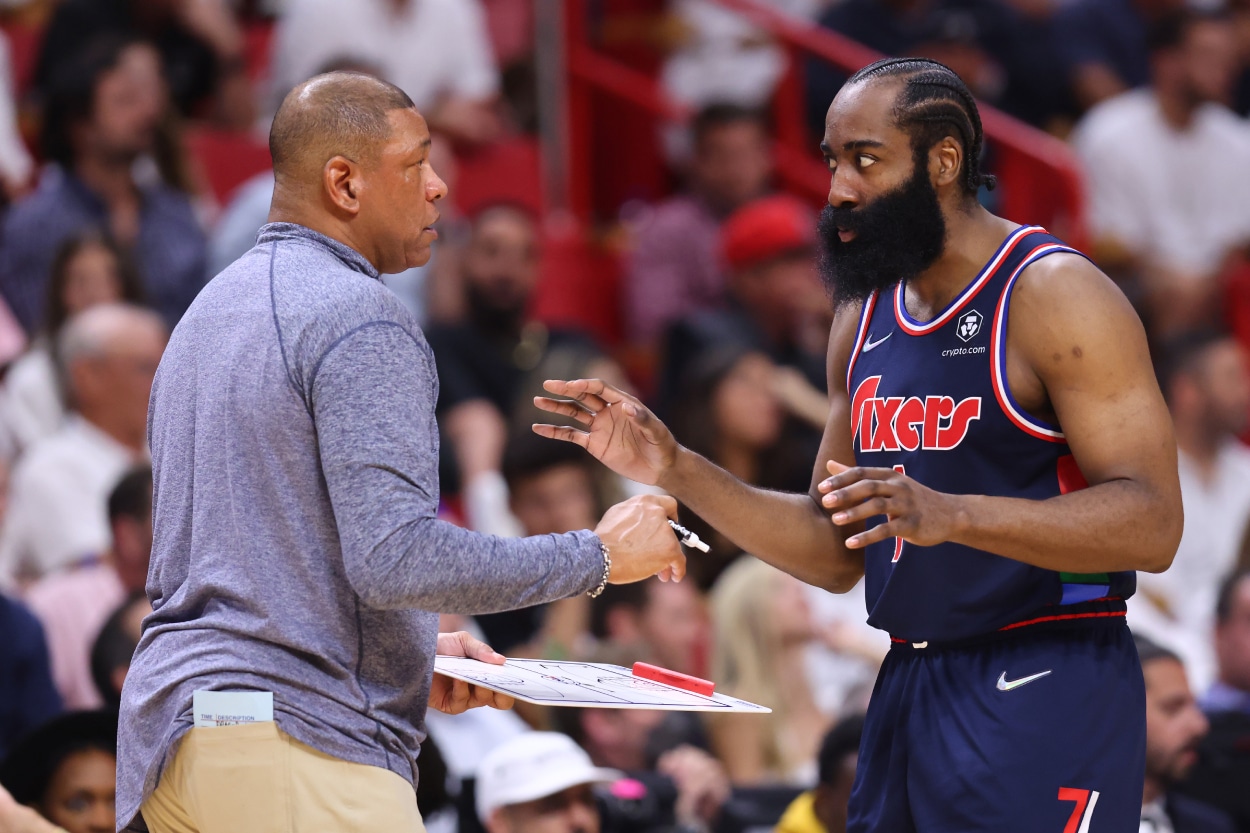 Doc Rivers Shares Bold Admission About James Harden's Future With the Philadelphia 76ers
James Harden's future with the Philadelphia 76ers is unclear, but his head coach, Doc Rivers, recently shared an interesting admission about it.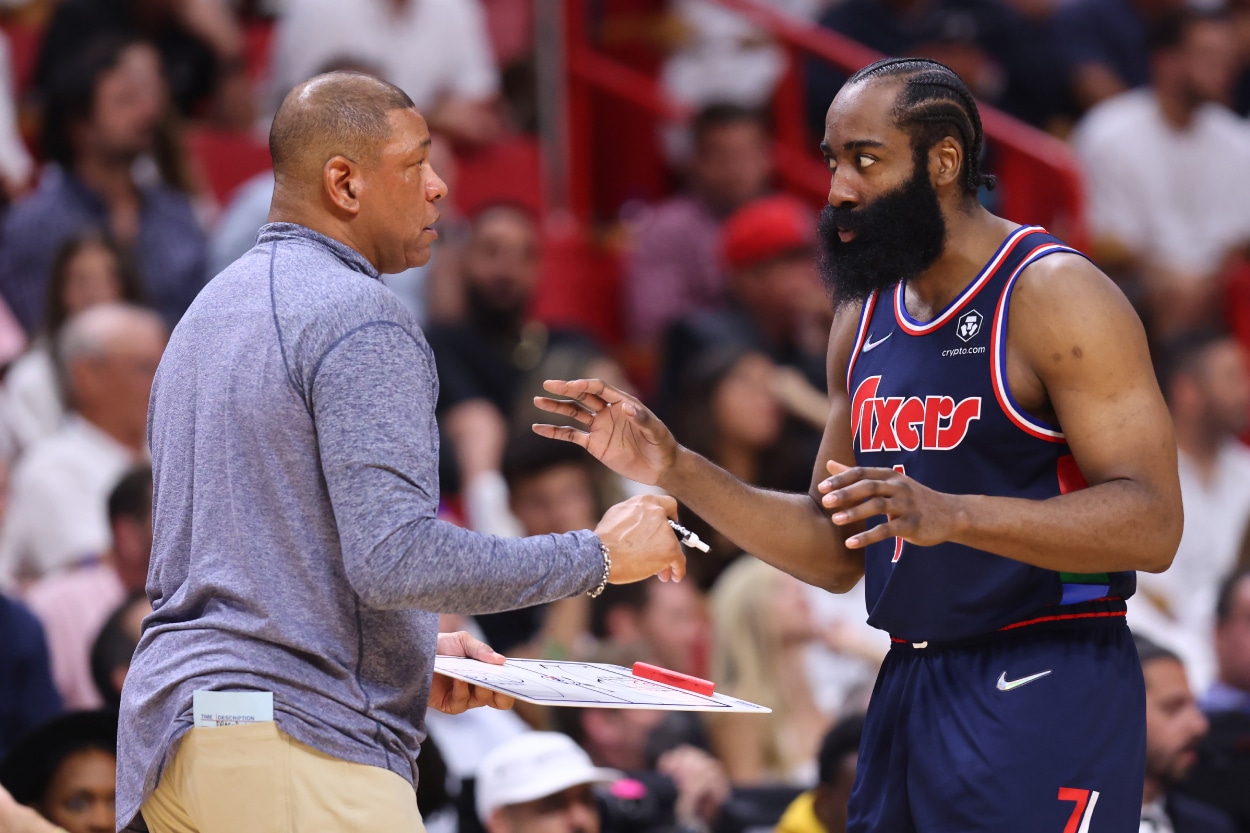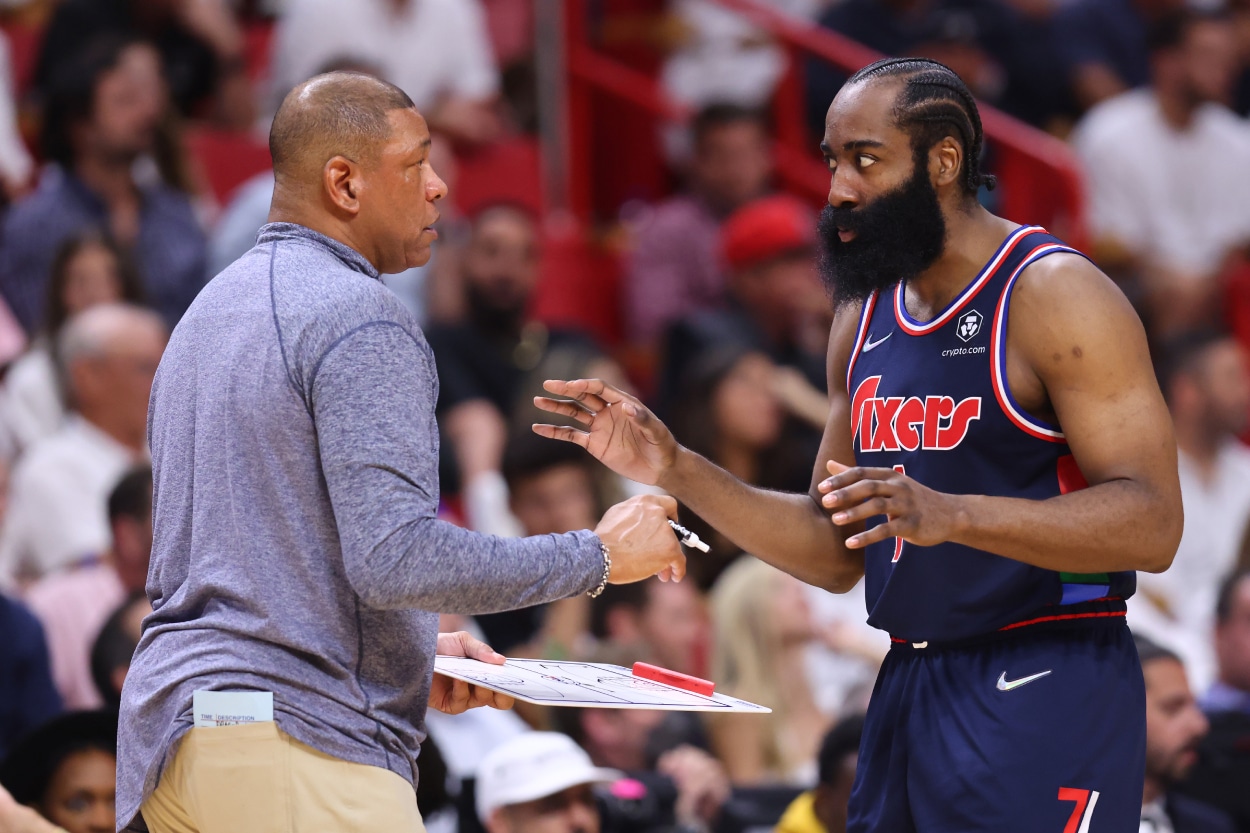 Another season, another playoff exit for James Harden.
Harden joined his third team in as many seasons this year with the Philadelphia 76ers, but it resulted in a conference semifinals loss to Jimmy Butler and the Miami Heat. So, what's in store for The Beard's future?
Harden has a player option he can pick up for 2022-23. He can also decline it and sign a new deal with either Philly or another team. But his head coach recently shared a bold admission about the 10-time NBA All-Star's future.
Doc Rivers said Harden is returning to the Sixers
Doc Rivers says James Harden will sign a big deal with the 76ers
Let's make something clear. Paparazzi recently approached Doc Rivers at what appeared to be an airport, and he didn't seem too interested in speaking to them (you can see for yourself in the TMZ Sports video above). But the coach still shared an interesting admission about his superstar guard.
In regards to working with Harden, Rivers said, "I'm excited," and "I love him."
And while he was walking away, he received a question about whether he thought the 76ers would sign the three-time scoring champ to a new deal. Rivers replied, "a huge deal, yes."
Perhaps Doc wasn't putting too much thought into his answers, but it appears he believes Harden is staying with the 76ers.
However, does the 2017-18 MVP deserve a "huge deal" at this point?
Does James Harden deserve a "huge deal"?
Sources told Bleacher Report's Jake Fischer that James Harden is expected to pick up his $47.36 million player option for the 2022-23 season. But the 76ers have been hesitant to sign him to a four-year extension beyond this upcoming year. So, the 32-year-old may sign a two-year deal beyond his player option, putting him in Philly for three more seasons.
Whichever route they take, Harden isn't someone who deserves max-type money anymore.
He's still a great player and had a nice 2021-22 campaign, averaging 22.0 points, 10.3 assists, and 7.7 rebounds. But he shot the worst three-point percentage of his career at 33.0% and recorded the lowest field-goal percentage since his rookie season at 41.0%.
Joel Embiid's health played a significant role in the 76ers not making it past the conference semifinals, but Harden showed he can't carry a team on his own anymore. The man who averaged 36.1 points in 2018-19 and 31.6 points during the playoffs that year scored just 18.6 points per game on an atrocious 40.5% shooting in this year's postseason. During Philly's Game 5 and 6 losses to the Heat, which eliminated the team from the playoffs, Harden averaged only 12.5 points on 11.0 shot attempts.
That's not the same player who used to drop 40 whenever he wanted.
James Harden is still one of the best guards in the NBA, but he's no longer a top-10 player and doesn't deserve max-type money. The 76ers giving him a "huge deal" could be a mistake.
Stats courtesy of Basketball Reference