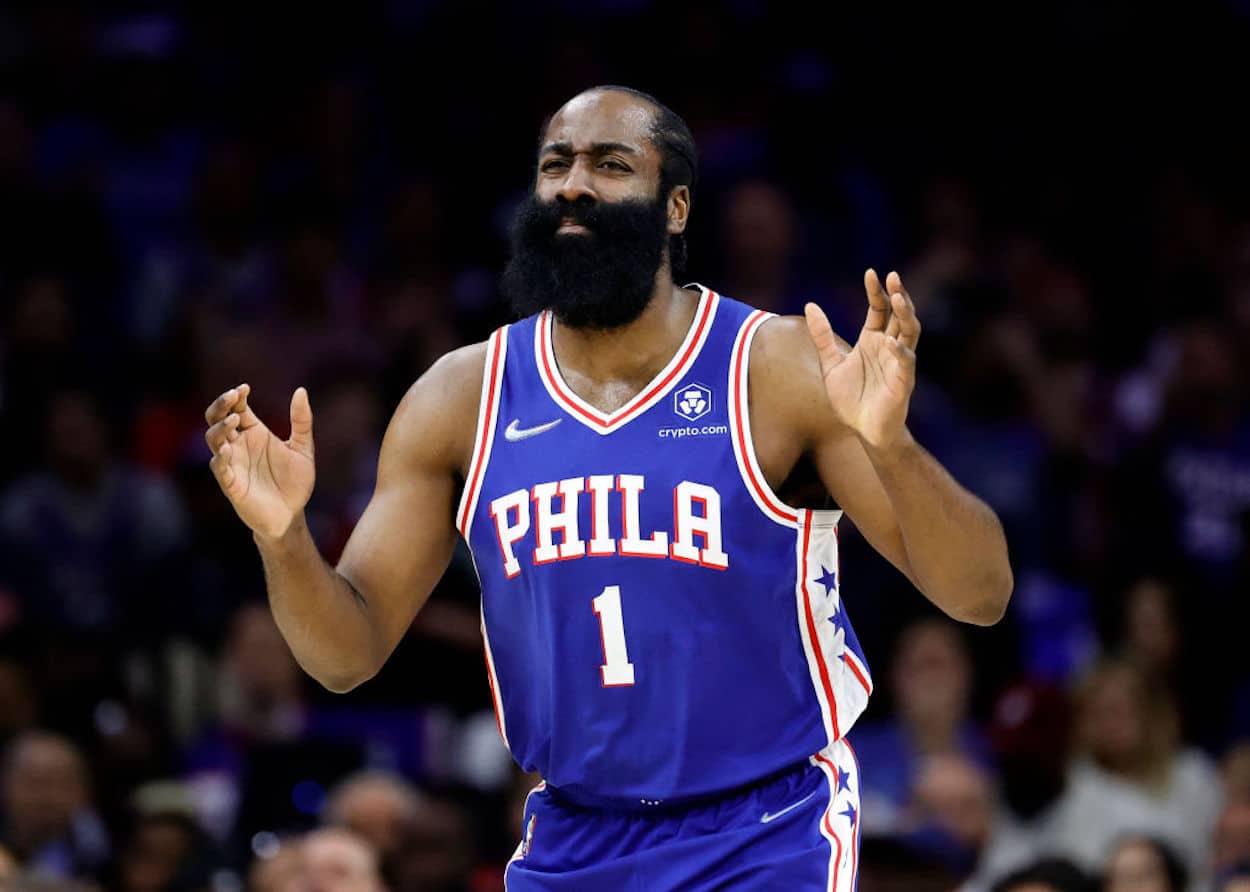 Philadelphia 76ers: James Harden Proved Why He's Not the Answer With a Single Play Against the Heat
If you've wondered what's gone wrong with James Harden in Philadelphia, a single play on Thursday night provided a perfect explanation.
When the Philadelphia 76ers traded for James Harden, he was supposed to be the missing piece of the puzzle. The guard, in theory, was the lightning to Joel Embiid's thunder. Together, the two men could outscore anyone who stood in their way and lift the Larry O'Brien Trophy.
That, of course, didn't happen.
On Thursday night, the Sixers crashed out of the 2022 NBA Playoffs, falling to the Miami Heat. While there will be plenty of autopsies floating around, it's worth zooming in on one single play from the fourth quarter. It might seem small, but, in that moment, Harden proved why he isn't the answer to Philadelphia's problems.
James Harden showed his inability to beat a defender one-on-one in crunch time
If someone mentions James Harden, you probably think of either a massive beard or an elite isolation scorer. While the guard may sport his signature facial hair, he's not the same offensive threat he once was.
At this point in his career, the Sixers guard is almost 33 years old. He's still capable of posting solid numbers, but his days of averaging more than 30 points per contest seem to be over. While you could argue there were some mitigating factors, Harden only posted 24.6 points per game during the 2020-21 campaign and 22.0 points per outing this season. At the risk of butchering the cliche, you are what your stats say you are.
Everything seemingly came home to roost in Game 6 against the Heat. Harden only took seven shots on the night and finished the season-ending contest with 11 points.
After the game, Tim Legler provided a breakdown of the guard's failings on ESPN. Although the Beard's lack of effort will probably steal most of the headlines, another play was telling.
At the start of the fourth quarter, Harden had the ball in a one-on-one situation on the perimeter. At that point, he seemed utterly stuck and unable to make anything happen.
"This was telling to me," Legler said. "This is pretty much James Harden at this stage of his career. This is what Embiid alluded to. You jab [step], there's no reaction on the part of the defender. None. [Victor Oladipo] actually stays up, he actually presses up into him on the jab step. [Harden] tries to go by him, nothing happens. You can kind of see, running in mud. Gets a chance to regroup. This was more telling. …Oldipo reaches with his right hand. This should be a cross-over to [Harden's] strong hand and downhill. That's what James Harden was brought here to do. … Harden has to get into the gap so that he can occupy these two [post defenders] on the backline and make a play for one of your two teammates. He just can't do it."
If that's who Harden is at this point, something will have to give
As Legler alluded to, Joel Embiid said that Harden isn't the same dominant scorer he was in Houston. While it's striking to hear the 76ers main man publicly say that, everyone else needs to accept that reality and change something.
Although you could charitably write off the second half of this season as a period of growing pains, the loss to the Heat suggests that Philly's current roster isn't good enough. We know Embiid will be back; if we take Harden at his word, he'll also be returning to the City of Brotherly Love. If those two contracts remain on the team's books, something else will have to give.
One theory, which was floated by Zach Lowe in February (h/t NBC Sports), would see Harden declining his option to sign a cheaper contract. That, combined with a hypothetical deal to get Tobias Harris off the books, would allow the 76ers to land another star.
While that's possible, there are some logistical concerns. Is Harden willing to give up both money and touches to chase a championship? Can Daryl Morey actually clear the cap space? Would anyone available this summer be able to make the difference?
Similarly, other potential solutions come with caveats. The Sixers could change their head coach, but no amount of strategy can help Harden regain a missing step. With that being said, though, some tactical tweaks, like allowing Harden to shift into somewhat more of an off-ball role, rather than having to beat his man off the dribble to make anything happen, could help. It remains to be seen, however, how the guard would respond to that change. He's always had the ball in his hand and even retained the point guard role when playing alongside Kyrie Irving.
Alternatively, Harden can take it on himself to improve. While it's not the perfect comparison, Chris Paul seemed like a fading, disgruntled star during his time in Houston but put in the work to reinvent himself. He rebounded in Oklahoma City and is now a key part of the Phoenix Suns.
It's not clear, however, if Harden wants to change. We can't know what's going on in the guard's head, but his outward behavior hasn't been the most encouraging. He's been criticized for being out of shape — ESPN's Kevin Arnovitz reported that Kevin Durant was upset with his then-teammate's conditioning — and the bearded one has made a habit of leaving town when things don't go his way. Changing at age 32 requires effort and humility. Can Harden take that step back and admit that things need to be different moving forward?
At this point, no one has the answers. One thing, however, is pretty clear: Something will have to give if the Philadelphia 76ers expect next season to be any different.
Stats courtesy of Basketball-Reference