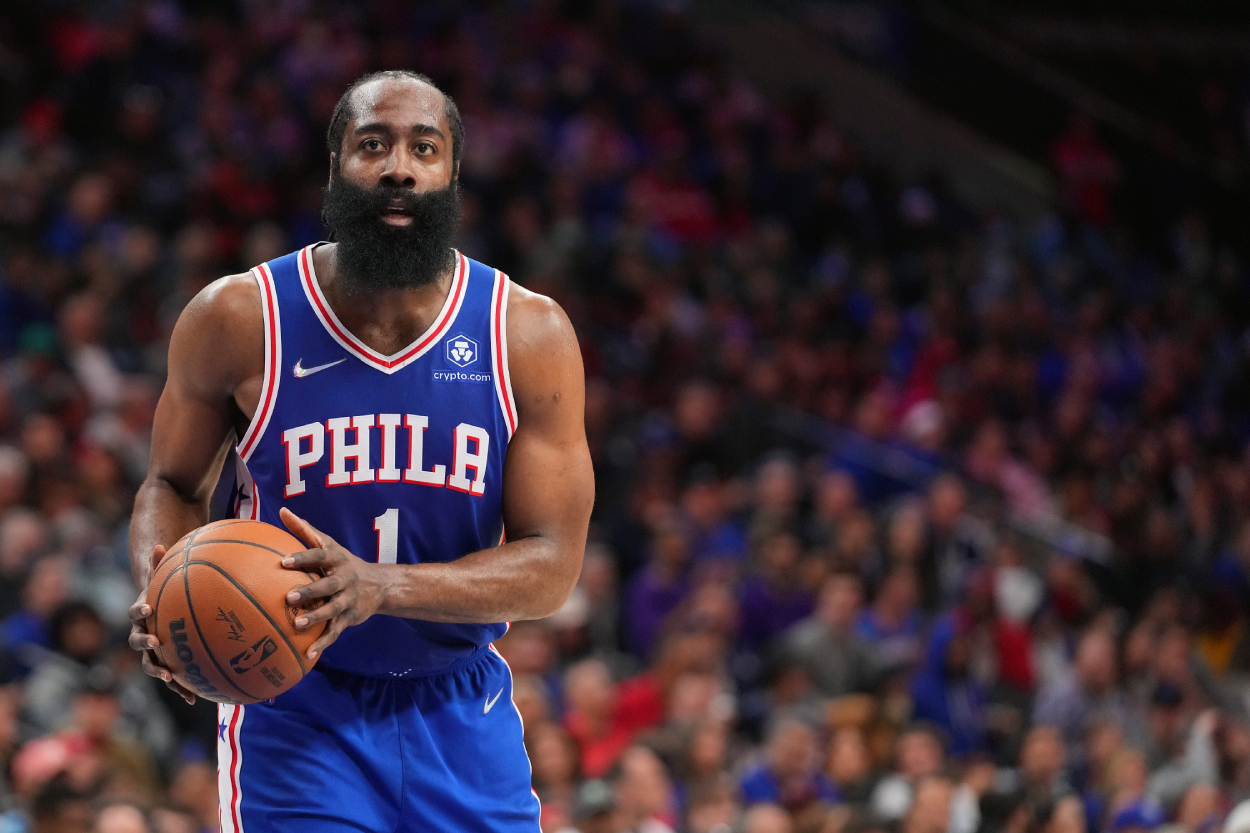 James Harden's Deteriorating Skill Is Reportedly the NBA's 'Worst Kept' Secret
James Harden isn't the player he used to be on the Houston Rockets. In fact, the Philadelphia 76ers star has a deteriorating skill that's reportedly the NBA's "worst kept" secret.
Philadelphia 76ers superstar James Harden isn't the player he was just a few years ago. Sure, The Beard is still a talented guard and knows how to cause problems for opposing teams, but he's not that dominant scorer he used to be on the Houston Rockets.
So, what has changed?
His age.
Father Time has resulted in the 32-year-old losing a step. And the deteriorating skill that made him one of the most dominant NBA players of all time is reportedly "one of the worst kept secrets in the league."
James Harden is no longer the dominant scorer he was on the Rockets
James Harden was unstoppable during his Rockets tenure.
He averaged at least 29.0 points in five consecutive seasons and won three straight scoring titles. Harden, who has made free throws and three-pointers like no one else in history, recorded a whopping 36.1 points per game in 2018-19 and 34.3 in 2019-20.
However, his numbers have declined drastically within the last two seasons.
Some of that may have to do with the players on his new teams. He's not going to score as much when sharing a court with Kevin Durant and Kyrie Irving, or when joining forces with an MVP candidate in Joel Embiid. But that shouldn't result in this significant of a drop-off.
While he scored over 34.0 points per night just two seasons ago, Harden is averaging only 22.6 this season. He's shooting 41.6% from the field, the second-lowest percentage of his career. And he's making a career-worst 33.7% of his three-pointers.
So, what has impacted his offensive abilities this much? His deteriorating athleticism.
James Harden's deteriorating skill is the NBA's 'worst kept' secret
James Harden isn't scoring at the rate he used to because he can no longer blow by his opponents like he did when he was in his 20s.
According to ESPN's Brian Windhorst, his "blow-by percentage" has gone from the 89th percentile to 58th.
"This is one of the worst kept secrets in the league, that his first step isn't the same," Windhorst said on the March 29 episode of Get Up. "…He's gone from super elite to middling. He's still very crafty, he's still getting to the foul line 10 times a game. But you saw in that clip, they sat on his left side. A good team that has a good defensive strategy, Harden is going to struggle against right now." 
He continued: "There's a wonder whether this hamstring injury that he suffered a year ago is leading to this, or if it's conditioning, or if it's a little bit of both."
The Beard needs to play less iso-ball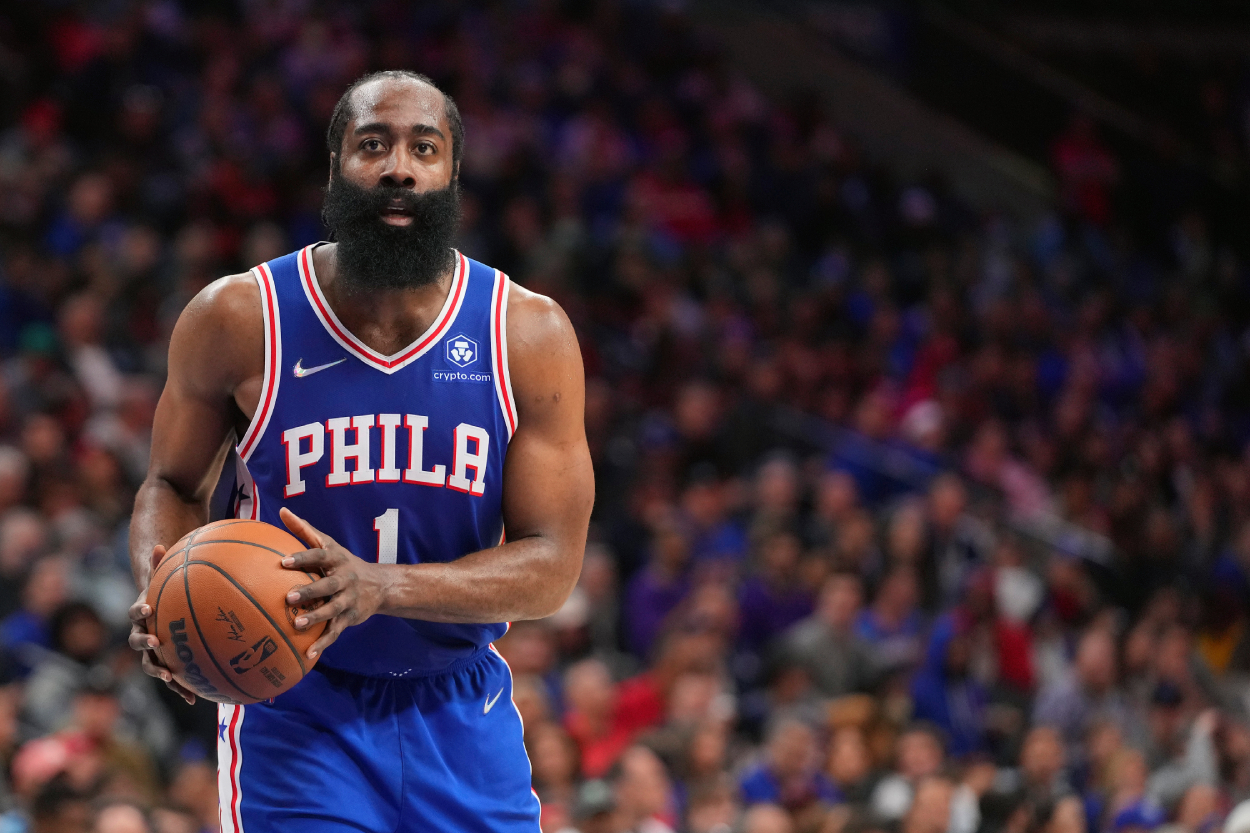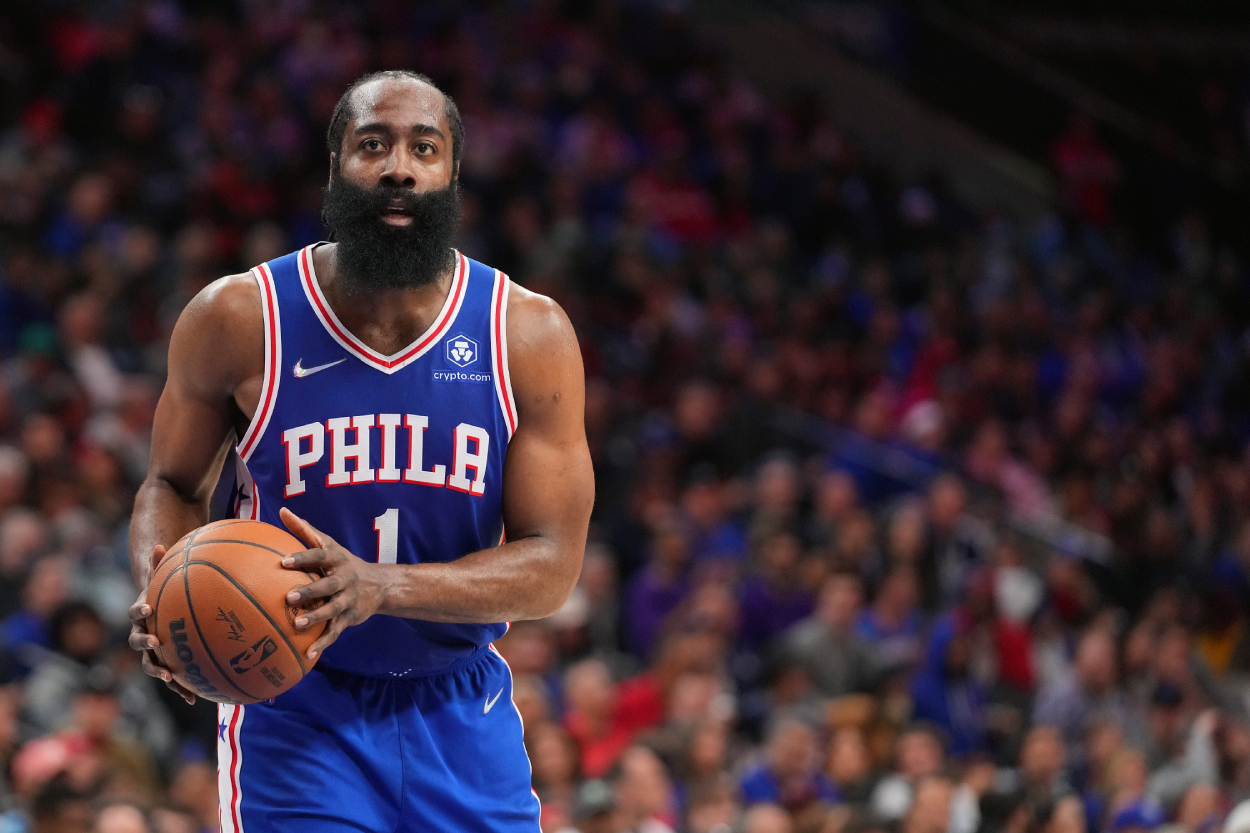 If James Harden wants to win a championship with Joel Embiid and the 76ers this season, what can he do to mask some of that lost athleticism?
He can play within offensive sets.
Harden has been one of the league's greatest iso players throughout his career. His teams would just give him the ball at the top of the key and let him go to work. In fact, he still leads the NBA in isolation frequency this season (35.6% in Philly and 31.8% in Brooklyn).
But ball movement wins games, especially in the postseason when the defensive intensity increases.
In the 2017-18 playoffs, Harden's Rockets led the NBA with a 19.4% isolation frequency rate. The NBA champion Golden State Warriors had just an 11.4% frequency.
Harden, who has had his greatness questioned in recent seasons, is still an effective player. He knows how to get to the free-throw line and is a talented passer (he's averaging 10.1 assists this season). However, isolation plays weren't the recipe for success when he was in his prime; why would that be the case now? His ability to move the ball within an offense and find ways to score without it in his hands is more important than ever.
James Harden needs to adjust his game to his current skill set. His adaptability could be the difference between winning a championship and remaining ringless.
Stats courtesy of Basketball Reference and NBA.com