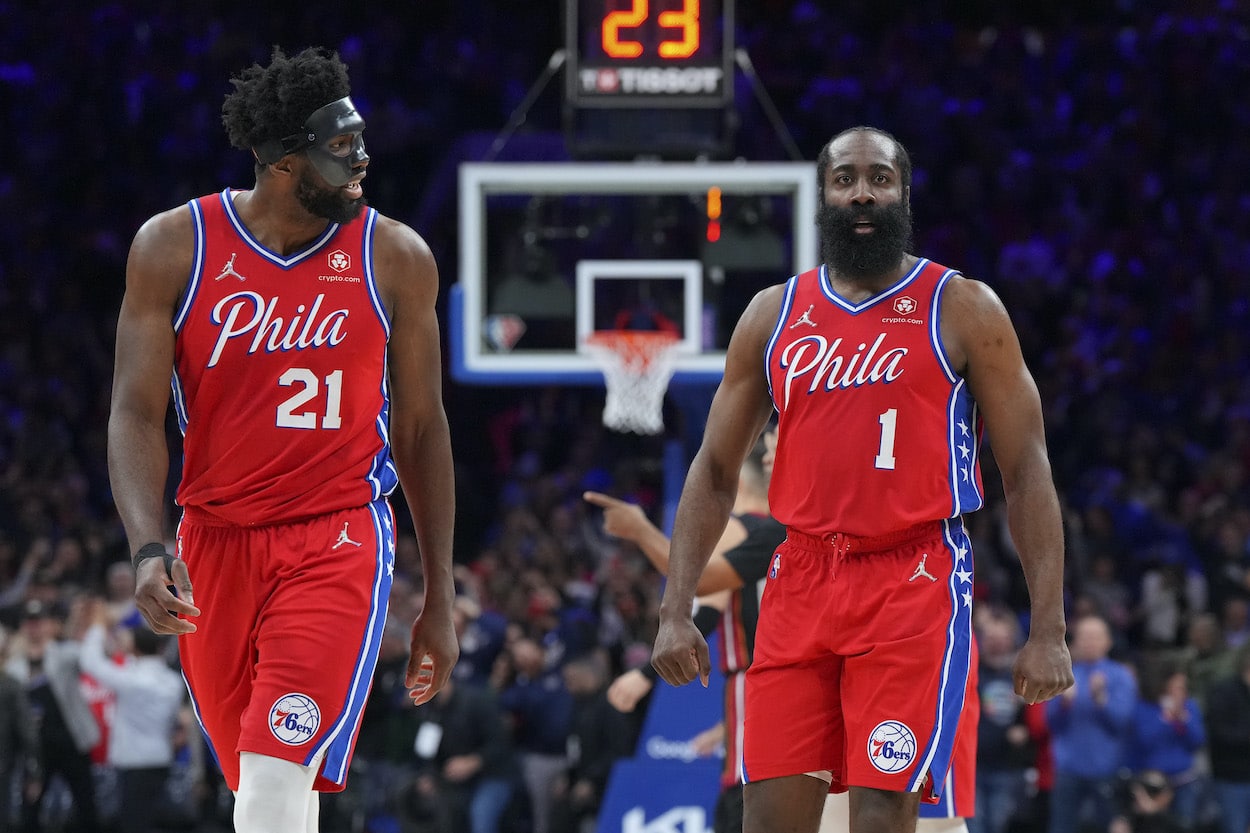 Philadelphia 76ers Mailbag: Breaking Down James Harden's Future, Joel Embiid Cheesesteak Comparisons, and More
Answering questions from the fans ahead of the 76ers' do-or-die Game 6 against the Heat.
After a lifeless performance in a pivotal Game 5, Philadelphia 76ers fans can't be feeling too confident about the rest of their second-round playoff series against the Miami Heat. Even if the Sixers win on Thursday night to force a Game 7, they've shown absolutely nothing that proves they can steal one in Miami and keep their season alive.
Philadelphia's season is officially on life support, and the fans can hear the beeping. Don't take it from me, though.
We asked 76ers fans on Twitter to send us their questions ahead of a do-or-die Game 6, and here's what they had to say: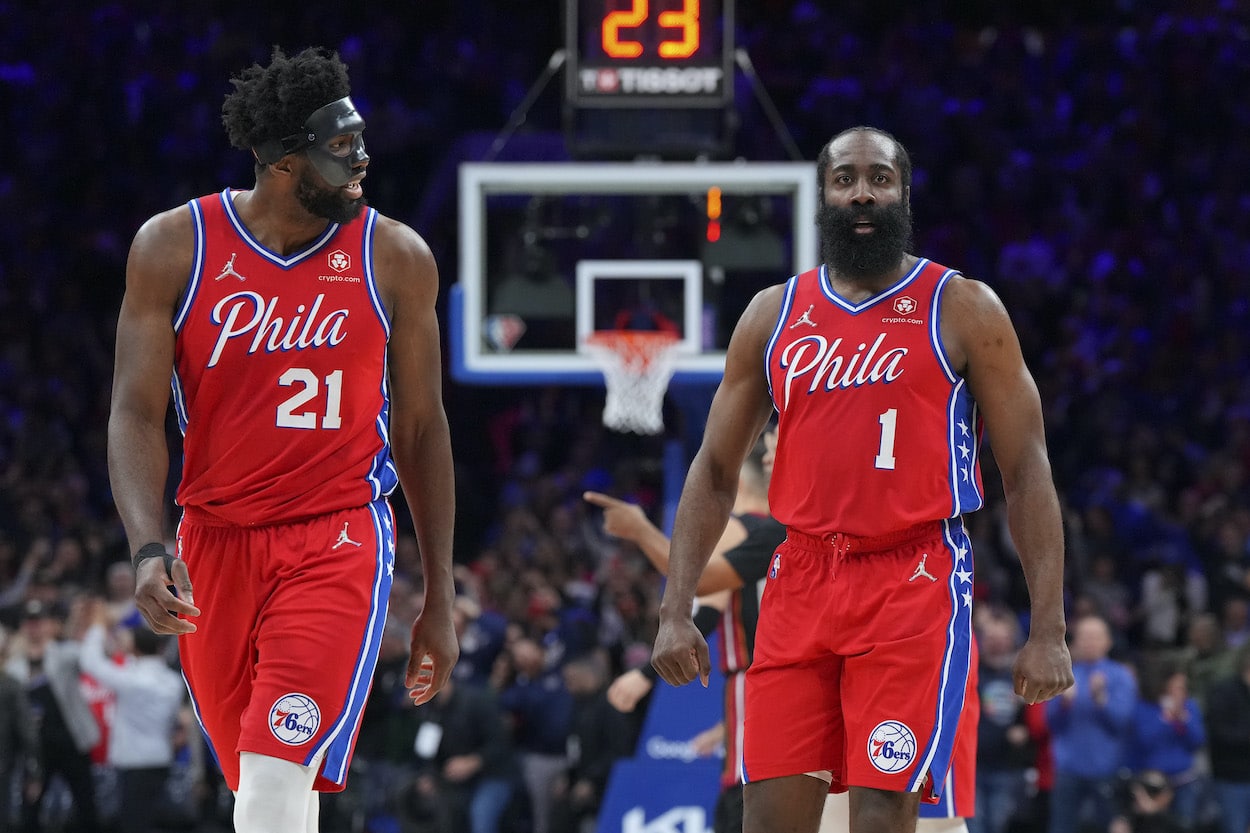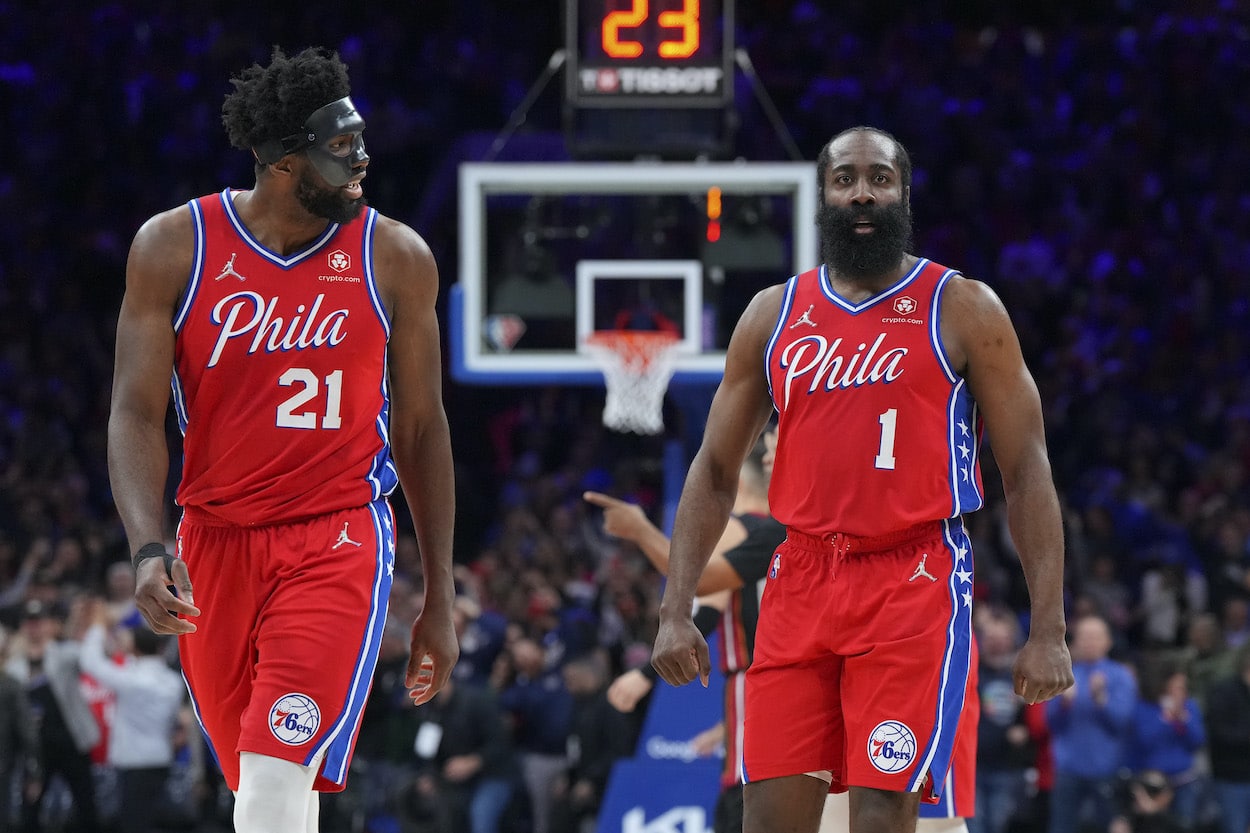 Question No. 1: "Hey doc, long time first time. Do you think it's worth giving Furk or another bench guy some of Niang's minutes? He's been a black hole most of this series. Also, will Doc ever figure out a way to get Joel easy paint touches?? I'll hang up and listen" — @indomitableJD
Good questions, JD. You're right about the black hole that's been Georges Niang this series, but it's not as if Furkan Korkmaz gives them a much better option on the defensive end. The only thing Doc asks of these two is to knock down open threes, and everyone has already forgotten about Niang going 12-of-18 from deep in the first round against the Toronto Raptors. He wasn't terrible in Game 3 and Game 4 at home, so he should still be the first shooter off the bench in Game 6.
One guy I'd like to see more of, though, is Shake Milton. It's a tiny sample size, but Milton has hit five of his 11 three-point attempts in the postseason, and he has a more polished offensive game than both Niang and Korkmaz. More Shake!
As for the Joel Embiid paint touches, I'm not sure any of the Sixers' guards not named James Harden learned the fine art of entry passes in high school. Bam Adebayo fronting Embiid and the Heat going to more zone lately has made it tougher, but do off-ball screens don't exist anymore? Why can't Doc start Embiid on the block and use Tobias Harris to pick Adebayo and free up the big fella at the nail? Would love to see at least some sort of effort to get a smaller defender switched on Embiid to make entry passes easier for these guys.
Question No. 2: "Do you think the empty Miami stadium a tactic because they know the sixers prefer to win in front of a packed crowd?" — @JackPElliott
I know this one is mostly sarcastic, but you might be on to something? We know Embiid thrives when the fans are singing his praises or booing him while flipping him the double bird. That Miami crowd was DEAD on Tuesday night, as was Embiid's effort.
I'm sure the Wells Fargo Center will be bumping for Game 6, so let's see how this theory plays out.
Question No. 3: "If Joel Embiid and James Harden had to be compared to Philly cheesesteaks, which places' sandwiches would represent them?" — @JoeKozlowski_
Now we're talking. This is the real hard-hitting analysis I'm sure Sixers fans crave.
Let's see. If we're talking Embiid, I'd have to go with a juicy whiz wit on a seeded roll from Angelo's Pizzeria in South Philly. Don't be fooled by the name. This old-school joint is in the conversation for the best steak in the city. From the fresh-baked sesame seed roll to the heaping mound of succulent meat topped with perfectly fried onions, this sandwich is as versatile as they come and has essentially no flaws.
As for Harden, let's roll with a cheesesteak with mushrooms and swiss cheese from Oh Brother on Market Street. You either love mushrooms or you absolutely hate them, which is perfect for a polarizing player like Harden. The swiss cheese can represent his porous defense and lack of effort at times. And I'm positive at least a few Philadelphians have yelled "Oh brother!" at their television screen after a carless turnover or patented flop from The Beard.
Question No. 4: "What impact do you think Al Horford would be having on this series?" — @all_that_jawn
Would he be allowed to wear a Boston Celtics jersey under his Sixers threads? Because that's the only way he would magically be able to mesh alongside Embiid on the court. The fit was pretty messy in 2020, and I'd imagine the 76ers were thrilled to get off that $109 million contract they threw at him.
If Horford would be content with playing 15 minutes off the bench as the backup center, though, he'd be miles better than any option the Sixers currently have on their roster.
Question No. 5: "Would a loss in this series against a Heat team getting limited minutes from Kyle Lowry and Duncan Robinson be enough for the Sixers to significantly retool their roster this summer? Or does running it back and paying Harden a ton still sound like a winning formula?" — @jacobwbourn
Now here's a toughy. For one, I actually think Lowry and Robinson being on the court has only hurt the Heat, considering one is playing on one leg and the other can't defend a wall. But the point still stands — the Harden trade was made with one clear goal in mind. Championship or bust. If it's another second-round exit for this team, and Harden falls apart in the close-out game, how could they possibly feel confident forking over $270 million to a guy who's only going to get slower as time goes on?
I know it would make the Ben Simmons trade a complete failure, but I think the Sixers would be better off letting Harden walk and going after a guy like Bradley Beal instead. He's younger, cheaper, more driven, and would be a perfect fit alongside Embiid.
No need to tear it down completely, but I don't think Harden can be brought back if Philly doesn't reach the ECF this year.
Like Sportscasting on Facebook. Follow us on Twitter @sportscasting19.