Donald Driver's Promise to Packers Fans Helped Open the Door for Jordy Nelson, Randall Cobb, and James Jones
Unlike many professional athletes, Donald Driver knew when it was time for him to step away from the game. The former Green Bay Packers standout wide receiver went the unselfish route after the 2012 season, which opened the door for the team's younger stars, including Jordy Nelson, Randall Cobb, and James Jones. He took that path after a promise he made to Packers fans.
Donald Driver was one of Green Bay's best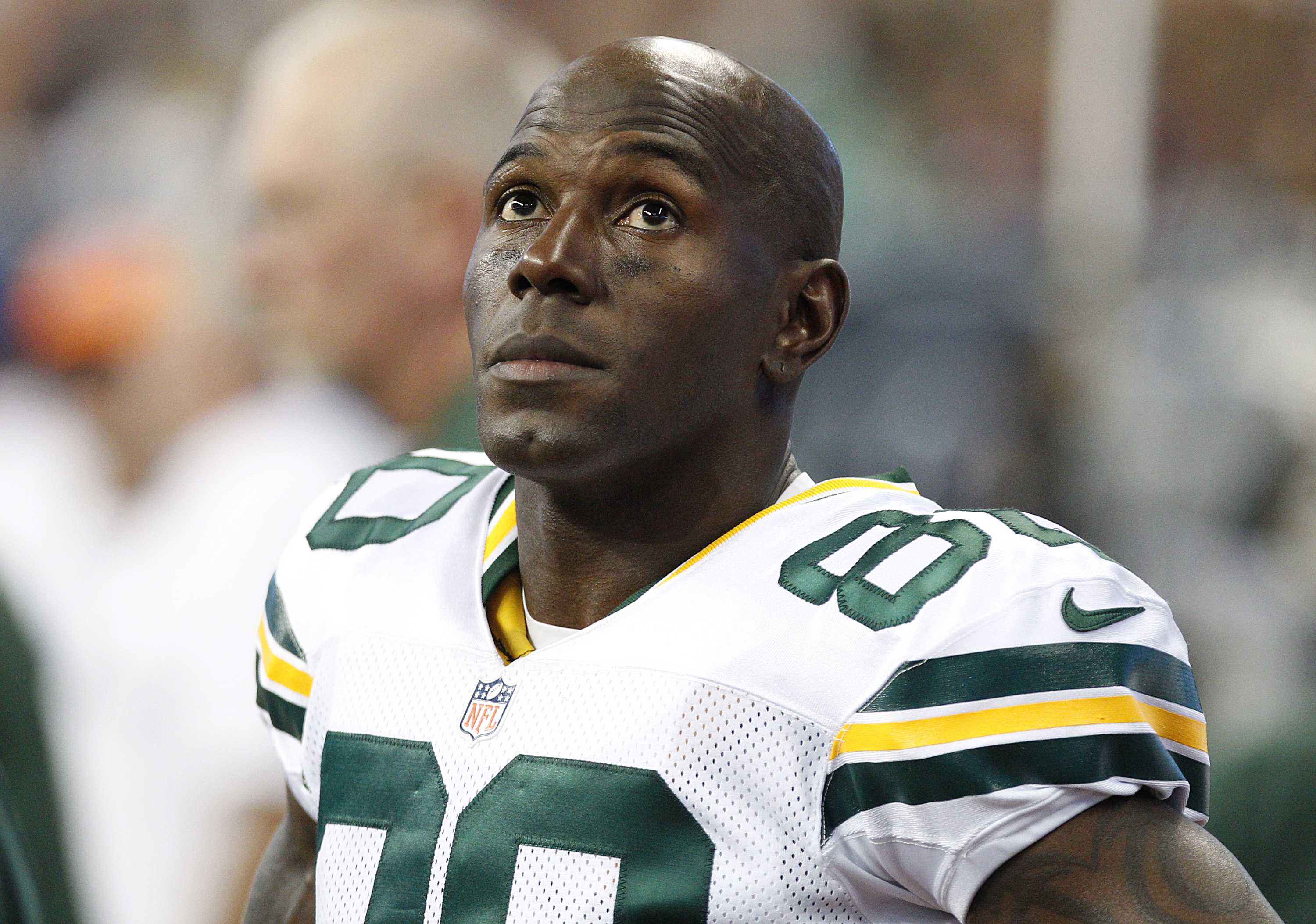 Coming out of Alcorn State, there wasn't a whole lot expected from Driver, a seventh-round pick in the 1999 NFL Draft. It took Driver three years before he established himself as one of the NFL's most consistent wide receivers. In his first three seasons, he had a combined 37 receptions with three touchdowns, scoring one TD each year.
Driver came into his own during the 2002 season when he had the first of his seven 1,000-yard receiving seasons and the first of his three Pro Bowl seasons. He finished 2002 with 70 catches for 1,064 yards and nine touchdowns. It was in 2004 when Driver went from being consistent to becoming one of the league's best.
Every season from 2004-2009, Driver hit the 1,000-yard mark. He also proved to be one of the most durable receivers in the game. He missed three games from 2002-2011. Driver added two more Pro Bowls to his resume in 2006 and 2007.
Donald Driver delivered on a promise to Green Bay Packers fans
Driver was 38 years old and was still playing at a high level when he made a difficult decision.
"I had my conversation at the end of the year and they said, "Hey, Donald we want to go in a different route,'" Driver told NBC 26. "'You're 38 and still playing at a high level. What's your plan?'
"I said, 'Well, I have to look at the room.' I loved my receivers at the time. I walked up, and I told J.J. (James Jones), Jordy (Nelson), (Randall) Cobb, and Greg (Jennings) was leaving already and I said, 'Fellas, I'm going to retire and I'm going to let you guys have the show. I'm going to walk away.'
"They asked me to play other places. Greg called me when he signed with Minnesota, 'Come play with me.' I told him I promised the fans that I would never wear another color. And so, for that, I was able to walk away knowing that (I was) allowing my younger receivers to get the limelight and showcase their talents."
Driver could have stuck around as a mentor and taken playing time away from those younger Green Bay receivers. He could have played elsewhere. He knew his time was up as a go-to guy with the Packers, and he unselfishly gave up his spot and refused to play elsewhere.
Driver was inducted into the Green Bay Packers Hall of Fame in 2017
Driver was a fan favorite in Green Bay for his work on and off the field. On the field, he finished his 14-year career with 743 catches for 10,137 yards and 61 touchdown receptions. Off the field, he endeared himself to the fans of Green Bay and continues his work in the community. He still holds his popular charity softball game each year in the city. He was inducted into the Packers Hall of Fame in 2017.
Driver is that athlete that knows when it's time to go. He was a special player, and that unselfishness and dedication to the team that drafted him with the 213th overall pick in 1999 separates him from many other professional athletes.
"I think we sit around too long," he said about others who prolong their aging careers. "I don't think you lose what you have, but I think you lose the opportunity to give somebody else an opportunity."
All stats courtesy of Pro Football Reference.