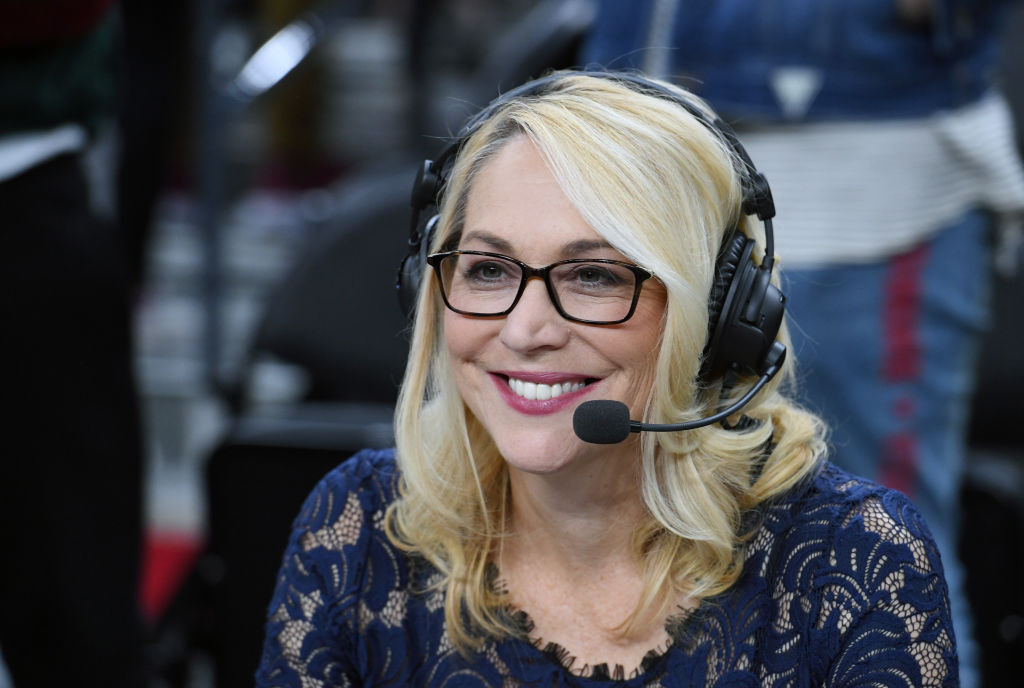 Doris Burke Opens Up About Her Positive Test for Coronavirus
NBA television analyst Doris Burke opens up about her recent two weeks after testing positive for the coronavirus.
The same night the NBA season was put on hold, NBA television analyst Doris Burke began feeling tired and her head was pounding. That was Wednesday, March 11, 2020, and that was the night it was announced that Utah Jazz center Rudy Gobert has tested positive for the coronavirus (COVID-19). That night, NBA Commissioner Adam Silver announced the season was suspended until further notice.
Doris Burke worked the Mavericks vs. Nuggets game on March 11

In a recent interview, Doris Burke, one of the finest NBA announcers today, told ESPN's Adrian Wojnarowski that recalled not feeling up to par during lunch with her TV crew the day of March 11.

"Man, I am so tired right now and my head is pounding," Burke recalled thinking. "And looking back, those were my symptoms. And we've heard so much about shortness of breath, fever, tightness in your chest, chills, body aches, etc. … That really was my primary symptom throughout this was this extraordinary fatigue."
The 54-year-old Burke, who has been with ESPN for 29 years, said she was extremely tired from March 14 through March 17. She said she couldn't be out of bed for more than five minutes.
"By the time Saturday the 14th hit, I was so tired, that I tried to get out of bed from Saturday the 14th through Tuesday the 17th, St Patrick's Day," she said. "I kid you not, I could not be out of bed for five minutes without needing to go back to bed and lay down."
Burke was tested March 17
Doris Burke told Adrian Wojnarowski that she was tested on March 17, but didn't get the results until eight days later.
"So the delay of the test results allowed me to wrap my mind around the idea that I did have this," said Burke. "I basically was in my own bedroom, by myself, for two weeks away from my daughter and her fiance.
"I started to believe, even though my symptoms did not seem to line up with the typical symptoms, I believed, given the nature of my profession, the number of people I encounter, that I did, in fact, have exposure to the virus."
Her results came back with a positive diagnosis and continued to spend her days in isolation.
She is now symptom-free
Doris Burke is now feeling much better. She is symptom-free, but still takes caution. She said she still practices social-distancing, but is relieved she doesn't have to spend all of her time alone in her room.
"I'm so incredibly thankful to be feeling well,"  she told Wojnarowski.
Burke is one of several people associated with the NBA to have tested positive for the virus. Rudy Gobert and his Jazz teammate Donovan Mitchell were the first two publicly announced to have contracted the virus. On Friday, both of them were cleared of the virus and pose no risk to others.
Kevin Durant of the Brooklyn Nets and Marcus Smart of the Boston Celtics are two other well-known players to have also tested positive.