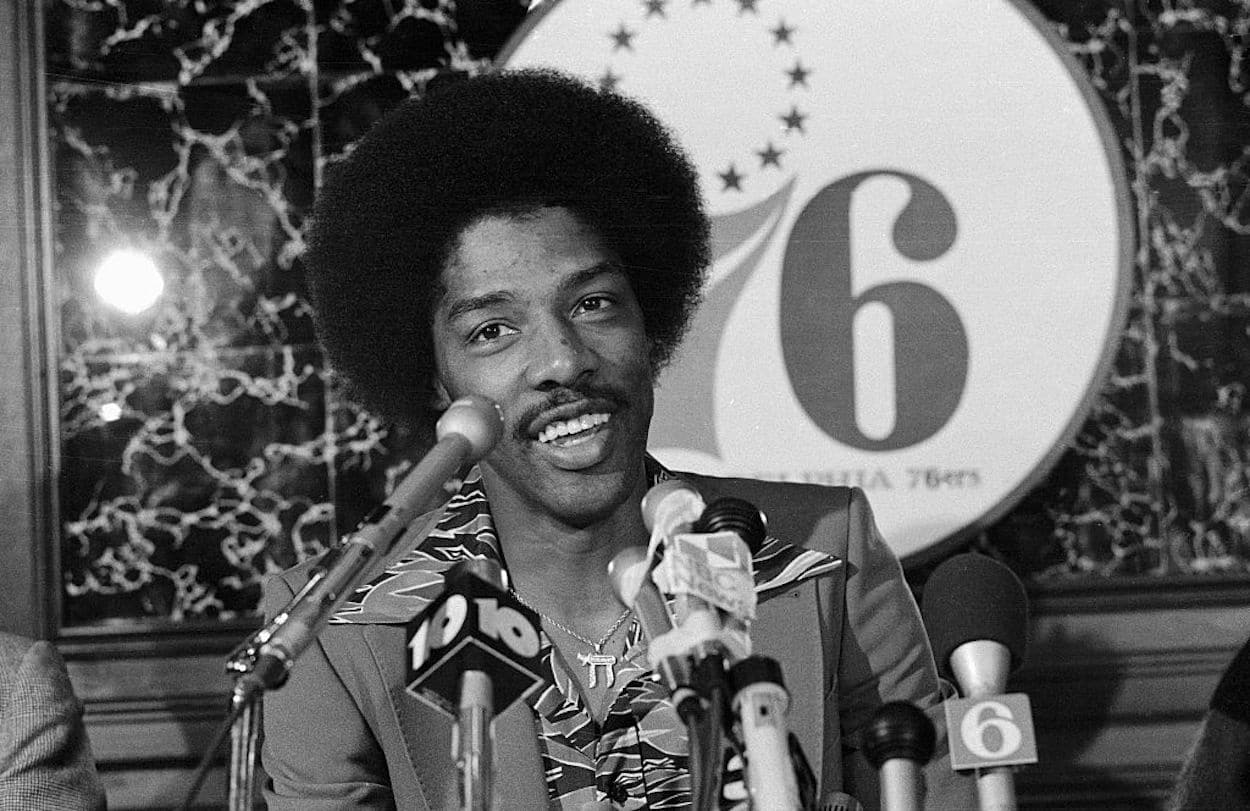 Dr. J Changed the Course of Lakers History With a Phone Call, a Plane Ticket, and Some Important Advice
While Dr. J never played for the LA Lakers, he still played a major role in changing the franchise's history for the better.
If you're a long-time sports fan, you've probably heard that your favorite pastime is a game of inches. Sometimes, though, those fine margins can take place away from the field of play. Let's consider the one and only Dr.J as an example of that reality.
During the late 1970s, Julius Erving was shining as a star member of the Philadelphia 76ers. One day, he received a call from a college student in Michigan by the name of Irving 'Magic' Johnson. The guard was asking for advice and thought that the good doctor could lend him a hand.
Erving, however, did more than just answer a few questions. He flew the Michigan State Spartan out to Philadelphia and, in the process, changed the course of NBA history.
A young Magic Johnson asked Dr. J for advice and wasn't disappointed
These days, it's more unusual to see a big-time college basketball player stay on campus for all four years than it is for him to leave early. In Magic Johnson's day, though, things were a bit different. Entering the NBA draft before graduating was a big decision, and the guard managed to score the 76ers star's phone number to ask for some advice.
"I called Dr. J, Julius Erving," the Lakers legend told Jimmy Kimmel. "He had left school early, and I was gonna leave school early, so I wanted to know the pros and the cons on leaving school early. He thought I should leave. … So I'm talking to him, Jimmy, on the phone. I can't believe it, I got Dr. J on the phone. I said, 'What do you think? I'm trying to decide whether to leave school or not.'"
Erving didn't just give Magic a few words of wisdom. He had an even better offer.
"He said, 'Let me do you one better. I started talking to you on the phone, I'm gonna fly you to Philly, and you're gonna stay with me,'" Johnson recounted.
The Michigan State Spartan flew to Philadelphia, stayed with the 76ers main man, and attended a playoff game. While it's not clear what was said during the visit, Johnson did, in fact, enter the 1979 NBA draft. From there, the rest was history.
Dr. J probably kept himself from winning another championship and sent ripples through NBA history
From a normal, interpersonal perspective, Dr. J did the right thing by assisting Magic Johnson. His act of kindness, however, probably dented his own resume beyond changing the greater course of NBA history.
When the 1980 NBA Finals rolled around, the 76ers found themselves facing off against Los Angeles and none other than Magic Johnson. The Lakers ended up winning the series in six games, thanks in large part to the point guard's heroics. He averaged 21.5 points per game, put in a clutch performance at center, and earned NBA Finals MVP honors.
While you could cynically claim that Kareem Abdul-Jabbar would have been enough to keep the Lakers atop the NBA mountain, it's easy to envision a different outcome. Had Dr. J not advised Johnson to turn pro, Los Angeles would have been without their second-leading scorer and leading assister. Given that five of the six games were decided by single digits, Magic's presence realistically could have cost Erving a championship.
Beyond that one result, the butterfly effect keeps rippling. If Dr. J had given Johnson some different advice and he hadn't entered the 1979 NBA draft, the Lakers would have had to make a different decision. With Kareem on the roster, they might have selected the best guard available, bringing Sidney Moncrief to Hollywood. It's also known that Jerry West was interested in the Arkansas product (h/t ESPN), strengthening that hypothetical.
While Moncrief was talented, it's fair to wonder how he would have faired with the Lakers. While it's tempting to imagine him teaming up with Abdul-Jabbar, the guard never averaged more than 5.2 assists per outing across any of his professional seasons. He also lacked the size that allowed Johnson to slot in as a center during the 1980s Finals, adding another potential wrinkle to the timeline.
Pushing things further, maybe the Lakers don't become a dynasty with Moncrief running the show. Winning one title is tough enough, let alone five in a decade. With even a slight change, perhaps the margins become too thin.
Moving on to Magic, he would have landed somewhere else had he not entered the 1979 draft. If he spent an extra season in school, it's possible that he would have gone second overall in 1980, replacing Darrell Griffith in Utah (assuming that the Warriors would have wanted to stick with Joe Barry Carroll to add some size to the roster). Dr. Dunkenstein wasn't a bad player by any stretch, but Johnson probably would have a bit more longevity. While there's no way of knowing how things would have gone in Salt Lake City, the thought of Magic playing alongside Karl Malone and John Stockton is certainly scary.
Things would have gotten trickier if the Michigan State guard stuck around until the 1981 draft. Mark Aguirre and Isiah Thomas were the first two picks that year; Johnson could have theoretically replaced either of them, causing another butterfly effect as top-notch talent trickled down the big board.
Again, this is all speculation; it's impossible to know the twists and turns that NBA history could have taken. One thing that's 100% certain, though, is that Dr. J helped create the Association we all know by extending an invitation to Magic Johnson.