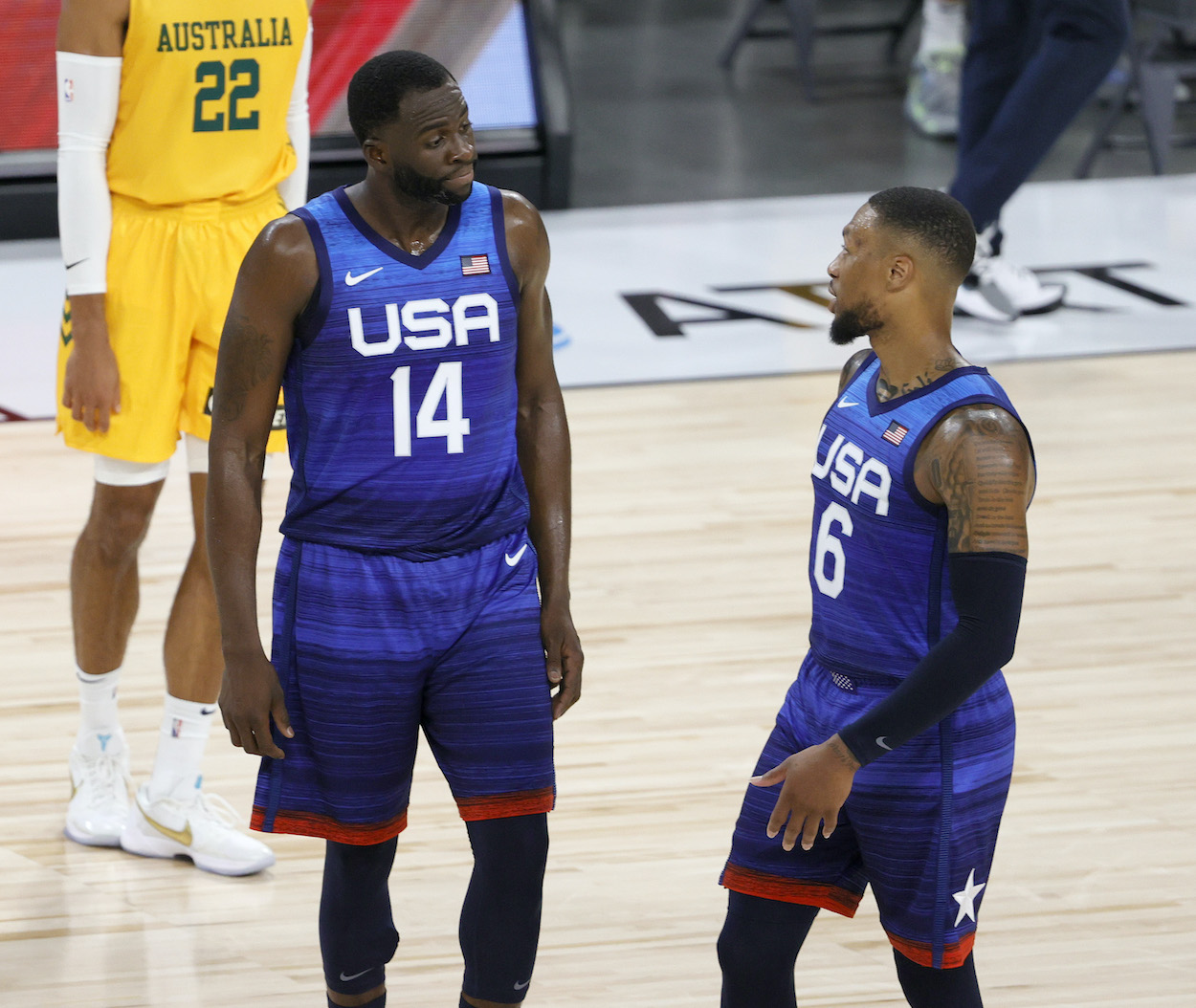 Draymond Green is 'Doing Work' With Team USA Teammates to Create Another Golden State Super Team
Golden State Warriors star Draymond Green may be working on more than just winning the Gold in Tokyo, he may be recruiting for his team too. Super teams have started at the Olympics before and with Damian Lillard and Bradley Beal possibly unhappy with their current teams, Green could be trying to poach them.
Playing for Team USA basketball in the Olympics is an opportunity to play for pride, for glory, and for a gold medal. It is also an opportunity for NBA stars to hobnob with other NBA greats and discuss the upcoming NBA season. For the Golden State Warriors' Draymond Green, it offers the chance to recruit some of the 2021 Team USA's unhappy superstars.
Green is reportedly engaging in a Team USA tradition that goes back to the 2008 Olympics, recruiting players to form a Super Team.
There are several unhappy NBA superstars on Team USA at the Tokyo Olympics
The 2021 version of Team USA hasn't performed particularly well. The team lost to Nigeria and Australia in the lead-up to the Games and went down in the first official contest against France. The group turned it around, routing Iran, but that still didn't give American fans much confidence.
A lot of the blame is going to the team's makeup and the superstars who are missing. LeBron James, James Harden, Stephen Curry, and Anthony Davis all opted out for various reasons.
However, some of Team USA's dysfunction may come down to the unsettled situations players face with their NBA teams.
Two players, in particular, Damian Lillard and Bradley Beal, are the subject of constant trade rumors these days. Beal is no longer with the team due to COVID-19 protocols, but Lillard is answering questions about his pro future on a daily basis. Lillard has even engaged in a Twitter war with NBA analyst Henry Abbot over whether or not he will demand a trade.
This can't be good for Team USA. It may be great for Green and the Warriors, though.
Draymond Green is recruiting Team USA players to Golden State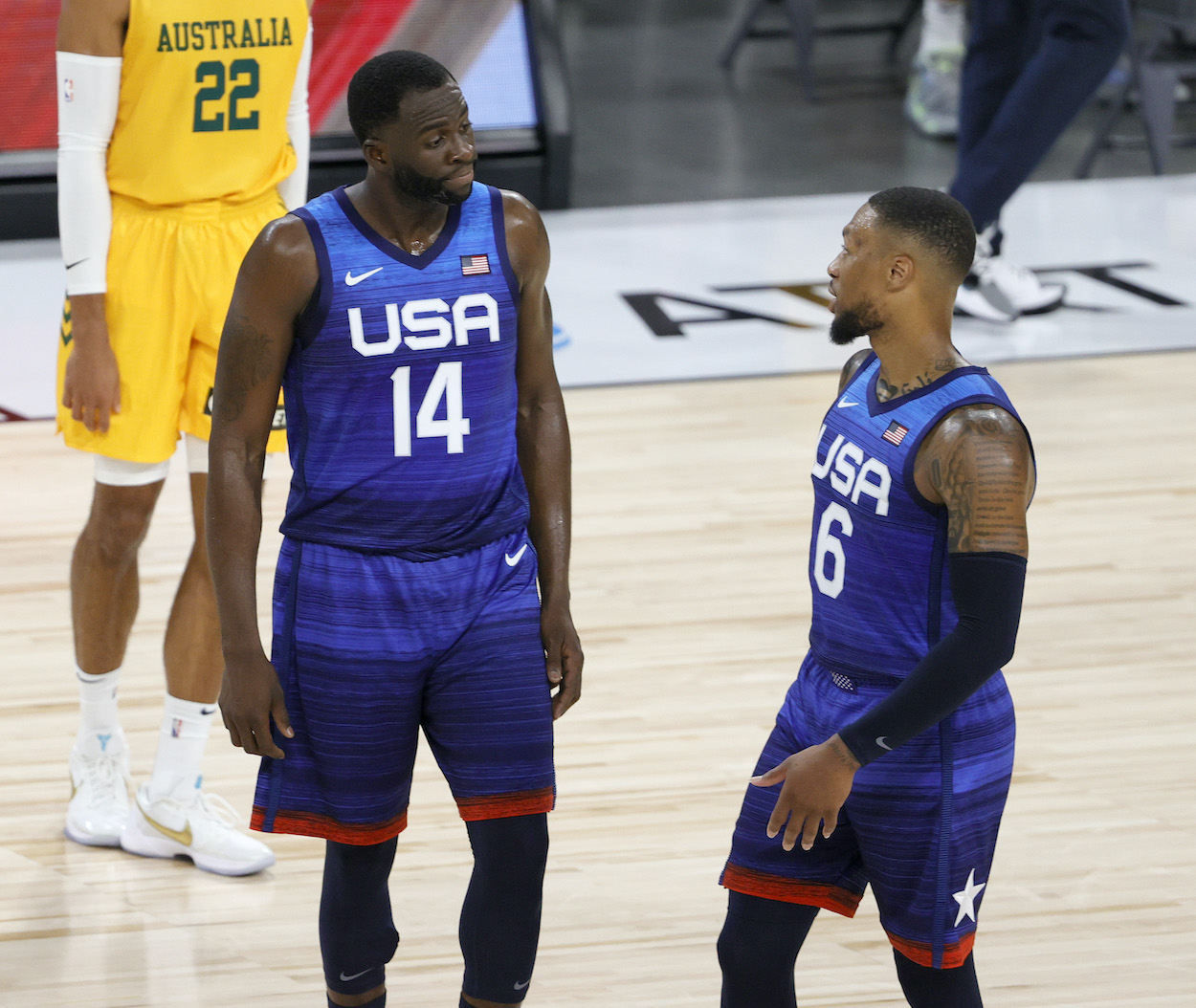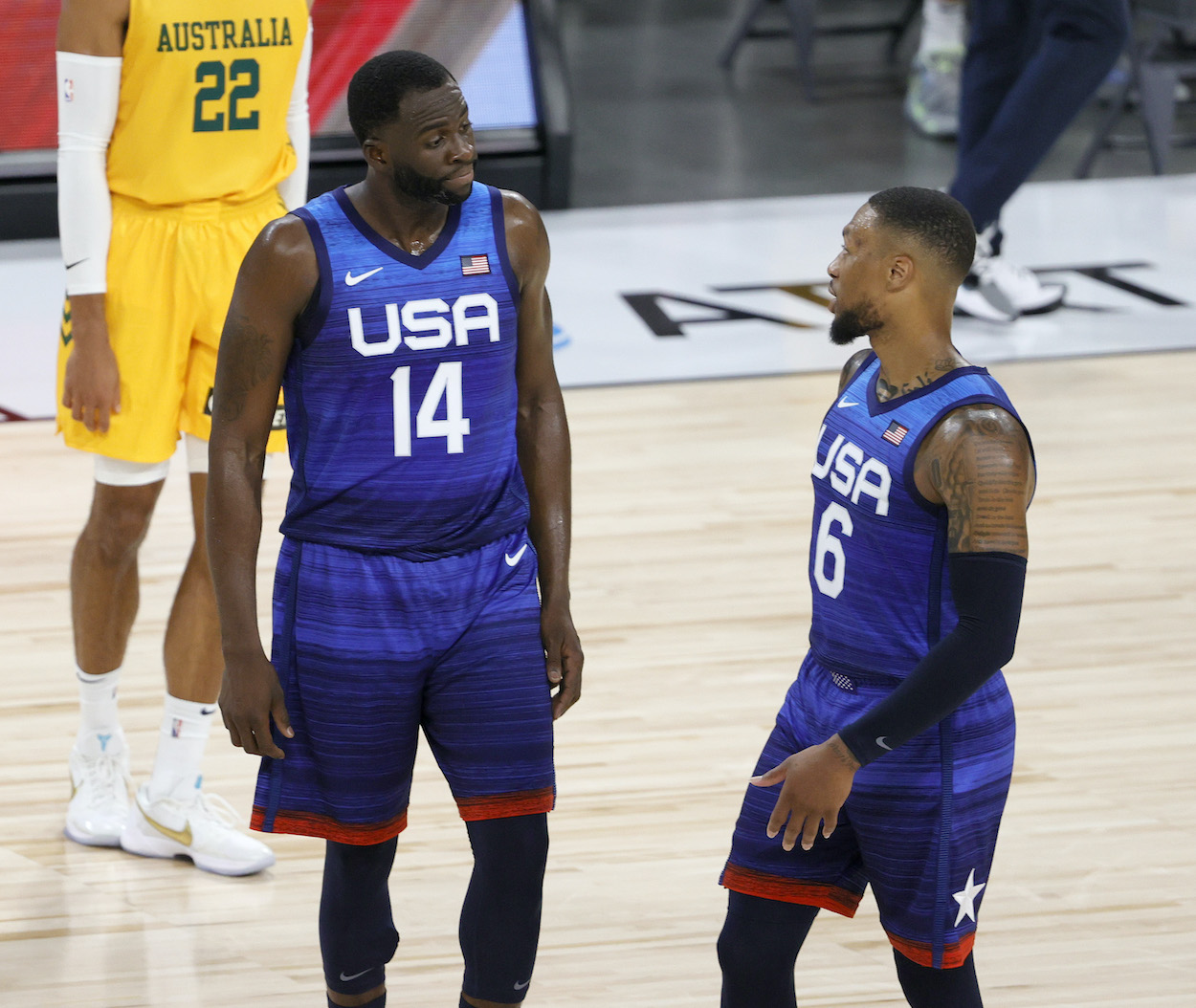 Green is following Team USA'ers before him and trying to lure top talent to the Bay Area during his stay in Tokyo. According to NBA analysts Brian Windhorst and Marc Spears on The Brian Windhorst & The Hoop Collective podcast, per Yahoo! Sports, Green is trying his hardest to recruit Lillard and Beal:
Windhorst: So I'm not sure we're gonna get a star on the market [before the NBA draft].

Spears: But I'm gonna be at Golden State headquarters just in case.

Windhorst: Well. The rumor out of Team USA is that Draymond is doing work.

Spears: GM Green?

Windhorst: That's all I'm gonna say. The team building going on — the team building is that Draymond is doing work.

Brian Windhorst and Marc Spears on Draymond Green's recruitment efforts with Team USA
The draft happened last night, and there was no Beal or Lillard trade. There's still a long way to go until the October 19 tipoff of the 2021-22 NBA season, so Warriors de facto GM Draymond Green still has time to work some magic.
Team USA has been the breeding ground for Super Teams before 
If Green does successfully lobby Lillard, Beal, or anyone else to force their way to Golden State to join him, Klay Thompson, and Curry to form another NBA super team, it wouldn't be the first time the germ of a super team idea started at a Team USA event.
The James, Dwyane Wade, Chris Bosh Miami Heat famously started when the three players played together at the 2008 Olympics in Beijing, China. The three won a gold medal but also set the stage for The Decision and the two titles that would follow in Miami.
Eight years later, then-Golden State Warrior Kevin Durant and Cleveland Cavalier Kyrie Irving struck up a close friendship while playing on at the 2016 Games in Rio de Janeiro, Brazil. The two would stay tight through the years and, in 2019, with Irving unhappy in Boston and Durant wanting out of Golden State, the two decided to team up in Brooklyn.
Can Draymond Green be as good a recruiter as Wade or strike up a friendship with someone as close as Durant and Irving? We'll see after the players get home from Tokyo. If he can, though, the Warriors could be heading back to the top of the NBA. 
Like Sportscasting on Facebook. Follow us on Twitter @sportscasting19