Draymond Green Says He Thinks Kevin Durant Blocked His Number After Their Infamous Warriors Blowup: 'I Could Only Talk to Him Through Instagram DM'
Kevin Durant and Draymond Green got into a notorious blowup on the Warriors that eventually played a role in Durant leaving and signing with the Nets. So, how bad did it get between them? Green recently said he thinks KD blocked his number at one point, and they had to communicate through Instagram.
If you're an NBA fan, you likely remember what happened on Nov. 12, 2018. That was the day Draymond Green and Kevin Durant got into an emotional blowup during a game against the Los Angeles Clippers, which eventually played somewhat of a role in Durant leaving the Golden State Warriors the next offseason.
But how bad did it get between Green and Durant? They were apparently not on very good terms, as Green recently said he's pretty sure KD blocked his number.
Kevin Durant and Draymond Green got into an intense argument on the Warriors
In November 2018, the Warriors were coming off back-to-back titles with Kevin Durant, Stephen Curry, Draymond Green, and Klay Thompson.
But on Nov. 12, Green and Durant took part in an intense back-and-forth during an overtime loss to the Clippers. Their heated argument even continued in the locker room.
The Warriors then suspended Green for one game without pay due to his role in the altercation. General manager Bob Myers said it "was something that required the action" they took, per ESPN.
Golden State somehow still went to a fifth consecutive NBA Finals that year (third straight with Durant) but lost after KD and Thompson both left the series with injuries. The former Thunder star then signed with the Brooklyn Nets that offseason and later admitted on First Take that the run-in with Green played somewhat of a role in his departure.
"I mean, your teammate talk to you that way, you think about it a bit," he said, per The Washington Post. "We talked about it, but definitely, for sure. I'm not going to lie about it."
However, Durant has since appeared on Green's new series with Bleacher Report, Chips, and he opened up about how much of a role their blowup played in him leaving.
"It wasn't the argument; it was the way that everybody — Steve Kerr acted like it didn't happen. Bob Myers tried to just discipline you and think that that would put the mask over everything," Durant said to Green. "… I rather us be who we say we are: Family first, communication is key. We didn't show that, and that's what rubbed me the wrong way more than anything."
KD potentially blocked Draymond's number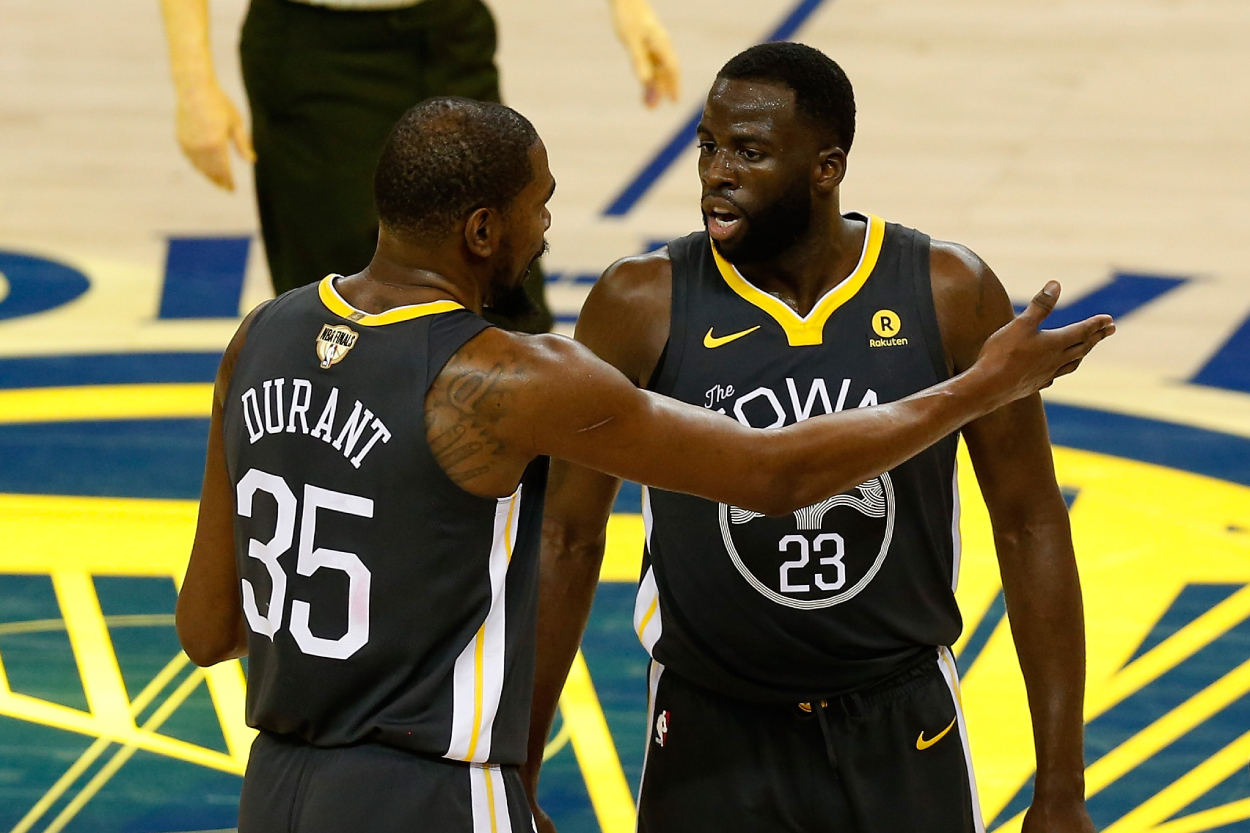 So, Durant's argument with Green did, in fact, play a role in him leaving Golden State, but what was their relationship like after that blowup?
Green recently appeared on Carmelo Anthony's podcast, What's In Your Glass?, and he revealed that it got to the point where the former league MVP blocked his number.
"I think there was a time period of where he wasn't trying to say nothing to me," he said on the Sept. 2 episode. "I think there was a time period where my number might have been blocked from his phone. There was a time period where I could only talk to him through Instagram DM."
Green, however, said he never confronted him about it. If his DMs were where he had to talk to him, he would just communicate to him through there. The Michigan State product added that he actually got over the confrontation as soon as it ended, but his feelings toward it weren't what mattered; Durant's were. So, the terms of their relationship have since been "up to him."
"Ultimately, it's your decision on whatever terms we're going to be on," he added. "The terms I wanna be on is that, 'You my brother, I love you; I got nothing but love for you, and we can continue to build our relationship.' But if that's not where you're at, I had to respect that."
Now, it finally seems that the two are in a good place.
Kevin Durant seems to have a better relationship with his former Warriors teammate
Time heals all wounds, and it appears that's been the case with Durant and Green.
They not only appeared on Chips together, but Green also recently had massive praise for his former teammate and what their relationship means to him.
"That's my brother; we've done some special s— together, but even beyond us winning a championship together, I got nothing but love for that brother," Green said to Anthony. "I love that man. That's my brother. … One thing I do know is: He got my back in life. Not just on basketball s—. In life, I know if something's f—-ed up with me, I can turn to him. And vice versa."
Their confrontation may have played somewhat of a role in a dynasty ending. But it appears Green and Durant are on good terms again.
Hopefully, KD has unblocked Green's number so they no longer have to talk through Instagram.
Like Sportscasting on Facebook. Follow us on Twitter @sportscasting19.