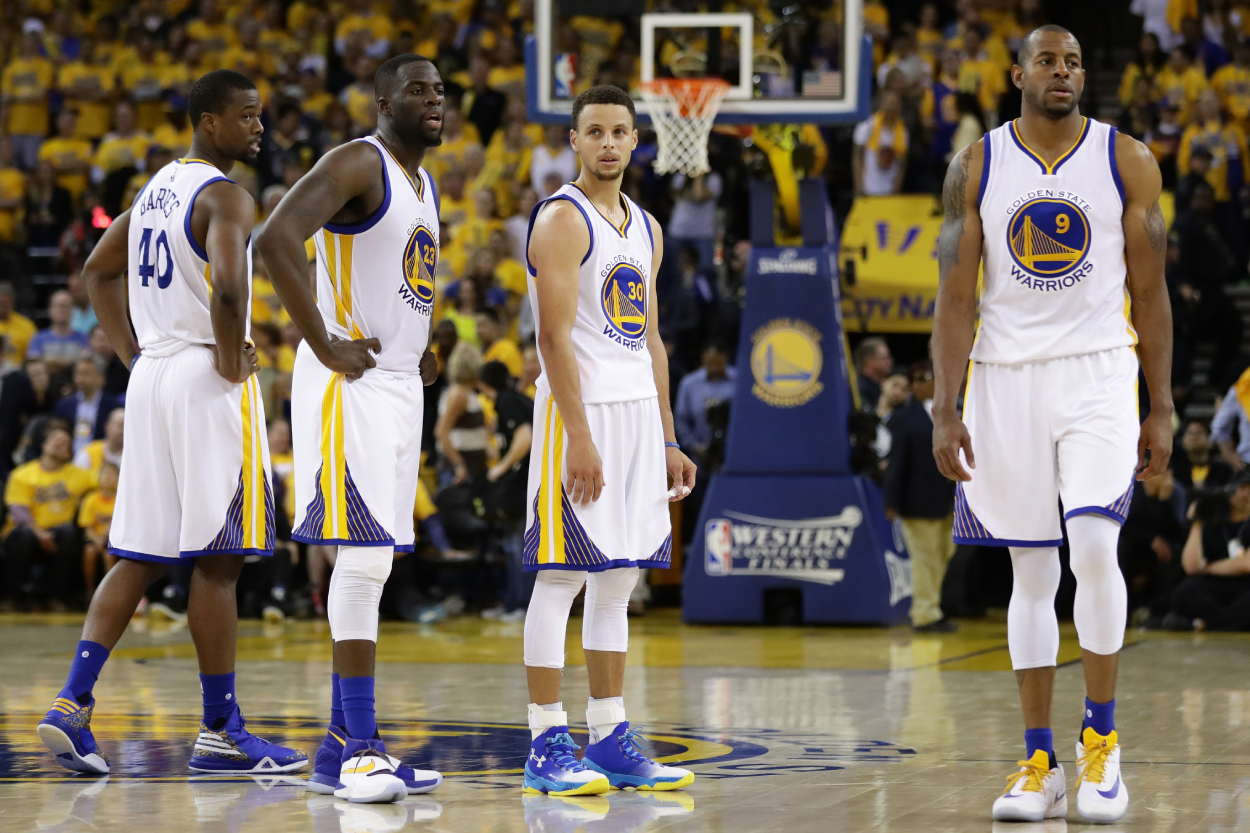 The Golden State Warriors Lost Their 'Soul' 2 Years Ago After Making a Somewhat Big Offseason Trade: 'We've Been Somewhat Rudderless'
The Golden State Warriors traded away one of their key players two years ago after the 2019 NBA Finals. They have since struggled to get back atop the NBA standings for a multitude of reasons, but when that player left, the team's soul went with them, according to head coach Steve Kerr.
The 2019 postseason changed everything for the Golden State Warriors. They were playing in their fifth consecutive NBA Finals and had a chance to win not only a third straight title but their fourth in five years. However, Klay Thompson and Kevin Durant both went down with injuries, and they lost to the Toronto Raptors in six games. Durant then signed with the Brooklyn Nets that offseason and the Warriors also traded away one of their key players, a pillar to their title-winning teams.
In July 2019, the Warriors parted ways with Andre Iguodala, and the team's "soul" went with him.
The Golden State Warriors lost key players after the 2019 NBA Finals
As mentioned above, Kevin Durant signed with the Brooklyn Nets during the 2019 offseason. His injury in the finals kept him from playing in 2019-20, but he averaged 26.9 points, 7.1 rebounds, and 5.6 assists for Brooklyn this past season. He also led them to the conference semifinals.
In addition to losing Durant, though, the Warriors traded away Andre Iguodala to the Memphis Grizzlies, who then sent him to the Miami Heat. Iguodala played in his sixth consecutive finals with the Heat in 2020 and then filled a nice role for them again this past season, but Miami chose to not pick up his team option earlier this offseason
So, without those guys, the Warriors have struggled to reclaim their throne as the kings of the NBA. They have also dealt with injuries, as Klay Thompson missed the past two seasons, and Stephen Curry missed the majority of the 2019-20 campaign. Because of this, Golden State finished 15-50 in 2019-20 before going 39-33 and losing in the play-in tournament this past season.
Thompson, though, should be back in 2021-22, as he will reunite with Curry and Draymond Green, and those three alone have won Golden State a title before.
But the Warriors will also welcome back the 2015 Finals MVP, Iguodala.
Andre Iguodala brings the Warriors' their 'soul' back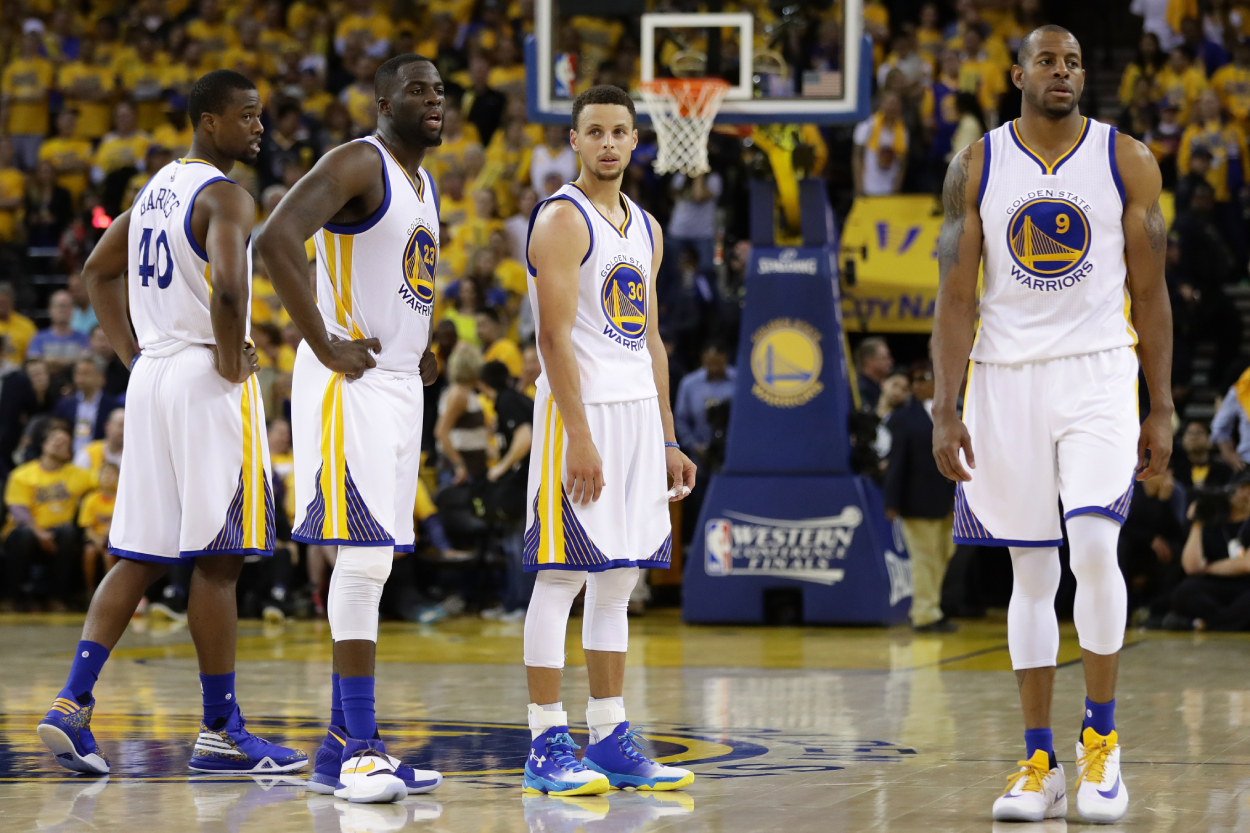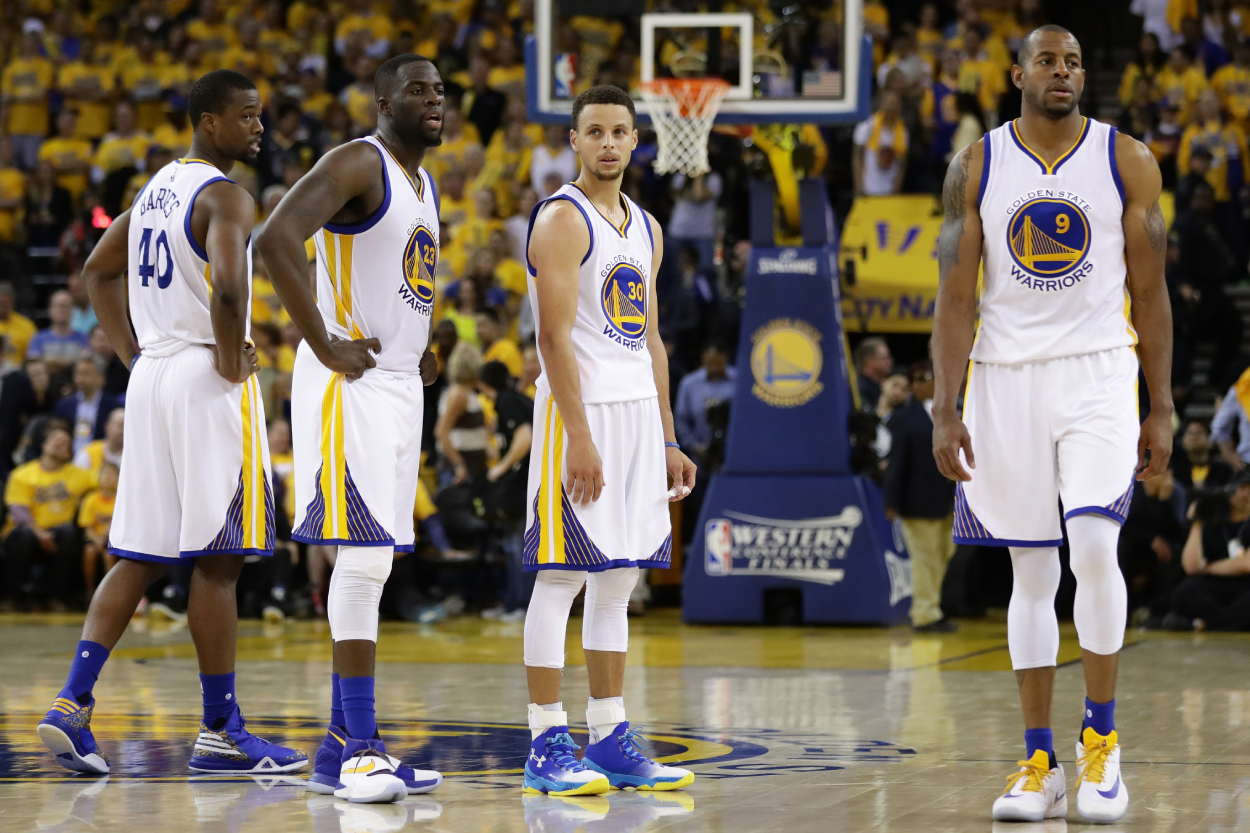 After seeing the Heat decline the team option on his contract this offseason, Iguodala signed a one-year deal with Golden State.
Warriors coach Steve Kerr has since revealed just how much it means to have Iguodala back.
"He means the world to us," Kerr said to NBC Sports Bay Area. "When he left, we kind of lost our soul in a lot of ways. The last two seasons, we've been somewhat rudderless in many ways. I suspect we're going to get our rudder back with Andre."
No, Iguodala is not a player like Curry, Thompson, or even Green. He won't move the needle in terms of the Warriors contending for titles. But his locker room presence was extremely valuable for the team, and he always played at a high level defensively.
In fact, Iguodala's defense on LeBron James during the 2015 NBA Finals helped him win Finals MVP that season. And last year on the Heat, he was in the top three on the team in both defensive win shares — an estimate of the amount of wins a player contributes with their defense — and defensive box plus-minus, an estimate of the amount of defensive points per 100 possessions that a player contributes over a league-average player.
"I have no doubt he can contribute," Kerr said of Iguodala, who is 37 years old, per NBC Sports Bay Area. "I've watched him the last two seasons and he's helped Miami win a lot of games. He looked great to me both times when we played them live. He's still got something left in the tank, and he's going to be a big help for us."
So, now that the Warriors have their soul back, they have a great chance to make some noise in the Western Conference again in 2021-22.
The Warriors have players who can help them make noise in 2021-22
For the Warriors, getting Thompson back will mean more for their success than anything else. They have been without a career 19.5 points per game scorer the last two seasons and a 2018-19 All-Defensive team honoree. His return will not only give them firepower on the offensive end, but a healthy Thompson can help them greatly on defense.
In addition to Thompson, and of course Iguodala, the Warriors also have Curry, who just led the NBA in scoring for the second time in his career last season with a career-high 32.0 points per game, and 2020-21 first-team All-Defensive team honoree Draymond Green. Andrew Wiggins, who scored 18.6 points per game for the Warriors last season, will return as well, and so will 2020 No. 2 overall pick James Wiseman. The team will also welcome their two top-15 2021 draft picks, Jonathan Kuminga and Moses Moody.
If this roster can stay healthy, the Warriors have a great chance to contend for one of the top spots in the Western Conference. Adding Iguodala's leadership and defensive prowess will only strengthen those chances and could help Golden State become a force that no team will want to mess with this upcoming season.
Stats courtesy of Basketball Reference