Draymond Green Recently Rediscovered His Love of Basketball Thanks to an NBA Legend He Used to Hate With a Passion
Charles Barkley helped Draymond Green rediscover his passion for the game of basketball.
Draymond Green doesn't like losing, and he luckily hasn't experienced much of it throughout his NBA career. But in 2019-20, Green suffered through a nightmare of a season in which the Golden State Warriors finished with a league-worst 15-50 record.
After reaching the NBA Finals in the previous five seasons, Green didn't exactly know how to handle sudden failure of that magnitude. In a recent interview, he candidly admitted that he briefly fell out of love with basketball, but an NBA legend he used to hate helped him find it again.
Draymond Green lost his love for basketball after 2019-20 season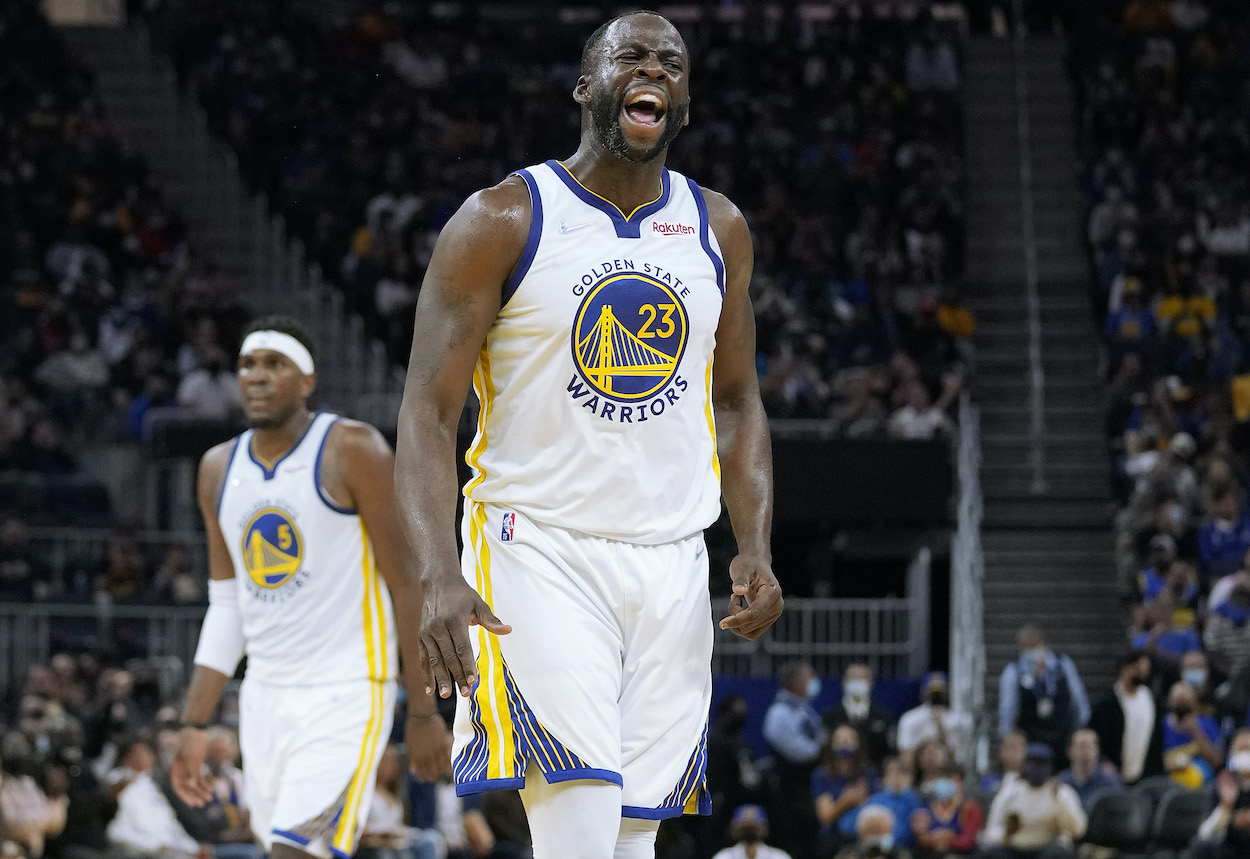 Green experienced an unprecedented amount of success to start his NBA career, as he made the playoffs with the Warriors in each of his first seven years in the league. Golden State reached the NBA Finals in five of those seasons and won three championships with Green on the roster.
But that all changed in 2019-20. Due to Kevin Durant's departure and season-ending injuries to Stephen Curry and Klay Thompson, the Warriors finished the year with the worst record in the NBA.
That was a rude awakening for Green, who admitted in a recent interview with Logan Murdock of The Ringer that he fell out of love with the sport that's given him everything.
"I wasn't interested in the game," Green said.
"It was just a totally different situation that I was dealing with for the first time in my life on top of the abruptness of it," he continued. "You couldn't have told me three months before that I would go from the best team ever to the f***ing worst team in the NBA. It was frustrating. And it was also a mind-f***."
But Green was able to rediscover that love thanks to a surprising source.
Charles Barkley helped Draymond Green rediscover his love of basketball
Green and Charles Barkley have a bit of a history. Back in 2018, Barkley said live on Inside the NBA that he wished someone would punch Green in the face. After Green heard that comment, he decided Barkley wasn't going to be worth his time going forward, and he began to hate the NBA Hall of Famer.
But in the summer of 2020, after the Warriors wrapped up one of the worst seasons in franchise history and Green was struggling to find the passion he once had, that hatred he once had for Barkley completely flipped. Green joined the TNT crew for a taping of The Arena, and Barkley apologized for his comments the second he saw the Warriors All-Star.
"What's up, Dray!" Barkley said, per The Ringer. "My man, great to have you on."
"Totally disarmed me!" Green said about Barkley's reaction.
Green eventually forgave Barkley, and the two have since become good friends. Barkley regularly helps Green with his on-air work when he appears on live television for TNT, and the duo even goes out for late-night drinks after they wrap up in the studio.
"He's one of the best people I've ever been around in my life," Green told The Ringer. "And it caught me so off guard, because it was the total opposite of what I was expecting."
Spending time in the TNT studio and out on the town with Barkley helped Green rediscover what led him to the great game of basketball in the first place. He now feels like a renewed man and player entering his 10th season with the Warriors.
A future in broadcasting?
Green has impressed in his TNT appearances over the last few seasons. The outspoken star isn't afraid to call out current players and the Inside the NBA crew, and he seems like a natural on camera.
So, could broadcasting be his next adventure after basketball?
"I'm not sure," Green told The Ringer. "I think there's a world where I may do that; I think there's a world where I could not. Who knows? I think I probably got another good six years or so left in me. Who knows what any of this looks like in six years."
Green is understandably still trying to focus on his playing career, but he would be foolish not to at least give broadcasting a shot once he eventually retires.
Like Sportscasting on Facebook. Follow us on Twitter @sportscasting19.