Draymond Green Has Won 3 Titles With Stephen Curry, but He Never Thought They'd Become Friends: 'We Were Just Such Polar Opposites'
When Draymond Green first started playing with Stephen Curry on the Golden State Warriors, he never thought they would become friends, as he said they were "polar opposites."
Golden State Warriors stars Stephen Curry and Draymond Green have had about as much success as a pair of teammates can have together. They have won championships, earned All-Star selections, and are two of the most well-respected players in the NBA.
However, they are also close friends.
While many great teammates butt heads and end up hating each other, Curry and Green have stayed close. But Green didn't think that would happen when he first joined the Warriors. The Michigan State product thought there was no chance he would become friends with Curry.
Draymond Green and Stephen Curry have won three titles together on the Warriors
The Warriors struck gold in three of four NBA drafts from 2009 through 2012. Stephen Curry was the No. 7 overall pick in 2009, Klay Thompson was No. 11 in 2011, and Draymond Green was a second-round pick in 2012. (The front office probably tries to forget about 2010, when it drafted Ekpe Udoh over Paul George and Gordon Hayward).
In Curry and Green's first two seasons together, they helped lead the Warriors to two consecutive playoff trips. But in their third, they turned Golden State into one of the NBA's best teams.
The Warriors went 67-15 that season, and Curry won his first MVP award. The team then went all the way to the NBA Finals and beat LeBron James and the Cleveland Cavaliers in six games.
That championship then launched a run of dominance for Golden State.
Curry and company followed that up by going to four more Finals (five straight overall) and winning three championships. Steph also continued dominating individually, receiving another MVP award, while Green became one of the best defenders in NBA history.
But while they both have dominated on the court together, Green and Curry have also grown close off of it.
Draymond didn't think he and Steph would become friends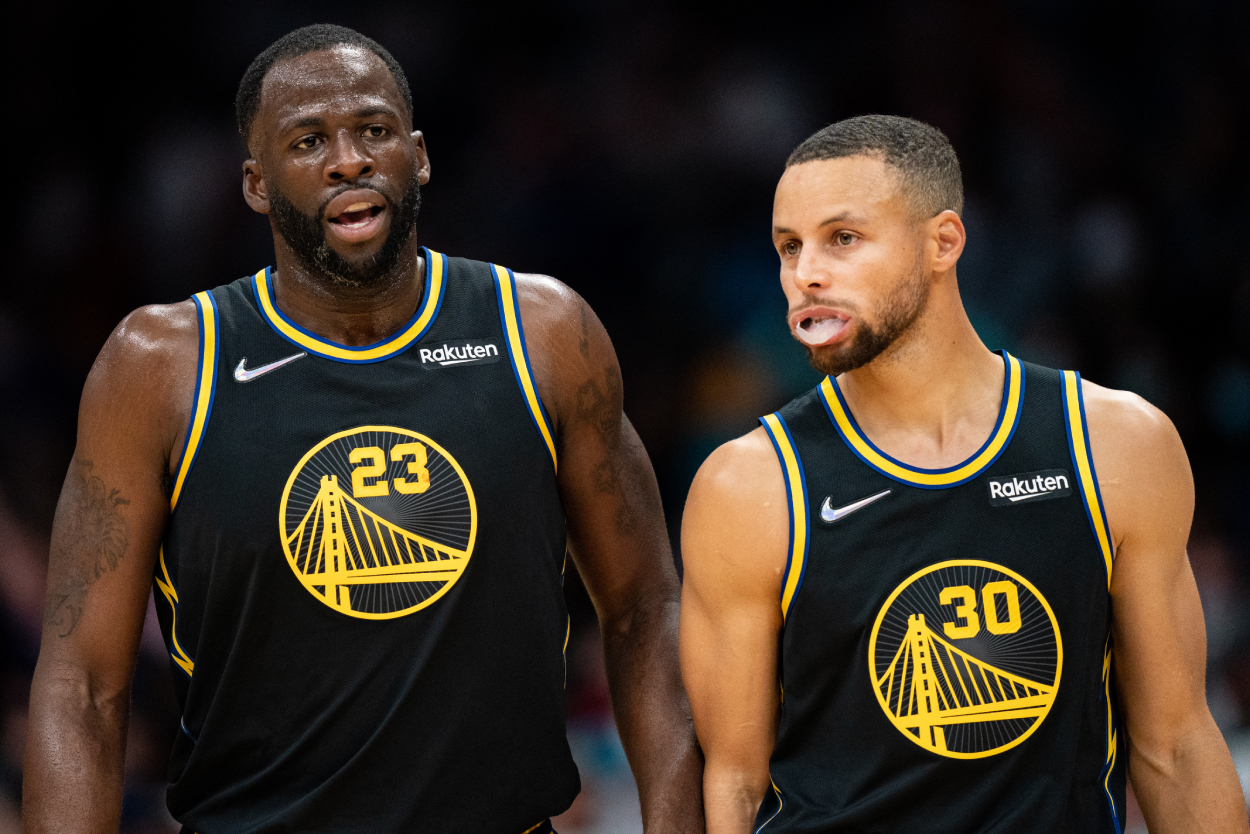 Green and Curry have totally different personalities. The former wears his emotions on his sleeve, while Curry is typically cool, calm, and collected.
But it works.
"If there were two me's, it might not be as loud in the locker room as it needs to be at times," Curry said to Fox Sports. "And if there were two of him, nobody would know when to shut up. It's the perfect balance."
Their relationship has developed into something much bigger than basketball. They both have made it clear that they have each other's backs, and, as noted by Fox Sports, Green even once bought Curry a birthday gift that included a note where he discussed how much he respects him as a person.
"He shared some words on that front that we hadn't before," Curry said, per Fox Sports. "Winning and basketball was amazing, and you wouldn't trade that experience for anything. But [the note was about] the influence of how we live our lives and what's important off the court and us growing into family men kinda on the same timeline. That's the stuff we'll talk about forever. That means a lot."
While they now have an unbreakable bond, Green never thought they would become friends when he first joined the Warriors.
"Not at all," Green said to Fox Sports. "We were just such polar opposites."
And that friendship is continuing to pay off.
Draymond Green and Stephen Curry have the Warriors contending for an NBA championship again
Draymond Green, Stephen Curry, and the Warriors took a bit of a hiatus from dominating the NBA. After making it to the Finals in five consecutive seasons, they missed the playoffs in both 2019-20 and 2020-21.
This season, though, they have the Warriors back to their old ways.
Golden State is 22-5 through its first 27 games, which is good for No. 1 in the Western Conference. Curry is averaging 27.0 points and Green is leading the No. 1 defense in the league. But what's even more incredible about their success is that neither Klay Thompson nor No. 2 overall pick in 2020, James Wiseman, have played yet this season, as they both hope to return from injuries in the near future.
Once the Warriors are fully healthy, this team could be terrifying yet again.
Sure, Draymond Green and Stephen Curry have led the Warriors to three titles and five NBA Finals appearances. But they're not done winning just yet.
Stats courtesy of Basketball Reference