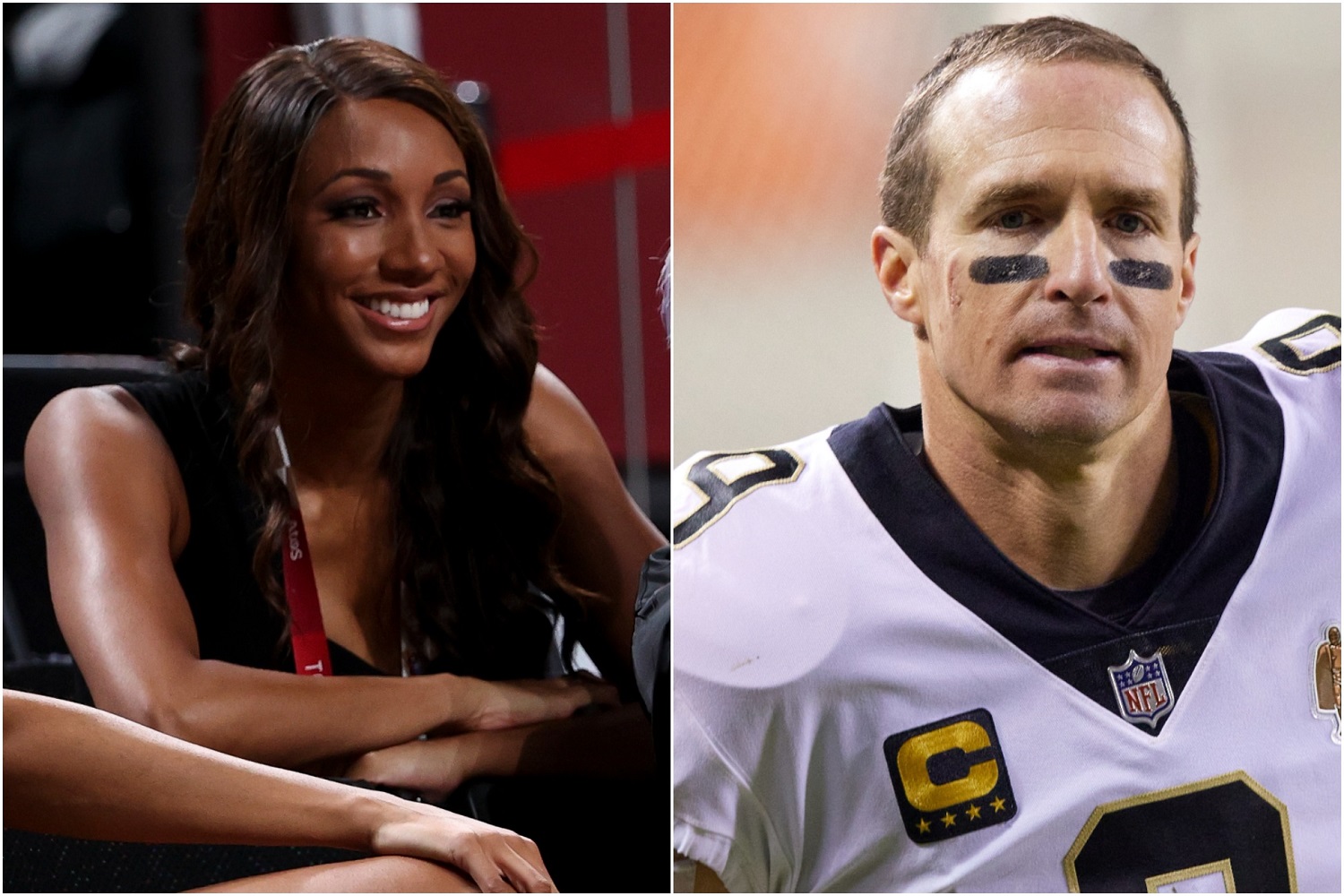 Drew Brees and Maria Taylor Are TV's New Odd Couple on 'Football Night in America'
Maria Taylor bluntly criticized then-New Orleans Saints quarterback Drew Brees last year. Now, the two will be working together on NFL telecasts for NBC.
If Joe Biden and Kamala Harris can make nice after an acrimonious, albeit brief, spat in the race for president, then there's nothing stopping Drew Brees and Maria Taylor from getting along on TV, right?
Aside from Taylor calling BS on the apology Brees issued over the whole national anthem issue a year ago, we're confident they'll be best buddies on Football Night in America on Sunday nights. It helps that NBC wisely chose to send them to neutral corners.
The 'Football Night in America' cast is expanding for the new NFL season
The NFL hands NBC an attractive schedule of Sunday night games each season, rightfully noting that the primetime window attracts big audiences. That makes money for the network, which leads to the league commanding bigger rights fees.
For its part, NBC assigns its front-line talent to the telecasts. To that end, the network has announced additions to its pregame and halftime segments.
Drew Brees, the MVP of Super Bowl 44 and recently retired, will work the pregame show with host Mike Tirico and analyst Tony Dungy. They will break down the games from earlier in the day on CBS and Fox as well as preview their game.
Maria Taylor, who just came over from ESPN, where she worked as a host and sideline reporter, will co-host segments with Chris Simms, another retired quarterback.
NBC will continue to weave in Mike Florio of Pro Football Talk with injury updates and other intel gathered throughout the day.
To make room for Brees and Taylor, NBC is moving Rodney Harrison to the game venues. Harrison and Jac Collinsworth will conduct interviews and offer on-field analysis, complementing play-by-play announcer Al Michaels and analyst Cris Collinsworth.
Drew Brees and Maria Taylor have a history, and it's a bad one
In a June 2019 debate during her failed run for her party's nomination for president, Kamala Harris condemned Joe Biden for working with segregationists in the U.S. Senate and opposing certain school desegregation measures, the Associated Press reported. It did not stop Biden from winning the nomination, selecting Harris as his running mate, and winning the general election over Donald Trump.
Maria Taylor's criticism of Drew Brees in the aftermath of the death of George Floyd at the hands of police in Minneapolis was at least as harsh as what Harris dealt Biden. It started in August 2020 with acrimony over the decision by many not to stand during the national anthem. Brees, the quarterback of the New Orleans Saints at the time, said he would remain standing, but he pledged to support those protesting racism and social injustice by kneeling.
"I'll always stand for the flag because of what it means to me and to honor all those who have sacrificed, who have served and died for our country, and all those who have struggled to move this country forward," Brees explained.
That did not go over well with many people, including some of the quarterback's teammates. Brees issued several apologies, which ended up offending some of the people who found nothing wrong with his initial explanation.
Taylor unloaded on Brees on one of ESPN's daily talk shows.
"Shame on you," she said. "Would Drew Brees do this if there was no backlash? Did (his) heart actually change? "You were not doing the right things before, and I really wonder why the apology is happening now."
Taylor went on to further excoriate Brees, accusing him of possessing an "intolerant mind and/or heart or a non-empathetic heart."
So, what exactly changed in the past year?
Only Maria Taylor knows for sure how she can now share airtime with Drew Brees, someone who clearly angered her as recently as a year ago. Interestingly, it was at about the same time that the now-famous Rachel Nichols episode occurred.
As many reported at the time, Nichols thought she was on a private phone call with a friend but in fact was captured by an ESPN camera that downloaded the conversation to servers at the cable sports company's Connecticut headquarters. In the call, Nichols expressed frustration over her belief that ESPN had given one of her assignments to Taylor based more on skin color than merit.
Most people forgot about the issue until the New York Times obtained the audio and reported extensively on it this past July. The report said that an incensed Taylor refused to appear live on any shows with Nichols.
Some might consider the Brees and Nichols episodes to be apples and oranges. Nevertheless, Taylor apparently has no reservations now about working on a show with Brees.
How NBC managed to repair that relationship would be an interesting topic for another New York Times story. Nichols, who has been taken off the air by ESPN, would certainly buy a copy of the paper.
Like Sportscasting on Facebook. Follow us on Twitter @sportscasting19.