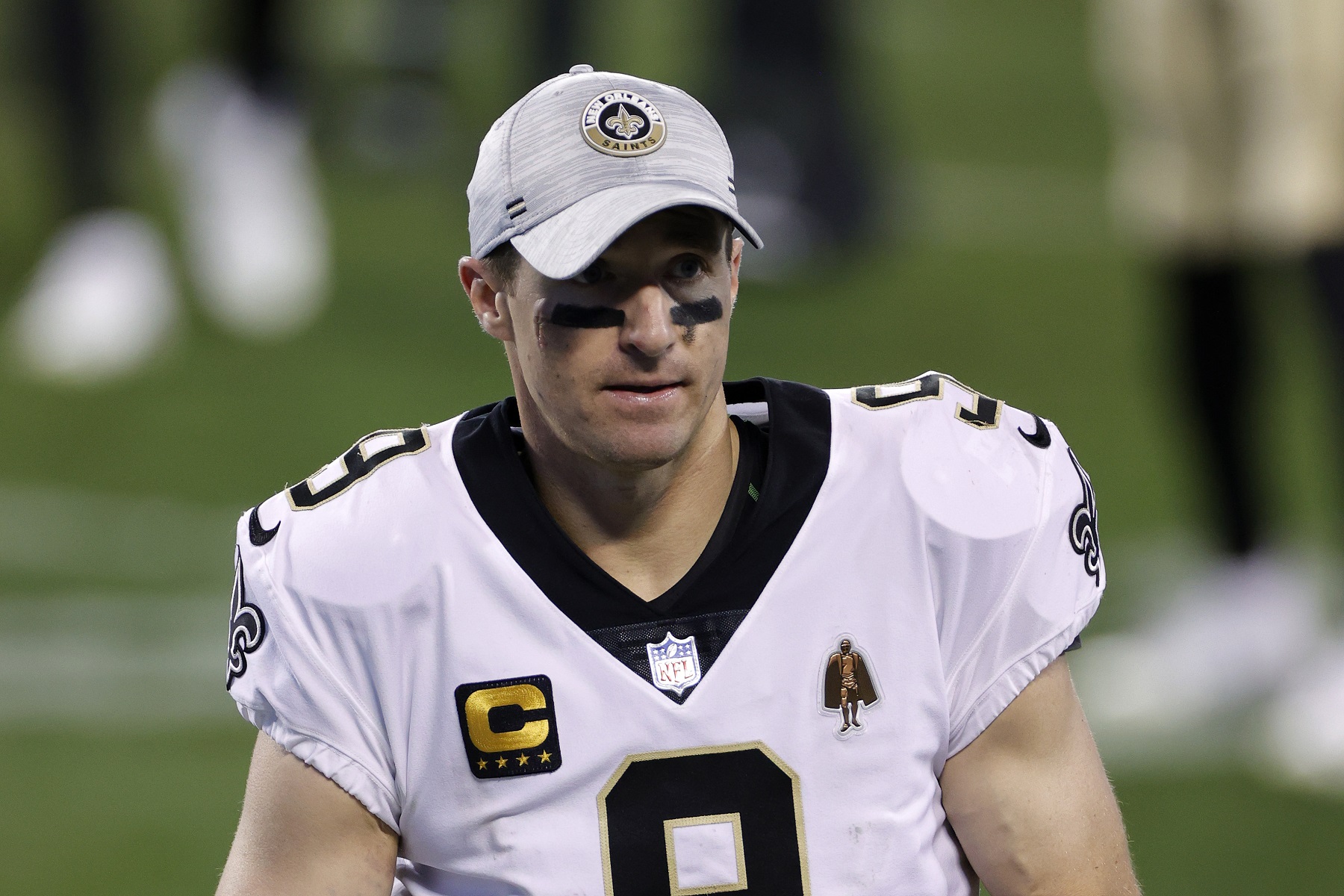 Drew Brees Has Cleared a Hurdle Preventing Him From Taking a TV Job Next Season
Drew Brees is heading for a TV job once he retires from the New Orleans Saints, possibly following the NFL playoffs.
If the New Orleans Saints should happen to stumble in their NFC wild-card game against the Chicago Bears, it likely means the end of a brilliant 20-year career for quarterback Drew Brees. Though he's coming off six straight years of passer ratings in triple digits, Brees turns 42 years old on Jan. 15 and missed more games the past two seasons than in the previous 16 combined.
The good news for Brees is that he leaves with numbers worthy of the Pro Football Hall of Fame and with job security when he begins the next phase of his working life.
Leaving after the playoffs makes sense
ESPN reporter Adam Schefter said on Sunday NFL Countdown last weekend that the consensus around the league is that Drew Brees will be retiring at the conclusion of the playoffs. With 20 seasons under his belt and 80,000 passing yards and a Super Bowl ring to his credit, there's nothing left to accomplish.
Brees indisputably is still playing at a high level, but the 2020 season may have taken as much out of him physically as the first five years of his NFL career combined. A Week 10 injury in a game against the San Francisco 49ers left Brees with a punctured lung and 11 fractured ribs.
It was the second straight season that Brees lost significant time to injuries, but the Saints inserted backups and didn't miss a beat. Teddy Bridgewater and Taysom Hill were a combined 8-1 in his absence. That doesn't mean the Saints would be looking to shove him out the door, but it gives both Brees and the Saints confidence that they can move forward without him on a permanent basis.
Drew Brees has made plans for the future
Drew Brees telegraphed his future before the 2020 season by signing a contract to work in broadcasting with NBC, almost certainly on NFL assignments, upon his retirement from the New Orleans Saints.
If the retirement is now impending, then Brees goes out on a high note regardless of the outcome of the playoffs. Brees won nine of his 12 starts this season, throwing for 2,942 yards and 24 touchdowns. He also led his 36th career fourth-quarter comeback and was picked off only six times 390 attempts.
For his career, Brees led the league in completions six times, yardage seven times, and touchdowns four times. His regular-season totals are 80,358 yards, 571 touchdowns, and just 243 interceptions. Brees, who joined the Saints from the San Diego Chargers as a free agent after the 2005 season, has been selected to the Pro Bowl 13 times.
Drew Brees has cleared a hurdle on his way to the TV booth
A little more than a week after George Floyd died last May while being detained by Minneapolis police, New Orleans Saints quarterback Drew Brees created controversy by saying he believed that not standing during the national anthem was disrespectful to the flag and the country, a conviction formed in part by a history of family service in the military.
Blowback was swift and loud, including from teammates, with their argument being that protesting during the national anthem doesn't have to be anti-patriotic. Brees issued several apologies during the ensuing days, but even that created issues as some argued he was abandoning his own principles.
In short, it was the sort of controversy that could flare up when he moves on to his next career. Interestingly, however, a poll conducted by Morning Consult and released this week shows Brees continues to enjoy the highest favorability rating of all skill-position players in the league.
According to the research firm, Brees scored a favorability rating of 37 in the poll before Week 17 of the season. That was down from his 42 rating a year earlier, but still better than fellow quarterbacks Patrick Mahomes (35), Aaron Rodgers (32), and Russell Wilson (29). Arizona Cardinals receiver Larry Fitzgerald (25) scored highest among non-QBs.
Interestingly, Tom Brady soared from a score of 12 to 23 in his first season after leaving the New England Patriots to the Tampa Bay Buccaneers.
In Brees' case, it likely means that the public has moved on from last year's controversy and won't create a cancel culture for him when he joins NBC.
All stats courtesy of Pro Football Reference.