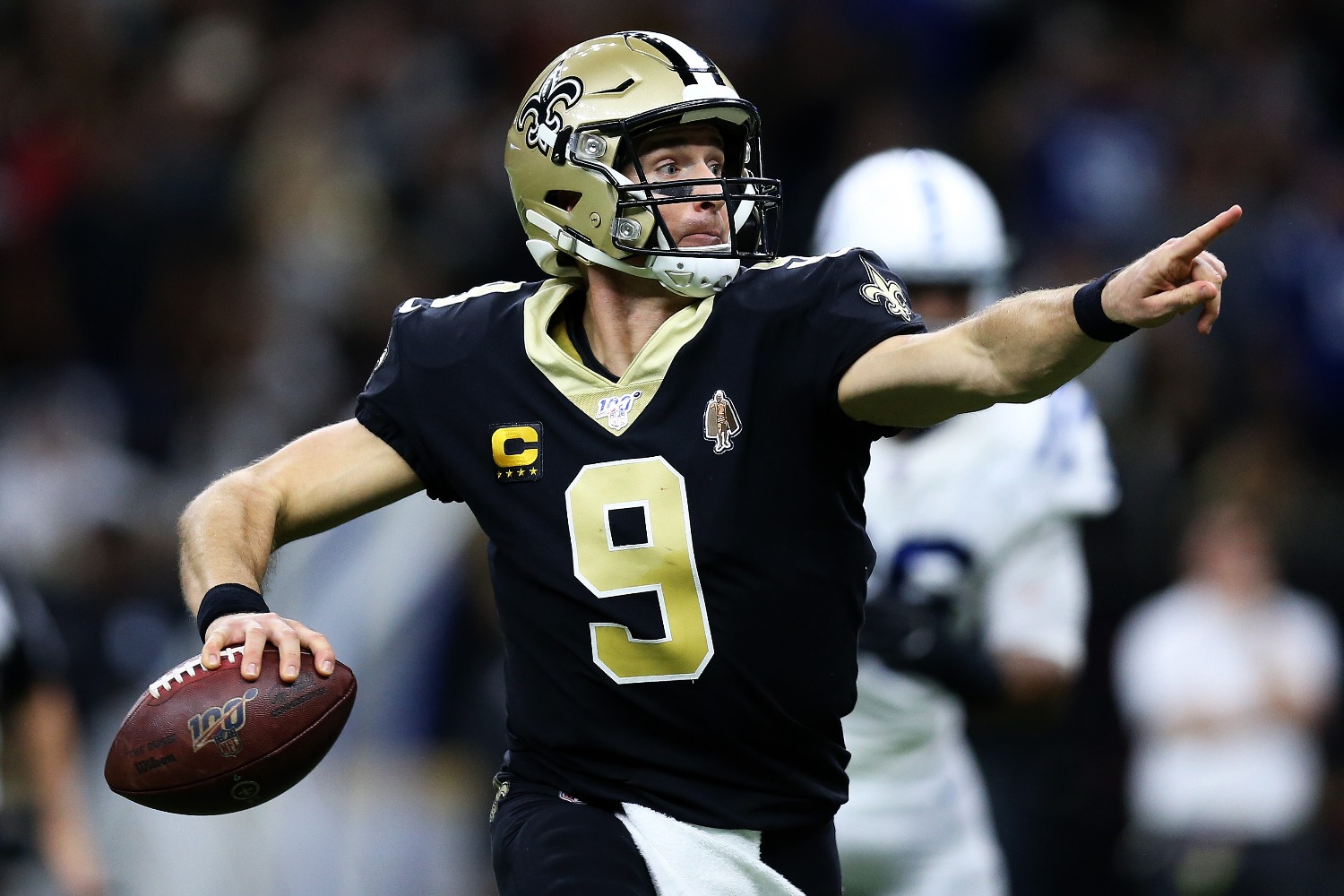 Drew Brees Grew Up and Played Football with This Famous Hollywood Actor
Long before Drew Brees became famous as one of the NFL's greatest quarterbacks, he threw touchdowns to one of his favorite targets who would later become a famous actor.
Drew Brees is a first-ballot Pro Football Hall of Famer. The New Orleans Saints quarterback holds numerous NFL records, including career passing yards and touchdown passes. Interestingly, Brees never played tackle football at a young age. In fact, he played flag football up until the eighth grade. What's even more interesting, one of his favorite targets on that team was someone who has done pretty well for himself in Hollywood.
Drew Brees succeeds against the odds 
Despite all of his impressive records today, most college football recruiters found Drew Brees' talent inadequate coming out of Westlake High School in Austin, Texas, even after leading his team to a state title. Brees grew up in the shadows of The University of Texas. The Longhorns, Aggies, and every other Texas school, for that matter, didn't want him.
It wasn't, however, limited to just colleges from the Lone Star State. In fact, he received only two offers to play college football from Kentucky and Purdue. He opted to play for the Boilermakers, where he left with Big Ten Conference records in passing yards (11,792), touchdown passes (90), total offensive yards (12,693), and completions (1,026).
Brees has replicated that same level of success in the NFL. He's the NFL career leader in passing yards, pass completions, touchdown passes, highest career completion percentage, highest single-season completion percentage, and the list goes on and on. And he won the Super Bowl in 2009.
Drew Brees athletically gifted in multiple sports
Despite not being highly regarded coming out of high school, Drew Brees had athletic bloodlines. His dad played basketball at Texas A&M. His mother earned all-state honors in three sports while in high school. While Brees would eventually become a three-sport star of his own in high school, he took an unconventional route in football.
Brees never played Pop Warner or Pee Wee football. Instead, he played flag football at St. Stephen's, an Episcopal school, where they competed in the Austin Interparochial League. It was there where Brees honed his skills as a quarterback. 
Even in those early days, Drew Brees was diligently working on his craft. It wasn't uncommon to see the young quarterback and head coach staying late after practice to come up with special trick plays to be used on two-point conversions. And one of Brees' favorite targets was Ben Schenkkan.
Ben McKenzie becomes a star in Hollywood
Benjamin McKenzie Schenkkan grew up in Austin, Texas. He attended St. Stephen's with Drew Brees. And according to one of the greatest quarterbacks of all time, McKenzie wasn't bad himself.
"Ben was a great guy in middle school and he was a phenomenal athlete," Brees told UPROXX in a 2016 interview. "He was a great football player. He was a guy I always thought had a chance. I know he played in high school."
After middle school, the pair split up. Brees went to Westlake and McKenzie went to Austin High School, before heading off to the University of Virginia, where he didn't play football but focused on his studies. Two years after graduating from college, McKenzie got his big break in 2003 when he was cast on The O.C. as Ryan Atwood. Since then, he's also starred in Southland and Gotham. 
Both Drew Brees and Ben McKenzie have had very successful careers in their respective professions. And both have a story to tell their kids and grandkids one day about how they knew someone before they became famous. 
Like Sportscasting on Facebook. Follow us on Twitter @sportscasting19.