Can the Saints Win a Super Bowl With Drew Brees Unable To Throw Deep?
Think what you will about New Orleans Saints star quarterback Drew Brees. Love him or hate him, he's had an incredible career so far. But will the 41-year-old's NFL career end on a high or low note? Only time will tell.
Drew Brees' incredible NFL career
Now 20 years deep into his NFL career, Drew Brees is widely considered one of the best NFL quarterbacks. And with good reason. From the start, his entire football career has been outstanding. After playing high school ball, he acquitted himself well during four NCAA seasons.
As a second-round draft pick, he landed a starting job with the Chargers, where his star continued to rise. By the 2004 season, his reputation was cemented, and he made the Pro Bowl. After Brees suffered a shoulder injury, however, he seemed to lose his shine for the Chargers. Even after he rehabbed and came back with a stellar season, the Chargers seemed keener on investing in newly drafted QB Philip Rivers.
Everyone could read the writing on the wall. Brees' time with the Chargers was coming to an end. But the move turned out to be a good one. Brees signed with the New Orleans Saints in 2006, led the franchise to its first-ever Super Bowl win in 2009, and rolled straight into another decade of absolutely phenomenal playing. 
The decline of his deep ball
According to The Ringer, though Brees is currently considered the most statistical quarterback in NFL history, his numbers are shifting. 
His arm strength has steadily declined in recent seasons, and last year, his passes traveled shorter distances than any other NFL quarterback, with an intended air yards per target of 6.4 yards. This year, that figure is down even further, sitting at just 4.9 yards—a yard and a half per throw lower than his league-worst number from last year.
Brees is not unaware of these shifts. He spent this past offseason working on his arm strength, and there's some evidence that he's playing differently this season than he has in the past. 
For his career, 10.8 percent of Brees's throws have been to targets deeper than 20 yards downfield. Last year, that fell to 8.2 percent, the lowest mark of his career and second-lowest among starting quarterbacks.
Brees has bounced back from arm troubles before, but he was younger then. It seems clear that his arm isn't what it once was, and his inability to throw deep is affecting the choices he makes on the field. But what does this mean for his team? 
Media: https://twitter.com/Jeff_Nowak/status/1310421927195017221
Holding the Saints back?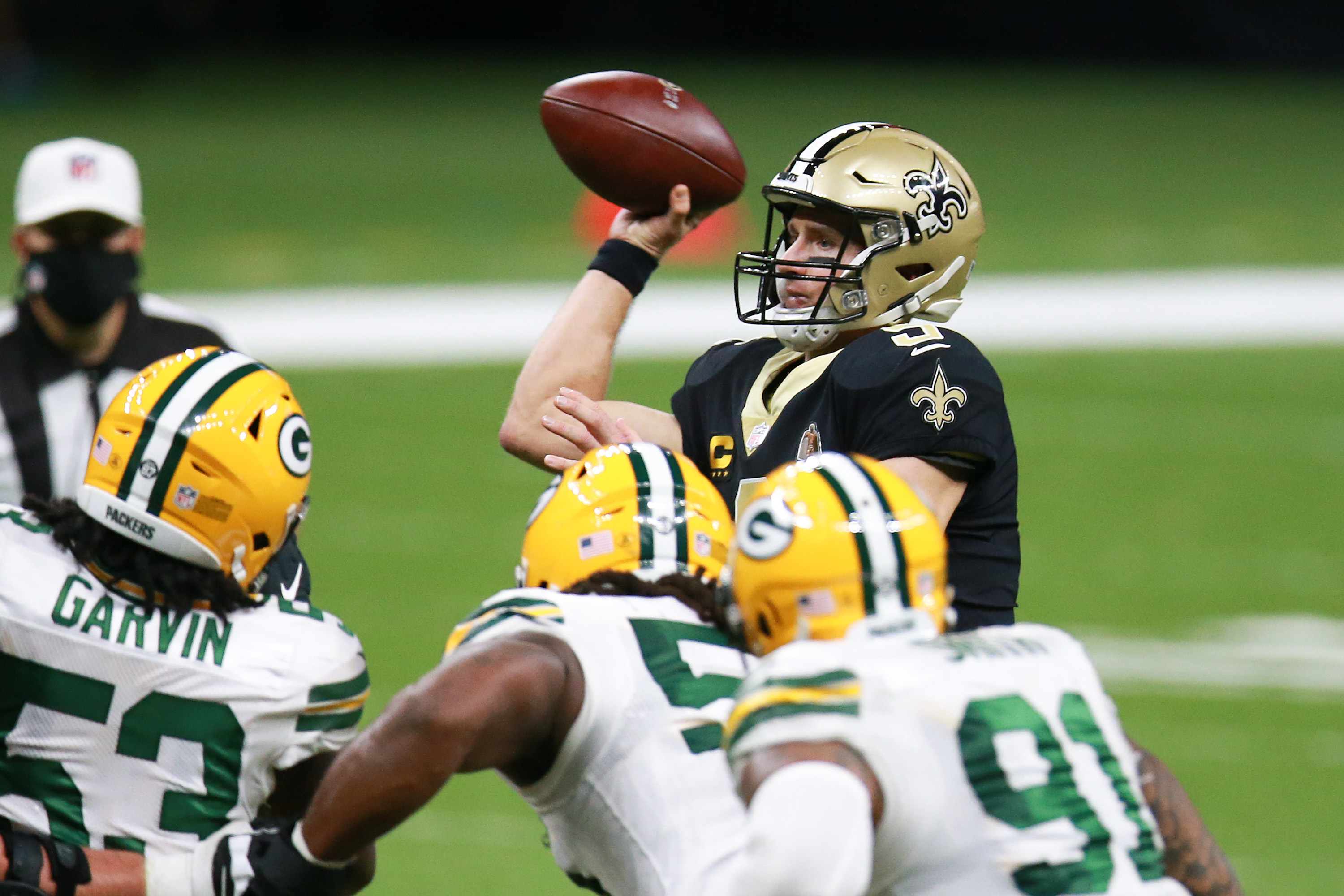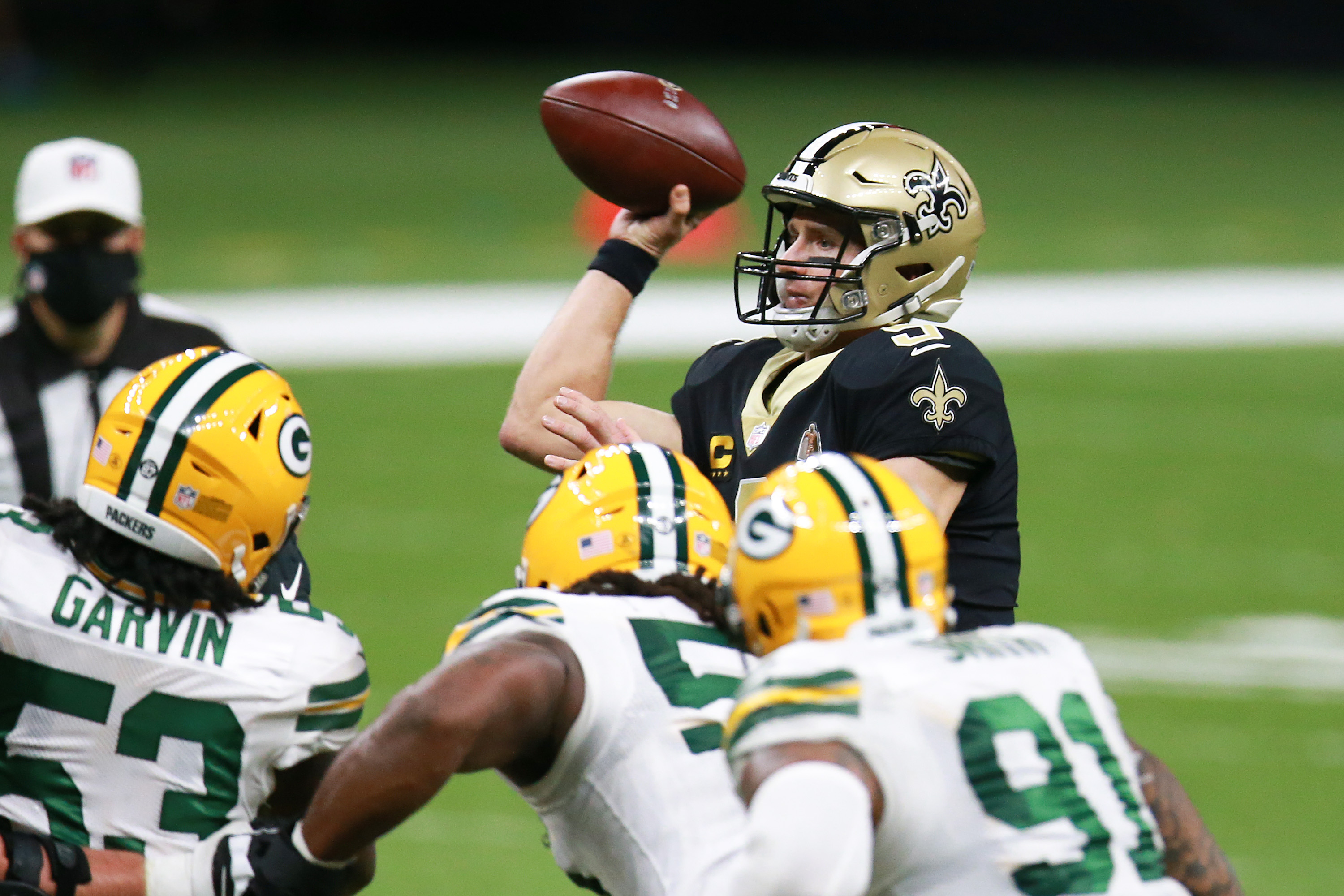 Although it seems incredible to even consider saying it, it could be that Brees will actually be what holds the Saints back in the 2020 season. It's a bit too soon to tell, but given all the signs, we wouldn't be surprised if the season ended with him having delivered his most lackluster performance ever.
While this isn't something we'd wish, it's also not something that would surprise us. This isn't just about Brees' legacy at this point. He's a member of a team widely considered to be a Super Bowl contender.
With their defense in good shape this season, they just might have a shot. But much of their success will hinge not simply on their defense but on the capabilities of Brees' now-questionable arm. Exactly what the 2020 season holds for Brees and the Saints is a mystery, but it would be a shame to see either of them go out with a whimper.