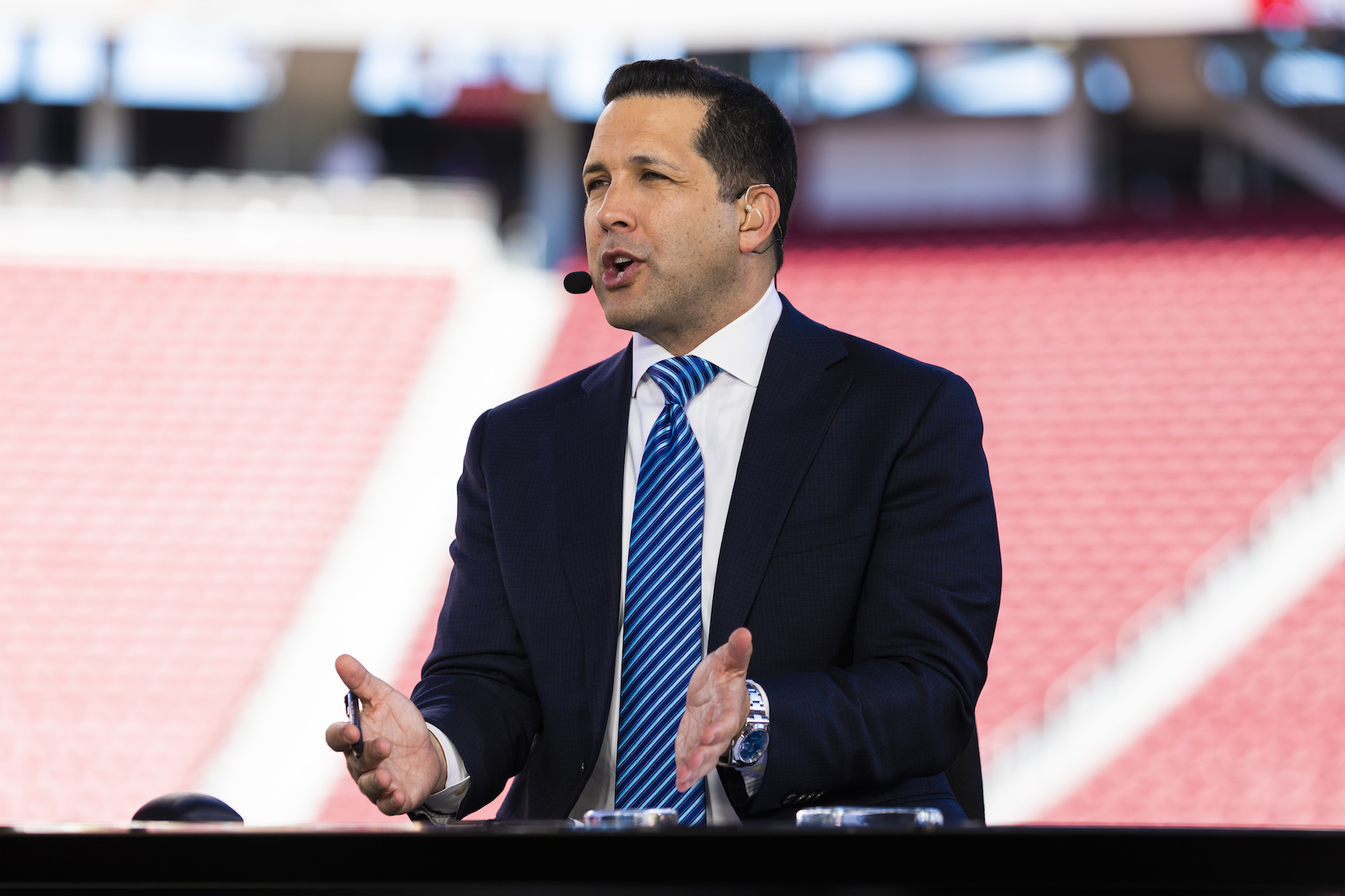 ESPN's Adam Schefter May Have Ruined His Reputation Among NFL Fans With a Couple of Recent Tweets
While Adam Schefter is a trusted NFL insider, he didn't exactly help his reputation on Twitter during Week 12's COVID-19 crisis.
If you're a diehard sports fan, it's safe to assume that you know Adam Schefter. In the world of NFL media, few men are more reliable than ESPN's football insider; if you're looking for confirmation on an injury, the latest update on a draft-related rumor, or anything in between, Schefter is your man. His reputation, however, may have recently taken a hit.
In terms of factual reporting, Adam Schefter is still one of the most trusted names in all of sports media. A few of his COVID-19-related tweets, however, have inspired NFL fans to question his judgment.
Adam Schefter is one of ESPN's top insiders
When you hear ESPN, things like SportsCenter and NCAA basketball broadcasts probably spring to mind. The network, however, also has plenty of reporters; Adam Schefter is one of the most successful around.
Schefter attended the University of Michigan and Northwestern's Medill School of Journalism. After graduation, he landed an internship at the Seattle Post-Intelligencer; he then worked for the Rocky Mountain News and the Denver Post before joining the NFL Network.
From there, Schefter only continued to climb. He joined ESPN in 2009 and, a little more than a decade later, he's one of the network's most valuable assets.
Schefter and Adrian Wojnarowski give the worldwide leader a one-two punch that would make anyone jealous. If there's a rumor regarding pro football, the former insider is usually the one to give the definitive judgment; when it comes to basketball, few things are more powerful—not to mention trustworthy—as a 'Woj Bomb.'
At the end of the day, the proof is in the pudding. If you're a sports fan and have a Twitter account, you probably follow Adam Schefter. End of story.
Reporting on the NFL's COVID-19 woes
Under normal circumstances, Adam Schefter's Twitter feed contains a mixture of NFL retweets, observations from around the league, and original source-based reporting. In 2020, however, there's also been a great deal of COVID-19 news.
As the league's most trusted insider, Schefter's Twitter feed has become a reflection of our time. As the Baltimore Ravens have suffered through an internal COVID outbreak, for example, he's provided a running tally of which players have tested positive.
Schefter has also provided some of the early reporting about NFL postponements and rescheduling. While no football fan would have ever dreamed of a game being played on Wednesday afternoon to accommodate a Christmas tree lighting, the insider broke that news on Monday night.
Adam Schefter fired off a couple of questionable COVID-19 tweets
Earlier this year, Adam Schefter made headlines when he expressed displeasure with the NFL's insistence on holding the annual draft (which was eventually replaced by a virtual affair). Ahead of Week 12, however, the insider seemed to be singing a different tune.
On November 29, Schefter tweeted that all of the day's games were "good to go." He then quote-tweeted that message, adding that "There still may be some staff and some players who test positive, per source, but nothing that will impact any game today." He also said, "Worth a reminder: the NFL is now on Sunday of Week 12, and it has yet to cancel a single game this season," in a third tweet.
Those tweets won't do anything to help the NFL insider's reputation
As you might expect, Adam Schefter's sentiments—which seemed to praise the NFL's handling of the pandemic and imply that a few positive tests are insignificant in the grand scheme of the football season—didn't exactly go over well on Twitter.
"I'm thinking that's probably not a good thing. This latest outbreak shows the NFL is putting money ahead of everything else," one fan tweeted. Including their players, coaches, and everyone on the field. It shows the owners at their worst." Another wondered if the NFL itself composed the unnecessarily positive tweets.
In many ways, those two tweets perfectly summed up some fan's issues with Adam Schefter. While being an insider requires some level of give and take, he seems to have no problem towing the NFL line a bit further than most; that can give him a reputation as someone doing the league's bidding and reporting what power players want the fans to hear, rather than being an objective (or at least unbiased) reporter.
"ESPN has insiders in other sports, but none of them have the sycophantic zeal of Schefter," Drew Magary wrote for Defector in September. "Adam Schefter is an optimized bootlicker who, like so many other prominent Americans, has been surgically divested of shame. He's Wormtongue with a smile emoji for a face. He'll never be anything more than he is right now, and you should never trust that he's gonna give you any news that hasn't already been blessed by someone who deserves to burn."
While Magary's take still remains a bit more extreme than your average NFL fan's perspective, Schefter didn't help his reputation during Week 12. Being pro-NFL is one thing; seeming to praise their handling of the COVID-19 pandemic, especially after the Ravens-Steelers game was postponed and the Denver Broncos played without a quarterback, is another story.