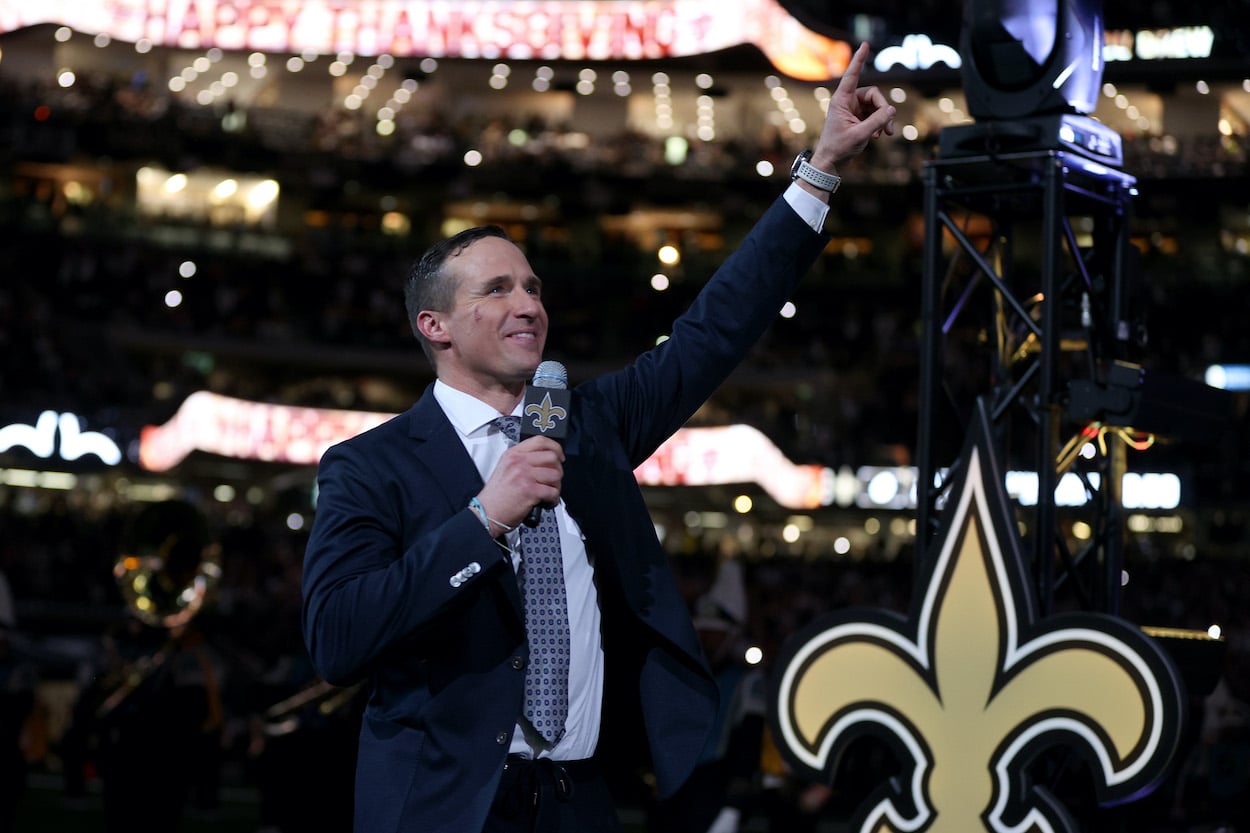 Drew Brees Shockingly Hints at NFL Comeback Following Rumors He's Out at NBC
Former QB Drew Brees could be out after one season in the NBC studio but he says everything's still on the table, including an NFL comeback.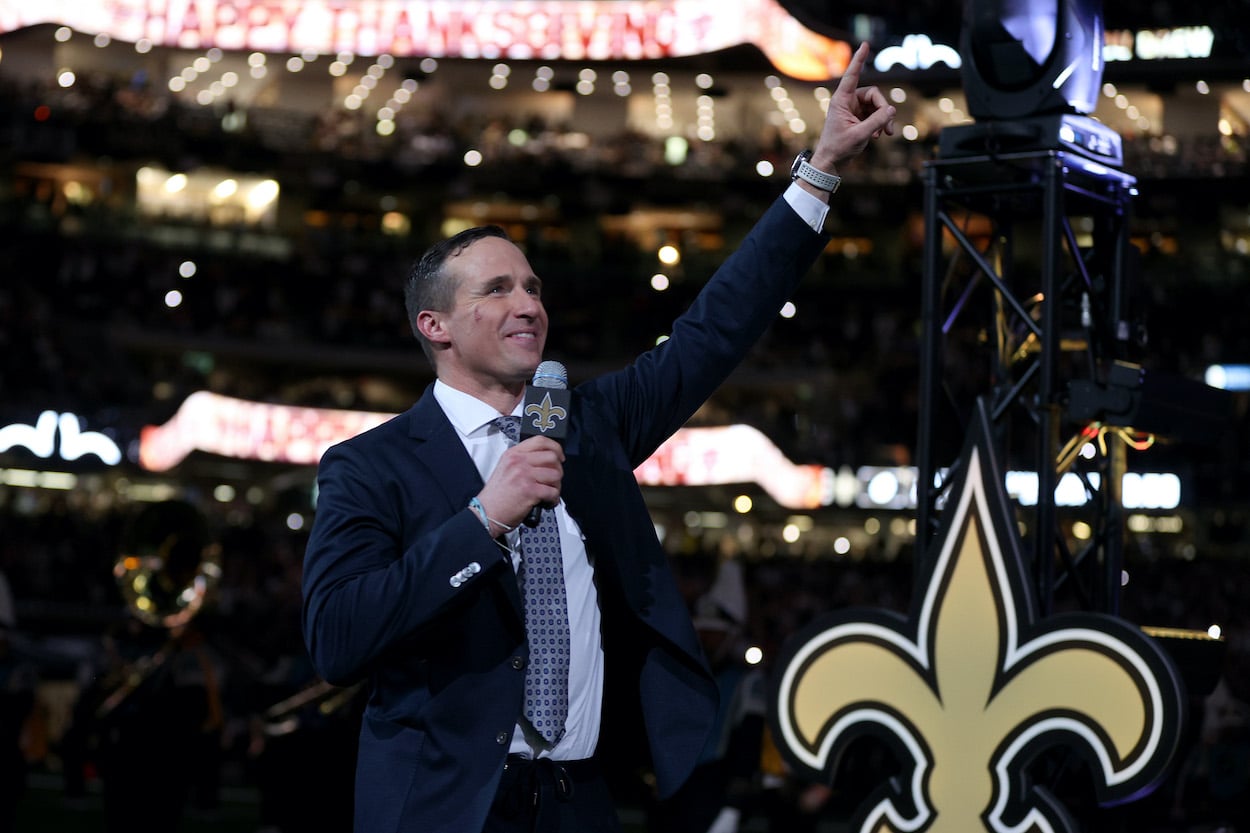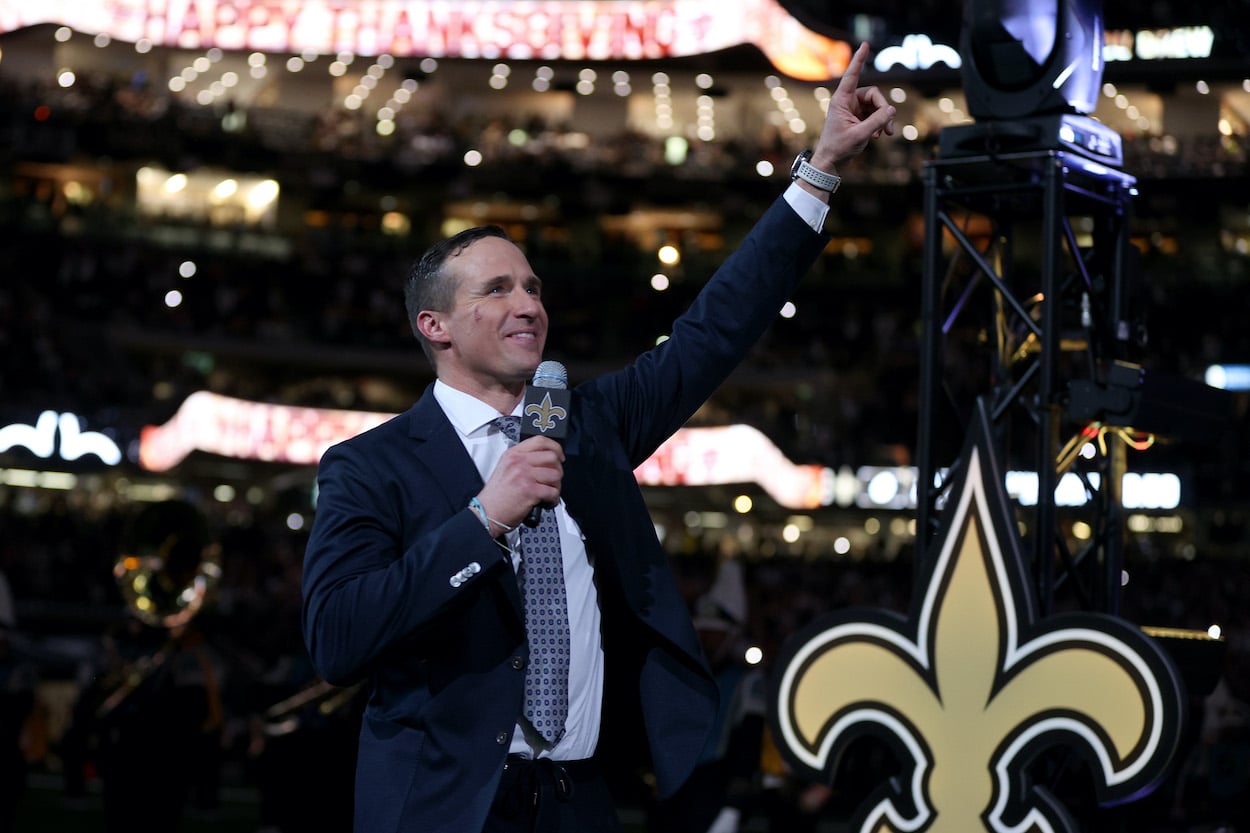 After Drew Brees retired from the New Orleans Saints, NBC immediately hired him to work the network's studio show for Football Night in America. After one season of mediocre work, rumors are that Brees isn't a part of NBC's plan for 2022. However, Brees said nothing is set in stone yet. He even went so far as to hint that an NFL comeback is possible.
Reports have Drew Brees out after just one season at NBC 
Drew Brees retired following the 2020 season as one of the greatest quarterbacks of his generation. When the diminutive signal-caller walked away, he ranked as the No. 2 QB in NFL history in passing yards (80,358), passing touchdowns (571), passing yards per game (280), attempts (10,551), and completions (7,124). 
He was also a 13-time Pro Bowler and a Super Bowl champ. This made Brees a major coup for NBC last offseason. 
Despite Brees' massive success on the field, he wasn't as effective in the studio on Football Night in America. Fans and critics panned the New Orleans Saints great as boring, and the Texas native didn't seem to improve at all throughout the season. 
As NBC made plans for the 2022 season, it seems as though neither the network nor the QB-turned-pundit had an interest in Brees returning for a second season in the studio. The New York Post's Andrew Marchand reported: 
Legendary NFL quarterback Drew Brees will not return to NBC after just one season as a studio and game analyst, according to sources. The decision seemed mutual as Brees preferred doing games over the "Football Night in America" studio show, and NBC didn't have many NFL games to offer him. NBC soured on Brees' potential after originally believing he could develop into the heir apparent to Cris Collinsworth on "Sunday Night Football" games.

Andrew Marchand on Drew Brees
However, Brees took to Twitter after the reports surfaced to dispute the rumors and say he's made no decisions about his future. This includes a possible return to the NFL. 
Brees says his exit isn't a done deal, and an NFL comeback could be on the table
Despite seemingly being done as a professional QB, Brees disputed the NBC rumors by saying an NFL comeback may be on the table. He wrote on Twitter: 
Despite speculation from media about my future this fall, I'm currently undecided. I may work for NBC, I may play football again, I may focus on business and philanthropy, I may train for the pickleball tour, senior golf tour, coach my kids or all of the above. I'll let you know

Drew Brees on NFL comeback
To add to the intrigue, Brees added to the comeback narrative by tweeting about the Saints' offseason, "Man..signing [Jarvis Landry] and [Tyrann Mathieu] makes me want to come back and play again!!! Great additions…leaders and players!"
While no one is quite sure yet about Brees and his business and philanthropy, pickleball, golf, or coaching prospects, there has been some news about his broadcasting and playing future. 
On the broadcasting side, Marchand reported in a second New York Post article that Brees could be on his way to FOX as a color man instead of a studio analyst. This would fit with the former Saints' reported desire to move to the booth. 
As for his playing career being back on? That seems less likely. 
A comeback for the Hall of Fame QB isn't likely 
When Drew Brees walked away from professional football two days after his 42nd birthday, it seemed like the right move. 
Yes, Brees led his New Orleans Saints to the playoffs in his last season, but he did so throwing for less than 3,000 yards for the second consecutive campaign. 
Prior to 2019, that hadn't happened since the 2003 season with the San Diego Chargers, and Brees led the league in passing yards seven times in between. In his early 40s, though, the arm strength was just no longer there.
One of the reasons — aside from age – that Brees' arm strength declined is that he's had shoulder issues that date back to his final season in San Diego. The broadcaster recently had surgery on his shoulder, and according to ESPN's Ed Werder, he would be "would be physically unable to play until at least September or October."
Additionally, it would be hard to imagine Brees returning to any team outside of New Orleans, and the Saints seem set at QB for 2022 with Jameis Winston, Andy Dalton, and Ian Book all on the roster. 
While none of these QBs shout "Super Bowl," neither does a 43-year-old Brees. 
All stats courtesy of Pro Football Reference
Subscribe to our YouTube channel.