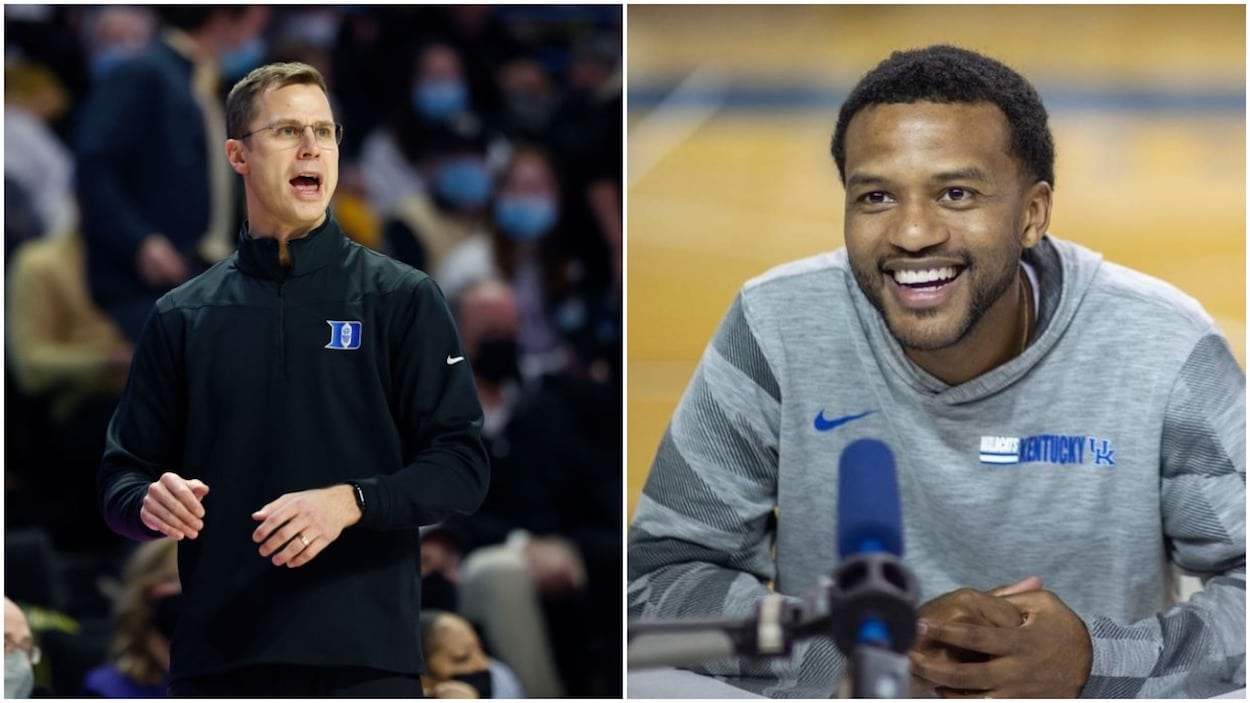 Duke Basketball: Jai Lucas Addresses a Potentially Glaring Weakness on Jon Scheyer's Staff
By hiring Jai Lucas away from Kentucky, Jon Scheyer has taken a major step toward keeping his Duke Blue Devils competitive.
As just about everyone in the world of basketball knows, Jon Scheyer has taken charge of the Duke Blue Devils. While he'll surely strive to follow in Coach K's footsteps, the new bench boss is his own man. He's teased an updated offense and has already done something that's been unimaginable in recent years: bring someone without Duke ties into the coaching room.
Enter Jai Lucas, formerly of the Kentucky Wildcats.
Although hiring an assistant coach might not seem like a earth-shattering move, Lucas' arrival in Durham could have major consequences. Duke has already been doing good work on the recruiting trail, but he could make the ACC giant even stronger.
Jai Lucas comes to Duke with a reputation as a top-notch recruiter
In college basketball, head coaches are usually the ones who steal most of the spotlight. During his time at Kentucky, though, Jai Lucas did plenty of good work.
After a damp squib of a playing career, the former guard turned to coaching. He started out at the University of Texas and, after making his name, moved to Kentucky as a recruiting coordinator. While he was eventually promoted to assistant coach, he still played a key role in bringing top-tier talent to the school. According to an Athletic post, Lucas "was the lead recruiter on five-stars Daimion Collins, Cason Wallace, and Shaedon Sharpe."
With his UK contract expiring, though, the coach is moving south. While reports had already trickled out, he was officially confirmed as the newest member of Jon Scheyer's Duke staff on May 2.
"Jai embodies everything I was looking for in this role," Scheyer said in a press release. "I've been impressed by his winner's mindset, great feel for the game, and strong work ethic. Through his impressive playing and coaching career, he has built extraordinary relationships across the basketball landscape and shown a unique ability to connect with student-athletes. I could not be more excited to welcome Jai, his wife, Kori, and son, Jaxin, to Durham."
Jon Scheyer and Duke no longer lack a big-time recruiting presence
While it might seem bizarre given their brand name and incoming 2022 recruiting class, Duke really did need to plug a massive hole in their collective roster.
Without knowing exactly what went on in every recruit's home, it's reasonable to assume a large part of the Blue Devils' previous pitch focused on working with Coach K and chasing championships. Obviously, the first part of that equation is no longer possible. It also remains to be seen how well Duke plays under Scheyer; NCAA Tournament success might not happen overnight.
To make matters worse, Nolan Smith left Durham earlier this year. Again, it's tough to know exactly how much of a role he played in the recruiting process, but he certainly was active in the program's efforts. When news emerged that he'd be heading to Louisville, Jay Williams even went as far as suggesting that Coach K would have to step in to keep players from heading elsewhere. While that hasn't happened, it does speak to how highly Smith was viewed by someone with knowledge of Duke.
While the joint departures of Krzyzewski and Smith could have left Duke in a recruiting hole, Lucas more than plugs the gap. If anything, he provides Scheyer with a legitimate weapon that will only help solidify the Blue Devils' championship credentials.
In a Louisville Courier-Journal story, Jon Hale provided a quote from Kentucky transfer about his relationship with Lucas. Those words largely speak for themselves.
He's super relatable," Sahvir Wheeler explained last summer. "We can relate to him as a player, just a person, college student. Not just an athlete, college student. He knows all that we've been through. … He's a super cool cat. Just being around Jai makes life easier. He's always willing to joke and smile with you. He's also willing to keep it straight. That's something you've got to respect. I think that comes from his dad because his dad is super blunt, super straight forward."
It's easy to look at college basketball as a big business, but there's also a personal component at play. On the recruiting trail, you have to convince teenagers (and their inner circle) that your program is the right place for them to play. It's not as easy as making a PowerPoint or showing off a resume. That's where someone like Lucas comes in.
Although Krzyzewski will be eternally tied to Duke, he won't figure as prominently in the recruiting game. At a bare minimum, Lucas will help the program avoid taking a major step back; in a best-case scenario, he'll help bring the program into the modern era. While Coach K's resume speaks for itself, players can probably relate to a 33-year-old who played college ball in the 2000s a bit more naturally.
Either way, Lucas' hiring is the exact sort of move that Scheyer had to make. Like it or not, recruiting is the lifeblood of college basketball. It's a new generation at Duke, but it seems like there's still plenty of coaching talent present, even with Krzyzewski moving on.