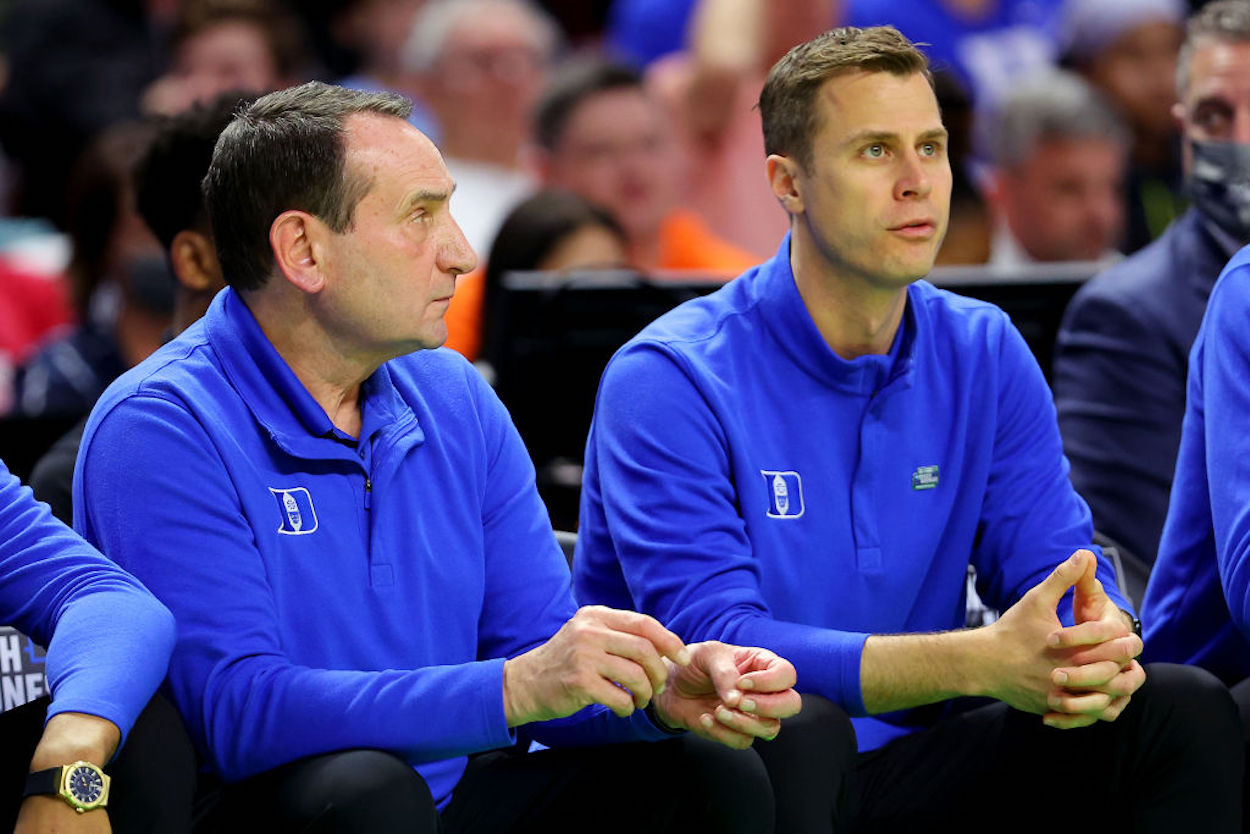 Duke Basketball: Jon Scheyer Could Be Willing to Break Away From Coach K's Hiring Traditions
Jon Scheyer has only just taken over as Duke's head coach, but he could already be moving beyond one of Coach K's long-standing practices.
For better or worse, the Duke Blue Devils men's basketball team has changed hands. Coach K has ridden off into the sunset, and Jon Scheyer has taken over as head coach. The new bench boss will have to strike a balance; he's his own man, but he also won't want to completely ignore the way Krzyzewski has done things.
While Scheyer has teased an updated offense, it does seem like we could see another change before the 2022-23 season begins. When it comes to building out his staff, the rookie head coach is reportedly ready to look outside of Cameron Indoor Stadium. That makes perfect sense, but it's also a marked departure from Krzyzewski's way of doing things.
Jon Scheyer reportedly won't follow Coach K's lead of only hiring former Duke captains
During his 40-plus years at Duke, some of Coach K's quirks grew into the law of the land. Take, for example, the criteria for joining the coaching staff.
As Krzyzewski exerted more and more power in Durham, his staff was almost exclusively filled with former Blue Devils. Scheyer, of course, played under Coach K. So did Nolan Smith, who recently departed for Louisville, Chris Carrawell, and the recently promoted Amile Jefferson. Plenty of other iconic assistants, like Steve Wojciechowski, Quin Snyder, and Jeff Capel, all hit the court in Durham.
While Scheyer's current staff does have heavy Duke ties — beyond Jefferson and Carrawell, Mike Schrage, Duke's former director of basketball operations, has signed on as a special assistant to the head coach — the new boss is reportedly willing to look beyond 'The Brotherhood.'
"But even with associate head coach Chris Carrawell still in the fold, there's one more open spot on the bench," Brendan Marks wrote in The Athletic. "Who might it go to? Sources tell The Athletic that Duke touched base with Kentucky assistant Jai Lucas about the position, but Lucas appears likely to stay at UK. The larger takeaway there, a source says, is that Scheyer is willing to hire outside the Duke brotherhood. Krzyzewski, by the end of his tenure, placed an emphasis on hiring exclusively former Duke players (and captains, if possible), but Scheyer is casting a wider net."
Hiring assistant coaches might seem insignificant, but it's Scheyer's chance to shape his version of Duke culture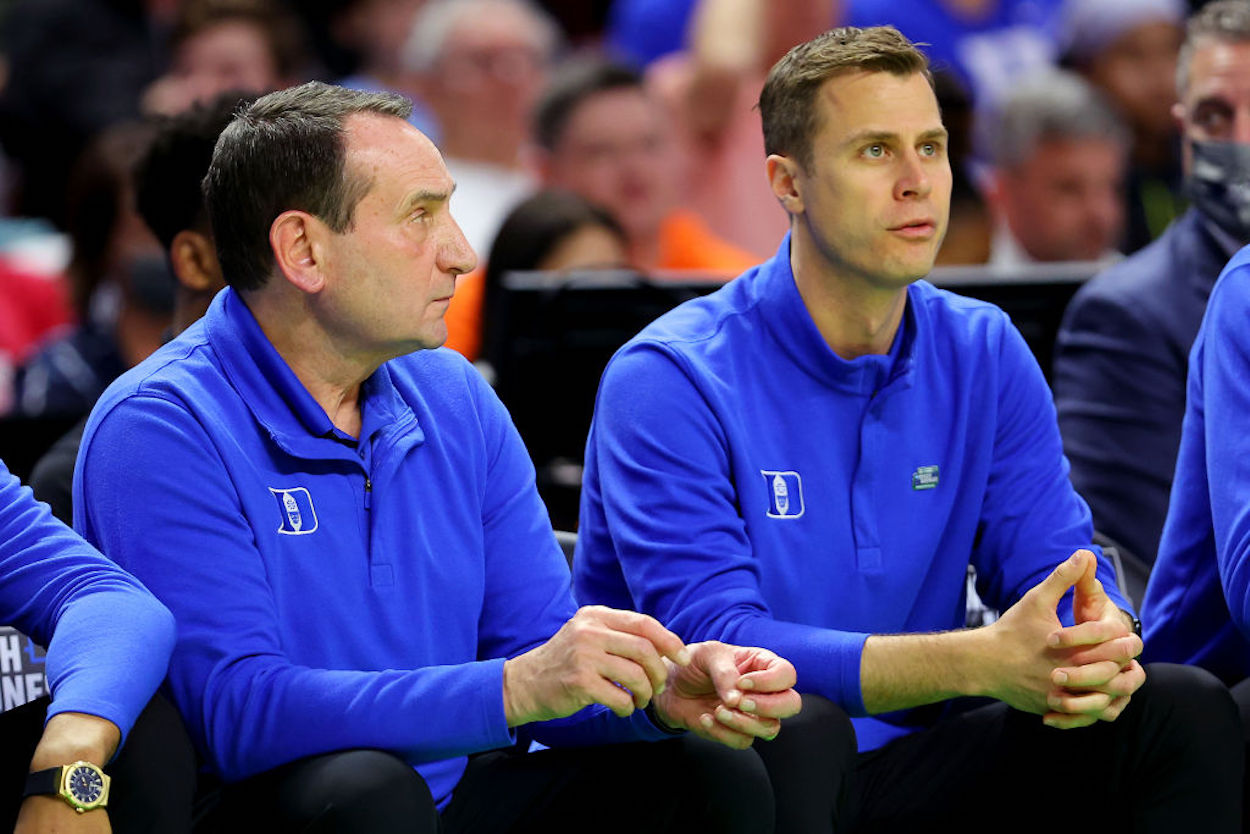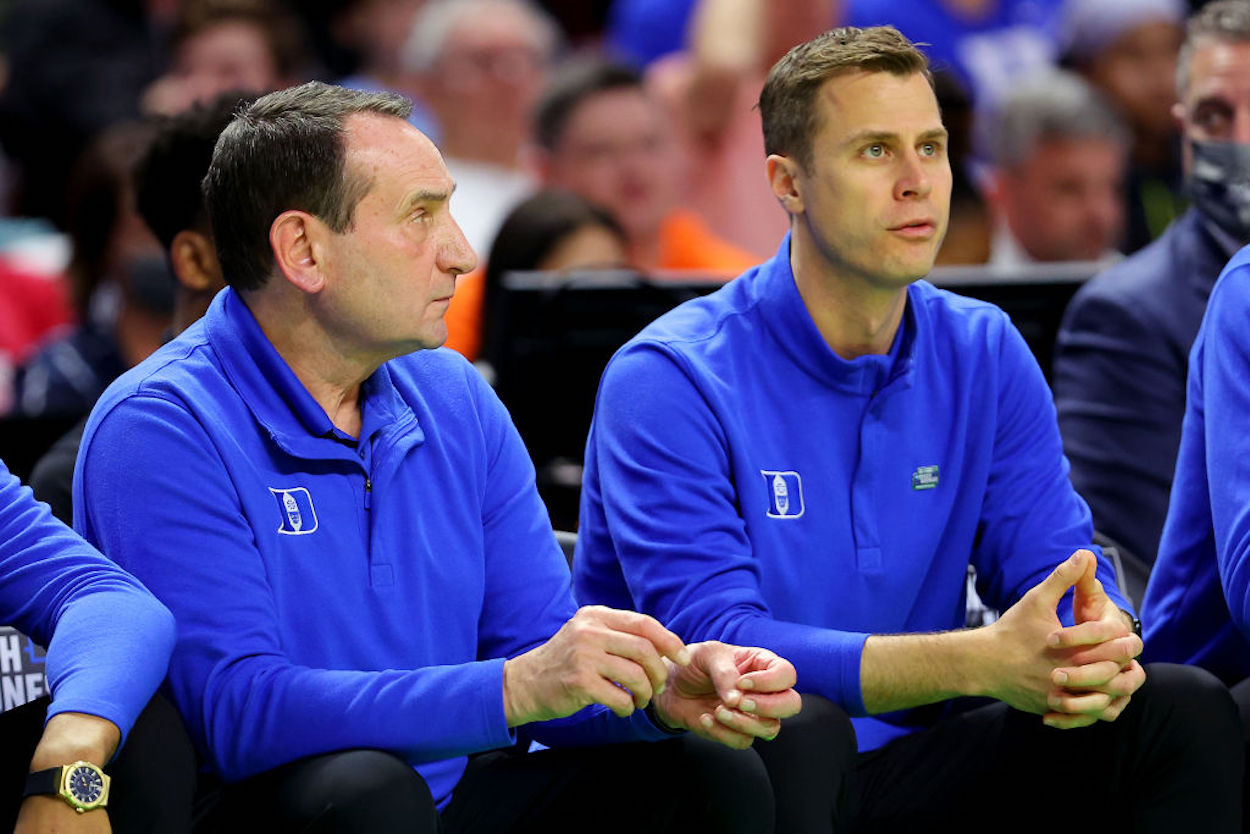 From the outside, making a slight tweak to hiring practices can seem rather insignificant. Scheyer, for better worse, is a former Blue Devils player who took a spot on Coach K's bench. His three most trusted lieutenants all have ties to the program. Beyond considering an outside candidate, how much has really changed?
While the current answer is "not much," that shouldn't overshadow the potential implications of Marks' report. If Scheyer is willing to break from the very tradition that helped him land one of college basketball's biggest jobs, it can inform our perspective on the rest of the ways he will work.
When a coach replaces a living legend, one of the biggest pitfalls they can fall into is imitating their predecessor rather than doing things their own way. On a human level, it's understandable; playing it safe is easier and doesn't expose you to the same level of criticism. With that being said, though, coaching is built on trust and human relationships. That can't exist if the person at the top of the pyramid isn't being authentic.
Beyond that, there's something to be said for seeking outside perspectives, especially in the world of modern sports. These days, there's a wealth of knowledge out there, ranging from promising assistants within other organizations to stats analysts on Twitter. There's nothing to be gained by only looking internally and promoting those who are already speaking your (metaphorical) language. If you want to be the best, you need to find those who will actually help you improve rather than simply agreeing.
When you consider that Scheyer, to some extent, can reshape Duke's culture as much as he pleases, the stakes of his choices come into view. While it may be risky (or jarring, scary, or whatever adjective you prefer) to look outside of the Duke basketball brotherhood, it's also a chance to change things for the better. If nothing else, Scheyer doesn't have Coach K's wealth of experience, meaning it's important for him to assemble the best staff, not the safest one.
At this point, we'll just have to see how the rest of the NCAA offseason plays out. One thing is sure, though: Whatever moves Jon Scheyer makes will be placed under the microscope, meaning he has to get them right.