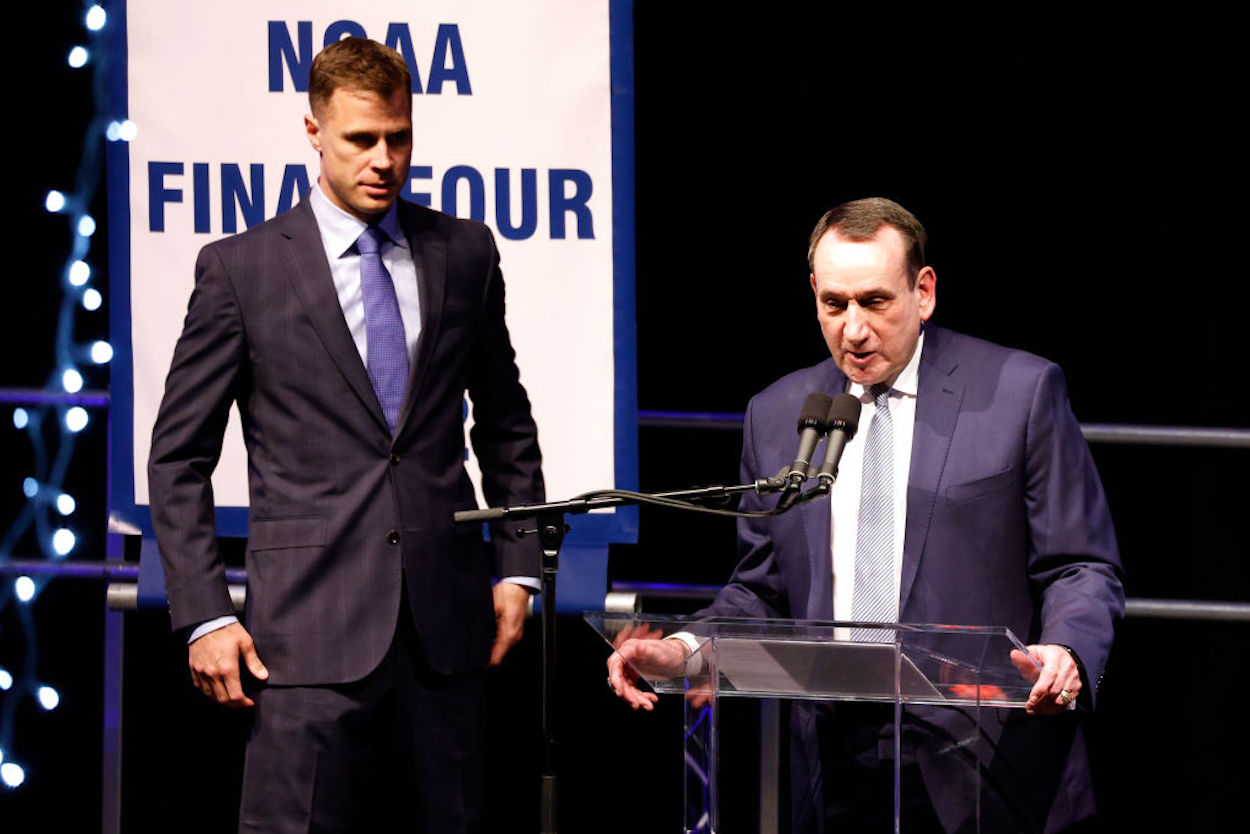 Duke Blue Devils: Jon Scheyer Is Strengthening His First Roster With the Help of Coach K's Connections
Jon Scheyer is the main man in Durham, but Coach K's old connections are helping to shape the 2022-23 Blue Devils' roster.
While the Duke Blue Devils will never have any problem attracting top-tier talent, it would be naive to overlook the transfer portal. Especially during his first season at the helm, Jon Scheyer needs all the help he can get to prove he's capable of keeping the iconic program moving forward.
In this case, the new bench boss is reaping the rewards of Coach K's connections. While Krzyzewski has left the building, his past is still helping the Blue Devils bring in some talent.
From afar, two transfer players might seem insignificant, especially in light of Duke's big-time recruiting class. If the 2021-22 campaign is anything to go by, though, Scheyer may have secured himself some valuable reinforcements.
Jon Scheyer has added Kale Catchings and Ryan Young to his roster
With Jeremy Roach returning to Durham and the top-ranked recruiting class coming to campus, Jon Scheyer should have a capable roster at his disposal during his first season in charge of the Duke Blue Devils. In recent days, though, he's added more strength to the squad.
On April 26, small forward Kale Catchings committed to Duke as a graduate transfer (h/t On3 Sports). He previously played his college ball at Harvard, where he averaged 9.1 points and 4.0 rebounds per game across 24 contests during the 2021-22 campaign.
Four days later, he was joined by Ryan Young (h/t The Chronicle). In three years at Northwestern, the 6-foot-10 center posted 8.7 points and 5.1 rebounds per outing.
While it might not seem obvious to the untrained eye, those two players do have an indirect connection to Duke and Coach K. Harvard's head coach is Tommy Amaker, while Chris Collins leads the Wildcats. Those men, of course, played under Krzyzewski and spent time on his coaching staff before striking out on their own.
Although it would be naive to suggest that connection was completely responsible for bringing Young and Catchings to Duke, the lines of communication are probably pretty strong within the Brotherhood. It's not unreasonable to think that Amaker and Collins would have vouched for their former players and explained how they could help Scheyer build out his first roster.
Transfers might not be exciting, but they could be invaluable for a young Duke team
When you consider that Duke will begin the 2022-23 season with the top-ranked freshman class in the country, it's tough to get too excited about a couple of fairly anonymous transfers. With that being said, though, the 2021-22 season showed how important those role players could be.
Ahead of his final season at Duke, Coach K brought Theo John in as a graduate transfer. Like Young and Catchings, he was a relatively low-key addition and had played under a former Blue Devil (Steve Wojciechowski). Chris Carrawell was also involved in bringing the big man to Marquette and helped lure him down to North Carolina.
The big man never posted eye-popping numbers, only averaging 11.8 minutes per game in Durham, but still played a valuable role during the campaign. He allowed Mark Williams to catch his breath and avoid foul trouble, and Krzyzewski came to trust the graduate student in situations that needed a bit of extra muscle.
Again, that role might not seem sexy, but it's easy to see how Young and Catchings can help the Blue Devils this fall. While Dereck Lively II, Kyle Filipowski, and Mark Mitchell will presumably occupy the three starting front-court spots, they'll be young and inexperienced. It's easy to imagine some combination of inexperience, foul trouble, and general growing pains forcing at least one of them to the bench on any given night. In those cases, the Duke staff will want to make sure the drop-off in quality isn't too steep.
While Catchings and Young probably won't put the team on their backs and lead Duke to a win, they'll be more reliable options than throwing a walk-on into the deep end. No one is going to write home about nine points off the bench, but that can be the difference between a crushing defeat and a momentum-building road win.
For a young coach trying to keep the ball rolling, that can make all the difference.
Stats courtesy of Sports-Reference