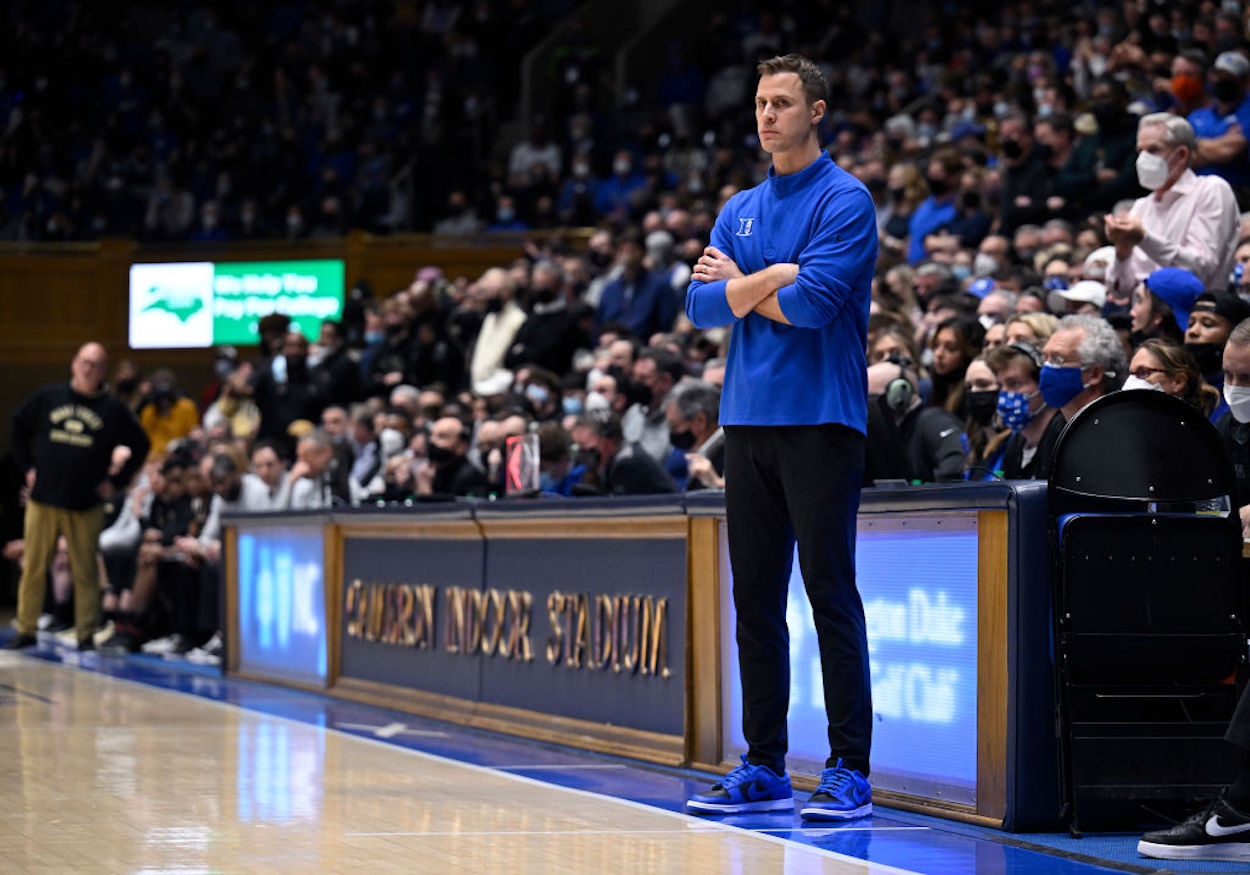 Duke Basketball: Jon Scheyer's Road to the Blue Devils' Head Coaching Job Underscores How Luck Really Matters
While most Duke fans probably know about Jon Scheyer's road to the head coaching job, his story does underscore a somewhat touchy truth.
As sports fans, it's tempting to look at things like a meritocracy. While talent obviously matters, we've all heard the cliches about effort and teamwork helping a group of plucky underdogs make it over the hump. Just look at the Boston Celtics and how the narrative is that their collective strength overwhelmed Brooklyn's star power. There's always another factor at play that we're less prepared to acknowledge, though: luck.
Jumping into the world of college sports, take a look at Jon Scheyer, who's set to step into some massive shoes. If not for some random (mis)fortune, the future of the Duke Blue Devils men's basketball program could be veering in an entirely different direction.
Even without knowing how Scheyer's coaching career will pan out, he can still teach us that valuable lesson.
Jon Scheyer never played NBA ball due to a combination of illness and an eye injury
While Duke players don't have the greatest track record in the NBA ranks, plenty of Blue Devils have at least reached the Association. Jon Scheyer, however, never got his chance.
As documented in a 2011 New York Times piece, the guard, who never missed a game during high school or college, had the bad luck of getting mononucleosis shortly after finishing his NCAA career. That forced him to sit out much of the pre-draft workout process. Unsurprisingly, he ended up playing in the Las Vegas Summer League, trying to make the Miami Heat's squad.
That, of course, set the stage for a career-changing moment. During a game against the Warriors, Scheyer was poked in the eye. This injury, however, couldn't be solved with a few minutes of blinking on the bench.
"What doctors described as a one-in-a-million accident left Scheyer with a lacerated eyelid, a torn retina, a damaged optic nerve, and swelling inside the eye," Dan McGrath wrote for the Times. "Surgery repaired the retina, and steroids helped reduce the swelling. The optic nerve was more serious. Rest and weeks of almost complete immobilization were the prescribed remedy."
The guard would eventually don protective goggles and try to mount a comeback, he never earned a spot on an NBA roster. He spent some time in what was then known as the D-League before playing in Israel and Spain. In 2013, he joined Duke's coaching staff; from there, the rest is history.
That moment of bad luck has changed Duke basketball history one way or another
At this point, we don't know how Jon Scheyer's coaching career will pan out. If we take the likes of Coach K and Jay Bilas at their word, then the 34-year-old is prepared to keep the Blue Devils rolling. With that being said, though, replacing a living legend is an unenviable job; it's not unreasonable to think the pressure could crush any candidate, let alone an untested rookie.
Regardless of the way the 2022-23 season goes, though, Scheyer's path to the top job underscores something that sports fans don't always want to admit: Luck matters and matter-of-factly changes results.
In this specific scenario, let's say that the Duke guard didn't get sick or get poked in the eye. While it would be naive to suggest he'd turn into an NBA star, he could have reasonably stuck around in the Association as a role player. Regardless of his success, he probably won't have been available to return to Durham in 2013.
From there, there are plenty of potential butterfly effects to follow. Duke's website credits Scheyer with helping to mentor Tyus Jones during the Blue Devils' run to the 2015 championship; maybe they don't win that ring if the young assistant isn't on the bench. Perhaps having four rings rather than five persuades Coach K to stick around past 2022. Maybe he retires earlier, letting Steve Wojciechowski take the reigns after a few years at Marquette. From there, who knows what happens to Duke.
While those hypotheticals may sound meaningless, they do underscore how much of a difference luck, whether it's good or bad, can make. Now, extrapolate that across the entirety of sports.
As I mentioned in the opening lines of this piece, sports fans generally don't like to lean too heavily on luck. It can seem like a cop-out or a cheap excuse; saying your team lost due to bad luck is the last refuge of a disappointed supporter. We want to ascribe wins to superior tactics or incredible talent, not a fortunate bounce.
That may be understandable from a human perspective, but it's simply not realistic. Your favorite team is going to win games that it doesn't deserve to win and lose games where it was the superior side. Turnovers will happen because players trip; goals will get scored off deflections. While it doesn't always feel fair, that's part of the joy of sports: the unbelievable can happen at any point.
Circling back to the Duke Blue Devils, consider all that's happened within the past year. Coach K announced his retirement. The team posted a strong regular season, suffered two painful losses to limp into the NCAA Tournament, then went on a fairy tale run to the Final Four. There, of course, things ended in dramatic fashion with a loss to North Carolina.
Did things go exactly as planned? Of course not, but that journey, luck and all, is part of the fun.