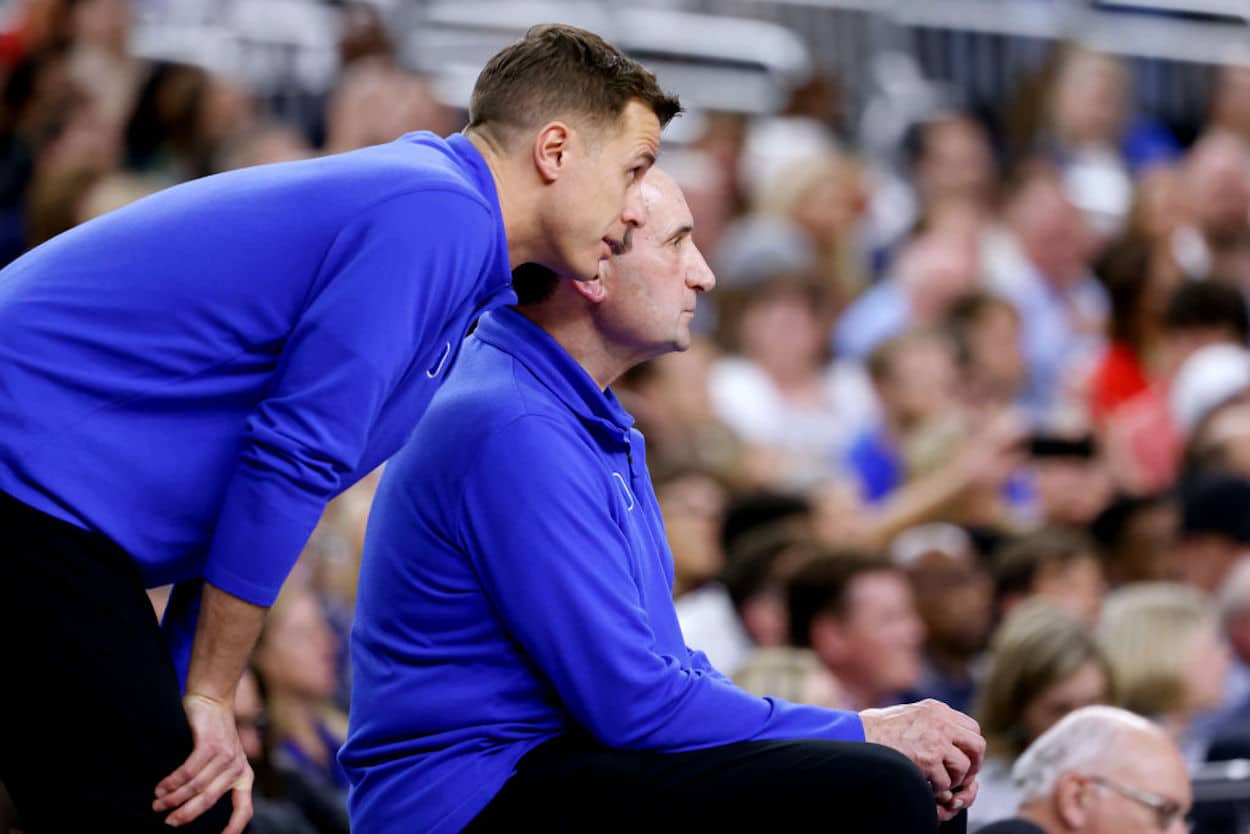 Duke Basketball: Jon Scheyer Says Coach K Will Keep His Distance During the 2022 Season
Coach K spent more than 40 years leading the Duke Blue Devils, but don't expect him to be too hands-on in retirement.
After more than 40 years at the helm, Coach K has officially done the unimaginable: leave the Duke Blue Devils. The veteran bench boss has, of course, headed into retirement and entrusted his beloved program to Jon Scheyer. For better or worse, it's his show now.
While it's easy to imagine Krzyzewski hanging around Cameron Indoor Stadium watching over his former pupil, it sounds like that won't be the case. In fact, Scheyer even admitted that he thinks he'll have to "search" Coach K out during the upcoming NCAA campaign.
Jon Scheyer doesn't expect Coach K to be too actively involved in the 2022 Duke Blue Devils
While he surely underwent plenty of preparation leading up to his ascension to head coach, Jon Scheyer will still experience some growing pains during the 2022 Duke Blue Devils campaign. It goes without saying that he'll be able to pick Coach K's brain for some occasional advice, but don't expect the program patriarch to be too involved with the team.
"You know, it's been really natural already," Scheyer told Andy Katz when asked about how things would play out between him and Krzyzewski during the upcoming campaign. "And I already know I'm gonna have to search Coach, you know, I'm gonna have to go find him to bring him back in the fold, you know? Coach has got a lot of things going on in his life, and of course, he wants to see our program succeed at the highest level possible, but I know he's not gonna be just hovering around. He's gonna live his life. And so, for me, like, I want to use him as a resource, as somebody that's a close friend, and gonna be part of each other's lives for a long time to come. But it's been really organic and natural, and I know it's gonna continue that way."
On a logistical level, though, Scheyer and Katz did note that it might be a bit tougher for Kryzyewski to return to Cameron Indoor Stadium. While he'd obviously be welcomed at any time, the gym doesn't exactly allow for him to keep a low profile.
"I don't know where he's going to watch the games from," Duke's new coach added with a smile. "That's gonna be interesting."
"You can't really hide in Cameron," Katz replied. "That's the problem. There's not like this glass suite that overlooks or anything."
While it might sound jarring to imagine Duke without Krzyzewski, some distance is probably best for all parties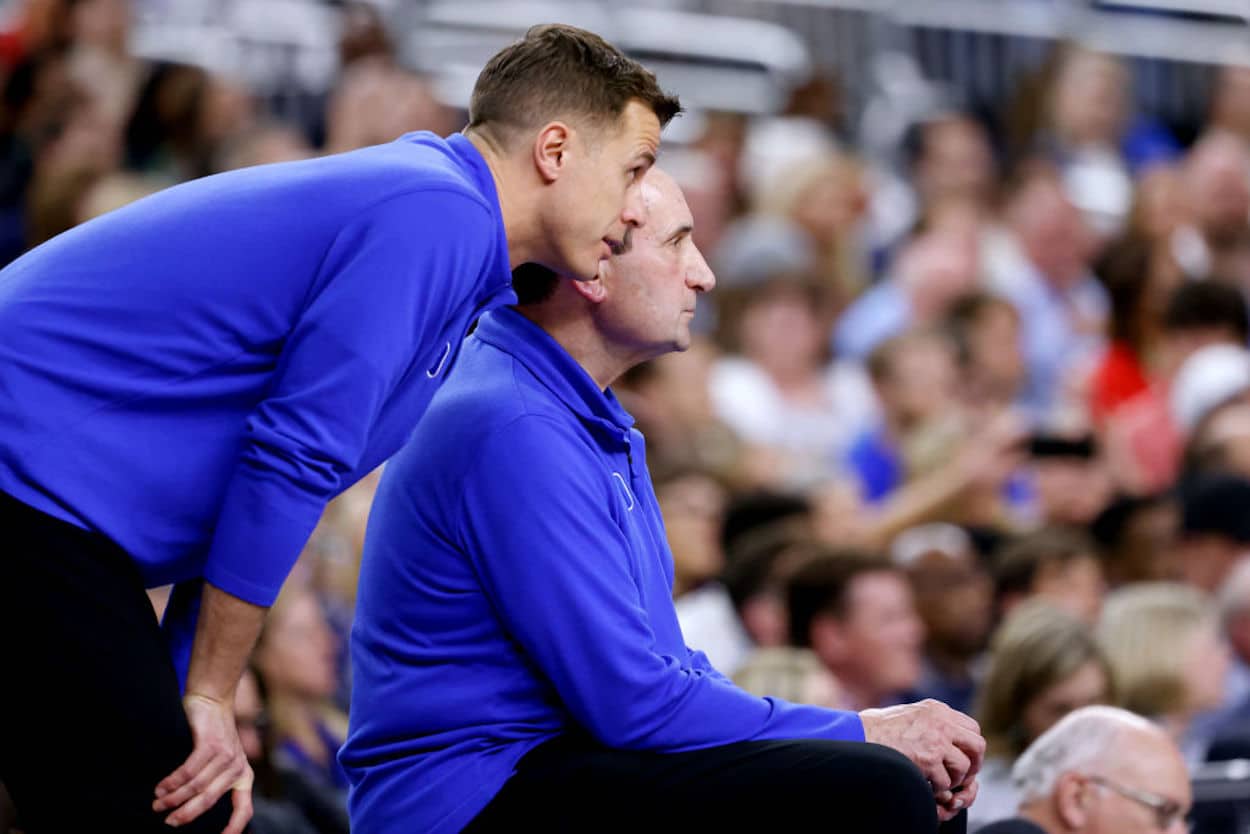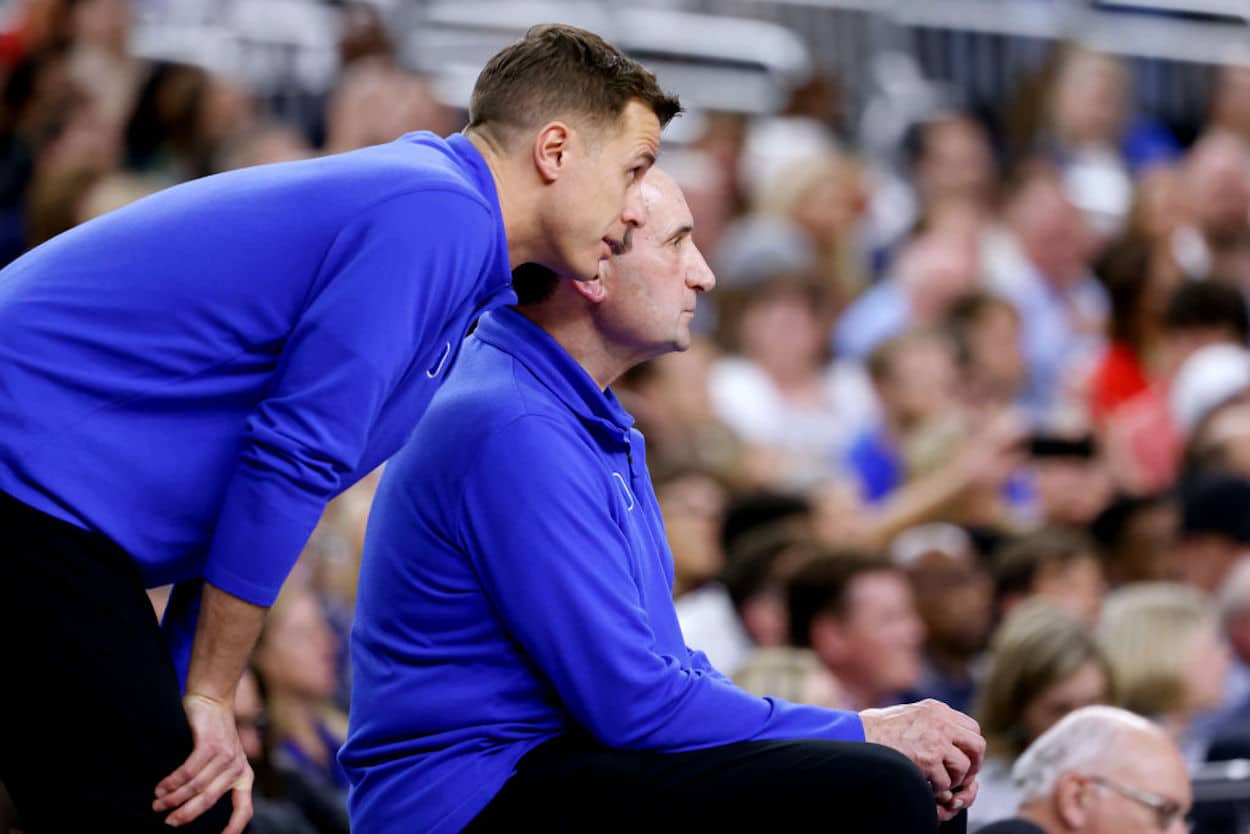 Given his deep ties to the Blue Devils, it can seem impossible for Coach K to step away from the program. Based on what we've seen in other sports, though, it's probably a good call.
On a personal level, Krzyzewski is more than entitled to take some time away from basketball. Everyone deserves some time off and an eventual retirement; while it's safe to assume that he'd gladly lend a hand to help his former team, it's unfair to expect Coach K to automatically become an unofficial adviser to his replacement. As Scheyer noted, the NCAA legend will be available for advice, but it will be on his own terms.
Then, shifting to Scheyer's perspective, it's probably best that Krzyzewski isn't literally standing over his shoulder. The rookie coach is stepping into one of basketball's biggest roles and will be under tremendous pressure. When Duke stumbles — even if it's only for a game or two — some will be ready to speculate about his ability to maintain the program's high standards.
Even if it's not his intention, having Coach K be physically present, at least at first, will only heighten that dichotomy. Every time a decision goes wrong, the broadcast director will be prepared to cut to Krzyzewski shaking his head or otherwise looking frustrated in the crowd. Soccer fans have seen that exact situation play out at Old Trafford, with Sir Alex Ferguson looking as each of his successors struggled.
While that might not sound like a big deal — handling pressure is simply part of coaching — there's no need to put more weight on Scheyer's shoulders. If Krzyzewski can handle watching games from afar, at least at first, it can help everyone work through the transition period while limiting some unnecessary hypotheticals about how things could have been different.
And, if everything we know of Coach K is accurate, that's all it will take to guide his decisions. If he can help the 2022 Blue Devils by keeping some distance, there's no reason to think he won't do exactly that.
Like Sportscasting on Facebook. Follow us on Twitter @sportscasting19 and subscribe to our YouTube channel.