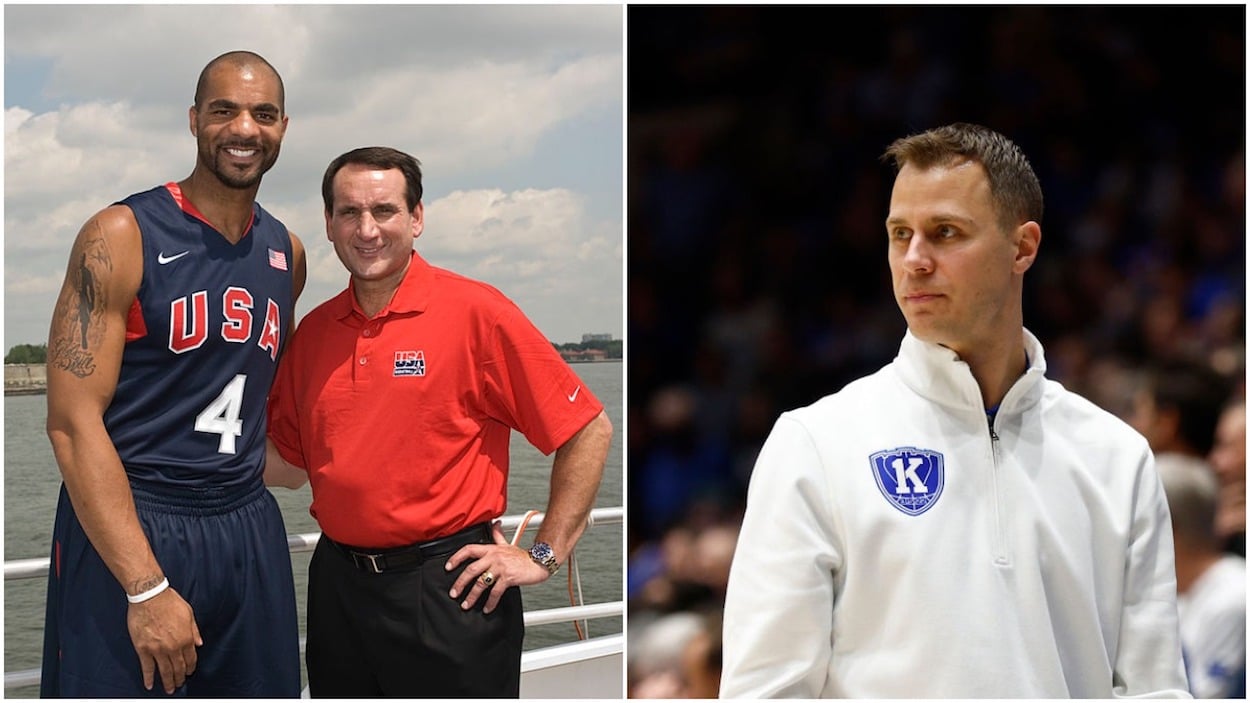 Duke Basketball Recruiting: Jon Scheyer Could Score a Class of 2025 Advantage With an Assist From Carlos Boozer
While Jon Scheyer has more pressing priorities, he could get an early start on filling out his 2025 recruiting class with the help of a former Blue Devil.
While Jon Scheyer is relatively new to the Duke Blue Devils' head coaching gig, he's already done a good job on the recruiting trail. Although it can be tough to truly assign credit there — how much was down to Scheyer, as opposed to Mike Krzyzewski or Nolan Smith? — the bench boss' work is never done. When you're running a big-time NCAA program, standing still can be a metaphorical death sentence.
Jumping ahead to the recruiting class of 2025, it seems like Duke is already laying the groundwork for success. According to a recent report, the Blue Devils could reap the rewards of their connection to Carlos Boozer.
Carlos Boozer's twin sons could both take their talents to Duke
Although it's been quite a few years since he left Cameron Indoor Stadium, Carlos Boozer still stands tall in Duke's modern history. In the coming years, the big man can potentially do his alma mater quite the favor.
Two of Boozer's children, twins Cameron and Cayden, are in high school and have begun to make names for themselves as promising prospects. While it's tough to make any real predictions so far in advance — both are members of the 2025 recruiting class — the two teenagers are highly regarded. ESPN currently lists Cameron, a 6-foot-8 power forward, as the top prospect in his class; Cayden, a 6-foot-3 guard, is the 24th ranked player.
While the twins are their own people and can choose to play college ball wherever they please, it's safe to assume they've grown up hearing all about Duke. Travis Graf of Rivals.com suspects that could work to Jon Scheyer's advantage.
"While having top recruiting classes is nothing new to Duke fans, there's potential for the Blue Devils' 2025 class to be one of their best of all-time on paper," he recently wrote. "You'd have to think that Cayden and Cameron Boozer, projected five-star sons of former Blue Devil Carlos Boozer, will take a very strong look at Duke. It's easy to picture Jon Scheyer and company as the early leaders in this situation."
Graf also added that "projected five-star forward Cooper Flagg" told Rivals that Duke was his "dream school, for sure." Again, there's plenty of time for things to change, but, on the surface, that seems pretty promising for the Blue Devils.
Thus far, Jon Scheyer seems to be thriving on the recruiting circuit
As I mentioned above, it's tough to discern exactly who deserves the credit for Duke's recruiting success. While there were probably multiple factors at play, ranging from the program's overall prestige and the looming specter of Coach K to individual pitches from someone like Nolan Smith, Scheyer has to receive some amount of credit.
As you've surely heard by now, Duke has the top-ranked recruiting class for the upcoming 2022-23 NCAA campaign. Even if you want to cynically argue that doesn't have much to do with Scheyer, it does reflect well on his ability to connect to prospects and sell them on a vision. Even if you know you're only staying in college for a year, no one would willingly choose to be a part of a program that they think will fall off a cliff.
The 2024 recruiting class is also shaping up well for Scheyer. While he saw G.G. Jackson head down Tobacco Road and commit to the University of North Carolina, Duke currently has two commitments from players within ESPN's top-10. The Blue Devils will also add two additional players ranked within the top-25, and it's quite possible to secure another star or two within the coming year.
Adding Jai Lucas into the mix will only help the ACC powerhouse continue to improve on that front. During his time at Kentucky, the assistant coach developed a reputation as a dynamic recruiter. If you combine his skills with Scheyer's (potentially) transformative vision and a bit of on-court success, it's easy to see the allure of joining Duke.
For everyone tied to Duke, moving on from Krzyzewski seems somewhat scary. If nothing else, though, Jon Scheyer seems capable of bringing elite talent to Durham. In modern college basketball, that's at least half the battle.
Like Sportscasting on Facebook. Follow us on Twitter @sportscasting19 and subscribe to our YouTube channel.