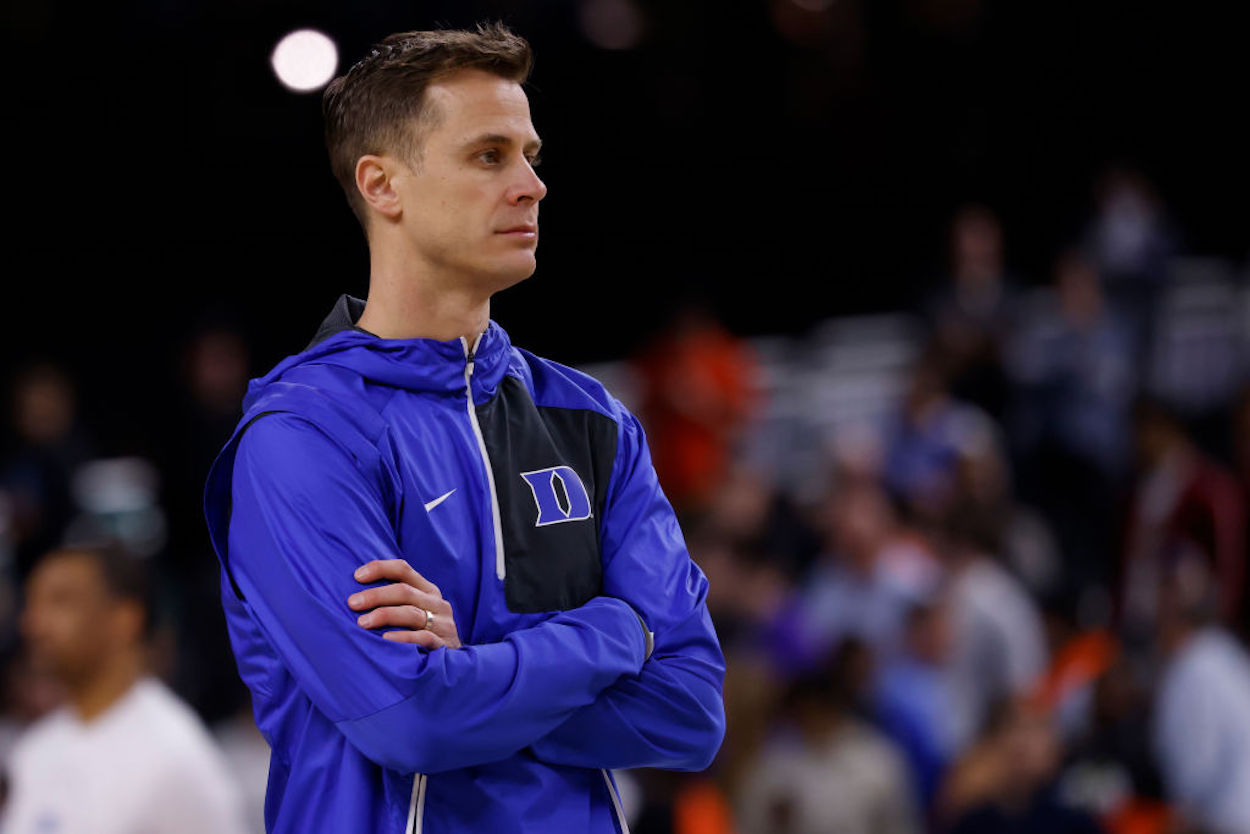 Duke Basketball Recruiting: Jon Scheyer Misses Out as Class of 2023 Prospect G.G Jackson Chooses UNC
When you take charge of a program like the Duke Blue Devils, your work is never done. Jon Scheyer is presumably coming to grips with that reality right now. While the 2022-23 season is still months away, the new head coach has a mountain of work in front of him, ranging from recruiting to updating …
When you take charge of a program like the Duke Blue Devils, your work is never done. Jon Scheyer is presumably coming to grips with that reality right now. While the 2022-23 season is still months away, the new head coach has a mountain of work in front of him, ranging from recruiting to updating the team's offense.
On the whole, things have gone pretty well thus far. There have been some notable recruiting successes, and, in fairness, there haven't been too many opportunities for setbacks. On Wednesday, however, something finally didn't break Scheyer's way.
G.G. Jackson, a talented forward who will be graduating from high school in 2023, confirmed his NCAA future. Not only did he spur Duke, but he decided to head down Tobacco Road and join the University of North Carolina Tar Heels.
Duke is building out a strong 2023 recruiting class but missed out on G.G. Jackson
While most basketball fans aren't paying attention to current high school juniors, big-time NCAA programs are obviously well-versed in the up-and-coming talents around the country. One of those players is G.G. Jackson.
Jackson, a 6-foot-8 forward who plays high school ball in Columbia, South Carolina, is ESPN's sixth-ranked player in the 2023 recruiting class. While he had offers on the table from the University of South Carolina, Duke, Auburn, Georgetown, and the University of North Carolina, the teenager chose to commit to the Tar Heels.
Although missing out on some recruits is simply the nature of the beast, Jon Scheyer and company won't be keen on seeing a player of that potential head to their biggest rival. To make matters worse, Jackson is the Tar Heels' second recruit from the class of 2023; guard Simeon Wilcher has already announced he'll head to Chapel Hill.
"Jackson is a developing athletic forward who utilizes his elite speed to sprint rim-to-rim and displays impressive lateral quickness at his size," Paul Biancardi, ESPN's national recruiting director, explained in Jeff Borzello's write-up. "With his explosiveness, he is an active shot-blocker, both on his man and from a help-side position. His scoring comes from his natural talent, strong frame, and soft touch inside. At this stage, he is outstanding in the low- and mid-post, simply by making and maintaining contact with his defender. He uses a basic drop-step or jump-hook, and his hands are trustworthy as a lob-catcher or to finish drop-off passes."
The worst-case scenario for Scheyer is that success begets success and North Carolina keeps building on its 2021-22 campaign. The Tar Heels made it to the NCAA title game and are brought back most of their starting lineup. If they're able to continue shining, they'll only become more and more attractive to top-tier recruits. That, of course, affects the entire ACC landscape.
It is worth noting, however, that Duke was also a victim of their own success. Borzello suggested that the Blue Devils' 2023 commitments — Mackenzie Mgbako, a small forward who ESPN ranks as the third-best prospect, and Sean Stewart, a power forward who clocks in at seventh overall — could have persuaded Jackson to seek greener pastures.
Recruiting might be the biggest opportunity for Jon Scheyer to build Duke in his own image
From afar, recruiting at a school like Duke can seem pretty easy. You simply inform a player that you're interested, and they either accept or decline your offer. In reality, though, that side of the program will be both a major challenge and a major opportunity for Jon Scheyer.
On the challenge front, Scheyer isn't Coach K. He can't walk into a recruit's home, put his rings on the table, and let his resume speak for itself. While the Duke brand will still do some of the heavy-lifting, the rookie head coach doesn't have a track record of building winning programs or directly preparing players for the pros. It will be interesting to see how he sells himself on that front, at least during his first few seasons.
Beyond that, Nolan Smith has also left Duke for Louisville. While it's tough to know exactly who handled what inside Cameron Indoor Stadium, it's reasonable to assume that Smith took part in recruiting efforts. Jay Williams even went as far as speculating that his departure could cause some incoming players to reconsider their commitments, but that hasn't panned out yet.
At the same time, though, recruiting will also give Scheyer a chance to build the Blue Devils in his image. For years, we've known how Duke will play; the new head coach, however, has already teased a somewhat updated offense. Will he prioritize guards to make that happen? Seek out NBA-style positionless players ala Paolo Banchero? We'll just have to wait and see how things pan out.
With all of that being said, though, Scheyer's recruiting career has gotten off to a strong start, even without G.G. Jackson. Duke has the top-rated class for 2022, with three players within ESPN's top-ten coming to Cameron. As mentioned above, they also have already scored two top-ten commitments from the class of 2023.
At this point, just about everyone within college basketball is holding their collective breath to see how Duke fares with Jon Scheyer at the helm. Recruiting is only one part of that equation, but if that's any indication of the future, it looks like he's on the right path.