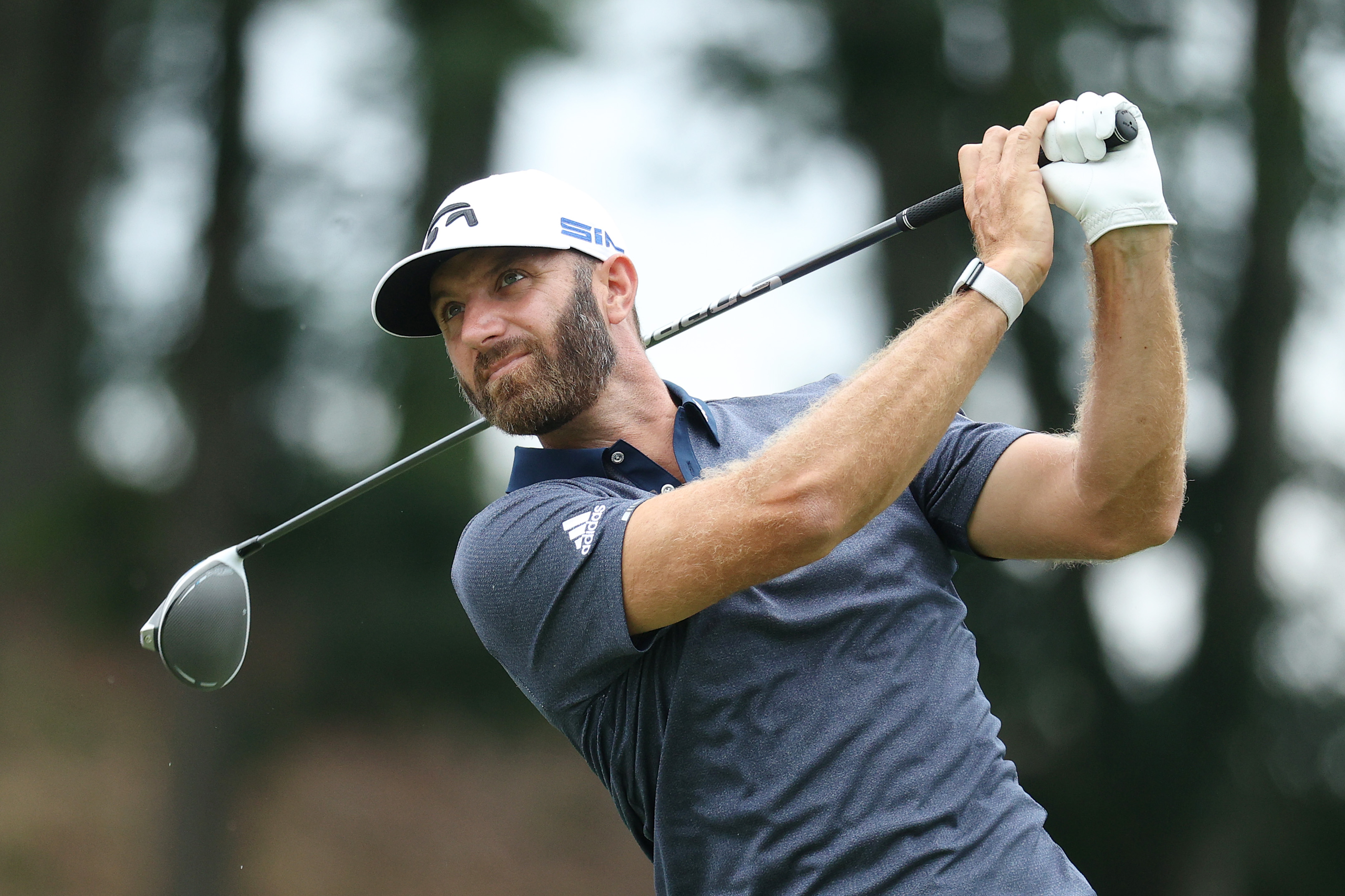 Dustin Johnson Battled Cocaine Use and Major Heartbreak to Become One of the Best Golfers in the World
Dustin Johnson is a 20-time PGA Tour winner, but his path to the top was riddled with drug use and major championship heartbreak.
Dustin Johnson is one of the most dominant golfers in the world when he's on his game. The 20-time PGA Tour winner is one of the few pro players who can run away with a tournament when everything's clicking. Before he became one of the best on Tour, though, Johnson battled a plethora of personal issues and major championship heartbreaks to get where he is today. Johnson kicked his drug use and silenced his demons with a U.S. Open victory in 2016, and he remains at the top of the sport today.
Dustin Johnson was suspended by the PGA Tour multiple times for drug use
Dustin Johnson turned pro in 2007. Two years later, he failed his first PGA Tour drug test after testing positive for marijuana. In 2012, Johnson again failed a drug test, but this time it was for cocaine.
Johnson went two years without any hiccups, but he had another failed test due to cocaine in 2014. Prior to his third failed test, Johnson's drug use was not public knowledge. The PGA Tour suspended Johnson after one of the failed tests, but it was never announced.
After Johnson's third failed test, he was suspended for six months by the PGA Tour. Soon after, Johnson announced he would be taking a break from professional golf, citing "personal challenges" as the reason why.
Dustin Johnson lost two major championships in devastating fashion
Johnson was in prime position to win his first major at the 2010 U.S. Open. He held the 54-hold lead at Pebble Beach, but a final round 82 knocked him out of contention.
The 25-year-old at the time bounced back in the PGA Championship later that season, but another final round blunder ruined his chances at a first major. On the 72nd hole of the tournament, Johnson drove his ball into a sandy area to the right of the 18th hole. He grounded his club in the unknown bunker and was assessed a two-stroke penalty after the round, soiling his chance to go to a playoff with Bubba Watson and Martin Kaymer.
In 2015, the 72nd hole brought Johnson yet another Sunday nightmare. This time Johnson had an eagle putt to win the U.S. Open. A two-putt birdie would've put him in a playoff with Jordan Spieth, but Johnson missed his eagle chance and blew the short birdie try in a devastating finish.
Johnson finally won his first major in 2016 and now has 20 PGA Tour wins
Johnson built up the cruel reputation of a final round choke artist throughout his first few seasons as a pro, but he finally got the monkey off his back in 2016.
After cutting drugs out of his life and focusing more on his golf game, Johnson again found himself in contention at the U.S. Open at Oakmont. This time, Johnson rose to the challenge and finished in style, winning his first major championship.
Johnson now has 20 PGA Tour wins to his name, and he's in position to add another at the 2020 Travelers Championship. He kicked his drug use and redeemed his major championship heartbreaks to become one of the best players in the world today.