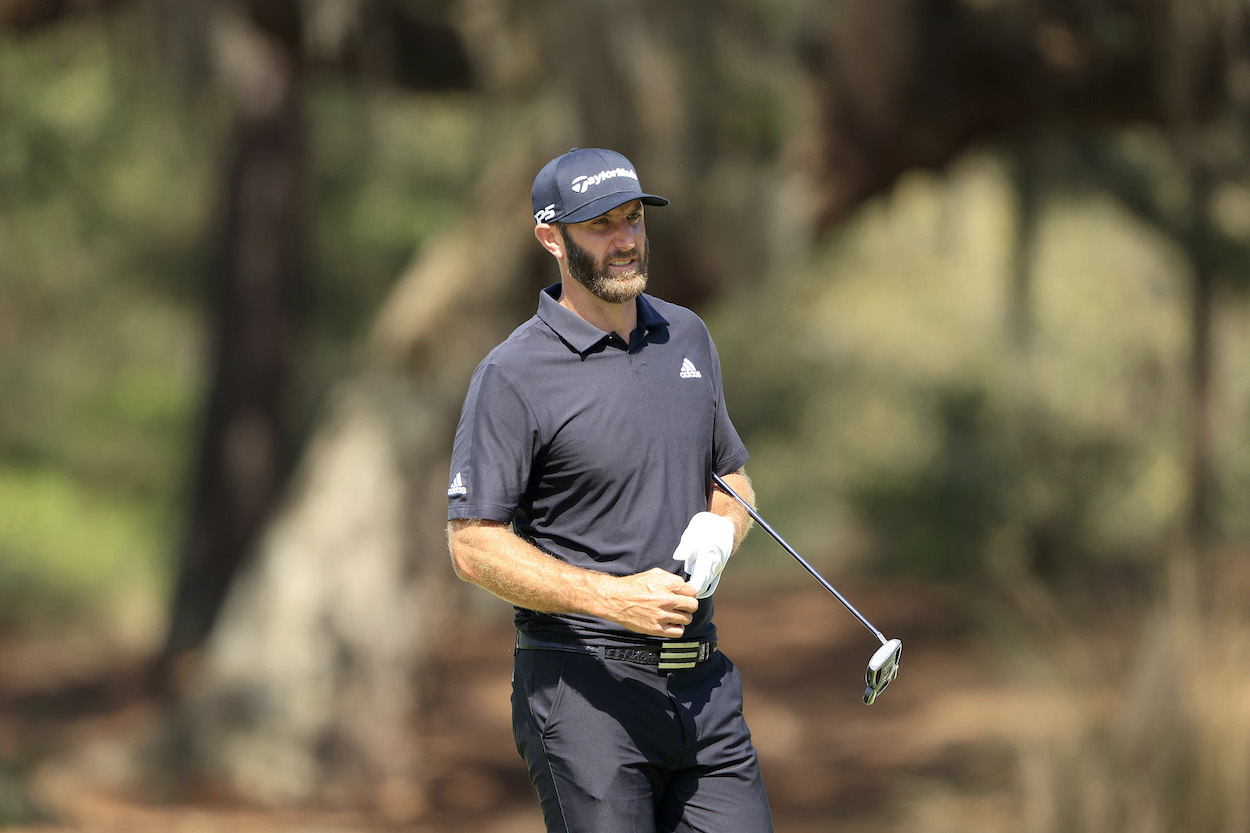 Dustin Johnson Makes a Major Announcement About His Future That Will Upset Golf Fans Around the World
Dustin Johnson missed out on the Olympics in 2016, and he just announced he has no intention of playing in Tokyo this summer.
There's nobody on the PGA Tour who's been playing better golf than Dustin Johnson over the last few months. It seems like every time Johnson decides to tee it up at a tournament nowadays, he's driving home from the course on Sunday with a trophy in his hands.
This summer, Johnson has a chance to trade his trophies in for a gold medal at the 2021 Tokyo Olympics, but he just upset golf fans around the world by announcing he won't be competing this year.
Dustin Johnson is on top of the golf world
Boy, would it be nice to be Dustin Johnson right about now? The longtime PGA Tour member has ascended to No. 1 in the Official World Golf Ranking after a dominant stretch over the past few months. In his last 11 starts on Tour, Johnson has three wins, three second-place finishes, and only one finish outside of the top 12.
The 36-year-old is playing the best golf of his entire career, and he would undoubtedly be the favorite to win the gold medal at the 2021 Summer Olympics. However, Johnson isn't interested in competing this year, just like in 2016.
Johnson didn't play in the 2016 Summer Olympics
Heading into the 2016 Summer Olympics in Rio, there was a similar uncertainty to this year because of the Zika virus. Athletes from around the world dropped out of the games due to fear surrounding the virus, and golf was one of the events that was hit the hardest.
Rory McIlroy, Jordan Spieth, Jason Day, and other big names withdrew from the Olympics beforehand, and Dustin Johnson joined them.
"This was not an easy decision for me, but my concerns about the Zika Virus cannot be ignored," Johnson said in a statement at the time. "Paulina [Gretzky] and I plan to have more children in the near future, and I feel it would be irresponsible to put myself, her or our family at risk. I believe I am making the right decision for me and most importantly, my family. While I am sure some will be critical of my decision, my hope is that most will understand and support it. That being said, those who choose to compete in Rio certainly have my respect and best wishes for an unforgettable and safe experience."
Dustin Johnson pulls out of the 2021 Tokyo Olympics
Just like in 2016, a deadly virus has affected the Olympic Games. This time around, the coronavirus pushed the 2020 Summer Olympics back a full year. The games are now scheduled to be played in late July, with golf returning for its second straight year.
Although golf will be apart of the 2021 Olympic Games, the World No. 1 won't be. Dustin Johnson announced Saturday that he won't be competing in the event, but not even because of COVID-19.
"It's right in the middle of a big stretch of golf for me, so that was the reason I was kind of waffling on it a little bit," Johnson said after his third round at the Players Championship. "It's a long way to travel, and I think the WGC [World Golf Championship] is the week right after it. The British is a couple weeks before.
"It's a lot of traveling at a time where it's important to feel like I'm focused playing on the PGA Tour."
Golf fans who were looking forward to watching the world's best player on the global stage will have to wait another three years.