Dwayne 'The Rock' Johnson Once Indulged in a Night of Partying With an NFL Draft Bust, Bob Marley's Son, and a Future Hall of Famer
Before becoming a massive celebrity, Dwayne 'The Rock' Johnson played college football for the Miami Hurricanes. This looks at The Rock's football career and his night of partying with an NFL draft bust, Bob Marley's son, and a future Hall of Famer. It also looks at what has happened to those four people since then.
Many of you probably know Dwayne "The Rock" Johnson for his wrestling career or his stellar acting career. However, before becoming the superstar he is today, Dwayne Johnson played college football for the Miami Hurricanes. His football career ultimately didn't pan out the way he wanted it to, but The Rock still had some pretty stellar experiences during those years. In fact, one experience even involved a night of partying with an NFL draft bust, Bob Marley's son, and a future Pro Football Hall of Famer.
Dwayne 'The Rock' Johnson played college football at Miami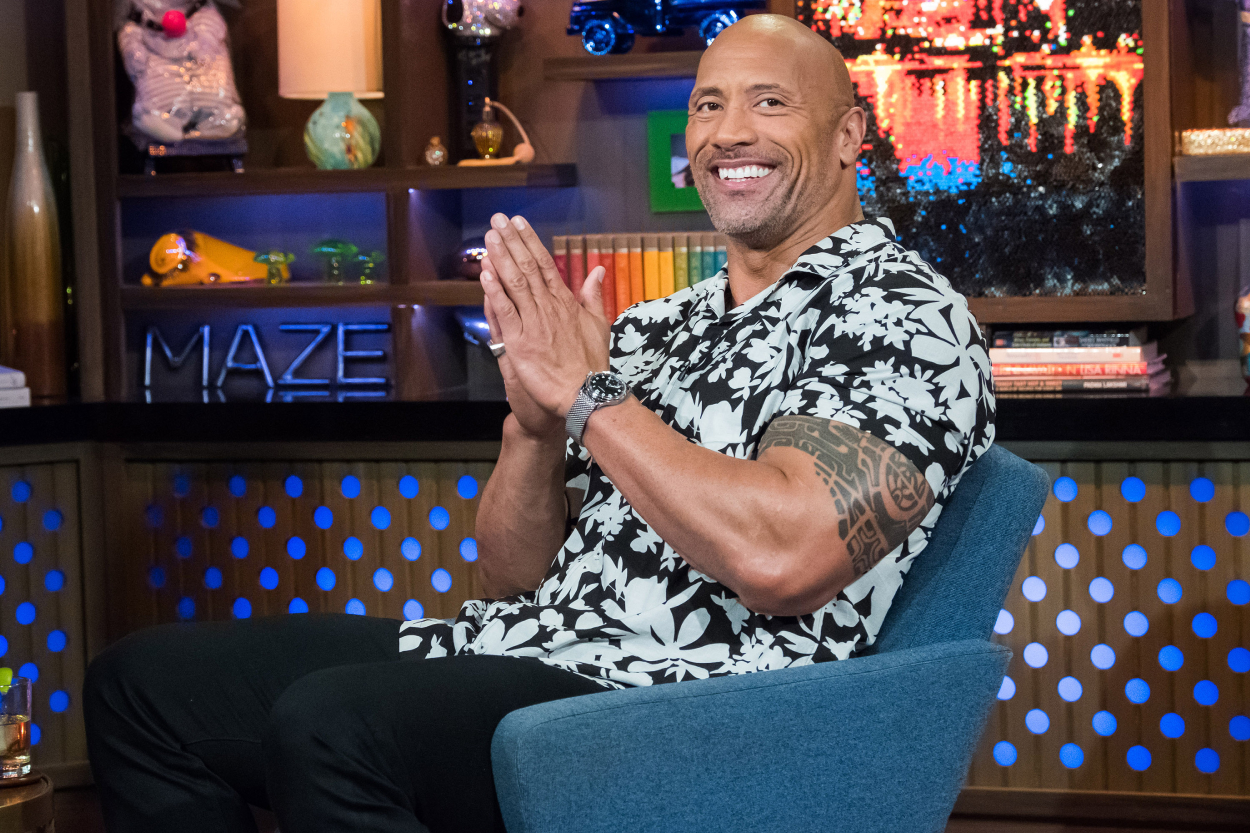 In high school, Dwayne "The Rock" Johnson was a football star. According to Sports Illustrated, Johnson received offers from Penn State, UCLA, Florida State, Clemson, and many other programs. However, he actually called Miami's recruiting coordinator and pitched himself to the Hurricanes. This led to head coach Dennis Erickson getting back to Johnson the next day, and The Rock eventually received a full-ride scholarship.
Johnson then proved to have a ton of talent as soon as he got on to campus. During the final two-a-day practice, though, he suffered a shoulder injury that required surgery. A future Pro Football Hall of Famer then filled his spot in Warren Sapp. 
Sapp then thrived at Miami. He even became a Heisman Trophy finalist and a first-round NFL draft pick. Johnson, on the other hand, had a challenging college career as four knee surgeries kept him from being able to develop into the star he hoped to become.
Dwayne Johnson then finished his college football career with 78 total tackles and four sacks, per SI. This led to him signing with a Canadian Football League team in 1995, but he was cut just a couple of months later.
As you may know, The Rock ended up eventually becoming a superstar wrestler and one of America's biggest actors. His fame and wealth have certainly surpassed the heights that they would have reached had he become an NFL player instead.
However, Dwayne Johnson still had some incredible experiences during his football career at Miami, including being a part of the 1991 national championship team. It also included a night of partying with a cast of characters.
The Rock partied with an NFL draft bust, Bob Marley's son, and a Hall of Famer
The University of Miami was probably the location of many parties during the days that the Hurricanes won a bunch of national championships. While NFL draft bust Ryan Leaf didn't go to Miami, he did, in fact, party there once.
Leaf, who became a star quarterback at Washington State, recently told a story about how he went out partying with The Rock during a recruiting trip at Miami. He actually didn't know it was The Rock, though, until about 15 years later.
"[A player] says, 'Alright, so, do you want to go to this club with some other of my teammates,'" Leaf recalled on the March 26 episode of The Rich Eisen Show. "… A limo pulls up. So, I step into the back. Now, I don't know this at the time, of course, but one of them is Bob Marley's [son] who is the linebacker, Rohan, … [another is] Warren Sapp — of course, we don't know who Warren is; he's just the starting defensive tackle — and a bunch of other guys."
Leaf then said that during one of the car "transitions" he ended up crossing paths with Dwayne "The Rock" Johnson.
"[I] don't even think about it ever again for years and years and years and years and years," Leaf said. "Until I saw The U on 30 for 30 — because he looks completely different than what he did. … And I said, 'That was The Rock.' … I don't know if I said anything [to him]. I would love to ask him that question, 'Do you remember the skinny, just weirdo Nirvana-looking guy getting in a car with you in 1994?'"
That would have been a pretty interesting group to hang out with. It must have been a pretty fun night, too, as Leaf admitted that he "threw up for the first time the next morning."
Ryan Leaf and the other stars took completely different paths
As mentioned above, The Rock went from playing football to becoming a wrestler and then an actor. Rohan Marley, on the other hand, played one year in the Canadian Football League before becoming an entrepreneur.
Then, of course, Warren Sapp later became a Pro Football Hall of Famer and a Super Bowl champion. Leaf, however, went on to have a stellar college career and became the No. 2 overall pick in the 1998 NFL draft. He only started in 21 career NFL games, though, and threw 14 career touchdowns compared to 36 interceptions. His football career didn't ultimately pan out, but, in recent years, Leaf has become pretty successful in the sports media world.
All four of these men have taken completely different paths in their lives, but, according to Ryan Leaf, those paths all crossed during that one night in Miami in the 90s.
Stats courtesy of Pro Football Reference