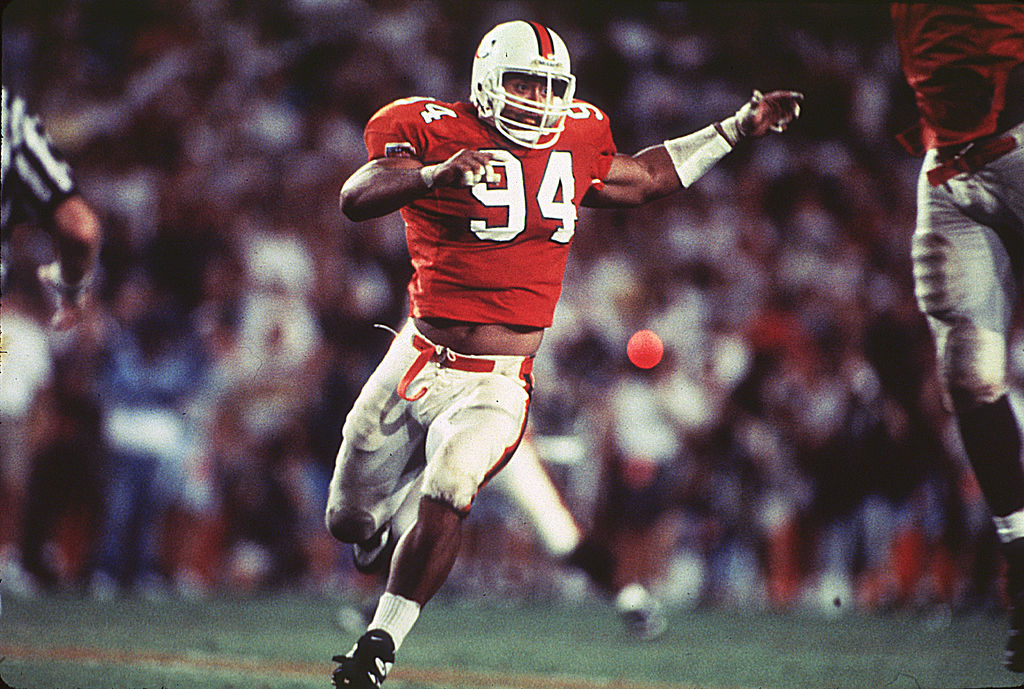 Why Did Dwayne 'The Rock' Johnson Quit Football?
Before Dwayne "The Rock" Johnson became a famous wrestler and actor, he had dreams of making it to the NFL. Why did he quit?
Dwayne "The Rock" Johnson has risen from the ranks of WWE superstar to become one of the most popular actors in Hollywood. His god-like physique combined with his charm has made him a fan favorite across both mediums. Before he was doing either of these things, however, he was pursuing a different sort of dream on the football field. 
Like a Hurricane
Back in the early 1990s, Johnson, called "Dewey" by his teammates, was a freshman defensive lineman for the Miami Hurricanes football team. Johnson played four years for the football team, and at 6'5″ and 290 pounds, he became a reliable force off the bench, amassing 77 tackles and 4.25 sacks during his time at the school. While he may not have been a star, Johnson drew praise from his coaches and teammates. 
"He was a highly recruited kid," said defensive line coach Ed Orgeron told ESPN. "We were excited to have him, he came to us ahead of his time. He was developed and was extremely quick. He was a hard worker and a humble young man… Everybody liked him. He was easily coachable and everybody was impressed with him. He came in and played a lot as a freshman."
Dwayne Johnson's teammates
Johnson had a lot of competition at his position, including former NFL superstar Warren Sapp, who came in during Johnson's second year. Sapp is a large reason that Johnson remained on the bench. This isn't necessarily an attack on his talent, given how good Sapp was. In all, nine players from Johnson's teams made it to the NFL.
Sapp and Johnson would sit back reminiscing about their time together in a talk with ESPN. Johnson held no ill will toward Sapp taking his spot. After all, he is one of the best defensive players ever. In some ways, Johnson even credited Sapp for unwittingly being the reason that he didn't make the NFL and instead made a superstar career in other regards. 
"I didn't make it to the NFL because of one man," Johnson told to Sapp. "That's Warren Sapp. Hands down. There's a reason why I'm here right now, and it's because of the grace of God because you're the best at what you do."
How good was Dwayne Johnson at football? 
According to Sapp, Johnson was a six-out-of-ten in terms of talent. Leon Searcy, another teammate of Johnson's, thinks that Sapp is underselling Rock's talent. Searcy, who played 10 years in the NFL himself, thinks that Rock had too much talent around him to shine, even if he was better than that six-out-of-ten rating that Sapp gave him. 
"Standards at the University of Miami were so high," Searcy said (per Bleacher Report). "You have to remember Sapp was unblockable his senior year. So Rock had some amazing talent around him that he had to live up to."
Johnson also suffered from a collection of injuries that may have kept him out of a chance at the CFL. However, Johnson had his moments in college. A tackle against Heisman winner Charlie Ward has even been featured during Johnson's hit show Ballers, in which his character players a character who made it to the NFL from Miami. 
Life after football
Because of his lack of playing time and growing list of injuries, Johnson had to walk away from the game. After quitting his football dreams, Johnson had a tough couple of years.
Ultimately, it worked out for him and it may be easy for Johnson to accept that he never got to play football professionally. After all, within a decade he would be the poster child for the WWE, and in 2019, he was the highest-paid actor. From television to movies, it is hard to miss Johnson's enormous weight in the entertainment industry. His films stand atop the box office, and he still appears on wrestling broadcasts from time to time.
Perhaps, there's a universe where Dwayne Johnson makes it as a football player, but not doing so may have been the best thing that has happened to him.