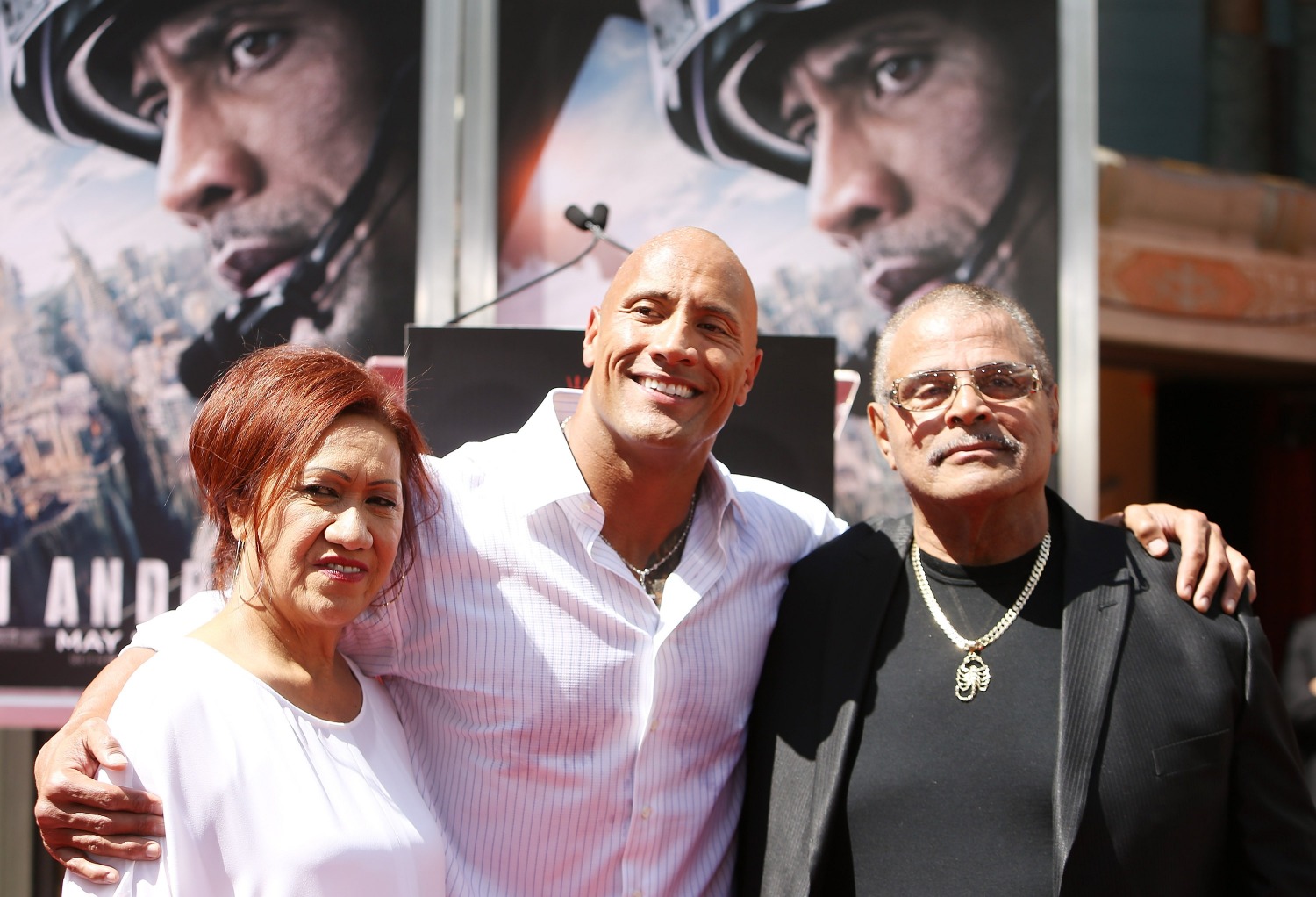 The Rock Suffered a Tragic Loss With the Unexpected Death Of His Legendary Dad Rocky Johnson
The Rock became a WWE star thanks to his dad. Unfortunately, he suffered a tragic loss when his father unexpectedly died in January 2020.
When it comes to star power, nobody can top The Rock. With a flashy smiley, bulging biceps, and a sharp tongue, he has entertained WWE fans and big-screen viewers across the world for years. Of course, much of his success can be attributed to good genetics. After all, Dwayne "The Rock" Johnson hails from one of the most famous wrestling families in the world.
His father, Rocky Johnson, set a terrific example for his son. A wrestling legend in his own right, he enjoyed a record-setting career inside the squared circle. Unfortunately, his life came to an unexpected end this year, but not before establishing a legacy as one of the true pioneers in the wrestling business.
The Rock hails from a famous wrestling family
Do you know when they say something is in your blood? Well, for The Rock, wrestling flowed through his veins from birth. While he enjoyed a successful football career that included winning a national championship at the University of Miami, he couldn't avoid the same fate as many of his family members. When football ended, he took up the family tradition.
For more than 20 years, The Rock's father, Rocky Johnson, ranked as one of the best wrestlers in the National Wrestling Alliance. The Canadian native broke into the business after trying his hand at boxing. However, he became a household name by swapping out his boxing gloves for wrestling boots.
Tipping the scales at 6-foot-2, 260 pounds, Rocky Johnson boasted an eerily similar frame to his famous son. An explosive, powerful athlete, he teamed up with Tony Atlas to become the first-ever Black tag-team champions in WWE history.
Speaking of history, The Rock and his father are part of a gigantic lineage of wrestlers. The Anoa'i family, which originates from American Samoa, features prominent names like Rikishi, Yokozuna, Roman Reigns, and Umaga. Sadly, though, the family, along with the wrestling world at large, suffered a tragic loss when one of its members died in 2020.
The former WWE star suffered a devastating loss when his father died in January
The month of January included the devastating death of Kobe Bryant. But 11 days prior to his passing, the sports world suffered another tragic loss. On January 15, Rocky Johnson died at the age of 75 in his home in Lutz, Fla. He suffered a pulmonary embolism caused by a blood clot in a vein in his leg. The Rock took to Instagram to discuss the details of his father's passing.
"A lot of you guys wanted to know what happened to my dad. He had not been feeling well, had been battling a cold and infection and on Tuesday he had what's called a deep vein thrombosis, which is essentially a blood clot in the leg. It was a big old blood clot that broke free, traveled up his body, and went right to his lung and clotted his lung and he died very quickly from a massive heart attack, just like that."

In addition, The Rock added that he took comfort in knowing that his father didn't suffer an agonizing, drawn-out death. The medical examiner informed him that his father died quickly.
Losing his dad gave the actor and wrestling icon a chance to reflect on the importance of family. And he offered some excellent advice to his followers about speaking to their loved ones.
"Text them. Call them. Go see them, if they're close by and if you can hug them, I want you to hug them," Johnson said. "You tell them that these are the marching orders from Dwayne Johnson who just lost his old man. But you hug them and you hug them hard."

The Rock lost another member from his legendary wrestling family
When Rocky Johnson died in early 2020, it certainly rocked Dwayne Johnson to his core. The WWE legend had actually suffered another loss from his renowned wrestling family more than a decade earlier.
On Dec. 4, 2009, Edward "Umaga" Fatu died after his wife found him at home unresponsive with blood dripping from his nose. Even after getting rushed to the hospital, doctors declared him dead. He had suffered a heart attack. An autopsy report found that he had taken painkillers and a muscle relaxant.
Unlike The Rock's father, Fatu died at an age when he should have been in the prime of his wrestling career. The father of four passed away at the age of 36.