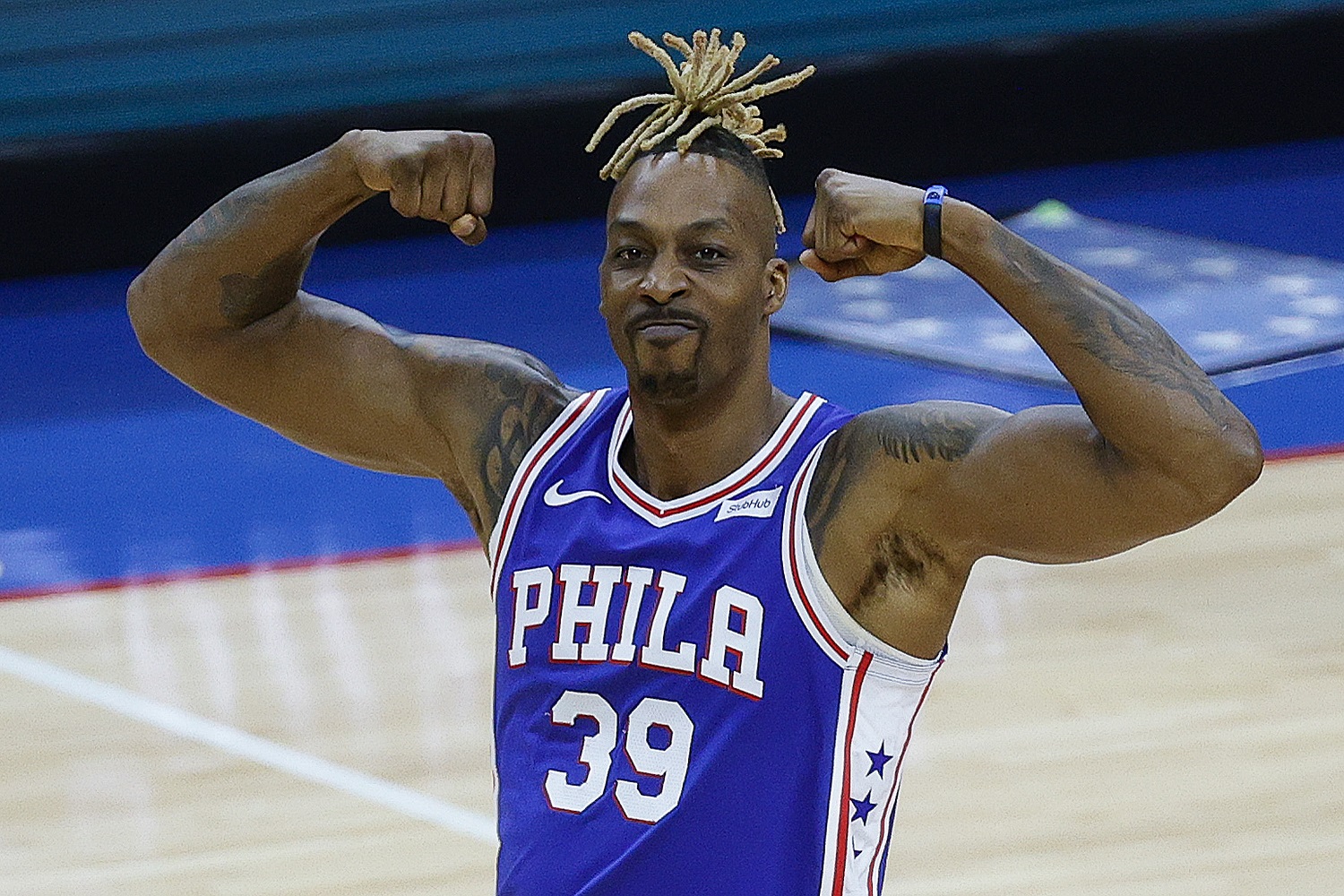 Dwight Howard Is Showing a Healthy Attitude, but the Lakers Need It to Be Contagious to Escape Trouble
Dwight Howard is coming back to the Los Angeles Lakers for a third stint and bringing with him an attitude that Russell Westbrook and Carmelo Anthony will also need to embrace.
Of all the Los Angeles Lakers' moves since the start of the free agency period this summer, bringing back Dwight Howard ranks as the most curious. Frankly, there probably isn't a lot of tread left on the 35-year-old center's tires, and paying him even a paltry $2.64 million is showing some questionable faith if the move is all about production on NBA courts.
However, Howard already justifying that faith by delivering the right message to his once and future teammates.
Dwight Howard has been around the NBA lately
Howard had averaged 16.2 points and 12.1 rebounds a game since entering the NBA in 2004 as the No. 1 overall pick in the draft.
Once the foundation of the Orlando Magic in his first eight NBA seasons, Howard is returning to the Lakers this fall for his third tour of duty. He played for six teams in six seasons, beginning with the Houston Rockets. The 2018-19 season with the Washington Wizards was a washout as injuries limited Howard to nine games. Otherwise, two trends show through:
Production per 36 minutes has been slowing down, particularly in his role as a bench player with the Lakers two years ago and Philadelphia 76ers this past season.
Teams have tended to fare a little better after Howard's arrival and regress a bit after his departure.
The latter can be attributed to other factors, including roster changes beyond Howard, of course. But adding a veteran presence to the locker room never hurts. That's something the Lakers have done in bulk this offseason.
The LA Lakers have gone all-in on veterans for the 2021-22 season
The Lakers ranked in the bottom quarter of the league last season in total shots and 3-pointers attempted per game. Their 109.5 points a game lagged 22 other teams. They made up for it on defense, ranking second in points allowed by hounding opponents into turnovers and poor shooting percentages.
If coach Frank Vogel intends to play the same brand of basketball next season, he'll need to do it with a new cast. LeBron James and Anthony Davis return, but much of the rest of the roster is new. Aside from Howard, the Lakers have landed Russell Westbrook, Carmelo Anthony, Trevor Ariza, and Wayne Ellington thus far, with a bit more tinkering likely before training camp opens.
James took 18.3 shots per game and David averaged 17.0, accounting for 41.0% of the Lakers' attempts on a typical night.
Now, add in the bigger-name newcomers:
Westbrook put up 19.0 shots a game, actually a five-year low for him, with the Washington Wizards.
Anthony averaged 11.3 shots with the Portland Trail Blazers, but he was only averaging 24.5 minutes a game.
That adds up to a lot of shots among four veterans. If someone – or a couple of someones – can't accept less prominent roles, the Lakers are staring at an ugly locker room the first time they hit a three-game losing streak.
Dwight Howard is showing a healthy attitude that the Lakers must embrace
Howard won an NBA championship with the Lakers in 2020 by embracing the role of bench player, something he never had to do before. At any given time, he'll be no better than the fourth option on offense this season, but he sounds OK with that.
"I just think it's about sacrifice," Howard said, according to SilverScreenAndRoll.com. "What are you willing to give up to get the trophy?… My first year (back) here, it was for me, you've got to realize, 'Dwight, just do what they ask you to do, no matter how hard it may be at times.'
"Everybody wants to score. Everybody wants to be the person to make the front page of the newspaper."
If Westbrook and Anthony fall in line with that mentality, and the key players stay healthy, the Lakers have a chance to do big things. There might even be a parade following the season.
"At the end of the day, holding up that trophy and celebrating with your family and the city and all the people that you love, it just means so much more," Howard said.
All stats courtesy of Basketball Reference.