The Eagles Must Unleash Their Secret Weapon to Exploit the Buccaneers' Biggest Weakness and Slay Tom Brady on Thursday Night
The Philadelphia Eagles have never beaten Tom Brady at Lincoln Financial Field, and that trend is likely to continue Thursday night when the Tampa Bay Buccaneers come to town. The Bucs enter the game as seven-point favorites over the home team, but the Eagles have a chance to pull off the upset if they unleash their secret weapon and exploit Tampa Bay's biggest defensive weakness.
Buccaneers struggle to contain pass-catching running backs
The Buccaneers picked up right where they left off last season when they lifted up the Lombardi Trophy in Super Bowl 55. Tampa Bay has started the year 4-1, and the team's 33.4 points per game average ranks third in the NFL through five weeks.
But even though the Bucs have been impressive to start the season, they have a few issues on the defensive side of the ball. Most notably, they're allowing opposing running backs to dice them up through the air.
In five games played this year, Tampa Bay has allowed 301 receiving yards to opposing running backs. Only three teams have allowed more in 2021. The Buccaneers have also given up three receiving touchdowns to running backs, which is tied for the third-highest mark in the NFL.
They stuff the run at an elite rate (39.6 rushing yards allowed per game), but the Bucs are vulnerable in the screen game and on check-downs. With the Eagles struggling to run the ball anyway, they need to utilize their RBs in the passing game to exploit Todd Bowles' defense.
And they have just the man to do it: Kenneth Gainwell.
Eagles must unleash their secret weapon on Thursday night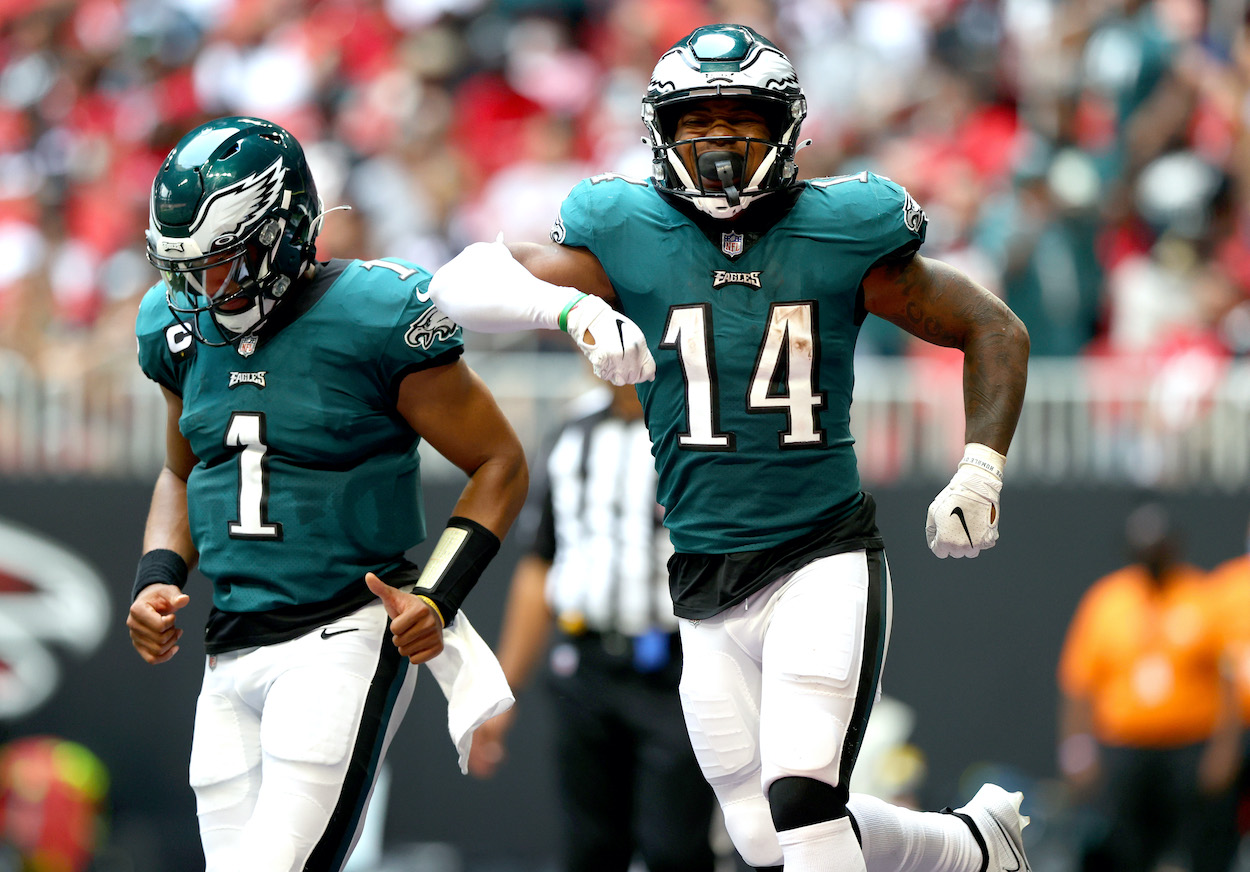 The Eagles won't be expected to keep up with Brady and the Buccaneers' dynamic offense on Thursday night, but they can do just that if they take advantage of their most advantageous matchup on offense.
That matchup, surprisingly, is rookie running back Kenneth Gainwell against Tampa Bay's linebackers.
Gainwell is the best pass-catching back on Philadelphia's roster this season. He racked up an impressive 51 catches, 610 yards, and three touchdowns through the air in his final season at Memphis in 2019, and he's continued that play into the NFL. Through his first five games as Miles Sanders' backup, Gainwell has caught 14 balls for 122 yards out of the backfield.
Gainwell ranks fourth on the team in targets this season with 21, and he's gotten at least three targets in every game this year. Head coach Nick Sirianni trusts him as a receiver more than he trusts Sanders, and the rookie should get plenty of work through the air on Thursday night.
Expect a breakout game from Kenneth Gainwell
The Eagles might be playing from behind all night against the Buccaneers, meaning Sirianni will once again abandon the run game and start airing it out to keep up. If this game plays out as expected, Gainwell will be in line for a huge performance against Tampa Bay's vulnerable defense.
Philadelphia can use Gainwell's pass-catching ability as a variation of the run game. Short screens, quick routes against linebackers, and check-down options can neutralize the Bucs' biggest strength and attack their biggest weakness.
Prepare yourselves for the Kenny G breakout game.
All stats courtesy of Pro Football Reference.
Like Sportscasting on Facebook. Follow us on Twitter @sportscasting19.
RELATED: Nick Sirianni's Befuddling Practice Habit Might Explain Why the Eagles Can't Fix Their Most Embarrassing Problem